Security Basics
, Am I secure?
7 Common Questions About Emergency Action Plans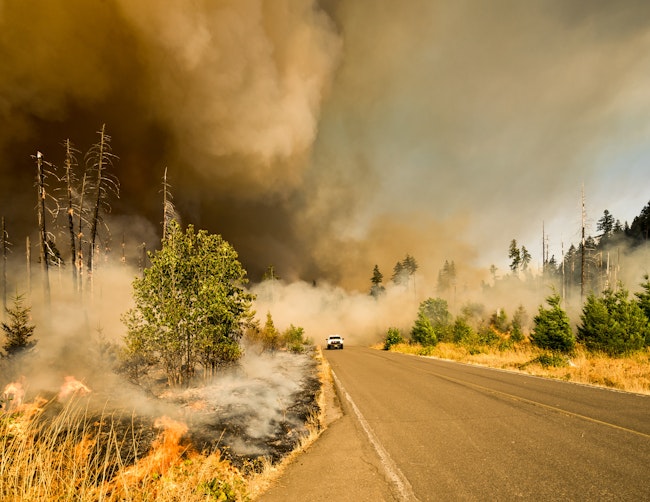 Since October is National Fire Prevention Month, we wanted to take a moment to emphasize the importance of having an emergency action plan in place. That's why, in this article, we'll:
Discuss commonly asked questions about emergency action plans.
Provide a downloadable template that you can use to create your own emergency plan.
Model the information that should be included in an emergency plan.
Before you begin reading, please download our Family Emergency Action Plan Template.
1. Why is an emergency action plan important?
We can't always predict when something bad is going to happen. Be it an environmental disaster like a tornado, fire, or hurricane, or a pandemic like COVID-19, it's important to know the proper procedures for dealing with each situation. When circumstances like these arise, if you have a plan in place, you won't be scrambling for a way to protect yourself, your family, or your business. You'll know exactly what to do and where to go, and you'll be able to respond instinctively to the situation.
2. What should you include in an emergency response checklist?
Emergency response checklists vary based on your location and circumstances. Here are a few things that are always good to include:
72-hour kit containing first aid supplies, extra phone chargers, battery packs, flashlights, emergency blankets, drinking water, and non-perishable food. The kit should fit in a backpack or similarly sized bag.

Cash in small bills, enough to get you to a safe location if needed.

Predetermined escape routes from your home for use during a fire or burglary.

An established meeting place for your family to find each other if separated.

Your car's gas tank should always be at least half full.
The main items you want to cover in an emergency response checklist include money, transportation, food, communication, and safety. Try to develop a plan that incorporates all of these factors but is adaptable to different emergency situations. For example, you could keep a week's supply of non-perishable food in a bag in your closet that you can grab if you need to move quickly from your home.
3. In what kinds of disasters are emergency response plans most important?
Emergency preparedness is important for all emergencies. Emergency response plans are especially key for situations such as:
Natural disasters and storms

Serious injuries

Long-term power outages

Pandemics

Fires

Home invasion
There are plenty of other emergencies you might want to consider, depending on your location and individual circumstances.
4. How many emergencies should be included in my plan?
You can include as many emergencies in your plan as you feel are necessary. It's helpful to include emergency preparedness materials for disasters that are likely to occur in your specific situation. For example, if you live in the Midwest, you'll want to include tornado safety practices in your plan. If you live in California, tornadoes are less of a problem, but you might want to include plans for a wildfire evacuation.
5. What kinds of home emergencies are most likely?
The most common home emergencies result from burglary, sickness, fires, floods, or other environmental disasters. You should make sure to familiarize yourself with the disasters that are most likely to occur in your area and then create a plan to deal with each of these disasters.
6. How do you write an emergency response plan?
To write an emergency plan, you should first decide which emergencies you intend to include in the plan. Discuss this with your family if you have a partner or children. In your plan, you should create sections for each type of emergency. Under each section, create category subsections (for example, physical safety, food, transportation, etc.) List the items and actions you'll need to take during each scenario. You can look up example response plans online to find proper procedures.
Please note that as part of your emergency action plan, you'll want to include a list of important phone numbers. On the CDC's example plan, they include sections for the following emergency phone numbers:
Fire Department

Paramedics

Ambulance

Police

Federal Protective Service

Security

Building Manager (If applicable)
They also include utility phone numbers in the case of an outage:
Then they include the emergency procedures for each type of emergency.
7. What are some examples of a good emergency response plan?
You can create emergency response plans for businesses, schools, and families. Here, you'll find a quick example of a family emergency plan. This plan assumes that the family lives in California.
Family Emergency Plan
Applicable Phone Numbers
Mom/Dad/Grandparents

Fire Department

Paramedics

Ambulance

Police
Wildfire Evacuation Procedures
Grab 72-hour kits and phones, and meet at the car.

If you are not at home when we receive the evacuation order, go with whoever is nearby and tell them to drive you to the rec center parking lot. We will meet you there and pick you up.

Fill up the car with gas if there is sufficient time.

Once everyone is together, head to our pre-designated evacuation location.
Earthquake Procedures
If you feel the ground start to shake and are indoors, move under a table. Put your hands over your head and neck and crouch down.

Do not run outside if you are already indoors.

When the earthquake is finished, call us immediately to tell us whether you are safe.

If you are injured, call 911 and then call us. If your phone is not working, whistle loudly or knock on the building. Emergency responders will be trying to find anyone who has been injured.
Pandemic Procedures
Have two weeks of food, medicine, and supplies on hand at all times.

Do not leave the house unless necessary. When leaving, wear a mask, unless you are exercising.

If you feel sick, let us know right away. You will be set up in your room for a few days until you feel better. If it gets serious, you will be taken to the hospital.
This is not a full emergency plan, but it gives you an idea of what to look for as you create your emergency plan.
At Cove, we care about your safety. We hope you'll download our free Family Emergency Action Plan and take the time to fill it out and send it to your family members.
Ready to get started?
Take this short quiz to build your customized system today!