Alarm Systems
, Cost and Savings
Cost of Home Security Systems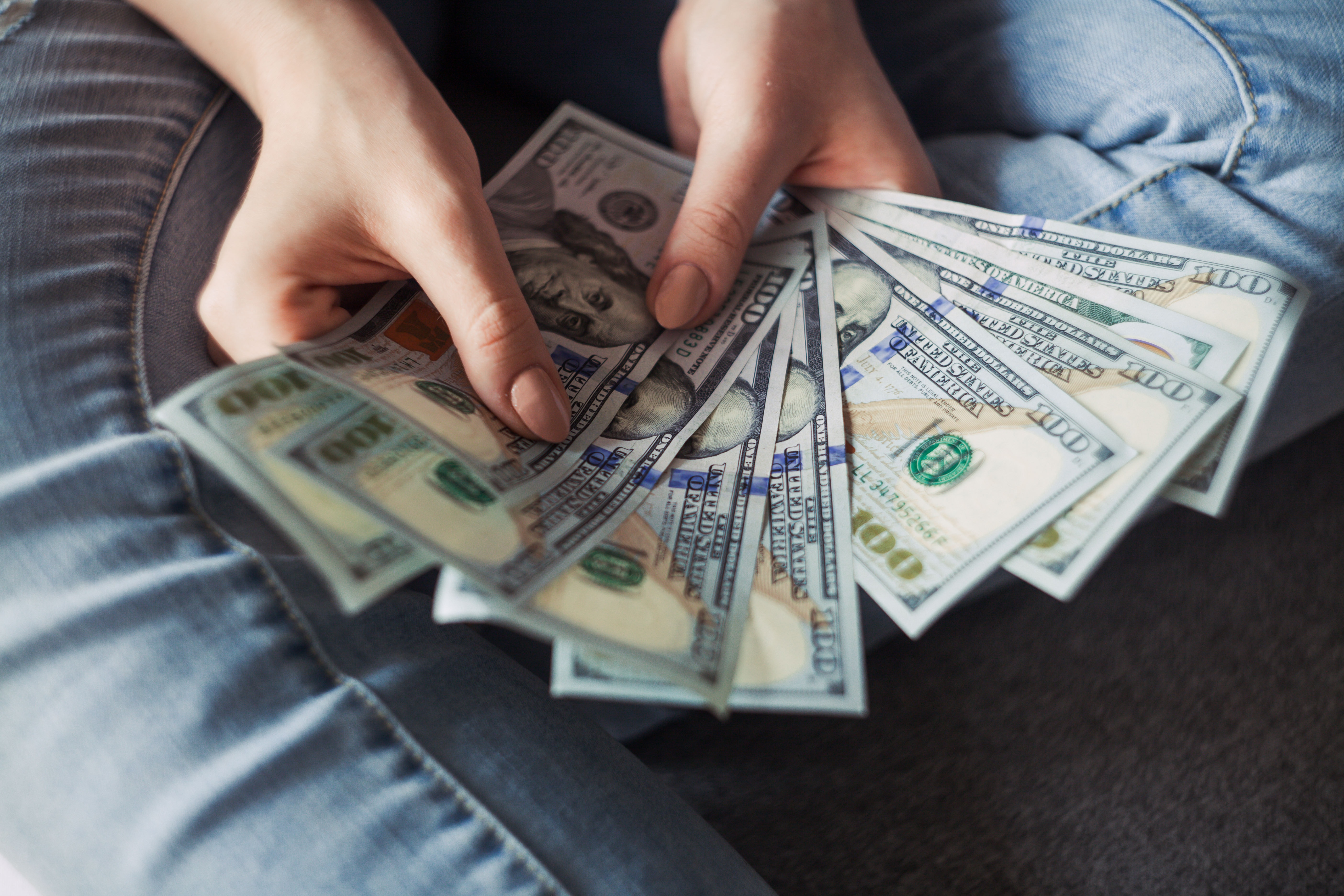 Everyone wants to feel safe at home, but many people hesitate to invest in a home security system due to cost concerns. As a savvy shopper, you pride yourself on getting the best deals on the highest-quality security equipment for your family, and Cove is here to show you that it can be affordable to protect your home and loved ones with up-to-date technology.
So how much does a security system cost? Security equipment and services come in many varieties and bundles to suit various needs and budgets, so your home security costs ultimately depend on the company and package you choose.
Below, we'll discuss the cost of a home security system — the factors that affect price, how much security equipment costs, how you can reduce the cost of an alarm system, and so forth.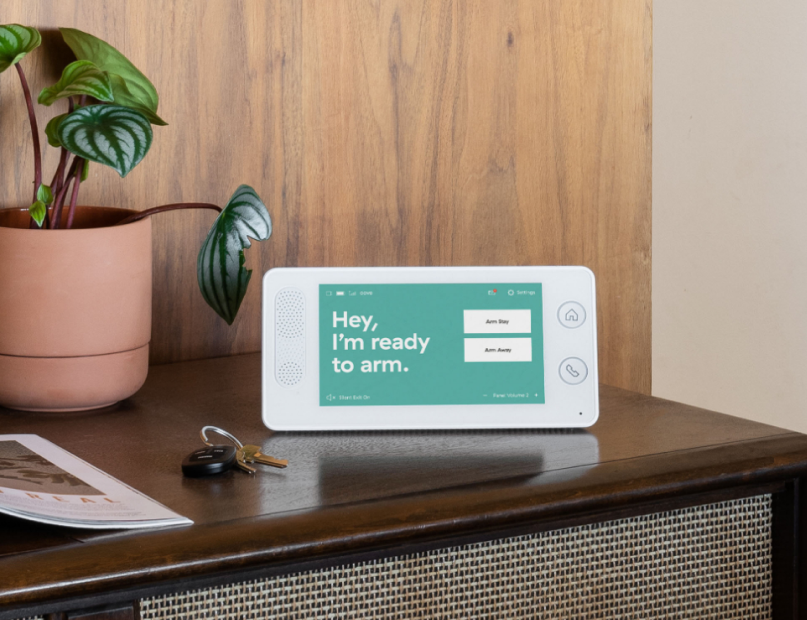 Average Cost of a Home Security System
According to data from HomeAdvisor, which surveys homeowners about the costs of various residential projects after completion, the average cost of an alarm system, as of August 2022, is $693. However, it can range from $280 to $1,106 when you account for expert installation costs, activation fees, and other extraneous alarm system costs. Your total expense will increase if you add 24/7 professional monitoring, but some companies may lower this cost if you opt for an annual contract over a monthly contract.
Refer to the table below for price ranges and average costs of security systems.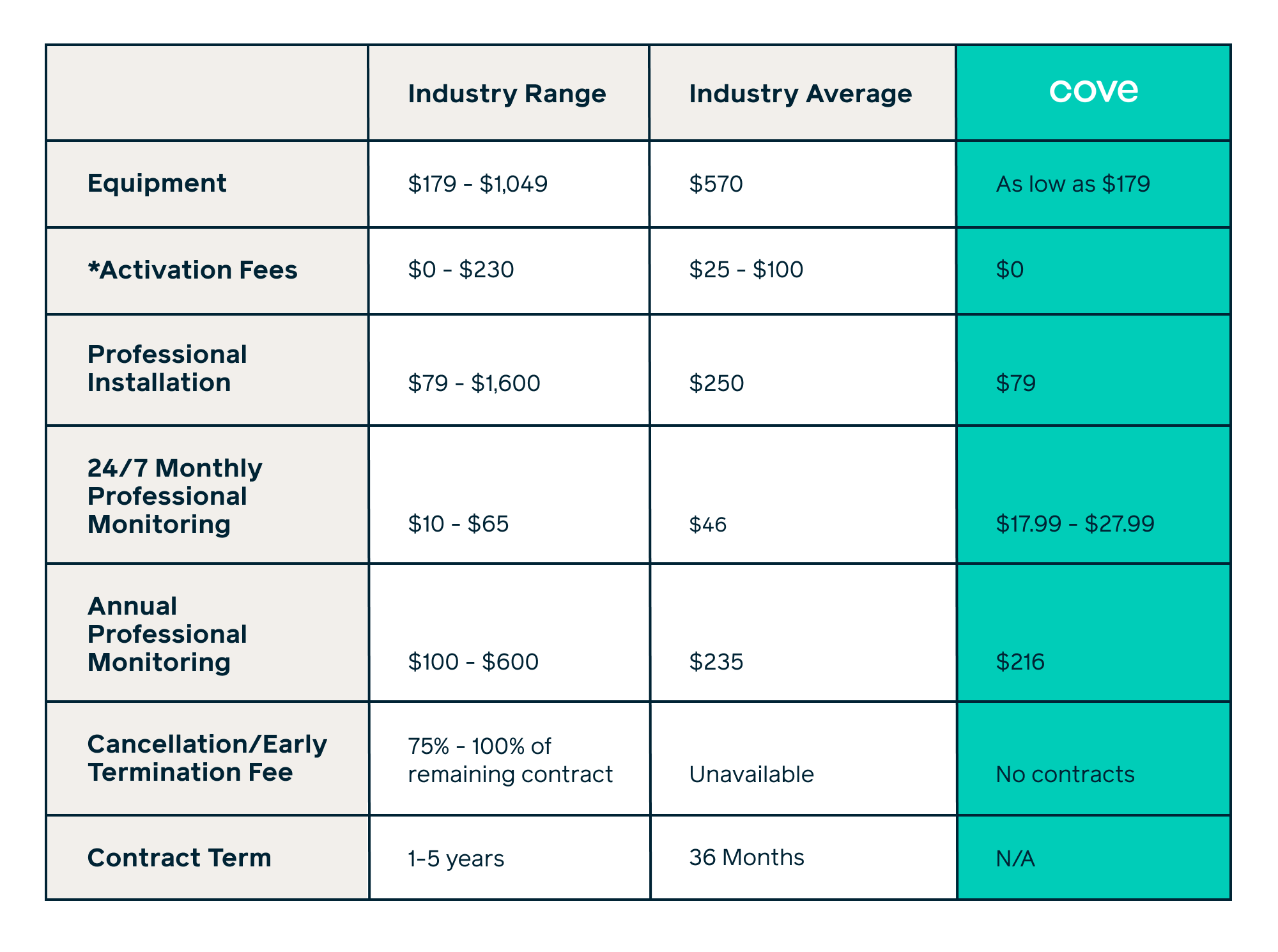 *Activation fees are a one-time, upfront expense to activate your security system; the amount varies based on the company, plan, and alarm type. depending on the security provider, alarm type, and plan selected. Companies with no activation fees may build them into higher monthly payments.
As you'll note from the table above, the cost of home security ranges widely due to disparate pricing models, so it's important to gather quotes from several security system providers for more specific and personalized estimates.
Home Security Equipment Costs
Security companies may require that you purchase your equipment outright, or they may allow for monthly financing. The financing option is convenient and more affordable if you don't have a lump sum saved to pay for the entire system upfront, but you'll pay more this way over time through interest. The most common types of equipment and their average costs are listed in the table below.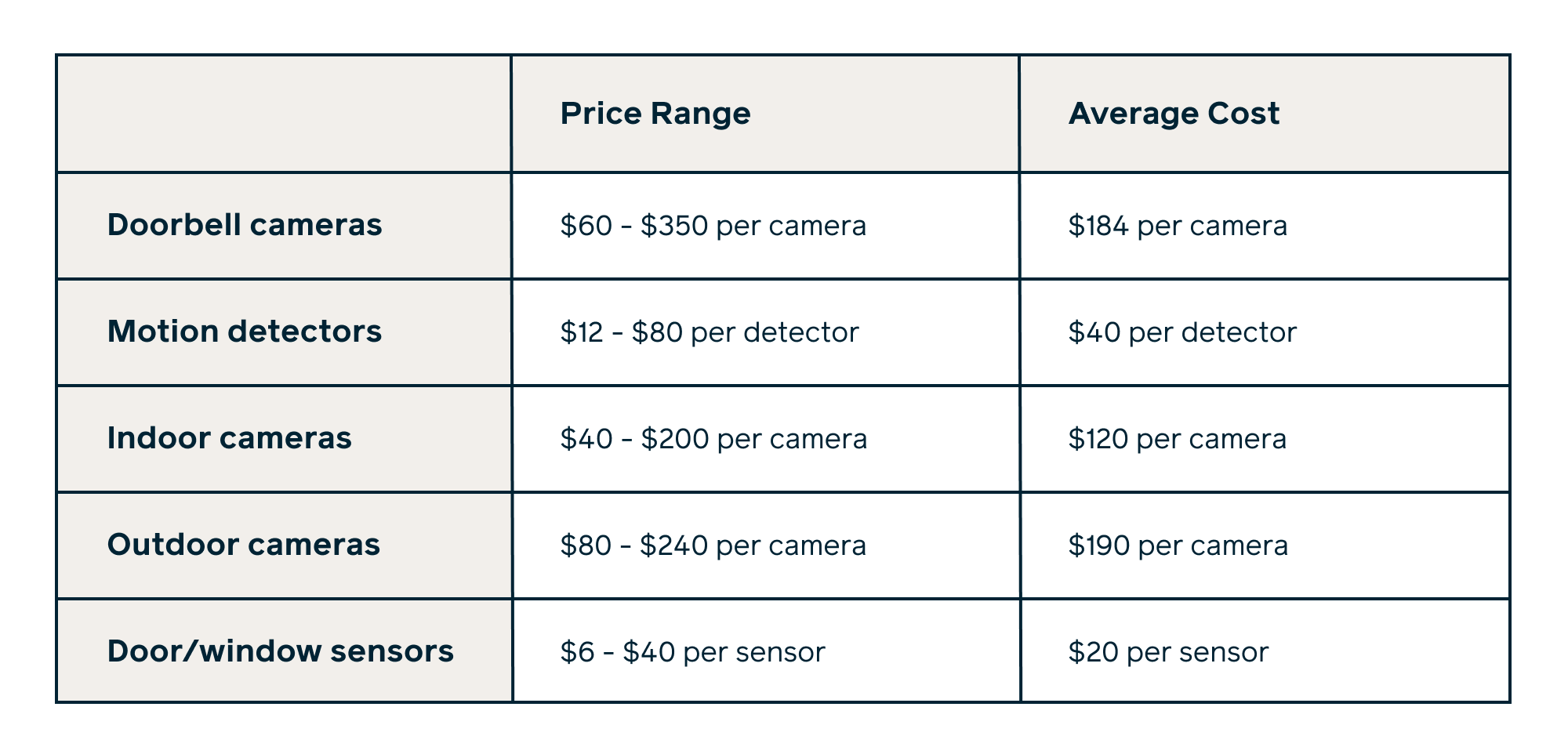 Factors Affecting the Price of Home Security Systems
You will quickly learn while shopping around that equipment, installation, and monitoring are not the only factors impacting the cost of a home security system. While these play a large part, there are several additional cost factors you should consider listed below.
Alarm Permits
The fire departments and police departments in many cities require homeowners to obtain an alarm permit before they start using a home alarm system. Depending on where you live, the permit may be free, but other areas charge a small annual fee ranging from $25 to $40. By paying this fee, you get the guarantee that first responders will arrive at your home whenever the alarm is triggered.
Wired vs. Wireless Security Devices
There's a noteworthy cost difference between wireless and wired home security devices. For example, if you invest in wireless outdoor cameras, you'll be able to save yourself some money on installation costs, as you can easily mount the cameras yourself using adhesive backing. On the other hand, wired cameras are more invasive and involve running wires and drilling holes, which can make the overall price up to three times more expensive.
So, while wired security systems don't cost as much on the high end as wireless ones, they start at a higher price point due to installation costs; wired systems will typically run between $800 and $1,600, while wireless systems range from $200 to $2,000.
Service and Maintenance
As with most other things you own, your home security system will occasionally need to be maintained. While these expenses are usually pretty minimal, you'll still want to be aware of them so they don't take you by surprise. Modern home security systems are built to be resilient and durable. Still, now and then, you'll need to replace the batteries in your wireless devices, order replacement parts if something breaks, and invest in annual inspections and service calls if something goes wrong.
Advanced Security Features
While cheap security systems do the bare minimum, advanced security equipment can take your home security to the next level with premium features. You'll pay more to have them, but if comprehensive safety is your top priority, you won't regret spending a little extra money.
Smart home integration: If you already use Alexa or another virtual assistant in your home, you can configure your security system to integrate with it so you have a truly automated home. You'll be able to control your security equipment the same way you do the lights, temperature, and locks with voice commands.
Remote monitoring: Make sure there are eyes on your property while you're away with 24/7 professional monitoring. You can rest assured that if any strange activity occurs, you'll be notified immediately.
Smash-and-grab protection: Burglars sometimes try to evade and disable residential alarm systems by destroying them. With crash-and-smash protection, your security monitoring professionals will be alerted the moment the criminal disarms the alarm, and they'll send help if they don't hear from you.
Video storage: Home security systems these days can store camera footage on a micro-SD card or in the cloud. Security companies often differ in how much footage can be stored and for how long. Generally, the larger and longer the storage capacity, the more expensive.
Environmental sensors: Add triggered sensors to your system that react to poisonous carbon monoxide, smoke, flooding, motion, broken glass, and more. When the sensors are triggered, you'll be notified of emergencies like these instantly.
Smartphone app accessibility: Some security systems can be controlled remotely from an app. For example, certain security apps may allow you to view a live stream of your doorbell camera, arm the system conveniently from your phone, and much more.
Panic/medical buttons and duress signals: As part of some security systems, you can add on medical alert pendants as well as panic buttons and fobs so you can get emergency help at the press of a button at any time of day or night. A duress signal is similar, but it allows you to discreetly summon help when you aren't in a position to speak. Simply enter your duress code, and the monitoring center will send assistance.
Home Insurance Discounts
Did you know that a comprehensive home security system can lower your homeowners' insurance premium by up to 20%, according to the Insurance Information Institute? That amounts to approximately $310 in savings each year for homeowners on average. Since the equipment is designed to deter crime and increase safety, you become less of a risk to insurance companies simply by having and using a security system, and they'll reward you for it.
Get the Best Deal on a Sleek Security System From Cove
Your life is busy, and Cove understands the need for affordable security that's both effective and easy to use. We make home security simpler and more attainable than ever with customizable systems that allow you to only pay for what you need — and with our risk-free trial, you can see how our professional monitoring works for you before you commit.
Start building your system and make your home a safer place. Contact Cove's friendly customer service team today to get started.
Frequently Asked Questions
Is a home security system worth it? Why?
Yes, a home security system is worth the cost, especially if you have irreplaceable valuables in your home or you live in a high-crime neighborhood. Home break-ins comprise 62.8% of all burglaries, with each break-in costing the homeowner an average of $2,661. Most families can't afford to suffer that much loss.
A home security system will require some investment on your part, but in the end, the amount you spend will usually be less than the amount you'd lose to a home break-in — and it will give you peace of mind that you simply cannot put a price on. Plus, most home security companies offer affordable financing to ensure your system fits comfortably within your monthly budget.
Do security systems help prevent crime?
Yes! Recent research by the University of North Carolina at Charlotte has shown that 60% of would-be burglars decide not to target a home when they notice the presence of a security system while casing the property. Once they see an alarm or a security camera, they will move on and find another house to target.
Are home security systems tax-deductible?
You won't usually be able to deduct a home security system from your taxes, but the IRS makes exceptions if:
You use the security system for a business where your home is your primary place of business. You can deduct the parts of the system that cover your place of business as well as your monitoring and maintenance costs.
You use a detached building (like a garage or shed) as a primary place of business. You can deduct home security costs spent monitoring this area.
You use a rental property as your primary place of business; security expenses used to cover primary areas of business at a rental property can be deducted from your taxes.
Be sure to speak with your tax advisor before taking any deductions.
Can my security system be hacked?
Most home security systems can be hacked, but you can take measures to prevent that from happening:
Start by securing your network to protect your connected security devices. Most routers even have a setting that allows you to hide the name of your network and make it invisible to hackers.
Make sure to change the default name of your router, Wi-Fi network, and password when you set up your security system.
Change the password regularly and ensure it's not the same password you use for other accounts. Strong passwords are at least 12 characters long and include a mixture of symbols, upper and lower case letters, and numbers.
You can also protect your system by activating your router's firewalls and encryption functionalities.
Within your security app and any other security accounts you use, enable two-factor authentication for login so you have an extra layer of protection.
If your security system is wired as opposed to wireless, ensure any exposed telephone wires are hidden, covered, or buried, as one wire snip can bring the whole system down.
How can I save on a home security system?
When considering all that a system involves, including installation, monitoring, equipment, and more, you might feel intimidated by home security costs. Fortunately, there are plenty of ways to keep your property safe without spending an arm and a leg. Here are some tips for saving on your home security system:
Opt for self-monitoring and DIY installation: Although it's a nice luxury to have the professionals install your equipment and monitor your home, many home security companies now offer the option to do these things yourself so you only have to pay for the equipment. If you have the time and the ability to handle these tasks on your own, doing so could save you big time on monthly fees.
Wait for the best times to buy: If you aren't in a rush to purchase your security system, it will serve you well to wait for the sales. During certain times of the year, security companies offer steep discounts on their products. Some of the biggest sales come during Black Friday or Cyber Monday, so consider holding out until then to make a purchase.
Limit your security coverage: You can save money by securing only the most vital areas of your home, such as the main access points on the first floor (front door, back door, main windows, garage, etc.). This will limit the amount of equipment you have to buy. If you don't want to purchase more than you need, seek out security companies that allow customization of their equipment packages. That way, you pay for nothing more than the bare essentials your property requires.
Sign up for a long-term contract: Many companies will offer discounted rates for those who are willing to sign on with them long-term. Shop around and see which companies will lower their costs in exchange for your loyalty.
Ask about senior and military discounts: As you shop around, find out which companies honor seniors and veterans by offering discounted equipment costs and monitoring fees.
Can my system move with me?
This depends on your security provider's equipment policy. Companies like Cove make it easy to bring your system with you when you move with security equipment that you can easily install and uninstall yourself. When you relocate, bring all your equipment with you and reactivate the sensors on your new property. All you have to do is reach out to customer service and let them know your address is changing.
---
Ready to get started?
Take this short quiz to build your customized system today!
Takes less than a minute
---