DIY Home Security
, Security Basics
DIY Home Fire Sprinkler System and Fire Safety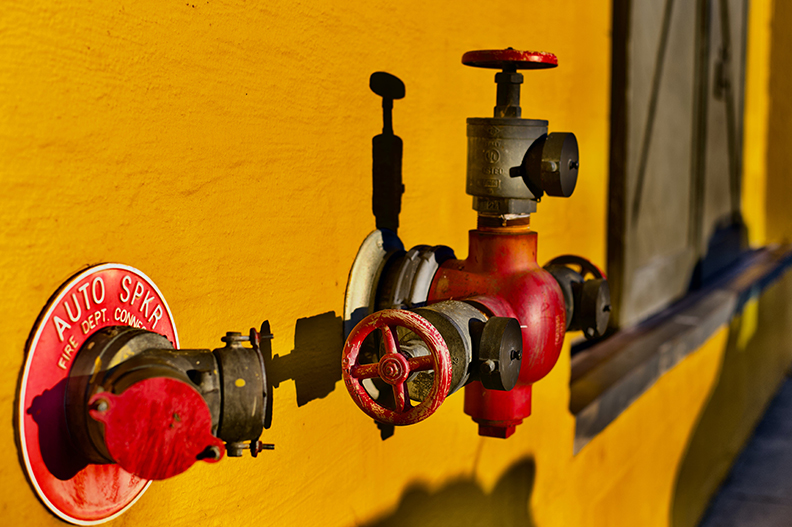 DIY Home Fire Sprinkler System and Fire Safety
Most home fires start small. Whether it's a grease spill on the stove or a cigarette thrown in the trashcan prematurely, your home is always at risk for small fires. But how can you keep these little fires from turning into full-scale blazing infernos? Well, there are a few things you can do. One is to make sure you have a fire alarm with away-from-home notifications. Another is to keep a fire extinguisher on hand always. And another is to install a fire sprinkler system in your home.
Understanding Fires
Before we get into the benefits of sprinkler systems, let's review the types of fires. Fires are divided into several classes.
Class A Fires: These fires are the most common and are caused by "normal combustibles," or things like paper, wood, and plastic.
Class B Fires: These fires are caused by combustible liquids and flammable gases such as hydrogen, gasoline, propane, and butane gas.
Class C Fires: These are electrical fires, often caused by a faulty circuit or a malfunction of some kind of electrical system. These can occur in microwaves, printers, and other appliances, as well as fuse boxes.
Class D Fires: These fires result from the combustion of metals, including magnesium. The most common reason you might see this kind of fire in your day to day life would be fireworks, which utilize many types of combustible metal for their pretty colors.
Class K Fires: These are grease fires caused by cooking oils and other fats, and are pretty common in kitchens.
Why a Fire Sprinkler System?
Fire sprinkler systems are useful for containing and extinguishing small fires, although they do not guarantee that the fire won't spread. If the fire is a grease fire, water from the sprinklers may actually spread the flames, although the water in the air may help to clear the air of some smoke. For some other fires though (especially class A fires), a sprinkler system very well could be the difference between a tragedy and a life saved.
Fire sprinkler systems are intended to minimize fires for long enough to allow the occupants of a home to escape before the fire blocks the points of exit and compromises the integrity of the building. According to one statistic, residential fire sprinklers reduce fire deaths by 81% and property damage by 58% (although some water damage may be an unfortunate side effect).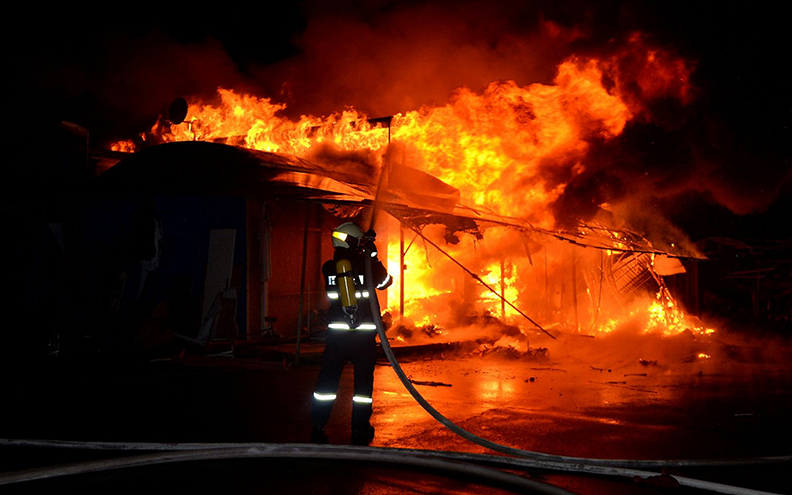 How to Install Your Own DIY Fire Sprinkler System
If you are planning on installing your own sprinkler system, you should understand the anatomy of such a system. Basically, the system will incorporate pipes running through the walls and ceilings of your home, as well as sprinkler heads at intermittent points throughout the pipes. Each fire sprinkler head should not be spaced too close together or too far apart. Too close and you might be facing flood problems; too far apart and the system may not be able to contain the flames.
In many sprinkler systems, there is water in the sprinkler pipes at all times. The sprinkler heads plug up the pipes and pressurize the water. When the heat in a room reaches a certain level, the sprinkler heads open pouring out the contents of the pipes on the fire below.
You can create a sprinkler system that runs separately from your main plumbing system, but generally, it is a good idea to integrate the two systems. This allows you to keep tabs on whether the plumbing in the pipes is working. Most issues with the main plumbing system will also affect the sprinkler system. The pipes can also connect directly to existing pipes, meaning hopefully you won't have to buy as much pipe as you would otherwise.
You may want to hire someone to install the system for you, just for the sake of ensuring that the water pressure in the pipes is not too high or low. To figure out these requirements yourself, you can check the NFPA 13D manual to figure out the flow rate and the best water pressure for your system.
Check out this video for more comprehensive instructions on how to install your own sprinkler system.
Fire Protection Tips: Fire Extinguishers
It's important to keep a good fire extinguisher on hand for use with small fires. Sometimes you don't need to wait for the sprinklers to go off in order to take care of a fire by yourself. Just make sure that you use the right kind of extinguisher!
There are extinguishers available for each of the types of fire listed above, except for Class K fires, which can usually be extinguished using a Class B extinguisher. Multi-purpose extinguishers are also available, which are labeled as AB, ABC, BC, etc. ABC fire extinguishers are fairly common in apartment complexes.
Be sure to check the label on your fire extinguisher to make sure it is the right kind. Using the wrong kind of fire extinguisher could prove disastrous and spread the fire. All canisters should be clearly marked with one or more of the letters listed above.
To use a fire extinguisher, remember the acronym PASS. The PASS technique is a feature of basic fire extinguisher safety. PASS stands for: Pull, Aim, Squeeze, Sweep. You must first pull out the pin on the top of the fire extinguisher. Then you should aim the nozzle at the base of the fire. You should then squeeze the handle at the top of the canister, and sweep the nozzle back and forth across the base of the fire until the flames are fully extinguished.
Fire Protection Tips: Monitored Fire Alarms
Odds are, you probably have a smoke alarm installed in your home. But did you know that upgrading to a monitored smoke detector can save more lives than sticking to a traditional smoke detector? Most traditional smoke alarms simply beep when they sense a fire. While this is fine when you're at home during a fire, it's decidedly unhelpful if you are away from home. With the Cove Smart Smoke Detector, you'll know if a fire occurs, even when you're away from home. If you have pets, this can be the difference between losing them and saving their lives. When we sense a fire in your home, Cove will notify you and send the fire department as quickly as possible. This fire detector doesn't just catch fires though, it also tests itself every 60 minutes to make sure everything is running smoothly.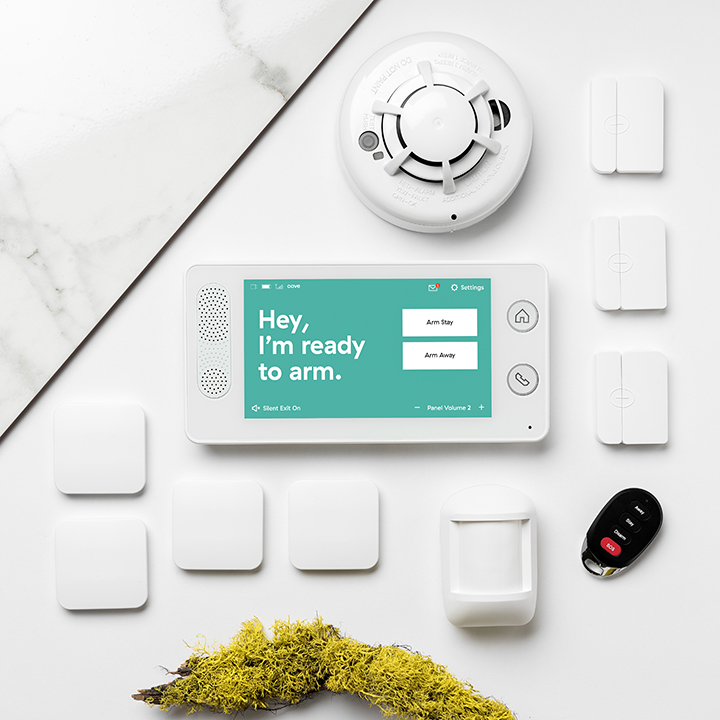 Cove: Your Friend in the DIY Home Security Biz
Cove doesn't just provide smoke detection though. At Cove we offer a variety of features, and if you're a fan of DIY, well, we've got packages for you!Just remember, we don't actually sell a home sprinkler system.
Cove does not require any kind of credit check, and it can be purchased online instead of through a door-to-door salesman. Cove is a fairly recent addition to the world of home security, but it offers competitive pricing and incredible service. Cove's DIY home security systems ship in 24-hours and we also provide you with a 60-day no-risk money-back guarantee. If you test out the system and find that it's not for you then you can return the system without paying anything.
Cove's packages are also customizable. Cove's systems go for $229-$389, with a $0 down option that is available where you get the equipment free. Possible elements you can purchase with a Cove security system include:
If the provided packages don't seem right for your situation, no problem! You can build your package. These packages can incorporate cameras, sensors, and environmental detectors (such as smoke detectors, carbon monoxide detectors, flood sensors, etc.). Each sensor and camera is individually priced if you build your package, which saves you a lot of money in the long run. Cove also frequently has sales on equipment, which can allow you to build your ideal system for an even lower price.
At Cove, we want you to get the most you possibly can out of your home security, whether it's fire protection, burglary protection, or flood protection. Give us a call today to find out more.
For more information on installing a sprinkler system, visit https://www.qrfs.com/blog/100-residential-fire-sprinkler-systems-guide-to-installing-home-fire-sprinklers-part-1/
---
Ready to get started?
Take this short quiz to build your customized system today!
Takes less than a minute
---