Home Safety
, Security Basics
Creating a Security Plan for a Work Environment: A Step by Step Plan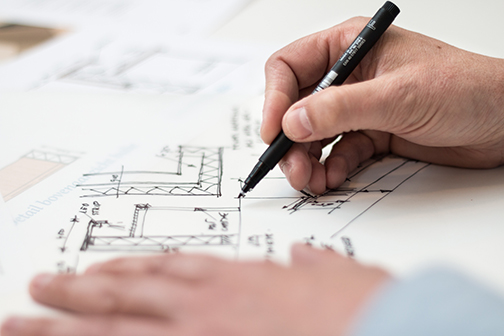 A security plan is used in IT and tech environments to restrict access to a computer or files and decrease security breaches. To say it simply, security plans protect data from being shown to those who shouldn't see it. This includes employees, hackers, and others who are privileged to the data information. Nearly every business has some degree of security planning—even if that means restricting access to a few floors of a building mixed with other simple security measures. Security plans keep private information private, helps the company retain its confidentiality, and decreases instances of identity theft. Building a security plan for a business is important and is similar to creating a risk management plan. Here at Cove Security, we are experts in security. That's why we've created a step by step guide and plan template to help you create your security plan and increase your facility security.
Step One. Creating the List
Your first step in creating a security plan to protect files, data, and assets is to build up a list of authorized personnel. You need to have a concrete list of who is allowed on certain floors of a building and who is not allowed. Or, you should know who is allowed to access certain files and data and who is not. This list will be your protection against security breaches within your company. Having a list will help you know who has breached security.
When creating the list, keep in mind that you will also be able to create tiers within the list of those who gain security access. For example, you may give a janitor access to a restricted floor of a building but limit access to specific rooms on that floor. Or, you may want to allow an employee to access a majority of a system, but limit their access to specific data within a system. We will talk more about tiers in this article, however, it is important to note that most of the people on your list will not have access to the entirety of the data system because they don't meet all of your necessary requirements.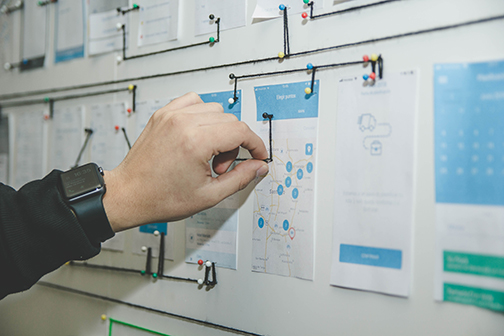 Step Two. Security Tiers Within the System
As we mentioned, not everyone will be able to have access to all information within a security plan. This is where creating a tier comes into play with your security policies. When creating a tier, first write down the roles that receive access to information. In most cases, access is limited to the employee's position. For example, the CEO may have access to a vast majority of data and assets (if not access to all data) while an intern might have access to a more limited field of data and assets. This separation of roles is completely normal in businesses and simply helps to prevent vital information from being leaked to competitors. Important information about business finances and employee information is kept secure to protect identities, and help make the work environment feel safer.
Step Three. How Users Will Access the System
In order to create an effective security plan, you need to know how you are going to create your security tiers. In most businesses, they will install either an electronic system (like passwords) or a physical system (like a keycard) to prevent information from being breached. Here are some ideas that you might want to consider:
Electronic employee ID and password. Handing out employee ID and passwords to each member in your business can be an effective way to limit employees to the information that they need to know. You will need to ensure that each ID is programmed to allow the employee access to all of the information that they need and none of the information that they don't need. This is best for employees who use company-owned computers in the facility. For businesses that don't use computers or allow each employee to use their own computers, a different option might be better suited for your business.
A physical ID card. For most businesses, a physical ID card will be important. ID cards make it easy to limit access to specific areas. This allows you to know where your employees are within the building at all times. Since the system will be able to record who attempts to open which doors in the building, you will know which rooms are most-used within the building. This can also be used on elevators to prevent employees from using certain floors of the building if needed.
Biometrics. Though relatively new to the business world, biometrics are an important and overlooked tool that can help secure your business's information. Biometrics includes any information gathered about the body of a person (this includes eye color, fingerprints, and facial recognition). This is often used in smartphone identification and other high-tech industries. However, it can easily be installed on doors to ensure maximum security.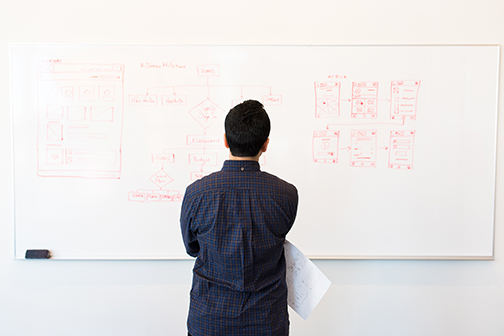 Step Four. Plan to Handle Weaknesses
Every security plan is going to have weaknesses. No plan is perfect. Because of that, it is important to plan in advance for the weaknesses that your system will have.
For example, if you are using a passcode system, you will have to deal with the possible challenge that employees could share or steal passcodes to gain access to confidential information. In order to combat against this, you will need to create a way to hold your employees responsible for their passcodes. Studies have shown that the most effective way of protecting a company is by making the employees feel like they have a place where they belong in the company. Helping employees to feel safe and secure in their positions increases their productivity and creates loyal members of the company's family. If there are cracks in the company, it is often because your employees feel unsafe in their environment. You should also enroll members of your team in a web security program to ensure that they understand security threats to the business and learn how to handle a security incident.
Every month, you may need to assess security risks to ensure that you are staying on top of any security threats and data breaches. In other cases, you might need to improve the outward security of the company. This is usually in the form of a security system, security cameras, and security officers that can be placed in and around the building.
Step Five. Security Measures
As experts on security, we always recommend that buildings (both commercial and residential) have a security system installed. Security systems provide protection and security for both the company and the employees in the network. Security systems are an asset that companies should be willing to invest in. Because they protect people, files, sensitive data, and property, security systems are simply not something that can be cut from your budget. You can protect your assets with a variety of policies and procedures. According to Protection International, "A security plan is aimed at reducing risk. It will therefore have at least three objectives, based on your risk assessment: reducing the level of threat you are experiencing in your network, reducing your vulnerabilities, improving your capacities."
One of the most important security features to include in your security system are security cameras. Security cameras provide the evidence that you need to protect and convict. Without security cameras, you're allowing someone to enter the building without permission and walk away without getting caught. In addition to security cameras, install anti-virus software and malware on all computers in the workplace and enact policies that will reduce the risk of getting a virus. Of course, one the requirements for this type of network plan to work is compliance from everyone participating.
When addressing your security needs, always ensure that home security cameras are a priority on the list.
Step Six. Carry Out the Plan
Creating a data security plan is not a one man/woman job. You will need to gather a group of people (like the managers in the company) to help complete the security plan. The plan should be as detailed as possible. You should divvy up the duties and assign each step (except for this last step) to one member of your elite team. After the duties have been assigned, they will be able to focus on what is needed to fulfill each step. Hopefully, by the end of this process, you will have a security data plan that perfectly measures what is needed to better protect the security data in your company.
In addition, you should always take threats seriously. If you hear of threats to the security of company data, act immediately on the contingency plan. Your incident response plan can be created by another team within the company to create unity within the response planning.
While Cove can't create your security plan for you, we can help secure your company or home. Click here for more information about Cove's security systems.
---
Ready to get started?
Take this short quiz to build your customized system today!
Takes less than a minute
---