Home Safety
, Am I Secure?
Guide to Business Security Systems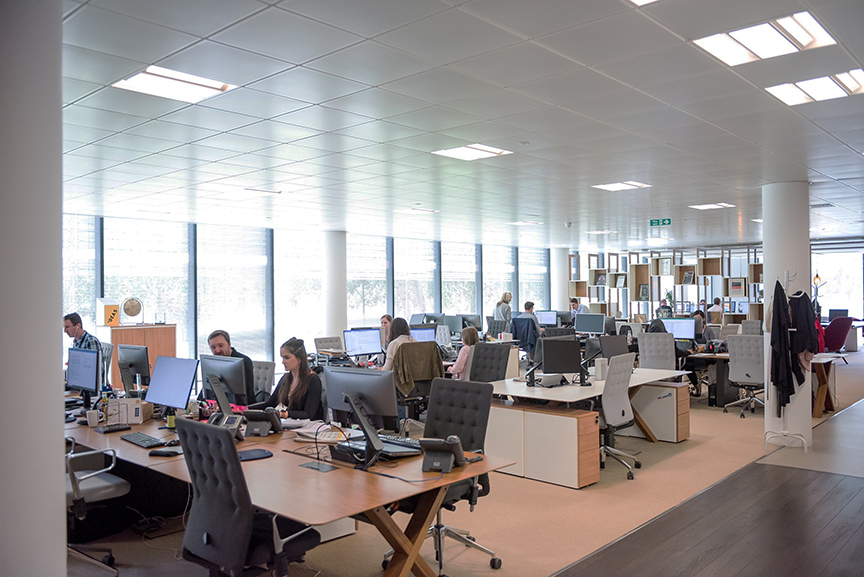 Businesses lose millions of dollars due to theft, burglary, and employee fraud every year. Because of high theft, business owners need to be more prepared to protect their businesses. One of the best ways to protect a business is by installing a commercial security system. Commercial security systems come in a variety of shapes, sizes, and styles. To help business owners find the best security system to protect their livelihood, we've created a guide to help explain business security systems.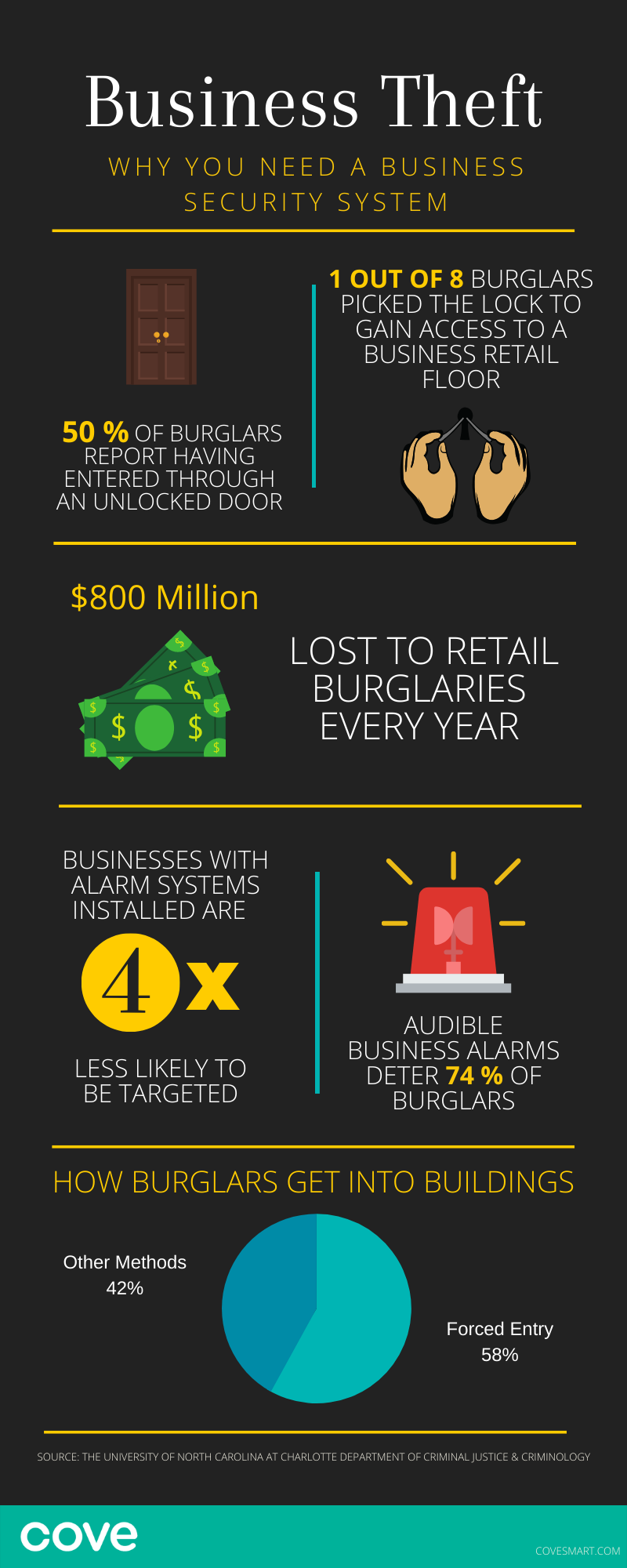 Importance of a Security System for Your Business
Why is it important to have a security system for a business? Every year, billions of dollars are stolen from retail. Another few billion dollars are stolen by employees due to fraud and embezzlement. Having a security system can protect business owners, their employees, and their customers. To help illustrate why businesses should have building security systems, we've gathered data that stresses the importance of having security alarms:
$800 million are lost due to retail burglaries every year.
50% of burglars report having entered through an unlocked door.
1 out of 8 burglars picked the lock to gain access to a business retail floor.
58% of burglars used forced entry to get into the building.
Audible business alarms deter 74% of burglars.
Businesses with alarm systems installed are 4 times less likely to be targeted.
Business owners are safer and more protected with a business security system installed. Buildings, including businesses and residential buildings, are less likely to become the target of a burglary if there is an obvious home security system protecting the property.
A study done by The University of North Carolina at Charlotte surveyed 301 convicted burglars and gathered responses to determine how burglars think. According to the study, one in six burglaries is done between 10:01 PM and 5:59 AM. Most other burglaries are done during daytime hours. Although more burglaries are committed during the day, more valuable merchandise is stolen during the nighttime hours.
For a business owner selling retail, this suggests that both daytime security and nighttime security are equally important. Business owners should expect a higher number of attempted burglaries during the day (customers sneaking items out of the building hidden in purses and bags). Yet, business owners should expect higher value items to be at risk during the night.
Having a business security system can protect thousands of dollars in merchandise every year.
Benefits of a Business Security System
There are many benefits to having a business surveillance system. Investing in a security system, including surveillance cameras, door locks, and indoor security cameras, is one of the best choices a business owner can make. Different building sizes will require different security systems. Larger businesses will benefit from having vast, hardwired systems that can be controlled from a monitoring center. Smaller businesses may choose either a commercial security system or a DIY surveillance system.
Having a security system installed will help employees and customers feel safer, and help to protect the merchandise within the building. The benefits of having a business security system include:
1. Recorded Evidence of Theft
According to the National Association of School Psychologists (NASP), over $13 billion worth of products are stolen from retailers every year. That means $35 million in retail products is stolen every day from business owners. Sadly, nearly half of these instances go unreported, and shoplifters are rarely caught. Having a surveillance system can help you catch shoplifters before they leave the store.
There are two main features that will help you to better catch shoplifters: video surveillance systems and anti-theft alarms. Setting up cameras in the inside of the business will help you to monitor suspicious activity. Most shoplifters are unable to conceal nerves as they steal from the store. Shoplifters will pretend to browse the items in the store first before they grab the items that they want to steal. After they hide the item (either in a bag or under their clothes), they will walk around again before quickly exiting the store. Cameras will help to capture the footage of the stolen item, making it easier to prosecute the individual for the crime. Anti-theft devices are helpful before they ensure that you catch the individual before they leave the property.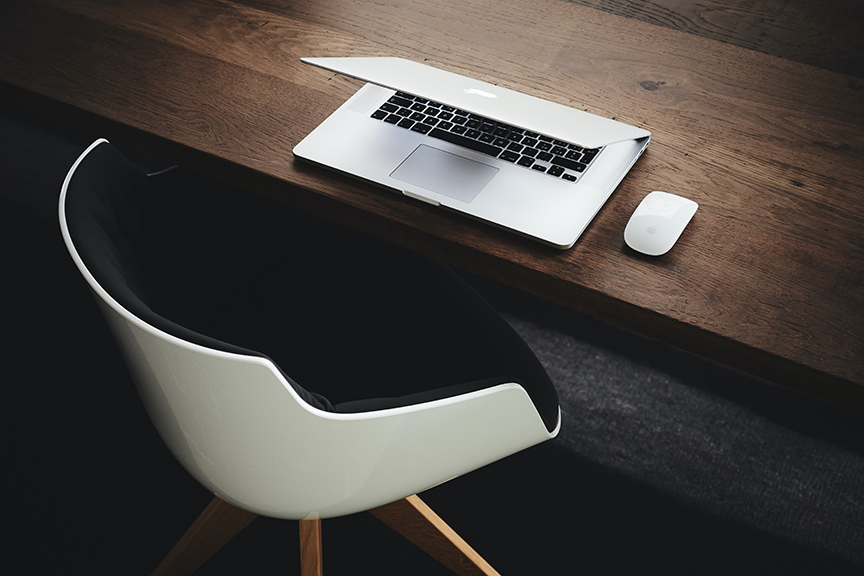 2. Monitoring Employee and Customer Traffic
One of the best security solutions for store owners is having surveillance cameras set up in the inside of the store. Every business should place an indoor camera near the entrance of the building because it allows employers to monitor the employees and customers who enter the building. Camera footage can provide evidence, security, and safety for everyone in the building. After business hours, you can review the footage to check up on when employees arrived at work and count the number of customers who entered the store. Monitoring your store can help you to increase numbers, improve productivity, and build trust with your employees.
3. Tracking Products and Inventory
Sadly, $50 million dollars worth of inventory is stolen from retail businesses every year by employees. Dishonest employees might steal items, hoping that the missing products will go unnoticed. Setting up security cameras can help protect your business against this type of embezzlement. Essentially, surveillance cameras force employees to stay honest because their crimes will be caught on camera and be punished. Additionally, if an inventoried product is ever lost, cameras will help track where the products were placed.
4. Improved Employee Productivity
More than half of employers use cameras in the workplace to monitor theft. Another 16 percent of employers use cameras to monitor the productivity of their employees. Using cameras to monitor employees may increase their productivity and encourage employees to stay focused during work hours. Many employers have found that it is extremely advantageous to monitor their employees' work ethic.
However, employers need to be careful when setting up cameras in the workplace. Every state has privacy laws that are enforced in commercial and residential areas. Cameras are not allowed to be set up in areas where the employees expect to have privacy. Locations where cameras are not allowed include:
Bathrooms
Changing rooms
Nursing rooms
Locker rooms
Showers Cameras should not be placed in any locations where the employee's privacy will be infringed upon. Cameras can be set up in public areas, like workrooms and retail floors.
5. Reduced Vandalism
Having business alarm systems in the workplace has proven to decrease instances of vandalism. Surveillance cameras discourage criminal activities around buildings. One of the best tools for decreasing vandalism is a security alarm. Alarms, according to a survey done by an Idaho new station, deter burglars. The survey asked convicted burglars, "If an alarm system went off, what would you do?" An overwhelming majority of the responses stated that, if an alarm was set off, they would run and get away from the area as quickly as possible. Having alarms around your building will prevent criminals from getting too close.
6. Preventing Fraud
Security systems for businesses can help to prevent internal fraud. Dishonest employees may be tempted to steal from the company during their careers. This could mean that they "miscount" the cash in the cash register, or perhaps they lie about the hours that they have been working. Regardless of why the employee lies, the lie is fraud and will impact the business.
Small business owners struggle to protect their business when employees take advantage of the employer. Having a security system installed will prevent employees from being dishonest. Cameras will verify the hours that the employee was working, and the surveillance footage will protect the cash in the cash register.
This video shows how a business security system foiled an employee's attempt to sue his company for slipping on ice that he dropped himself.
7. Reduced Insurance Costs
Having a commercial security system will also decrease insurance costs. Most businesses must have insurance to protect the building. Depending on your state, you may be required to have flood insurance, fire insurance, and building insurance. Insurance will help to decrease damage costs in the case of a disaster. However, insurance costs can be expensive, depending on the size of the building and the company. Insurance companies prefer when companies take protection into their own hands. Because having a security system decreases the odds of being burglarized, insurance companies are likely to lower the insurance premium. Commercial systems can also help to prevent fires, floods, and internal damage, meaning that the insurance company will lower the premium for each type of insurance.
8. Centralized Monitoring
Small business security systems can be monitored from a mobile app, making the footage centralized. By using a mobile app (for small businesses), employers will be able to better monitor the cameras in the building. Businesses can also hire a security company that will handle professional monitoring to ensure that the business is safe and secured.
Large businesses may use a monitoring center instead of a mobile app. Most monitoring centers stream camera footage to a CCTV. A security guard will then watch the footage on the television and watch for suspicious activity. Both methods (the mobile app or the CCTV) make monitoring the system more centralized.
9. Prevent Fire Damage
Often, small businesses are ill-equipped for fire damage. Fires can destroy businesses in a matter of minutes if the fire isn't noticed in time. Every year, thousands of small businesses are forced to close due to fire damage repair costs. With a smart fire alarm (included in DIY security systems), businesses can detect fire faster and more efficiently.
10. Peace of Mind
With security cameras, motion sensors, and theft detectors, your business is protected from every angle. Perhaps one of the best benefits of having a security system is that you, as a business owner, will have peace of mind. You can rest easy at night, knowing that your business is protected.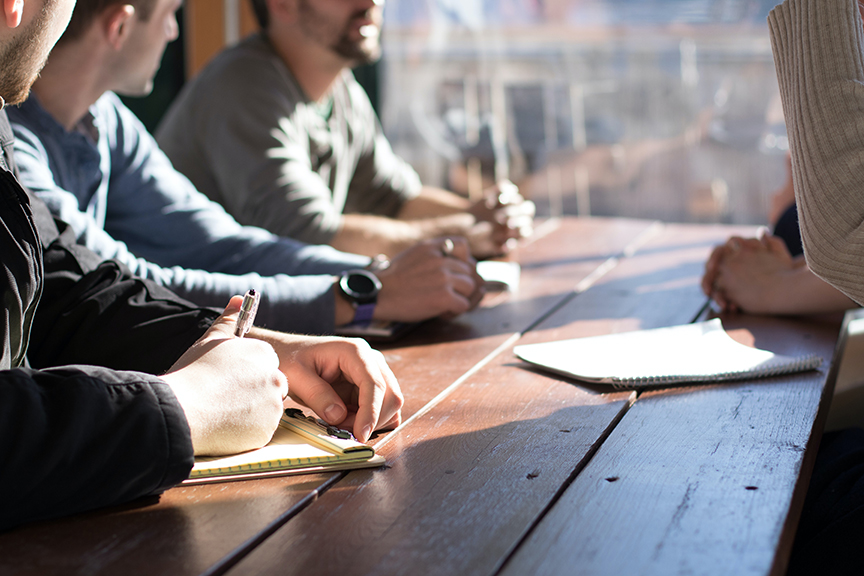 Features of a Business Security System
There are two main types of business security systems: commercial security systems and DIY security systems. Both systems are equally effective in preventing crime, and you can expect the same level of protection from either system. The main difference between the two systems is that a commercial system is meant for a larger company, and a DIY system is better suited for a small business.
Commercial Security System
Commercial security systems are able to cover larger areas and are more complicated in their installation. However, for large businesses, a commercial security system is the best way to protect the property.
Features of a commercial security system include:
CCTV Monitoring. A closed-circuit television (CCTV) will stream constant footage to a monitoring screen. Typically, the employer will hire a security guard to monitor the screen. This ensures that there is always someone watching the live security feed.
Hardwiring. Commercial systems are usually hardwired into the building since the system needs to cover a large distance, such as a warehouse or multi-story office building. When an alarm is triggered, the wired system sends a signal akin to a landline phone that calls security services, the fire department, or police department (depending on which alarm was triggered).
24/7 Recording. Since commercial systems stream footage, the cameras record all day and all night. Although this is energy-consuming, it's often necessary for larger buildings, making surveillance more consistent.
Night Vision. Most security systems, both commercial and DIY, will have night vision. Night vision allows businesses to better monitor dark rooms and hallways. Regardless of the time, surveillance cameras equipped with night vision will be able to provide the protection that your business needs.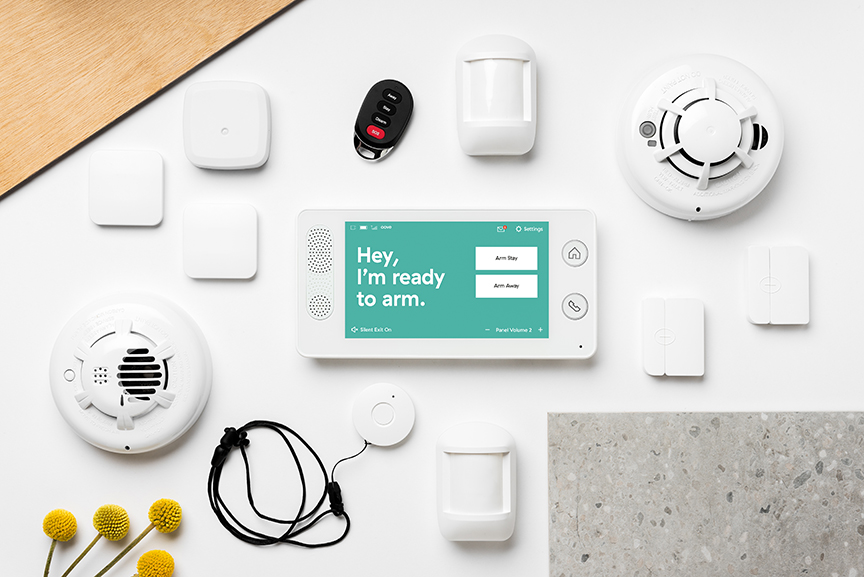 DIY Security System
A DIY security system requires less setup than a commercial security system. It is smaller and is the perfect fit for smaller businesses. DIY surveillance was first created for homeowners as an easier way to protect residential buildings. However, DIY systems have been adapted to fit the needs of small businesses.
Features of a DIY security system include:
Professional Monitoring. DIY systems are monitored wirelessly by the alarm company. At the same time, the alarm company also allows the business owner to monitor the system remotely through a mobile app. This means that there are two separate groups monitoring the system at all times.
Two-Way Audio. With a DIY system, you will have cameras with two-way audio. Two-way audio records both audio and video, allowing the system owner to better comprehend the scene. However, when installing an audio camera, make sure that it is not installed in an area where the camera would interfere with customer or employee privacy laws.
Control Panel Monitoring. A DIY security system can be monitored and controlled using a control panel. Through the control panel, the system can be armed and disarmed on command.
Night Vision. Like we mentioned earlier, night vision is an important feature included with both DIY systems and commercial systems. Night vision grants protection to the business during both daytime and nighttime hours.
Motion Detection. With a DIY system, businesses gain access to both motion sensors and motion detection cameras. Motion sensors set off an alarm as soon as a suspect is within 40 feet of the alarm.
Panic Button for Office. Having a DIY system means that the system is customizable. One of the best features is that you can add a panic button to the office, ensuring that you have easy access to help, if you ever need it.
Easy Wireless Installation. Perhaps the best aspect of DIY systems is that they are easy to install. They are completely wireless, meaning that the system can be moved and adjusted as needed. For a small business, this type of system is ideal since the business is still growing and expanding. To grow and expand, the company needs a system that will be flexible. Wireless security camera systems for businesses help to protect the business while the company grows.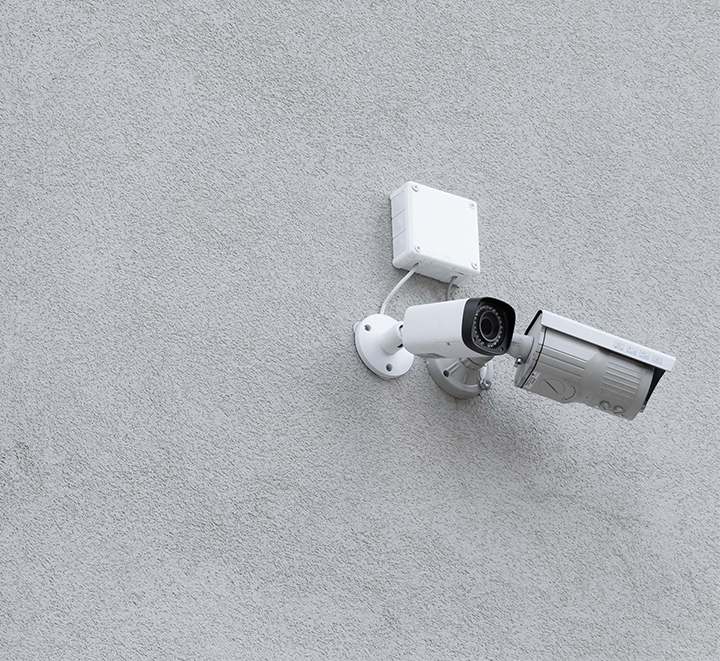 Tips for Using a Business Security System
It's important to learn how to utilize your business security system. Business owners need to be aware of where to put cameras, when to arm their security system, and who to trust with security access. Here are the best tips for using a business security system:
1. Protect the Perimeter
When installing security cameras for the business, one of the most important things you can do is to protect the perimeter of the business. If you have an attached parking lot, face several cameras towards the parking lot to watch for suspicious activity in the parking lot. If there is a back alley behind the business, set up cameras there as well. The goal is to set up a security perimeter to protect your business. Security solutions begin at the edges of your property, not just as the front door.
2. Keep Your Camera Footage
One of the biggest mistakes you can make as a business owner is deleting your camera footage. Camera footage should be saved for at least 30 days. Most commercial systems will keep footage for several weeks; however, DIY systems tend to only save up to seven days worth of security footage. If you're using a DIY system, connect a USB drive to save more footage.
3. Install Security Lights
One of the biggest deterrents for nighttime burglars is light. Motion-activated lights discourage burglars because the light exposes them. Installing lights on the outside of your business can prevent burglars from slinking around the perimeter in the dark. Motion sensor lights on the inside of the building are also an effective tool to deter burglars and intruders.
4. Smart Fire Alarms and Flood Sensors
Burglars and shoplifters are not the only threat to a business. Every year, thousands of businesses are the victims of fires, floods, and other disasters. Accidental business fires are difficult to prevent because they happen due to human error. However, having a smart fire detector can help responders get to the fire faster, thus mitigating the damage to the building. Smart fire alarms are faster to detect fires and alert the fire department as soon as smoke or intense heat is detected.
Floods are also common in businesses. Flood sensors are the fastest way to detect a flood within a building. They help to decrease the damages caused by flooding and help business owners to better protect their property.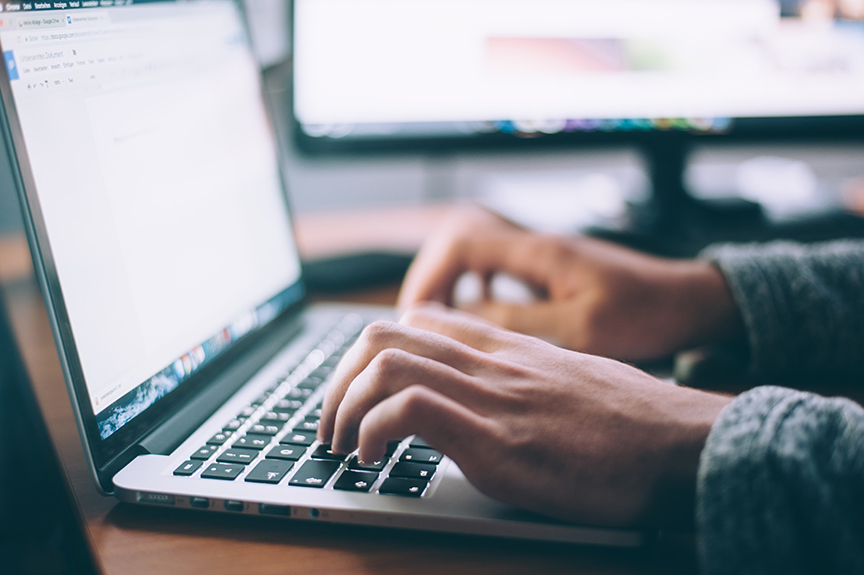 5. Protect Your Computers
Every year, hacking becomes more and more common, and businesses are more at risk. Computers store valuable information about the company that hackers can use to their advantage. To prevent hackers, secure your wifi network, and install malware on all work computers. You should also teach your employees how to use work computers and warn them about downloading unapproved files.
6. Lock Your Doors
It may seem like an obvious suggestion, but many burglaries happen because the doors to the building were left unlocked, either from negligence or forgetfulness. Doors, during closing hours, should always be locked. Hold your employees accountable for locking the doors before they leave the building. To ensure that doors are always locked, install smart locks on the doors. With smart locks, you will be able to lock the doors from a remote location and check on the app on your phone to make sure that the doors have been locked.
7. Only Hire People You Trust
Regardless of whether your business is large or small, only hire people you trust. Employees, even when loyal, are most likely to do whatever benefits themselves most. Given the opportunity, some employees may be tempted to steal from the business. To prevent internal theft within the business, hire only those who you trust. Having a successful business is more than giving good customer service; it's about being able to trust the employees you have.
8. Protect Your Passwords
To fully protect your business, business owners need to resist access to security passwords. To disarm a security system, you will need to enter a code. This code should be given out to very few people. If possible, do not give out the security code to anyone other than managers.
9. Listen to Your Alarms
When you wake up to an alarm in the middle of the night from your business security system, do not turn over and go back to sleep. Your alarm system is meant to protect your business and should never be ignored, regardless of whether or not you suspect the alarm to be a false alarm. It's always better to be safe rather than sorry.
10. Trust Your Instincts
One of the most valuable tools a business owner has is his or her instincts. If you suspect that a customer has entered your business with ill intentions, don't wait around for something to happen. Watch the customers closely to make sure that your products are protected.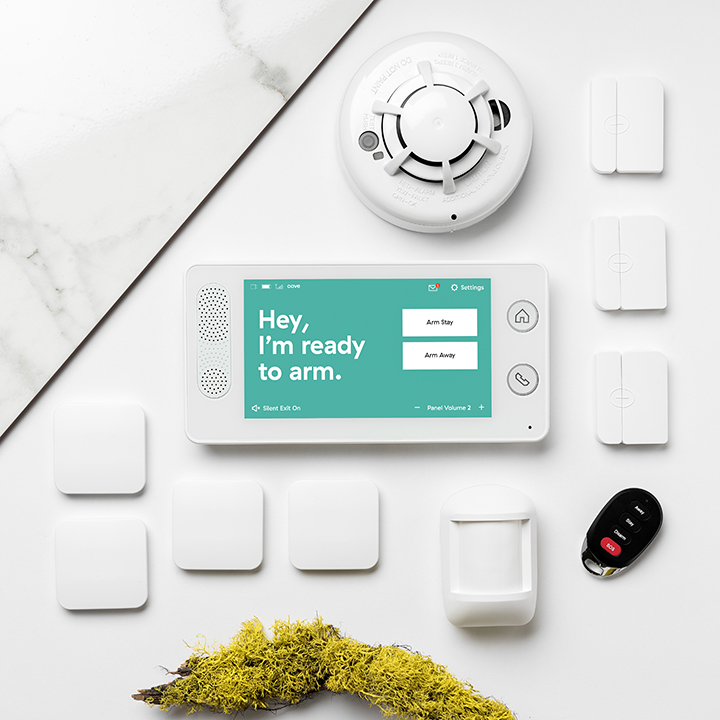 Best Business Security System for Small Businesses
Small business owners can gain access to easy protection with Cove Security. Cove offers DIY security systems to business owners looking for a better way to protect their business. Some features included in Cove's security package are:
Indoor Security Cameras. Every business security system needs indoor security cameras. Cove offers business security cameras that can be accessed remotely through a mobile app. This means that you can review security footage even while you're away from the building. Cove's indoor cameras are the best security camera systems for small businesses.
Motion Detectors. With motion detectors, your business will be protected at all hours of the night. Cove's distinct motion detectors use PIR motion detection to sense when a person has entered the room. If the system is armed, the sensors will set off a distinct alarm meant to startle intruders.
Remote Monitoring. Perhaps one of the best features that Cove offers to business owners is the ability to monitor their systems remotely. Through a mobile app, business owners will have full access to the system.
Easy Installation. The main reason why a small business should avoid using a commercial security system is because of the extensive setup process. With a DIY system, the installation takes only a half-hour. Protecting your business is just as important as protecting your home. Cove, with incredible customer service practices and top-notch security equipment, is prepared to secure your business and protect your customers.
---
Ready to get started?
Take this short quiz to build your customized system today!
Takes less than a minute
---