Home Safety
, Security Basics
Home Security Camera Laws California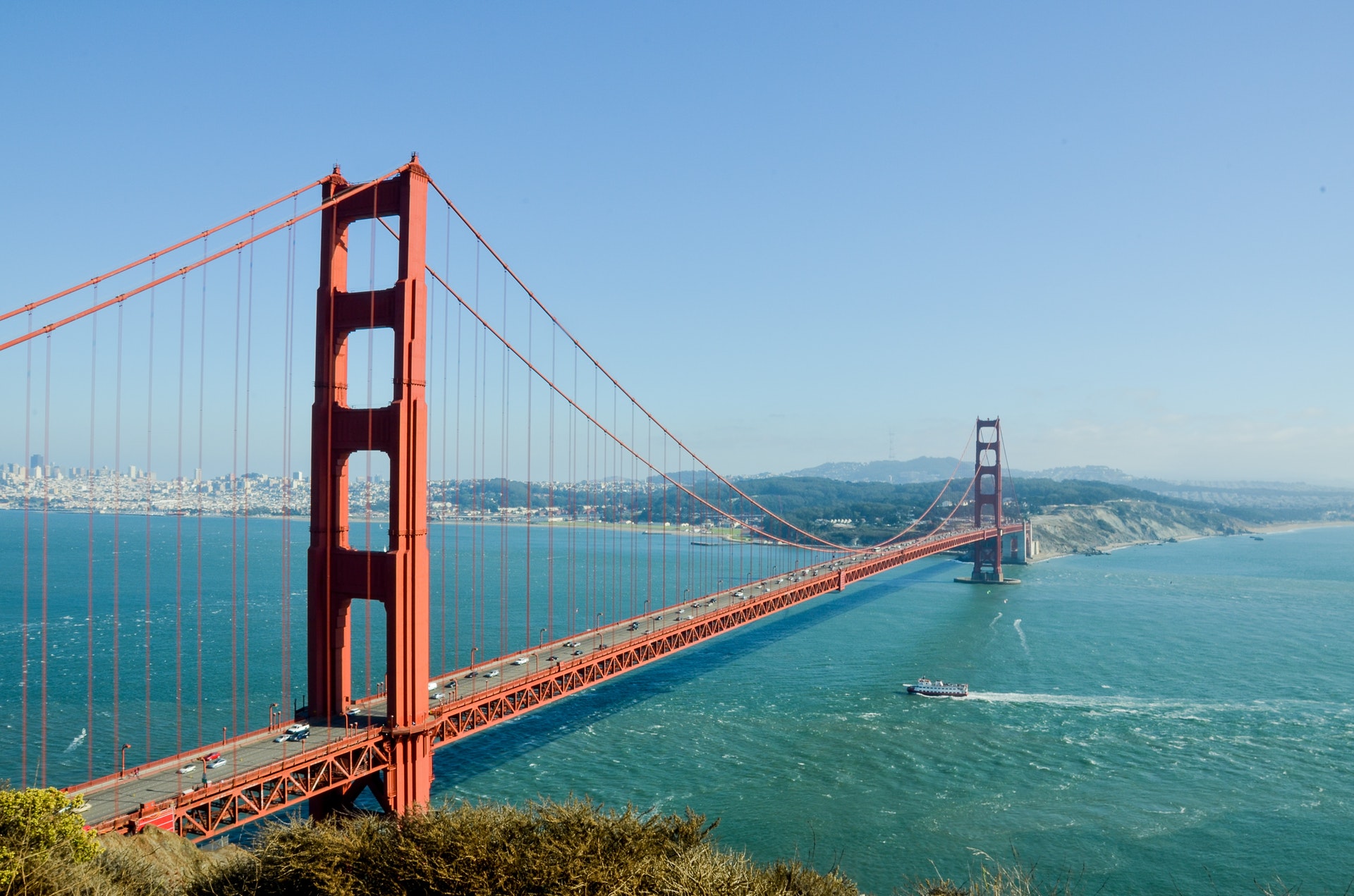 Having a security camera in any state is legal; however, there are restrictions as to where you can place the camera. California is one of the leading states in home security. If you're about to install a home security camera system in California, it's important to know where it's legal and where it's illegal to place cameras on your property.
Home Security Options in California
The state of California has a violent crime rate of 447 violent crimes per 100,000 people, which is 15 percent higher than the national average. California has a property crime rate of 2380 crimes per 100,000 people, which is 8 percent higher than the national average. Because crime is higher than the national average in the golden state, it's important that homeowners take advantage of the home security options available to them.
In California, there are two main home security options that offer home security camera systems. The first option available to California homeowners is the wired camera system. A wired camera system must be installed professionally, a process that could take up to a week and cost an additional $300 to $500. Wired systems are less popular among modern homeowners because the camera systems are inflexible—once the camera system is installed, it's difficult to change or modify the system.
The other option available to California residents is the wireless camera system. The wireless camera system is also considered "DIY" or "do-it-yourself." These systems are shipped to your front door and can be installed without a professional installation team. Most customers who use DIY camera systems will have the entire camera system installed within the first 30 minutes. Since the video surveillance system doesn't have any wires, the cameras are extremely flexible. You can move the home security surveillance cameras from room to room without worrying about messy wires.
DIY camera systems make video surveillance easier and hassle-free. Because they are easier for the modern homeowner to manage, DIY security and surveillance cameras are quickly becoming the most popular option for protecting homes.
Privacy Laws in California
According to the State of California Department of Justice, privacy laws are separated into six categories that are specific to the state of California. There are an additional five privacy laws that are federal privacy laws.
State Privacy Laws
The state privacy laws are separated into these categories: the constitutional right to privacy, general privacy laws, health information privacy, identity theft, online privacy, and unsolicited commercial communications. According to the California Department of Justice, the California state privacy laws can be defined as the following:
Constitutional Right to Privacy. Each citizen in the state of California has the "inalienable right" to pursue and obtain "privacy. They have the right to expect privacy in situations where privacy should be expected.
General Privacy Laws. These laws prohibit private information (credit card information, bank information, social security number, license plate information) from being stolen or shared. It also protects citizens from eavesdropping and defines video surveillance in rented vehicles to be illegal. The general privacy laws protect residents from 79 different privacy violations.
Health Information Privacy. The health information privacy laws protect your health information (birth certificate, death certificate, health records, patient medical information) from being shared or sold. This section of the California Privacy Law protects citizens from 10 different privacy violations.
Identity Theft. Laws that fall under "identity theft" help to protect residents from all crime in which their personal identity has been stolen or adopted. This set of laws protect citizens of California from 18 privacy law violations.
Online Privacy. The online privacy laws protect citizens from online websites posing as government sites, email pages, or other pages that would otherwise convince a person to reveal his or her private passwords and information. It also protects from spyware, cyberbullying, cyber exploitation, and cyber sexual bullying. These laws are meant to ensure that the internet remains safe for citizens to access. These laws protect from 15 privacy violations.
Unsolicited Commercial Communications. These laws protect citizens from unsolicited phone calls (also known as robocalls), text messages, and other unwanted forms of communication. These laws protect California citizens from five privacy law violations.
All people living in the United States are expected to follow state privacy laws. Privacy is taken as a right, which means that those violating state privacy laws are violating the victim's right.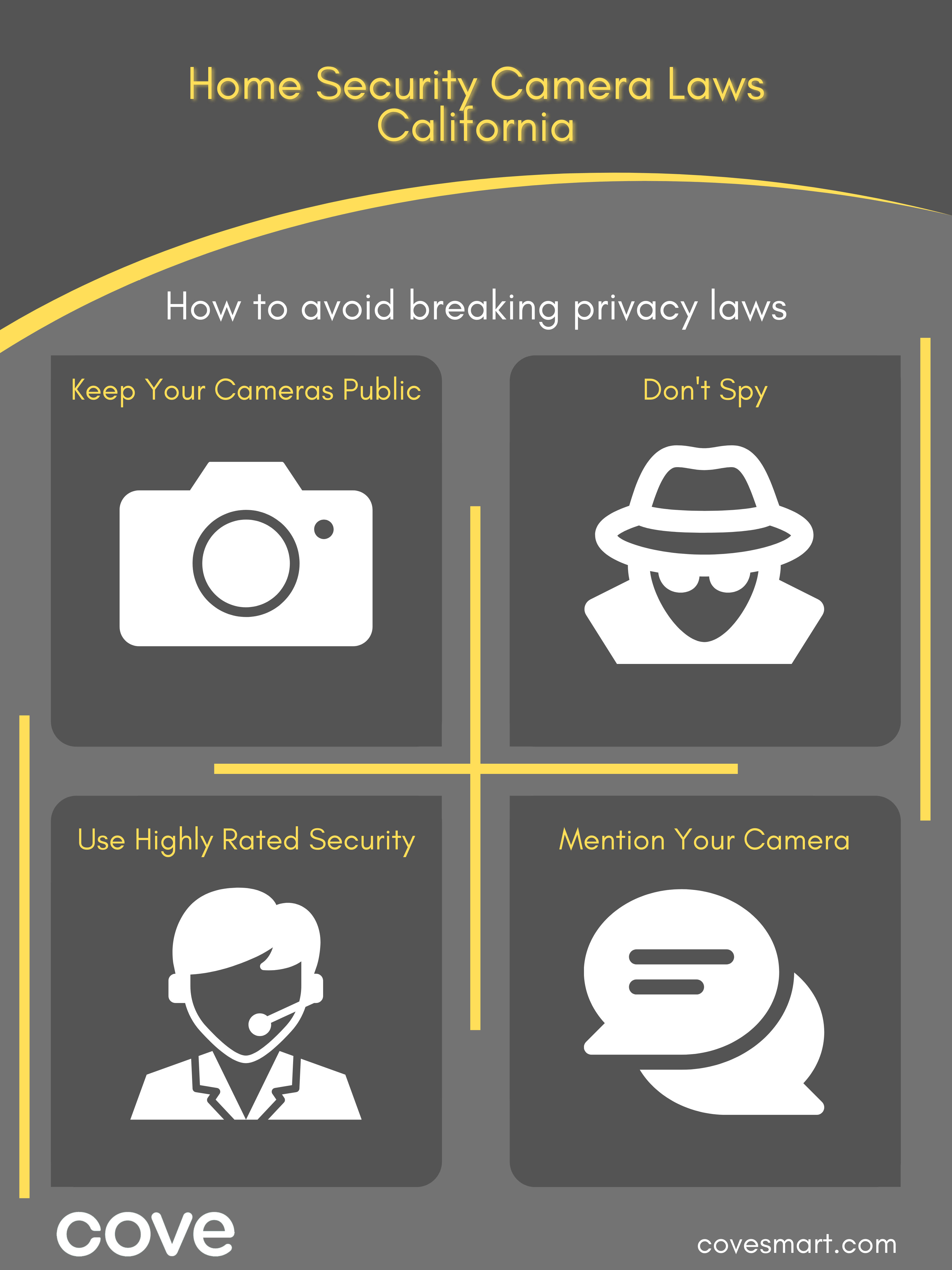 Federal Privacy Laws
Federal privacy laws are consistent across the nation, ensuring that each state has the same laws and regulations for the following:
General Privacy Laws
Health Information Privacy
Identity Theft
Online Privacy
Unsolicited Commercial Communications
Federal privacy laws typically parallel state privacy laws. State privacy laws will tweak, change, and add small things to the federal law. For more information about Federal privacy laws, visit the Department of Justice Privacy Laws website.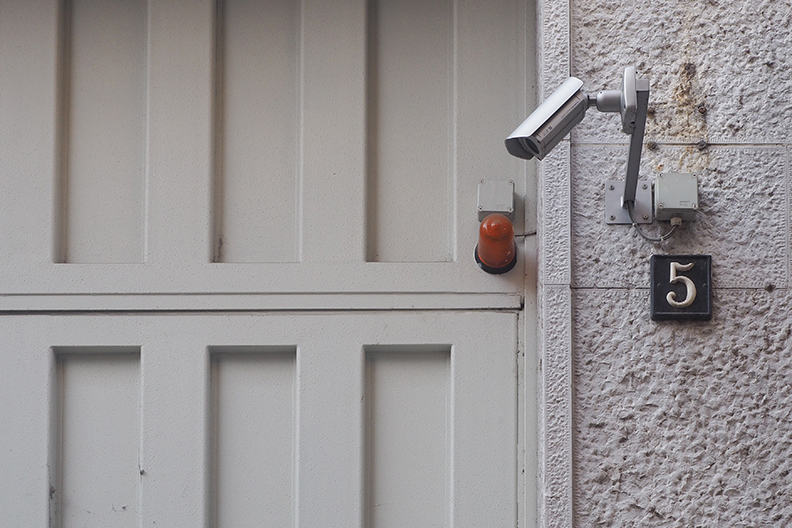 Home Security Laws
When a home security system is used in the home, it counts as "protecting your private property." As defined in California's privacy laws, each person has the right to privacy, meaning that they have the right to protect and secure their property to secure their privacy. However, just because you are allowed to place video surveillance cameras in a private place, doesn't mean that video recording is welcome in every private place. While inside your own home, you cannot place a video recording device in a place where a person will have a "reasonable expectation" of privacy. These taboo locations include:
Bathrooms
Showers
Bedrooms (with exceptions for babies and small children)
Changing rooms
If a camera is found in one of these places, the homeowner can be held responsible for violating a person's privacy. On January 25, 2019, a New York nanny found a hidden camera in the bathroom. The camera was disguised as a phone charger and was hidden just above the toilet. The nanny felt violated, since she used the bathroom often and has showered in the home multiple times throughout the year.
When placing home security cameras inside the house, do not place cameras in an area where a person should feel like they have privacy. Exceptions are made for baby's rooms and rooms with small children. However, cameras should be removed from the room as soon as the child feels uncomfortable knowing that they are being watched by a camera (around the age of eight).
If you are using a nanny cam in your home, you should make the babysitter aware that there is a camera in the home, though you're not required to say where as long as the camera is in a public place (if the camera is a hidden camera). California surveillance laws also allow you to record audio in your own home.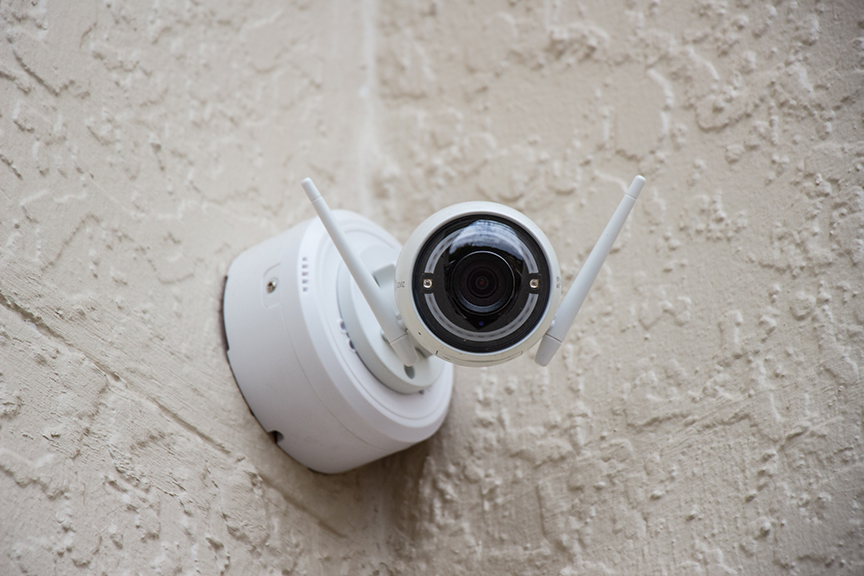 Residential Camera Laws
In this article, we will refer to "residential camera placement" as cameras that are placed outside of the home but are still located within a residential area. In most situations, a person shouldn't expect to have privacy while walking on a public sidewalk, meaning that it is okay to place an outdoor surveillance camera that faces away from your home. Residential video surveillance laws allow homeowners to place cameras on their own property and use the camera to monitor their driveway, garage, and cars.
Those on the sidewalk aren't allowed to complain about a recording device that is being used to monitor the sidewalk in front of the home. However, if a camera is angled to peer inside of a neighbor's home, the neighbor can request for the camera angle to be changed. If the camera owner refuses to adjust the angle, the victim can bring the case to court for charges on the violation of personal privacy.
The California residential security camera laws state, "There are no laws or restrictions, for a private person to have video surveillance cameras around their property for the purposes of security. However, there are laws, and constitutional rights, regarding privacy." This means that, although a person is free to use a camera in a residential neighborhood, they cannot violate another person's right to privacy. As long as the camera placement doesn't interfere with someone's right to privacy, the placement is legal.
Business Security Camera Laws
Camera security laws for businesses are different from residential security camera laws. One aspect that stays the same is that a California employer is unable to place a video camera in any location where a person has a reasonable expectation of privacy. These locations include:
Bathrooms
Shower areas
Hotel rooms
Bedrooms
Locker rooms
Changing rooms
If a camera is found in any of these locations, the employer can be sued by the employee. In California, it is legal to use a hidden video recorder in the workplace (as long as the camera is in a public office area). However, it is illegal recording audio without consent, according to the Federal Wiretapping Law.
Law Enforcement Camera Laws
Some states require police officers to wear a body camera while on duty. According to body camera research conducted by the Rialto, California, Police Department, "when police were equipped with cameras during the test period, use of force incidents and citizen complaints against officers were reduced by 50 and 90 percent respectively." Since police violations decreased in such rapid amounts when police were wearing the body camera, many states began requiring that all police wear the body camera.
Police footage from body cameras, when there has been an incriminating instance, must release the body camera footage to the public no later than 45 days after the incident. However, if the body camera footage would violate the privacy laws of the individual in the footage, the footage will not be released to the public.
Where to Place a Home Security Camera
When placing a camera for video monitoring and security, homeowners should keep several things in mind. Here are five home security rules you should follow in order to ensure that you're following surveillance laws.
1. Keep Your Cameras "Public"
First, only place video cameras in "public" areas of the home. Avoid putting cameras in bathrooms, bedrooms, and changing rooms. You can put cameras in any public area in the house or on the property. Home security cameras can be installed in the backyard, front yard, or in the forest on your property. There are no laws restricting security camera placement as long as the cameras aren't infringing on property rights.
2. Don't Use Cameras for Spying
Don't, for any reason, plan to use a security camera for spying. Security cameras should be used only for security purposes. Security cameras should not be used to watch neighbors, even if you're watching because you want your cameras to protect their property as well. Unless you have permission, do not point your security cameras, towards another's property.
3. Use Highly Rated Security Brands
It's highly uncommon for a security breach to happen with your security cameras or system. However, to avoid your camera system from being exposed to hackers, only use systems that have been rated highly. Cove Security has one of the highest security ratings in the nation. Cove has a rating of 4.8 stars on Google Reviews. Cove Security is a company that can be trusted to protect your home and provide your family with the security you need.It's highly uncommon for a security breach to happen with your security cameras or system.
4. Check Your Cameras
In order to protect your home and family, you should make a habit of checking your own cameras. If you have a wireless camera system, it's possible that a family member relocated one of the cameras in the home. You can check the camera placement by looking through your home security app. Through the mobile app, you will be able to access live footage of the camera stream. If the cameras aren't in the right places, move them back.
5. Mention Your Cameras
When you invite a babysitter or nanny to stay at your home, always mention that you have cameras in the house. If you are using cameras that aren't hidden, you might want to show the nanny or babysitter where the cameras are located. If the audio is recorded, tell the person about the audio recording as well. Although this isn't a mandatory requirement, it helps the person to know that your home is protected and secured, ensuring that the individual acts kinder and more responsible while in the home.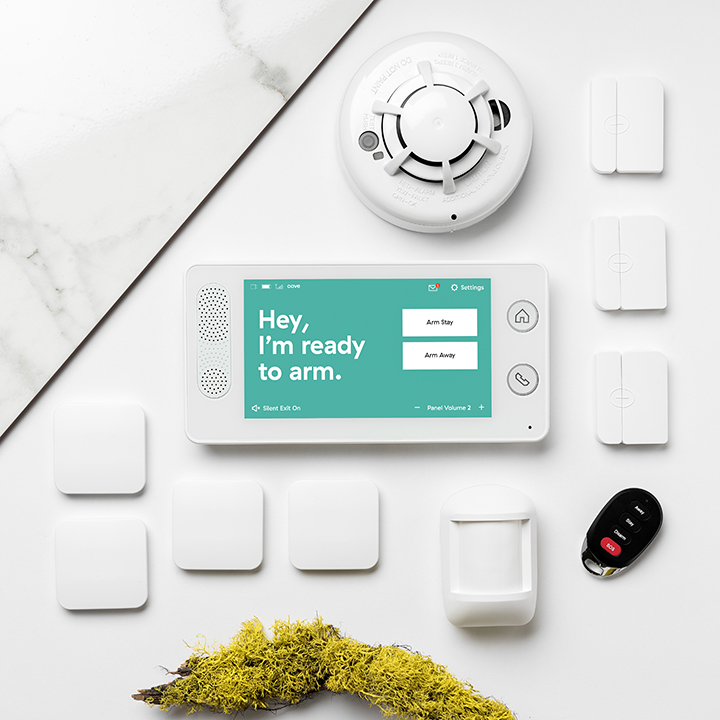 Reasons to Own a Surveillance Camera
According to home security surveys, about 38 percent of Americans own a home security camera. Cameras can be used for a variety of reasons: to protect, to monitor, or to provide evidence of a crime. They should never be used for nefarious purposes, such as spying or listening in on a private conversation. As long as the owner of the camera is obeying basic surveillance camera laws in California, the user can install the camera in a number of ways.
Nanny Camera. A nanny cam is a video camera used to monitor a babysitter or nanny while they are watching over your children. This tool is used to ensure the safety of your children. Most indoor cameras can be used as a nanny cam as long as the user has remote access to the camera. However, nanny cams shouldn't be hidden and the babysitter should be made aware that the camera is live streaming.
Baby Monitor. While the parents are home, their security camera can double as a baby monitor. Some indoor security cameras, such as Cove's YI camera, are motion activated and have sound alerts. They can also be accessed remotely, meaning that the user can watch the baby through the camera using a mobile app.
Pet Monitor. Studies show that pet owners often worry and think about their pets while they are away from the home. Many products have been created specifically meant to serve as a pet monitoring camera. However, most homeowners don't realize that they can use their existing security camera as a pet monitor. This gives them the ability to watch over their pets and protect their home, without paying an additional fee.
Granny Camera. A granny cam is a camera used to monitor elderly who are under the care of a nurse or caretaker. About one in ten elders are abused in nursing homes each year and only one in fourteen cases are reported. Having a granny cam can hope to protect older adults from abuse from caretakers. Many states are creating laws requiring nursing homes to allow family members to install cellular surveillance cameras in the rooms of their loved ones to protect from abuse.
Surveillance. The most common reason to have an indoor camera is for surveillance. Every year, millions of homes become the victims of burglars. The victims face financial loss and emotional distress. By simply installing a home security camera, homeowners can decrease their odds of burglary by up to 80 percent.
Best Home Security Camera
The best home security camera for homeowners is the wireless, YI camera from Cove Security. The YI camera is motion-activated and uses secure cellular technology to allow for remote streaming. With two-way communication, the camera allows homes to both listen to audio and speak through the camera, ensuring that there is a constant stream of communication between the homeowner and the home.
The YI camera from Cove Security is motion-activated and is capable of sending motion alerts directly to your mobile device. The camera is also zoomable, meaning that the homeowner can zoom up on the smallest detail in a room. With free cloud storage for video footage, 1080p HD resolution, 940nm infrared night vision, and no-cost wireless installation, the YI camera from Cove is the perfect option for every family looking for easier home security.
---
Ready to get started?
Take this short quiz to build your customized system today!
Takes less than a minute
---