Home Safety
, Security Basics
How to Cancel Alarm System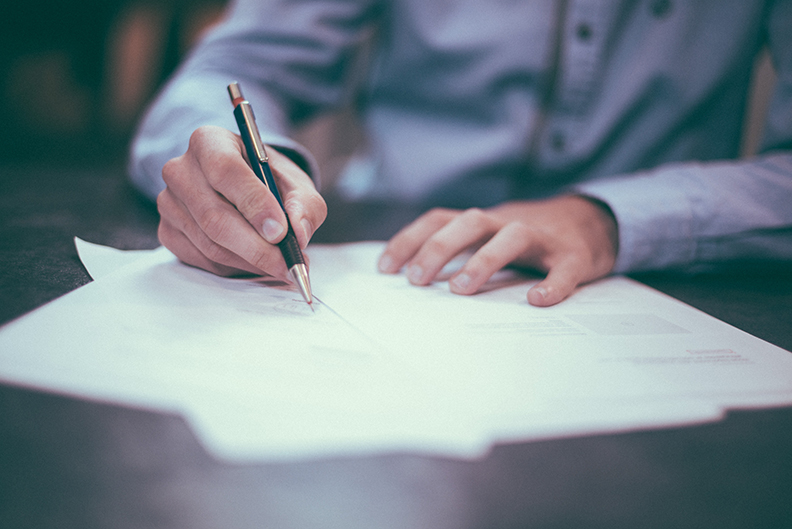 So you've got a security system, and now you'd like to cancel it. Maybe the system was nice, but you've found another system you like better. Maybe you're moving and don't want to continue paying for an alarm you won't be using. Is this possible? How do you do it? Does your alarm company allow cancellation?
The short answer is, yes, most alarm companies will allow you to cancel your alarm under specific circumstances. However, if you have signed a contract with an alarm company, you will need to work closely with them to figure out how to cancel your contract. Most home security contracts run from three to five years in length, meaning you agree to be responsible for payments to the company for that length of time.
In this post, we'll discuss the best ways to cancel your alarm system, including cancellation letters and guarantees. We will also discuss the best alternatives to a contracted system.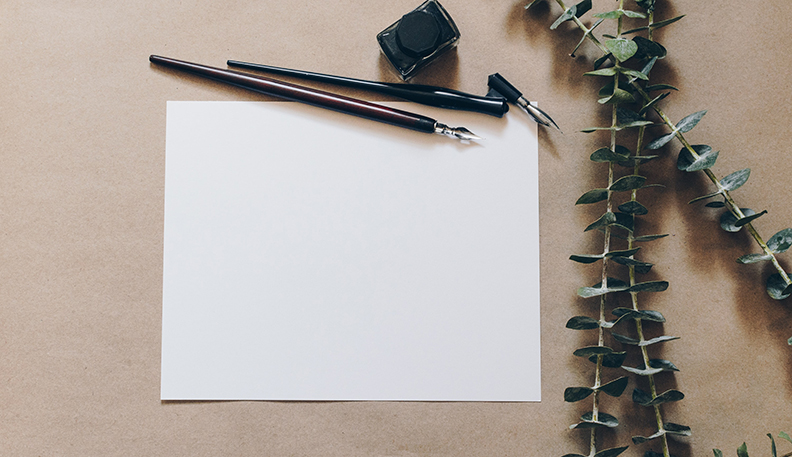 What is a Cancellation Letter?
When you purchase a traditional home security system, you sign a contract agreeing to exchange monthly payments for the services of the company. If you wish to cancel your alarm system, you may be charged fees up to the level of your contract. You must write a cancellation letter to your alarm provider. It is up to the provider how lenient they will be with your contract.
However, if you are canceling your alarm because the equipment does not work or the company is not meeting their end of the contract, you will most likely be able to cancel your contract without fees being assessed to your account.
You may need to provide a cancellation letter even when your contract is complete. These letters should be written and sent at least three months in advance of your cancellation. Sometimes, even when you provide a cancellation letter, your security service may require you to contact them over the phone as well to work out the details of your account. Home security has a lot of moving parts, and if you have signed a contract, you have entered into a legal obligation to the home security company, unless the company is not providing the services it promised you.
How to Cancel an ADT Alarm
ADT is one of the leading alarm companies in the US. While they are a popular service, they do require a contract to use. ADT offers a money-back guarantee for the first six months of use. If you are hoping to cancel your ADT system, make sure to cancel within the first six months. During this time there are no cancellation penalties.
After 6 months, ADT will likely charge you 75% of your remaining contract costs to cancel. At this point, it's almost worth it to keep the system even if you hate it, just to get out of paying such a steep cancellation cost.
Moral of the story? Read your ADT contract carefully before committing to them. Do some research on other companies to find out their individual cancellation policies.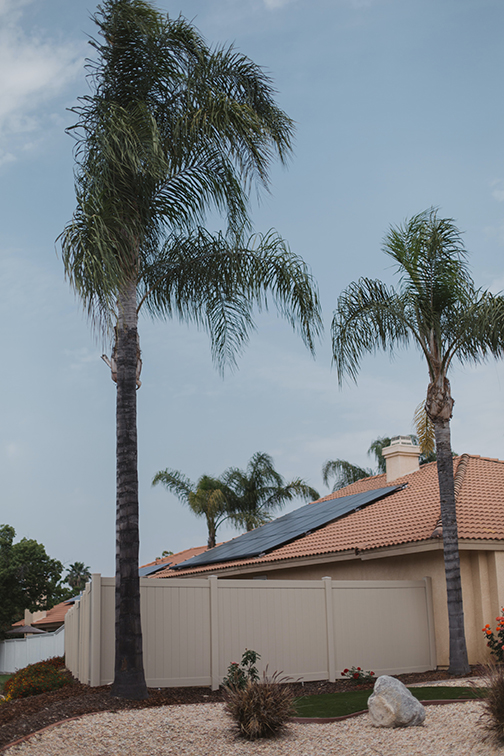 How to Cancel Vivint Alarm
Vivint is another policy smart home alarm company. Like ADT, it requires a contract in order to install. Vivint has specific cancellation policies for different circumstances. They require you to call them to discuss the possibility of submitting an extenuating circumstances request. Vivint defines this as "death, bankruptcy, transition to an assisted living home, or other extenuating circumstance". If you are moving, Vivint is unlikely to cancel your system, and will instead ask that you abide by their moving policy. You can select a moving plan and then notify Vivint of your intent to move. They will move your system with you.
Keep in mind that Vivint may still require you to pay a cancellation fee, even in light of extenuating circumstances. If you do not pay this fee, your credit score may be affected.
How to Cancel Alder Alarm
Alder is a traditional home security company that seeks to provide security systems to anyone who wants them, regardless of credit or type of home. Alder typically uses a three-year contract system, but also offers a 30-day money-back guarantee. If you cancel before your month is up, you won't have to pay any cancellation fees. You must notify Alder within this time frame in order to cancel your contract, or you may be responsible for the remainder of your contract. Alder does require a written cancellation notice in addition to a call with customer service.
While Alder does not require a credit check in order to purchase, you may want to ensure that you will be able to make all of your payments before committing to a contract. Otherwise, you may find yourself in debt to a security company.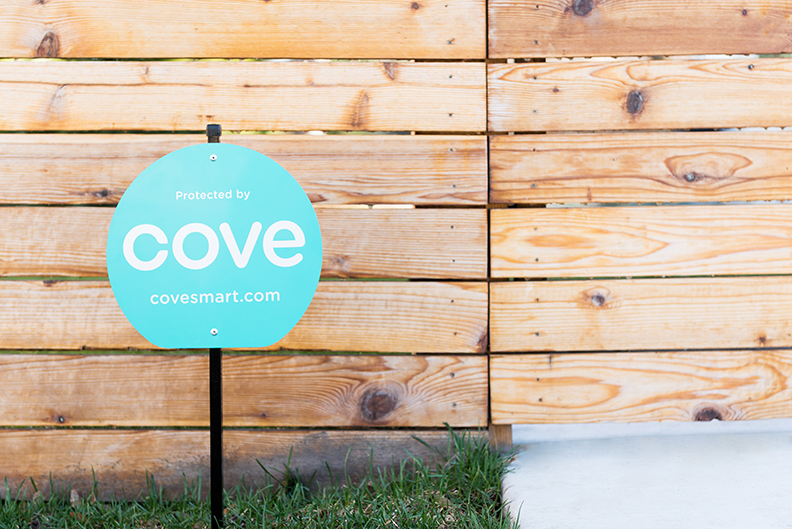 Cove: The Easier Way
Cove Smart Home Security is part of a growing number of no-contract DIY home security companies like SimpliSafe and Nest. The thing about Cove is, we offer professional-level monitoring, high-tech, equipment, and wireless installation for a great price. You get to choose which elements to include in your security system, and we won't try to rope you into a long-term contract. You'll still need to let us know when you're ready to cancel, but you won't be responsible for the months remaining on your contract, because there isn't one!
Another important aspect of a Cove alarm system is our lack of credit requirement. You don't need to worry if you have bad credit, you'll still qualify for a Cove system. We believe that your past mistakes should not disqualify you from future home security.
Beyond their lack of contract stipulations, Cove has several other benefits. These include:
Equipment that is manufactured in-house. All of our equipment is made by us and designed for the highest level of security. Your alarm system is designed to prevent hackers from accessing the system. We do this by encrypting the data from the alarm panel to the monitoring station. Our equipment includes:
Cove Touchscreen Control Panel: The touchscreen control panel is one of two ways that you can control your security system (the other way is through the app). The panel is wireless and connects to the monitoring station using a 4G cellular connection. From the panel, you can communicate with the monitoring team to have them send help, and you can arm and disarm your system.
Sensors: Cove offers infrared motion detectors to detect human presence within the home, as well as door and window sensors to protect the most vulnerable parts of your house. The glass break detector hears the vibrations from windows when they break. All of these sensors work together to give you an accurate picture of what's going on inside your home.
Security camera: Cove's camera is a YI indoor camera that is perfect for keeping an eye on your hallways and main living areas. The camera can also double as a baby monitor, as it uses cry-detection artificial intelligence. With night vision and wireless design, this camera is a sleek addition to your security system.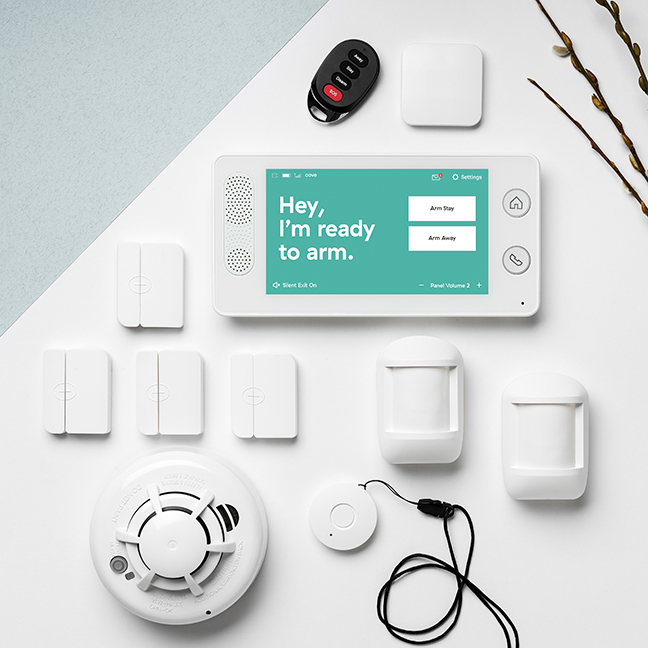 Environmental Detectors: Cove offers monitored fire alarms, monitored carbon monoxide detectors, and monitored water leak detection.
Medical Button: Cove's medical button is designed for ease of use. It keeps your loved ones a tap away from safety at all times. Our caregiver paging feature means that you'll be in the loop when something happens to your loved one, whether it's a fall or another emergency.
Keyfob and Mobile App: Cove's keyfobs allow you to give your housemates access to your home security system when you're not around. The mobile app incorporates the functionality you need to check on your system when you are away from home. You can arm and disarm your system and check on your sensors, all in one place.
24/7 Professional Alarm Monitoring: While you do have the option to monitor your system yourself, Cove also offers an option for professional alarm monitoring. But because your system is DIY, your monitoring fees with us will be much lower than with a traditional contract based security system.
Smart Home Integration: Cove now integrates with Alexa and Google Assistant, so you'll be able to control your Cove system without ever needing to get off of the couch.
Cove has frequent sales on equipment, as well as options to customize your packages for your own situations. If you find yourself in need of a home security system, please check us out. We are happy to do whatever we can for your home. You have more options than you think. Don't let traditional home security companies tie you down. We can give you the comfort and convenience of a traditional system for DIY system prices, and you can't beat that!
Contact our customer service team, or shop around our website to learn more.
---
Ready to get started?
Take this short quiz to build your customized system today!
Takes less than a minute
---