Home Safety
, Am I Secure?
Porch Pirates: Exploring Experiences With Stolen Packages

There are few things more exciting than being notified of a delivery. As more and more people hit the web for their retail purchases, the number of packages shipped around the world has increased exponentially – otherwise known as the "Amazon Effect." But the excitement of tracking a shipment and its delivery confirmation can dissipate in a fraction of a second. Digital purchases and packages have been met with an increase in porch pirates, leaving consumers empty-handed and undoubtedly frustrated.
Reports of package thieves typically pop up around the holidays, but regardless of the news coverage, porch pirates are still at work throughout the rest of the year. When are packages the most likely to be stolen, and what items are pirates most likely to snag? We surveyed nearly 1,000 people about their experiences with stolen packages and their perceptions of what should change. There may not be a simple solution, but keep reading to see what they said.
Peak Pirating Season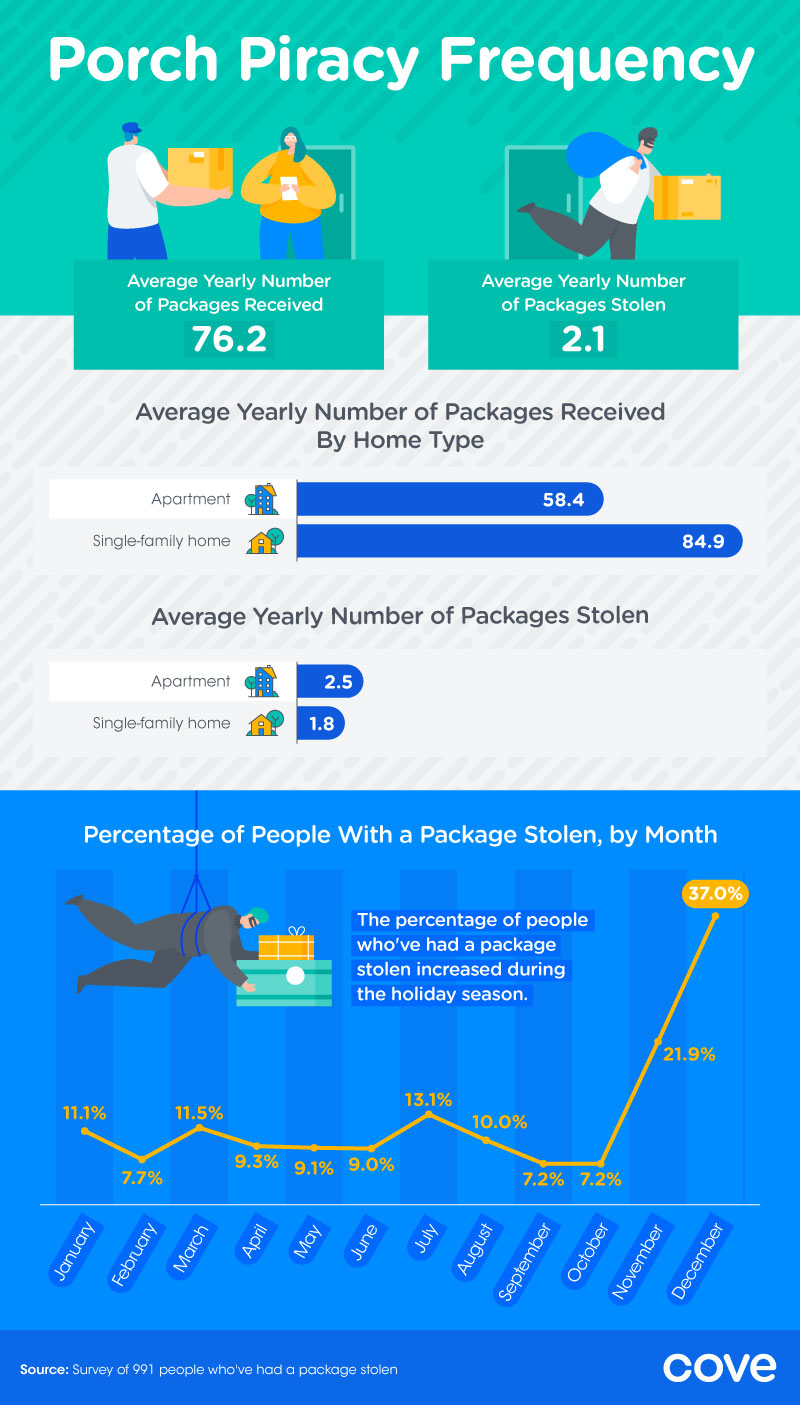 In 2018, 87 billion packages shipped worldwide, with 13 billion being shipped in the United States. While some people order significantly more than others, the average person received 76.2 packages each year and had 2.1 stolen. When looking at home type, though, those living in single-family homes received an average of 84.9 packages each year, while people living in apartments received an average of 58.4. However, those living in apartments were more likely to have packages stolen. Compared to an average of 1.8 stolen packages from single-family homes, those living in apartments had an average of 2.5 packages stolen each year.
The time of year also had an impact on the number of packages stolen. As expected, the holidays saw a spike in pirated packages, jumping from 7.2% in September and October to 37% in December. More Americans do their holiday shopping online than ever before, and porch pirates know that. The best way to prevent pirates from getting their hands on your gifts is to track your packages, have them delivered to a safe location, and even allow delivery personnel to leave packages inside your home or vehicle. But these tips are not confined to the typical holiday season – stolen packages also had slight peaks in March and July.
COVID's Effect on Porch Pirates
During the pandemic there has been an increase in the amount of packages being ordered. Here are the increases in the amount of packages that were reported missing during peak COVID months according to Swift Lane. This increase is likely due, in at least some degree, to porch pirates.
UPS only saw a missing package increase of 18% during peak COVID months.
FedEx only saw a missing package increase of 26% during peak COVID months.
Amazon saw a missing package increase of 43% during peak COVID months.
UPS saw a missing package increase of 41% during peak COVID months.
Vetting for Value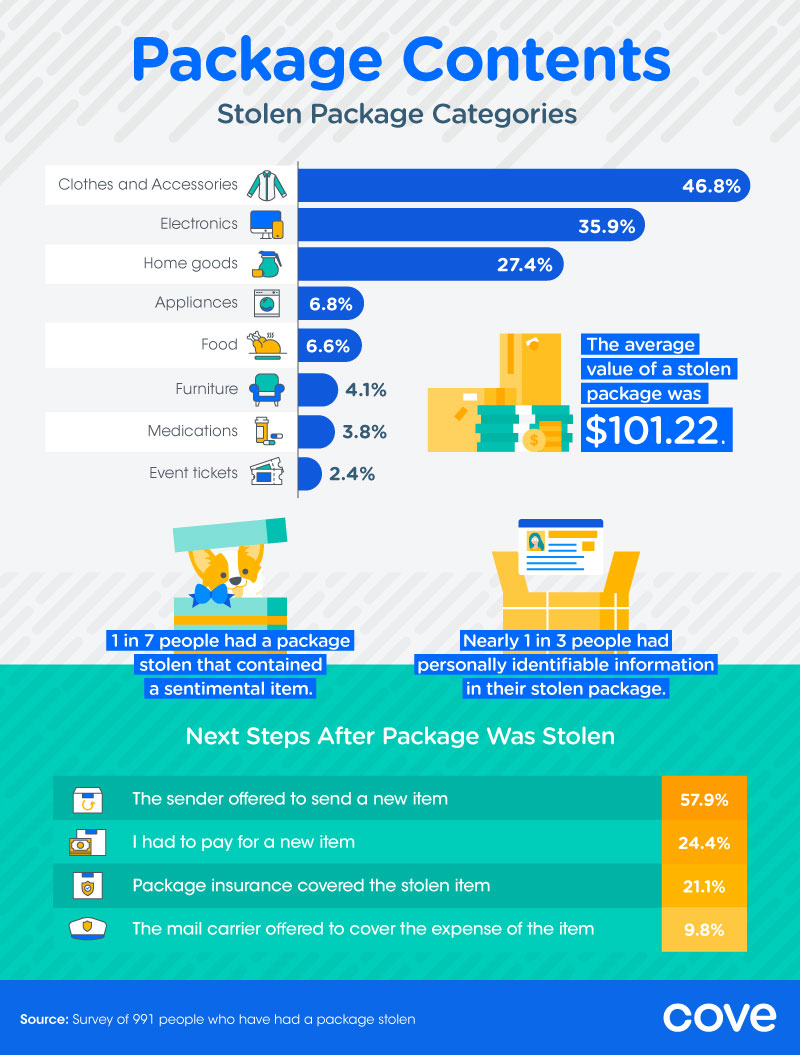 Porch pirates may be more active during the holidays due to increased supply, but they also might be after more expensive products. Nearly 47% of stolen packages contained clothes and accessories, while 35.9% and 27.4% were electronics and home goods, respectively. Food and medications were significantly less likely to be taken. The average value of a stolen package was $101.22, but considering 1 in 7 people had a package stolen that contained a sentimental item, some packages are priceless.
While authorities are typically unable to do much about stolen packages without video proof and trackable information, e-commerce retailers will usually send a replacement upon reporting a package stolen. And according to our study, this was the route the majority of people took. While 24.4% had to pay for a new item themselves, nearly 60% said the sender offered to send a new item. Over 20% of respondents had their package covered by insurance, while 9.8% said the mail carrier offered to cover the expense of the pilfered item.
Trusted Deliveries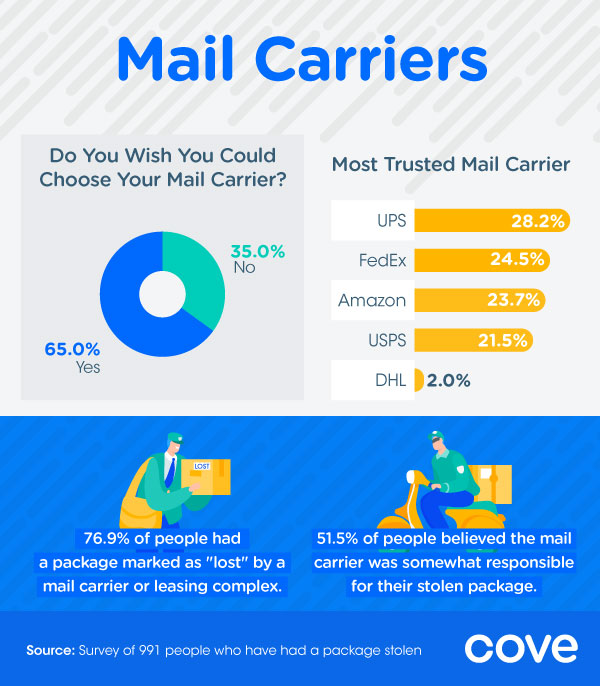 Offering to pay for a stolen package may seem to be out of the kindness of the mail carrier's heart, but 51.5% of people believed the mail carrier was somewhat responsible for their stolen package. Likely for this reason, 65% of people wished they could choose their mail carrier, and reported UPS as the most trusted. FedEx, Amazon, and USPS weren't too far behind, but a mere 2% of respondents listed DHL as their most trusted mail carrier.
Smile, You're on Camera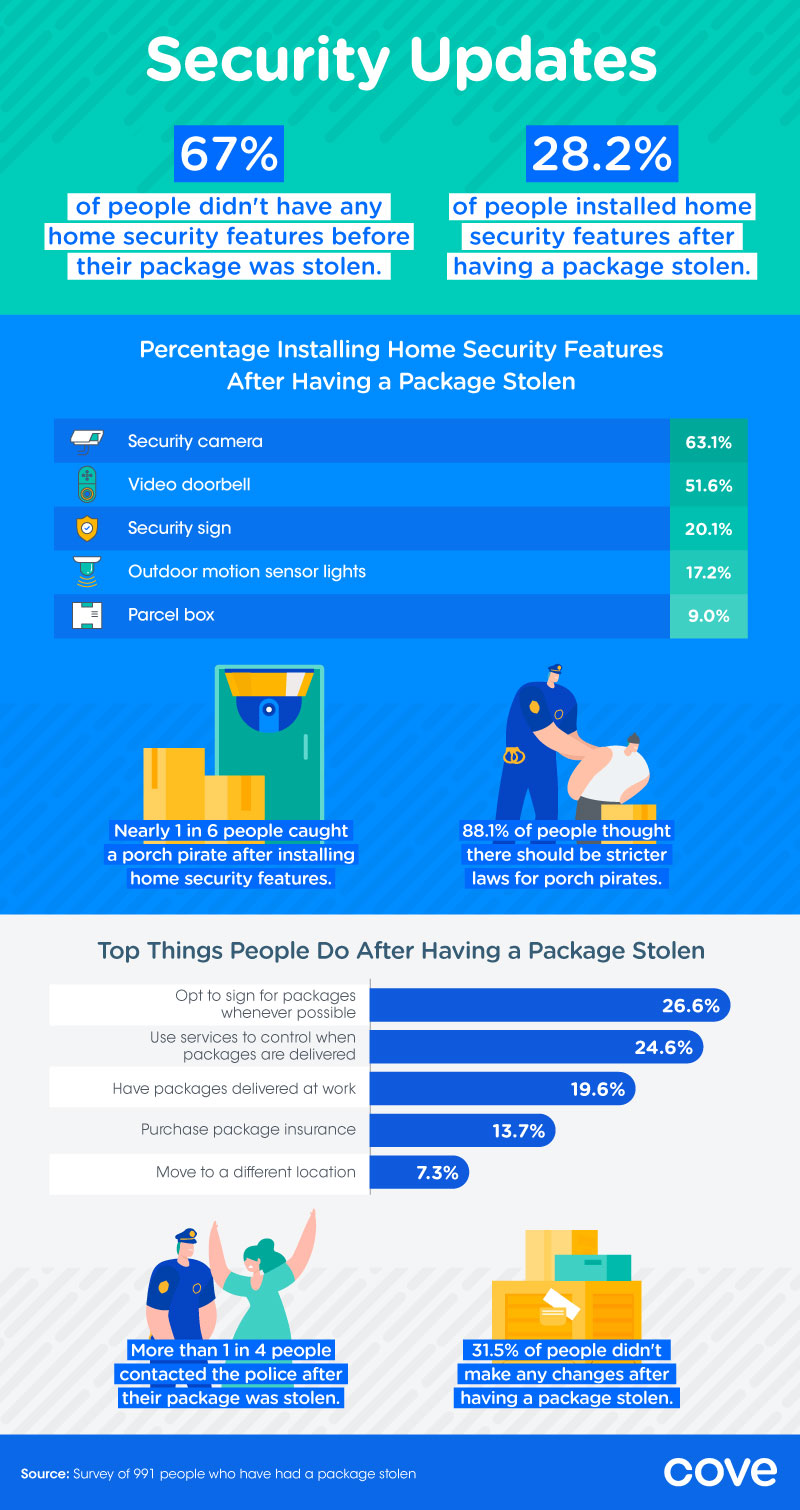 The difference between catching a culprit and having to accept that a package is gone forever often lies in home security features. Doorbell cameras have helped numerous homeowners catch package thieves and even led to their arrests. But for the majority of people, it seems it took a stolen package to convince them to install home security features. Sixty-seven percent of people didn't have any security features before their package was stolen, but nearly 30% installed new features after they lost their goods.
While less than a third of people made no changes at all, the ones who opted for new security features tended to choose outdoor security cameras and video doorbell cameras. And according to an experiment by the world's largest online retailer, cameras may help tremendously. In 2018, Amazon teamed up with local police in numerous cities to increase security and put an end to porch pirates. Using GPS trackers, doorbell cameras, and fake packages, the police were able to use still images from surveillance cameras to make several arrests. Even without police-made bait, nearly 1 in 6 people caught a porch pirate after installing home security features.
Protection From Porch Pirates
The holidays are supposed to be filled with joy – and, for many, presents – but porch pirates can put a damper on the occasion. As e-commerce becomes more popular, the number of packages stolen will rise along with it. And while the holidays may see the most action, pirates can strike at any time of the year, often snagging packages with clothes and accessories, electronics, and home goods. With vigilance, package tracking, and home security features, porch pirates can be caught and brought to justice.
Before package thieves get the chance to steal your purchases, make sure adequate security systems protect your home. With Cove, your personalized coverage comes with a lifetime rate-lock guarantee and no contracts, so you can have ultra-safe, reliable home security that will also save you money in the long run. To browse products or read reviews, visit us online today.
Methodology and Limitations
To collect the data shown above, we surveyed 991 respondents. To qualify for this survey, respondents were required to have had a package stolen from their front porch, front door, or mailbox. The respondent pool was 53.9% female, 45.9% male, and less than 1% choosing another option. The data were calculated to exclude outliers. We did this by finding initial averages and standard deviations for the data. Then, the standard deviation was multiplied by two and added to the initial average. Any data point above the calculated number was then excluded from the data. Because the survey relies on self-reporting, issues such as telescoping and exaggeration can influence responses. An attention-check question was included in the survey to help make sure respondents did not randomly answer.
Fair Use Statement
With every package that gets delivered, there's a risk that a porch pirate will steal it. Staying protected is the best way to prevent or catch a thief. If you know someone who could benefit from our findings, feel free to share this project with them. The graphics and content found here are available for noncommercial reuse. Just make sure to include a link back to this page so that our contributors receive proper credit.
---
Ready to get started?
Take this short quiz to build your customized system today!
Takes less than a minute
---