Home Safety
, Am I Secure?
What Are the 10 Most Dangerous Cities in Florida?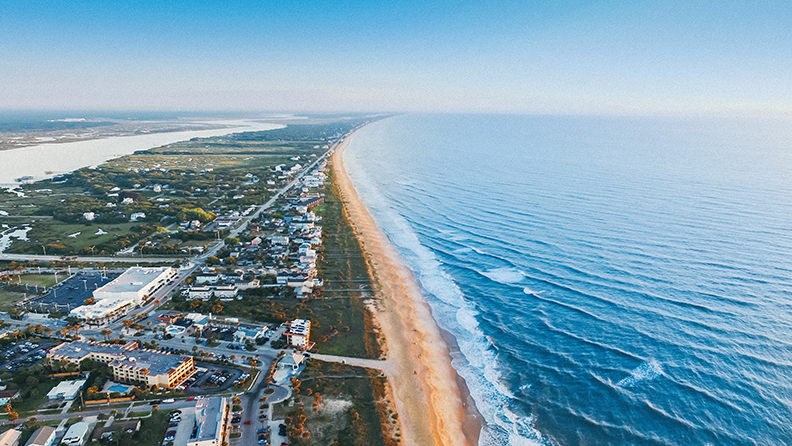 Florida is notorious for its eccentricity. If you google "Florida Man," you will find, among other things, that a Florida man has bitten a police officer, found treasure in a shipwreck, and probably robbed several restaurants.
Florida's eccentricity isn't the only thing that makes it notable, though. In a recent ranking of states by safety, Florida ranked as the 21st most dangerous state to live in. While this may sound fairly average, Florida is actually home to the 3rd and 5th most dangerous cities in the US. So it's important to know exactly which areas of Florida are safe, and which are not. In 2016, 1,111 deaths were recorded by Florida state's police department as murders. This is a murder rate of 5 per 1,000 residents, which is actually fairly close to the national average. So depending on where you live in Florida, you could either be in one of the safest or one of the most dangerous places in America.
Miami-Dade County in southern Florida plays host to both of the dangerous cities ranked above: Florida City and Opa-Locka. Northern Florida tends to be a little safer, with lower rates of both violent and property crime, but it still is far from being the safest place in America. Tallahassee is still ranked among the most dangerous cities in America.
Miami-Dade County
Florida City is by far the most violent city in Florida, with a safety rating of -3.66. According to FBI crime data, the crime rate in Florida city is 126 crimes per thousand residents, making this not only one of the most dangerous cities in Florida, but also one of the most dangerous cities in the country. Florida city is dangerous for a combination of reasons:
The risk of being the victim of a violent crime is almost 1 in 43
Violent crimes are on the rise in part because gun laws tend to be laxer, making it easier for people to access firearms and commit violent crimes
Poverty levels in this area are high, at 41.2%
The next most dangerous city in Florida is Opa-Locka, a smallish city near Miami. It has a safety rating of -2.93, and a crime rate of 78 crimes per thousand residents. Despite the high crime rate, this area is in Miami, meaning that there are plenty of beautiful beaches nearby, just remember to be safe as you try to get there. The poverty rate in Opa-Locka is lower than in Florida City, at 50.9% of the population living below the poverty line.
Southern Florida is also dangerous for other reasons. Wealthy pet-lovers will often acquire dangerous and exotic pets including hippopotami and pythons, which sometimes escape into the wild. Florida's non-native python population is on the rise because of this.
Luckily for Miami-Dade county residents, the Miami-Dade police department is the largest police force in the southeastern United States and is working actively to combat crime in the area. They provide several programs and opportunities to cooperate with the police department. Unfortunately police officers are kept busy by the high crime rates in the area.
Below is a crime map of Miami-Dade County over the course of the past seven days: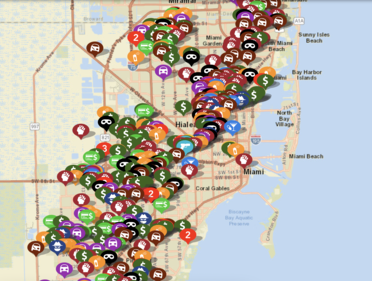 Other dangerous cities in Southern Florida include Riviera Beach (50 crimes per thousand residents), and Lauderdale Lakes (42 crimes per thousand residents).
Northern Florida Crime Rate
Daytona Beach, Orlando, Tampa, Jacksonville, and Tallahassee are all fairly large cities north of the tip of the peninsula. Daytona Beach has a crime rate of 60 crimes per thousand residents. With its reputation as a touted spring break location, in addition to motorcycle rallies and other large gatherings, this part of Florida can sometimes get pretty busy, which may lead to higher crime rates during specific parts of the year. This area also experienced a brief killing spree by murderer Robert Hayes from 2005 to 2007. He killed up to four women in the area.
The Tampa Crime Rate is 22.5 crimes per thousand residents, which is much better than cities in the Miami area, but still not great. Neighborhood Scout says that Tampa is safer than 25% of American cities, which isn't exactly a glowing recommendation, but doesn't make it the most dangerous city either.
Orlando is most famous because of its theme parks, including Universal Studios Park (with its Harry Potter-themed area), and Disneyworld. Unfortunately, all of that tourist traffic once again means a higher crime rate. The crime rate in Orlando is 57 crimes per thousand residents, almost as high as Daytona Beach, and much higher than Tampa. Orlando's murder rate was also on the rise as of 2019.
Tallahassee is yet another Florida city with a high crime rate, this time 55 crimes per thousand residents. Historically, Tallahassee has been the site of several high-profile murders including, those of prolific serial killer Ted Bundy, and a yet unsolved 1966 triple murder of the Sims family. Despite this, Tallahassee is still a thriving city.
Crime Map-Jacksonville, FL
Below is a map of crimes in Jacksonville, FL over the past 7 days. Jacksonville's crime rate is 40 crimes per thousand residents, which is fairly low compared to places further south. It still is not ideal, but violent crime tends to be much less common in Jacksonville than in cities like Miami.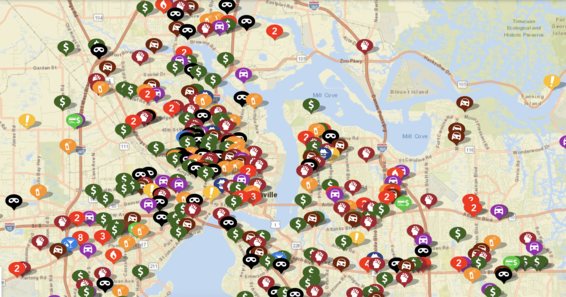 The Flipside: Safest Cities in Florida
Not every city in Florida is incredibly dangerous, there are safe places to live as well. Here is a report of the 5 safest cities in Florida.
Sweetwater, Florida has a safety rating of 1.21, making it the safest city in Florida. Sweetwater is located near Miami, which goes to show that just because a neighborhood is near Miami does not mean that crime rates will be uniform. Finding a safe neighborhood could be key.
Naples, Florida has a safety rating of 1.12. This city is located on the gulf side of the Florida peninsula. At a population of 21,000, it's a pretty small city, but it has a fairly low unemployment rate and is located near some beautiful beaches. The city's low population probably contributes to its lower rates of violent and property crime.
Key Biscayne, Florida has a safety rating of 1.06. This is one of the Florida Keys, islands off the Florida coast. It's a beautiful place to live and has a relatively small population.
Coral Gables, Florida has a safety rating of 1. Like Sweetwater, it is fairly close to Miami, meaning that once again, you can count on some beautiful beaches nearby, and a city center within an hour.
Satellite Beach, Florida has a safety rating of 0.83. It is about halfway between Miami and Jacksonville, and fairly close to Daytona beach.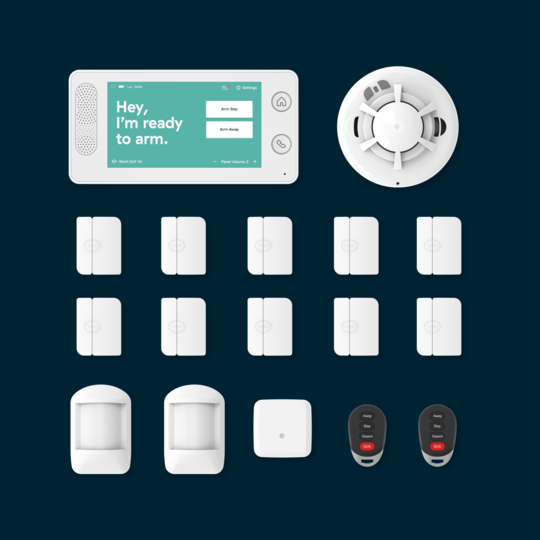 Cove Home Security: Safety Wherever You Are
A great way to protect yourself, your family, and your home in Florida is to install a home security system. Today, many cost-effective and wireless systems are available. DIY home security systems are rising in popularity because of their inexpensive and convenient nature. At Cove, we provide home security systems that are customizable to your needs. Want a motion detector in your hallway? Done. What about an indoor camera? We can do that too, and our cameras utilize cloud storage rather than SD card storage. All of this is managed by one easy-to-use Touch Screen Panel.
Whether you end up in Tallahassee, Miami, or a smaller town like Sweetwater, the risk of burglary and other crimes is unfortunately never zero percent. For this reason, it will always be important for you to protect yourself from those with malicious intent. One of the best ways to go about doing this is to practice smart safety practices. You should make sure to always lock your doors and windows, for your car as well as those in your home. It is also important to be careful when traveling at night. Always keep your cell phone battery fully charged, and do not approach areas with bad cell reception after dark.
Cove is one of the best products on the market. So, if you are moving to Florida, consider getting a DIY Cove alarm system to help you protect yourself. Never has safety technology been more advanced and inexpensive all at once.
---
Ready to get started?
Take this short quiz to build your customized system today!
Takes less than a minute
---