Security Cameras
, Am I Secure?
Can a Floodlight Security Camera Stop Burglaries Before They Happen?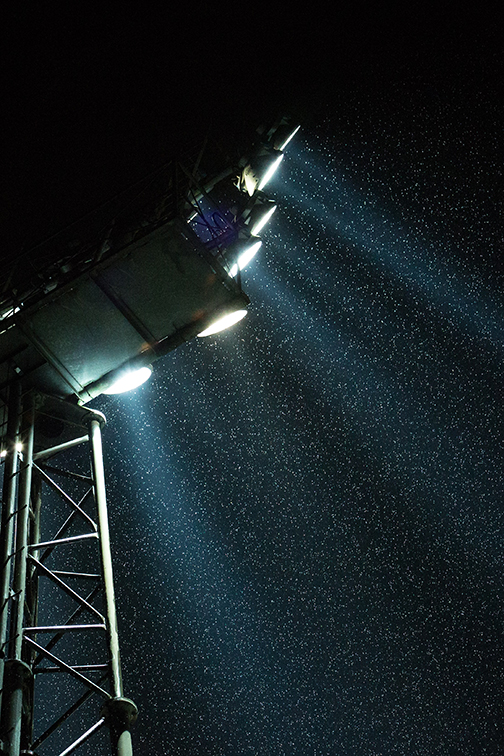 With over 1.5 million burglaries committed at night, it's no wonder that homeowners are worried about the security of their homes as soon as the sun goes down. Intruders often prefer targeting homes at night because it's less likely that they will be caught. Rather than walking through neighborhoods in the bright of the day, they can slink through the shadows unnoticed. Often, when a burglar targets a home at night, the home is empty because the family is away. Burglars specifically target homes that will be empty late into the night, giving the burglar plenty of time to break in, steal what they need, and get out. A security device, suggested by home security professionals, to stop nighttime burglary is the floodlight security camera. But what is the floodlight security camera, and how can it stop burglary?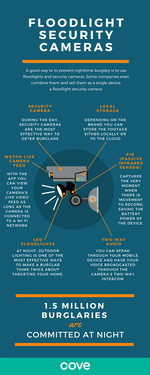 What is a Floodlight Security Camera?
First, let's talk about outdoor security cameras. Outdoor security cameras often use motion detection and night vision to determine when to begin recording. When the PIR (Passive Infrared) motion sensor detects movement, the camera starts recording. Because it has motion detection capability, this camera is more reliable than the average security camera. PIR detection does two main things: it is able to capture the very moment when there is movement to record, and it can save the battery power supply on the camera. This makes the camera more effective and thus more capable of protecting your home.
Additionally, the camera is able to sync with a mobile app on your smartphone. By syncing with your phone, the camera will give you access to two-way audio (or two-way communication), video recording, local storage, real-time video, and facial recognition. One of the most important features of this list is two-way audio with a wi-fi connection. Two-way audio allows you to use the built-in speaker on the camera with your mobile device. You can speak through your mobile device and have it broadcasted on the camera's two-way intercom. At any point, you can pull up the mobile app on your phone and talk through the camera. You can also pull up the app and look at the live video feed that the camera is recording as long as the camera is connected to a wi-fi network. This makes the product more efficient since you are able to communicate through it. If you are alerted that there is motion being detected by the camera, pull up the video from the app and check to make sure that there isn't anything suspicious. If there is a suspicious figure, talking through the camera can be enough to scare them off since they will know that they are being watched and recorded.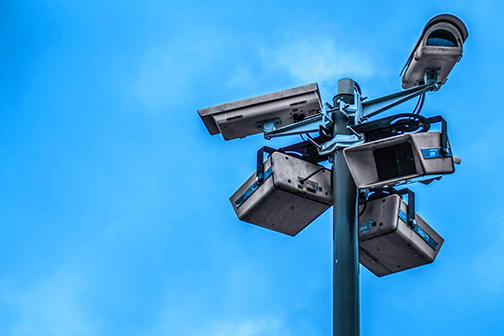 When we add a floodlight to the the camera, it makes the product even more suited for outdoor security. Light is one of the biggest deterrents for outdoor crime. Light is intimidating since intruders know that they are more likely to be caught when they are standing in the light. If a burglar is targeting homes at night, it's most likely because they don't want to be caught in the light. So, they will often avoid homes that have a lot of light. When we add light to a security camera, the camera becomes even more of a deterrent to burglars and trespassers. The light feature is combined with the sensor so that when the sensor is triggered, LED lights flood the yard. If programmed, the light camera will also trigger a siren alarm. The siren alarm, combined with an outdoor light, is alarming to potential intruders. All of a sudden, the burglar is caught in a flood of light with a loud siren going off next to them. If no one was looking before the light was turned on, everyone is looking now.
A security light is one of the best products that you can add to your nighttime security system. A security light will change the way that you see home security, making your home more protected at all hours of the night.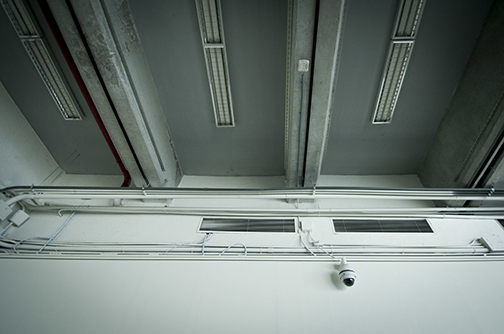 Are Burglars Scared of Security Floodlights?
In short, the answer is yes. Burglars are very intimidated by floodlights. During the day, a security light is a simple light fixture powering up with its rechargeable battery with a solar panel. It is a non-threatening alarm that doesn't have much of a role during the day. So, a daytime burglar won't be threatened by a security floodlight (though they would have their reservations about the security camera aspect of the alarm).
A study done by UNC Charlotte interviewed a selection of prosecuted burglars. The study indicated that "alarms, outdoor cameras, outdoor lighting, and indications of neighborhood watch programs were effective deterrents." At night, outdoor lighting is one of the most effective ways to make a burglar think twice about targeting your home. During the day, security cameras are the most effective. By combining the two into a floodlight security camera, burglars are unlikely to target your home.
Smart alarms may be an even better option for scaring away burglars during both nighttime hours and daytime hours. A smart product is one that can communicate with you without using another person. Smart things are relatively autonomous. For example, a smart video doorbell will be able to communicate with the person at the door by giving a prerecorded message and alert you that someone is at the door. You can use your phone to access the smart doorbell and watch the stranger at your door in HD video. It combines features like wi-fi security and motion detection to increase the security of the product. For an outdoor product like the floodlight security camera, it has the ability to contact you when a sensor is triggered.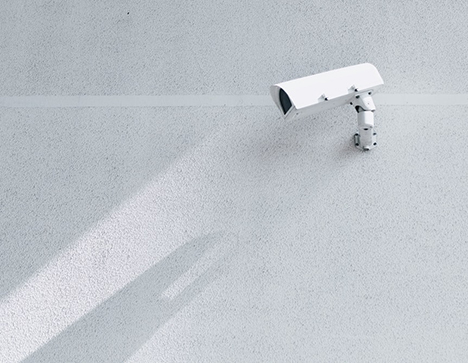 Benefits of Having a Floodlight Security Camera
Now that you know more about the floodlight security camera, it is important to talk more about the benefits that this type of outdoor product has. There are a variety of outdoor products that can give your home needed security. Some options are remote cameras, weather resistant motion detectors, outdoor doorbell cameras, and more. Each product has benefits and disadvantages. As home security experts, Cove Security suggests that combining several security products will give you the best home security protection. In terms of a floodlight security camera specifically, here are the benefits that you can expect to see:
Weather Resistant:The floodlight camera is weather resistant, meaning that it will last longer outdoors than a non-certified product. This product will withstand heavy rains as well as high and low temperatures.
Night Vision: A floodlight security camera will come equipped with night vision. Night vision allows the camera to see nighttime activities in perfect clarity, giving you a better idea of what is happening outside your home at night. In most cases, the floodlight part of the product can be turned on and off. If you don't want the floodlight to turn on at night (for any variety of reasons), you can turn the light off and rely on the night vision instead.
Motion Detection: With motion detection, you will never be caught off guard. Motion detection will alert you the very moment when there is movement. PIR detection is able to tell the difference between a moving tree branch and a person, making it the most reliable type of detection on the market for outdoor security. It also uses very little energy from a power source.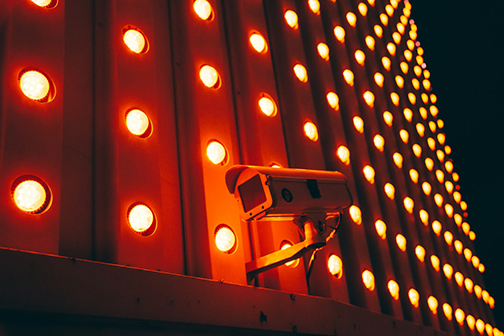 Floodlight: Like we've mentioned earlier, floodlights deter a vast majority of criminals at nighttime. If a burglar is caught in the light, they will turn and run.
Wide Field of View: Often, outdoor cameras have a wide field of view lens to allow you to see more of your property at once. Cameras that see more are better for protecting the outdoor portion of your home. Also, with motion detection, the camera will turn on while the subject is still 40 feet away, giving you time to determine whether the visitor is friend or foe.
Additional Storage: Security cameras are important to the home security world because they provide evidence. Police often rely on evidence from security cameras to know who and what to look for. Because of this, it's important that the camera has additional storage, either with a microSD card or a regular SD card. This will give you backup storage so you can keep as many videos as you need.
Better Video Quality: With advances in home security, video footage has been one of the first things to improve. In the past, video footage from video cameras used to be grainy and hard to read. Now, video is HD and is as clear as day, even when the camera is recording at night.
Connect to a Smart Home. Possibly one of the best features of a security product is the ability to connect to a smart home. This feature comes mostly when working with a wireless product. Wireless security cameras rely on wi-fi security and connect to your indoor smart devices. This feature also makes the product more reliable.
By now, it should be no secret that home security cameras and floodlights are an effective means to protect your home. Although Cove doesn't currently sell floodlight security cameras we do offer an array of affordable and effective indoor security products such as our indoor motion-activated camera. Even without a floodlight, security cameras can be an effective way to deter and even catch burglars.
---
Ready to get started?
Take this short quiz to build your customized system today!
Takes less than a minute
---