Security Cameras
, Cost and Savings
Using an Indoor Security Camera as a Baby Camera and Monitor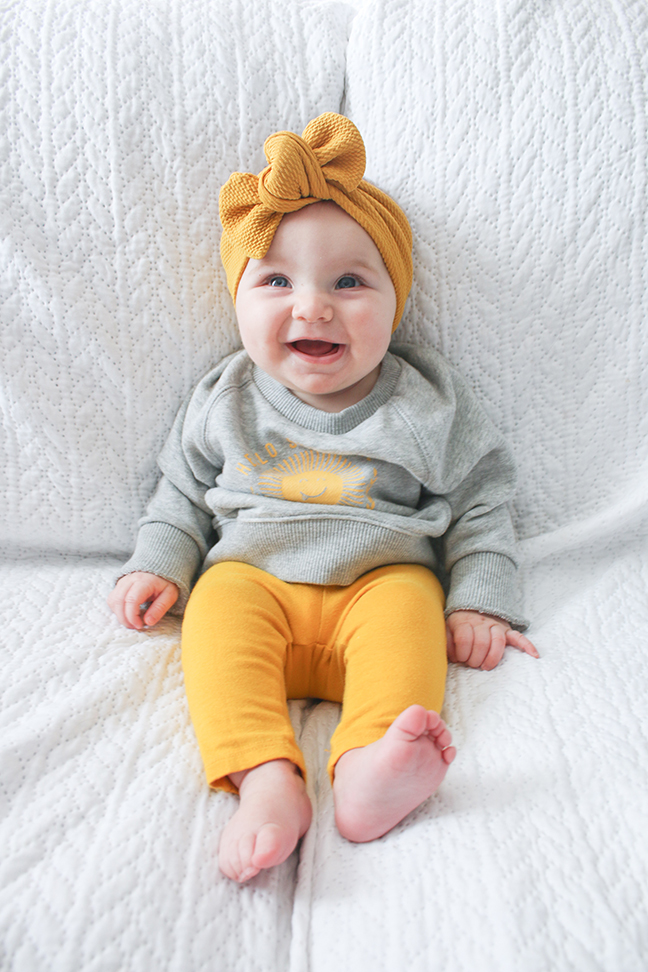 Indoor cameras have quickly become one of the most-used home security devices of the decade. With infrared night vision, two-way audio, digital zoom, and remote access through a wireless app, indoor cameras are versatile and easy to use. A big question that has circled around indoor cameras is whether they can be used as baby monitors. Do they have the qualifications? What should you know about an indoor camera before using it as a video baby monitor? Luckily, we've gathered everything you need to know about baby monitors and indoor cameras to see if the indoor camera can take the role of a baby monitor.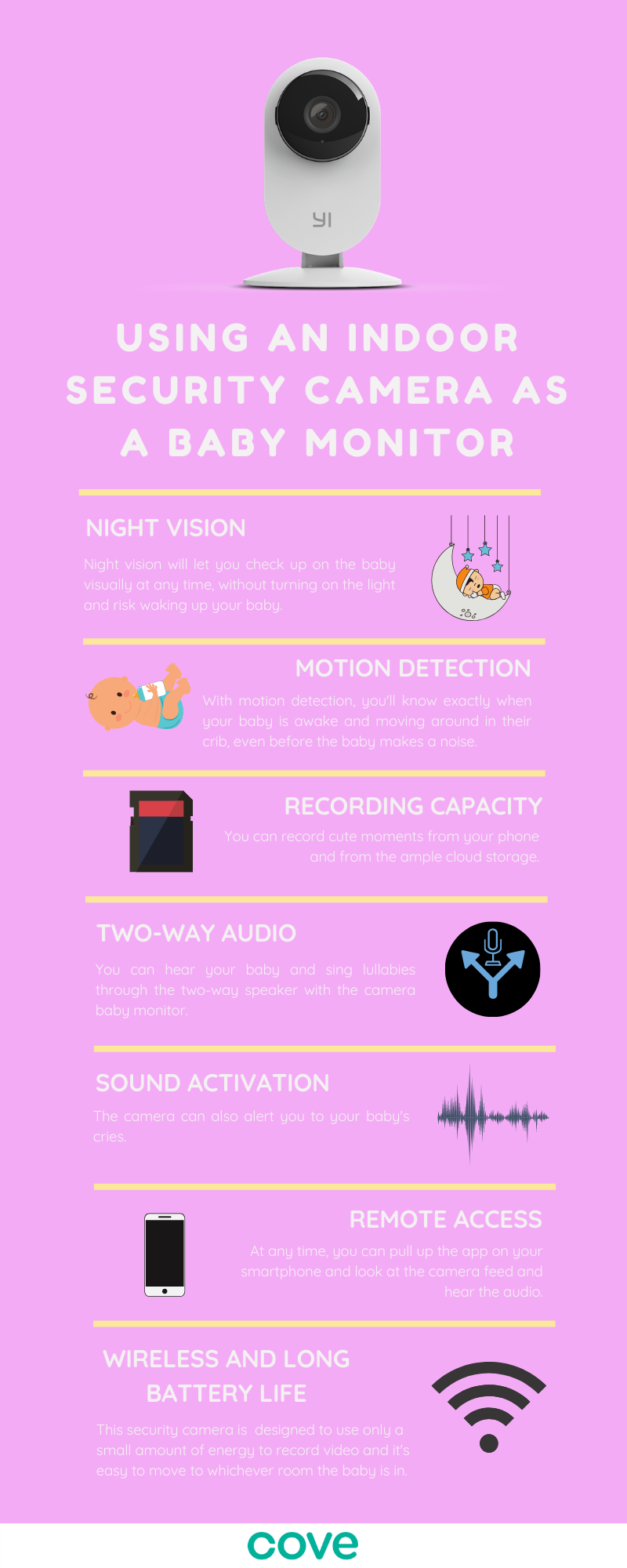 What Qualifies as a Baby Monitor?
A baby monitor is a tool that parents use to monitor their baby while the baby sleeps in another room. Rather than being physically present in the room, the parents can use a monitor that will pick up the sounds of a baby crying. At the very least, the camera must have two-way audio to pick up the audio in the baby's room. Whether you're trying to hear if your baby went to sleep already, or you are trying to soothe your baby with a lullaby using the two-way audio feature of the monitor, a baby monitor will come in handy.
Like we said, the most basic version of an old-fashioned baby monitor is a simple device that transmits audio. On the simplest type of baby monitor, there is no video, no night vision, and no wi-fi network. Instead, it acts as a one-way walkie talkie. In this way, an indoor camera will actually give you more than a basic baby monitor will give you. To qualify as a baby monitor, the device simply needs to be able to alert you if the baby is crying. An indoor camera can do that and more.
Can an Indoor Security Camera be a Baby Monitor?
In short, the answer is yes. An indoor security camera can easily be a baby monitor. In fact, an indoor security camera may be more equipped to watch over your baby than a standard baby monitor. Most indoor security cameras have multiple features that make the camera extremely versatile. Here are some features that make indoor security cameras more than suited to take the place of a baby monitor: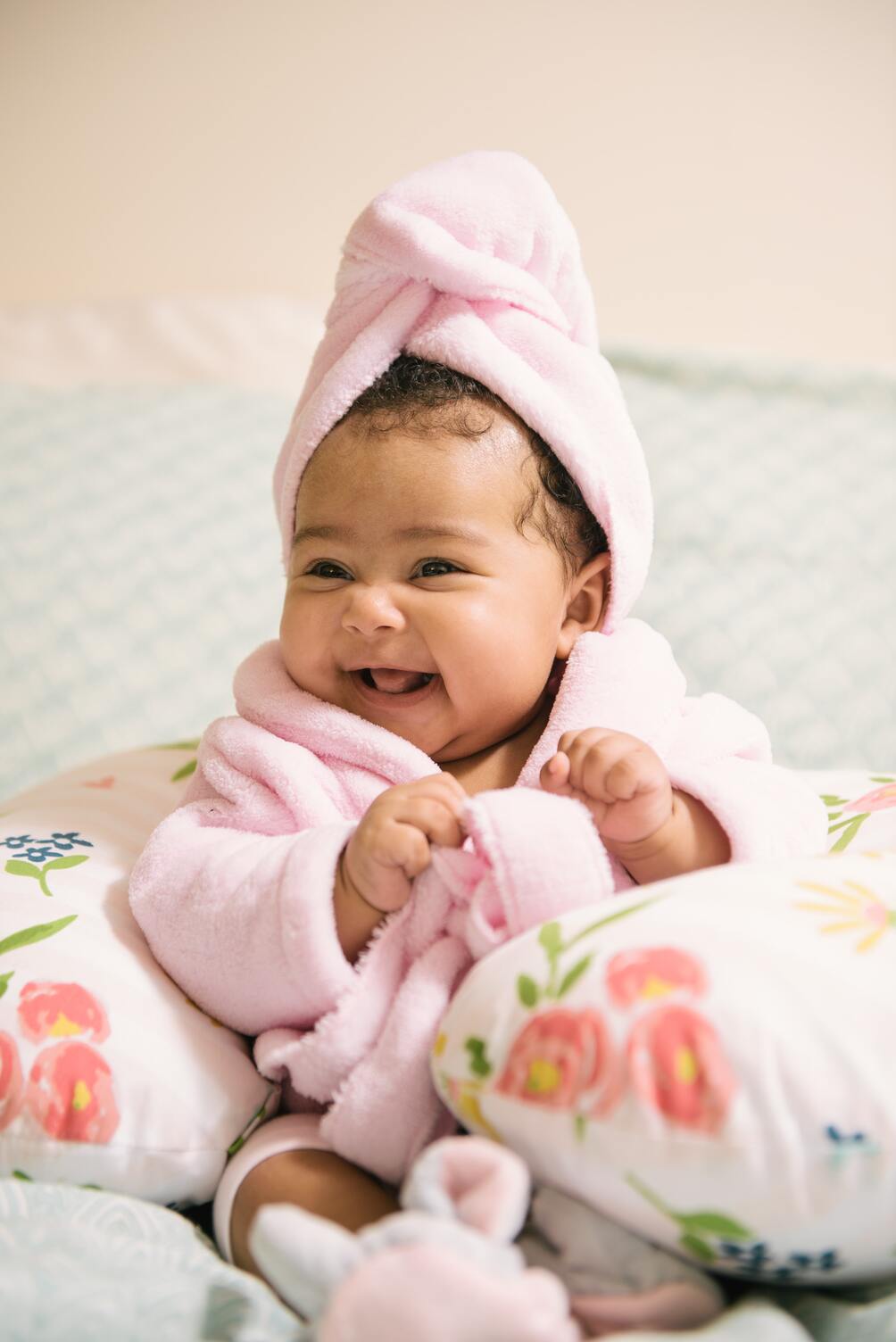 Wireless and Long Battery Life
If you're using a DIY security system (which most home security professionals will recommend), chances are that your indoor security camera is wireless with a rechargeable battery and long battery life. Indoor security cameras have perfected the ability to record video for long periods of time without running out of battery. They are designed to use only a small amount of energy to record video.
When it comes to baby monitors, this feature comes in handy. Rather than waiting for the baby monitor battery to deplete, you can use the smart baby monitor (the security camera). A smart security camera will alert you when the battery is running low on your device. When the battery is running low, you will get a notification letting you know that the batteries need to be changed on the video baby monitor. Additionally, since the video baby monitor relies on batteries instead of wires, you can easily move the video camera to be wherever you need it. If you put your baby to bed in a different room, you can move the video camera to where the baby is sleeping. You're not tied down to any specific room.
Recording Capacity
An indoor security camera gives you the option to check up on your sleeping baby without ever having to open the door and risk waking the baby up. An indoor camera is also a wi-fi camera, meaning that the camera is able to connect to your wi-fi network and pair with your smartphone. When the camera pairs with your smartphone, you are able to view your baby from your phone. This means that your phone itself becomes the video baby monitor. You no longer have to carry around the other half of the walkie talkie. Instead, you can use something that you already carry with you—your phone. You can record cute moments from your phone and sing lullabies through the two-way speaker as you rock your baby to sleep with the camera baby monitor. Best of all, using the video on your phone, you can use the wide-lens of the baby monitor to capture HD video of your baby's nursery room from wall to wall.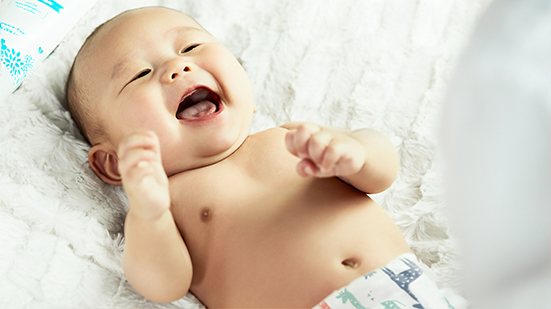 Night Vision
With a regular baby monitor, you don't have a video option. However, with a security camera, you have video and night vision. Night vision is a feature that should never be overlooked. Thanks to night vision, you can watch over your baby as he or she is nestled down in sleep in the crib. The night vision will let you check up on the baby visually at any time, without turning on the light and risk waking up your baby. For a growing baby, sleep is important. And, every parent knows the importance of helping a baby sleep through the night. Night vision will help to put your worries at rest by letting you check on your baby at any time.
Motion Detection
Motion detection is also an important feature that makes security cameras well equipped for watching over your baby. With motion detection, you will know exactly when your baby is awake and moving around in their crib, even before the baby makes a noise. One of the problems with a traditional baby monitor is that it's harder to tell if the baby is awake, especially when you have a quieter baby who doesn't cry often. Motion detection will alert you that the baby is awake and moving around in the crib. With motion detection, you'll know when to check up on the baby because the video baby monitor will alert you.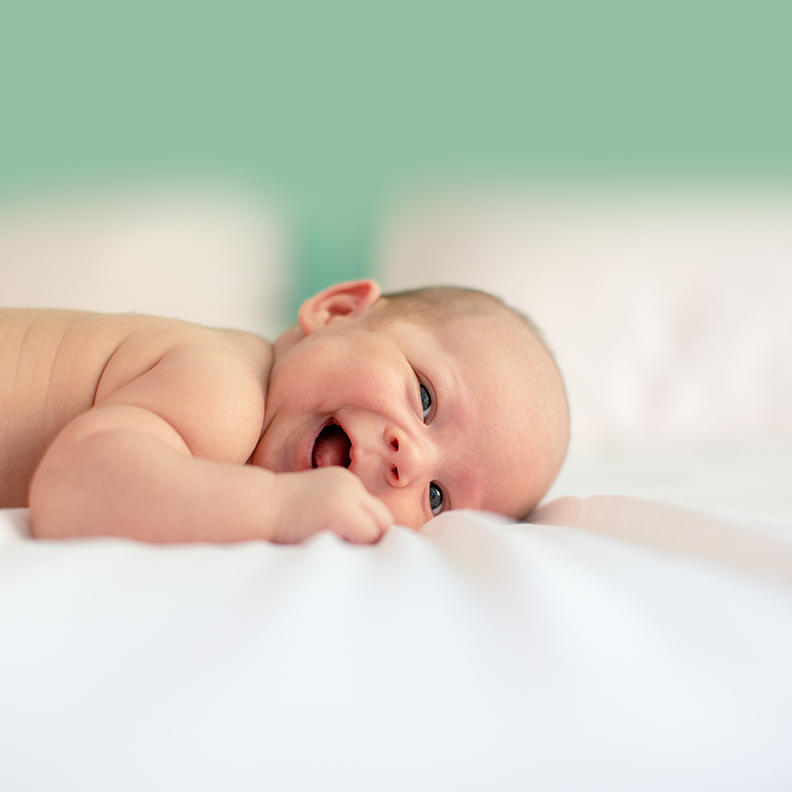 Nanny Cam
Using your indoor camera as both a nanny cam and a baby cam can give you peace of mind. The camera can be set up in a room to observe the babysitter who is taking care of your child. Although parents mostly trust their babysitters and nannies, sometimes leaving your child alone with someone who you don't know well can be stressful. By setting up an indoor camera, or multiple indoor cameras in your baby's room and in the house, you can monitor everything that happens in your home, ensuring that your child or children are receiving the attention they need.
Nanny cams can bring you peace of mind, allowing you to always monitor your home and your child. If you have instructions for the nanny, you can also talk through the indoor security cameras and have conversations with the nanny while you're away from the app. All of this is possible through the app on your phone.
Control Over the Video
Never before have you had more control over your baby monitor. Using the indoor security camera as a baby monitor, you can control the pan and tilt of the camera. You can pan, tilt, and zoom across the room to make sure that everything is in order. If you want to check and make sure that there is nothing off in your baby's room, you can use the parent unit to pan across the room and zoom up on suspicious objects. Using a security camera as your baby monitor will give you full control over your situation. Security cameras make the best baby monitor cameras because they come with important additional features.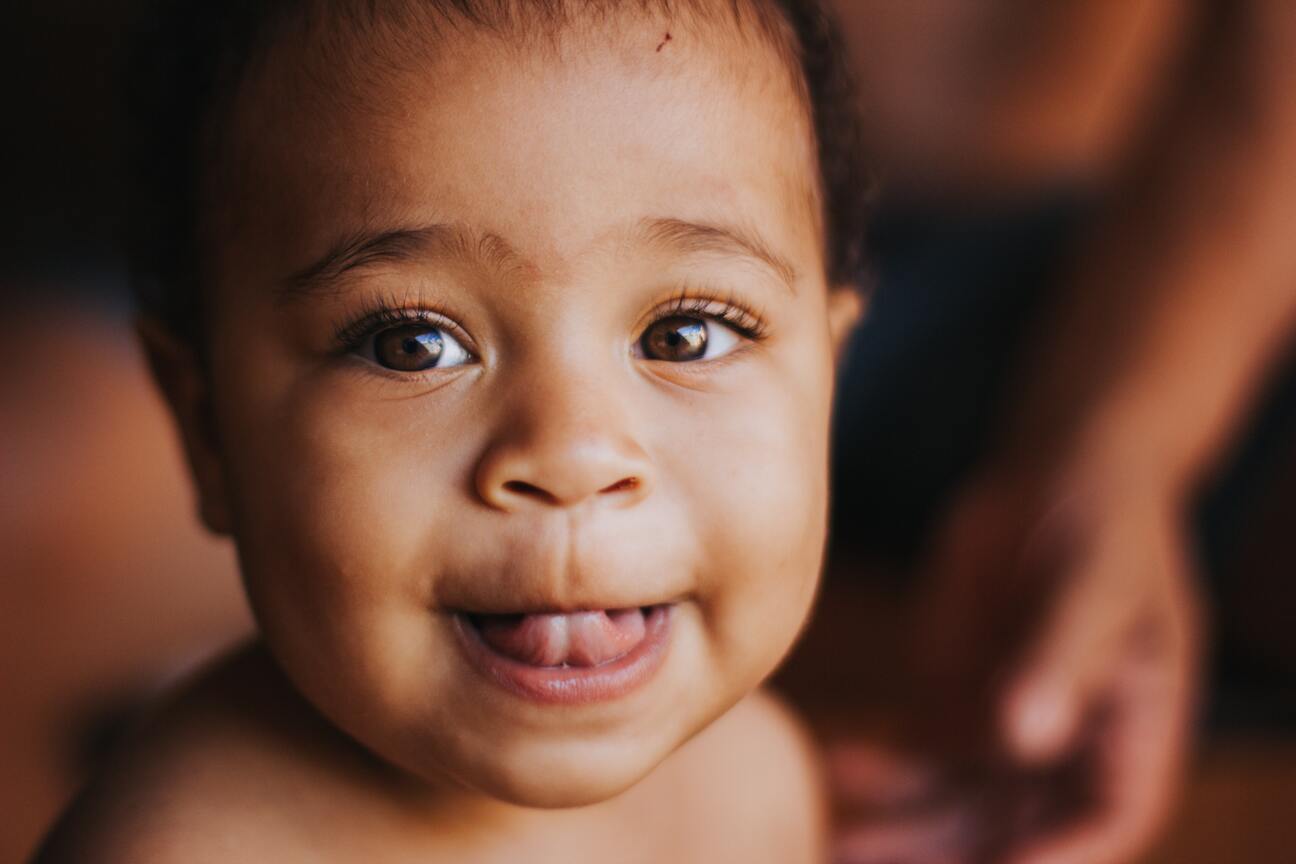 Sound Activation
An indoor camera can be activated in two ways: motion detection or sound activation. For a baby monitor, sound activation is important because it will be activated from a baby's cries. This feature is programmed to listen for the sound of a crying baby. The sound frequency is higher, similar to the pitch of glass breaking that a glass break sensor is listening for. This works by combining two-way communication and sound activation. By listening for the sound of a baby crying, the device is more useful as a baby monitor.
Additionally, when the device is activated by sound, you can use an app on your mobile phone to listen clearly to your baby. You will know immediately whether the baby is just chattering or crying. With every noise your baby makes, you can comfort them. If your baby sleeps better with noise, you can also put on a white noise receiver without disrupting the sound sensor on the indoor camera. Security cameras help everyone to get a better night's sleep, even your baby.
Remote Access
Few baby monitors offer remote access to the camera. In most cases, once you leave the house, you won't be able to use the baby monitor. When you leave a babysitter or nanny to watch over your children, you will usually have to call and check up on how your child is doing. With an indoor security camera, however, you will still have full access to the device, even while you're away at work or out for date night. At any time, you can pull up the app on your smartphone and look through the indoor camera. You will have full access to the audio and sound as well, and you will always know what is happening inside your home.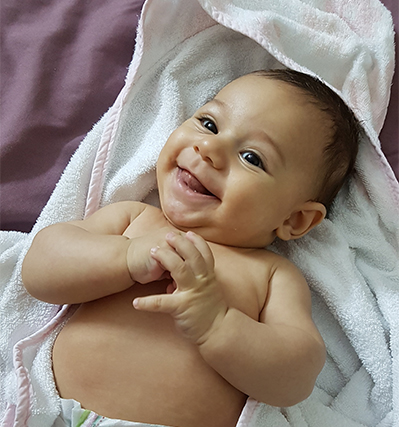 What Security Camera Makes the Best Audio Baby Monitor
With years of experience, Cove has perfected the indoor security camera so that homeowners and families can get the most out of our products. With families in mind, our indoor security cameras have been equipped with features that make our indoor security camera into the perfect audio baby monitor. An audio baby monitor should be able to use and interpret sound to know whether the sound was a knock in another room or if the sound was the baby crying. Our security cameras are able to interpret sounds and decide whether the noise was significant.
Our security cameras also work long-range. A traditional baby monitor is very similar to a walkie talkie, meaning that it has a limited range and limited sound clarity. Rather than leaving parents to settle for mediocre quality to protect their babies, we offer a better choice. Here, we offer a product that allows you to monitor your baby while you're in a different city (if you're leaving your baby with an in-home nanny). Simply angle the camera towards your baby's mattress and crib, and you will have 24/7 access to your kid's room. This feature makes watching over your baby easier since you can still access your baby monitor while you're away from the house. As soon as a notification pops up on your phone screen, you know that the baby is crying or moving. Best of all, all you need to access the camera is a phone connected to the internet.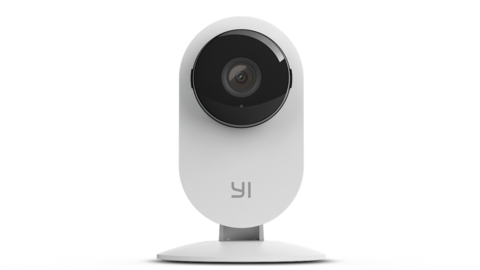 Because we know how effective Cove's products are, we recommend using the Cove indoor security camera to protect your baby while he/she sleeps. It comes equipped with every feature needed to make your baby safer during the day at night. With night vision, sound activation, remote access, remote control, and video recording, this camera is perfect for use as a baby monitor. In fact, using the Cove security camera is the best choice for protecting your loved ones.
By pairing the Cove camera with the Cove home security system, you will bring even more security into your home for a low cost. Most baby monitors can cost over 100 dollars and only give you a few of the features that our indoor security camera offers. The Cove camera offers everything you need for only 15 dollars a month, making it the best deal for home security and for monitoring your baby.
---
Ready to get started?
Take this short quiz to build your customized system today!
Takes less than a minute
---