Your $25 referral discount has been applied!
Your $25 discount has been applied!
Your bigger picture starts here.
Cameras are an essential part of any security system. Whether you live in a dangerous part of town or you've just been waiting weeks for that package to show up, you deserve to know what's going on in and around your home.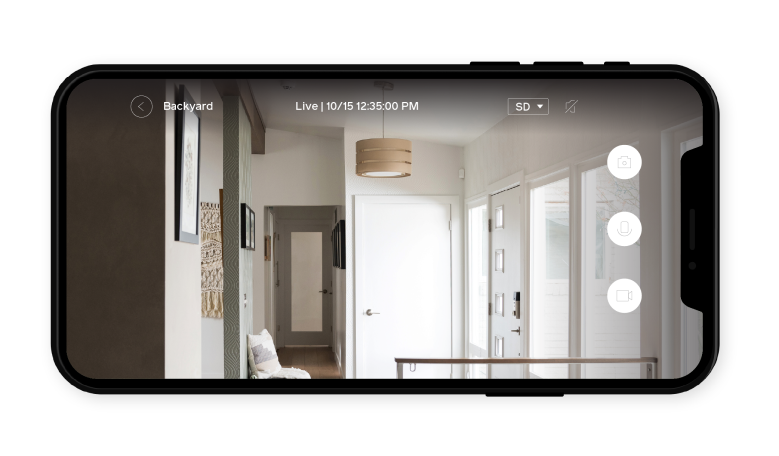 Connected to home wherever you go.
When you're on the move, you want to know that everything's okay at home. With HD recording, enhanced night vision, 2-way communication, 7 days of free cloud storage, and live streaming through the Cove app, our cameras allow you to always see what's happening at home—even if you're on the other side of the world.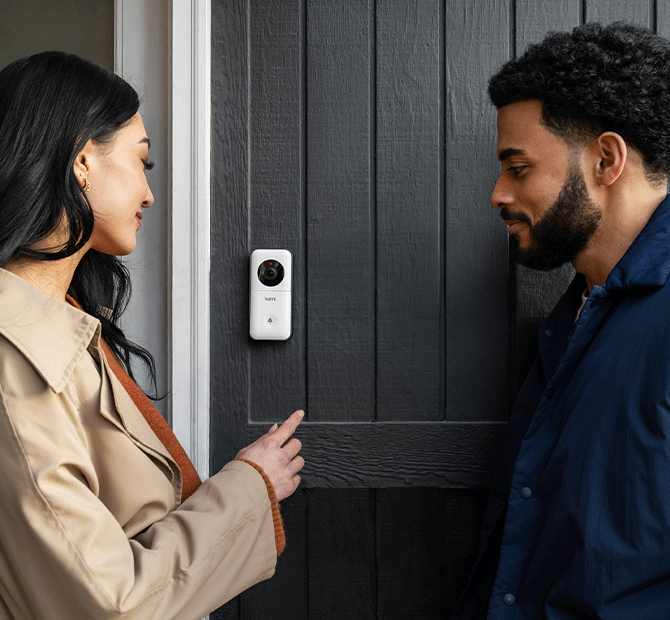 Always here to get the door.
All of our cameras include intercom features and mobile controls that enable you to sit back, watch, listen, greet friends, warn lurkers, or arrange to meet surprise visitors at a better time. Try one—or four—and see what a new level of connection feels like.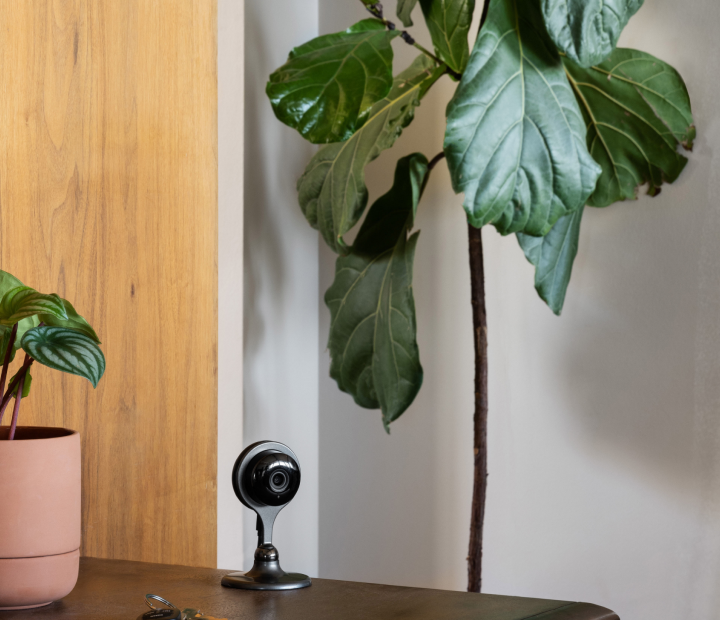 Indoor Camera
With Cove's indoor camera, you can check on pets and kids at any time and even talk with your household while you're away. Plug it in wherever you have a good view of the kitchen, living room, or any other place you want to keep an eye on.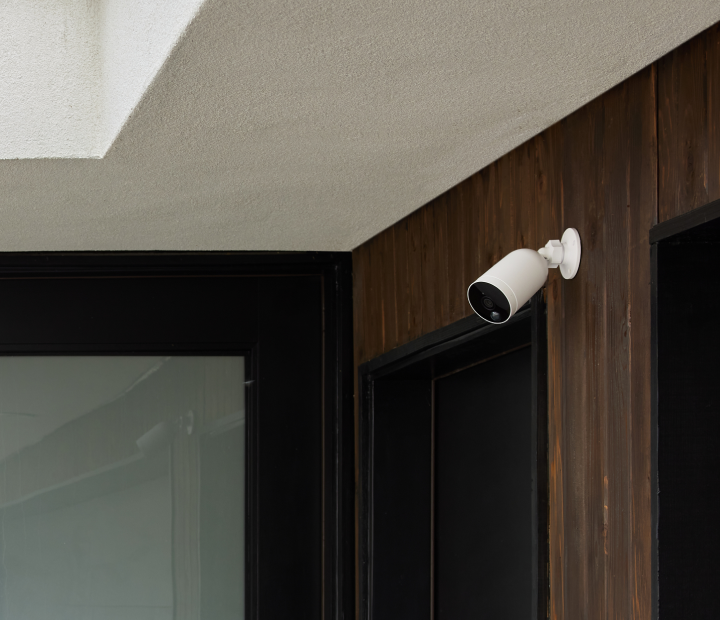 Outdoor Camera
Always see who's coming and going with Cove's wireless outdoor camera. Extended-life batteries make it easy to install anywhere you have a Wi-Fi connection, and AI detection avoids false positives caused by shadows, flying insects, and animals, so you won't be notified every time a squirrel comes into your yard.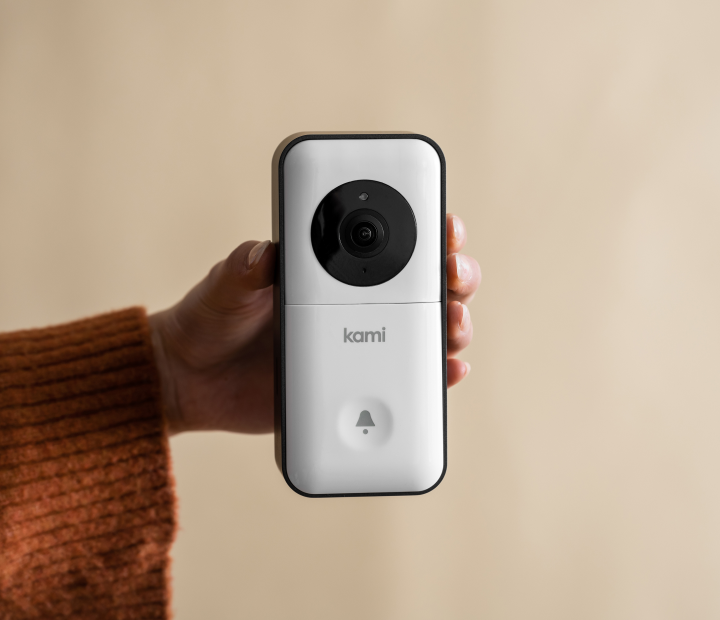 Kami Doorbell Camera
This doorbell camera is completely wireless. With three ways to power it, including a rechargeable battery, it's a great option even if your home doesn't currently have a doorbell.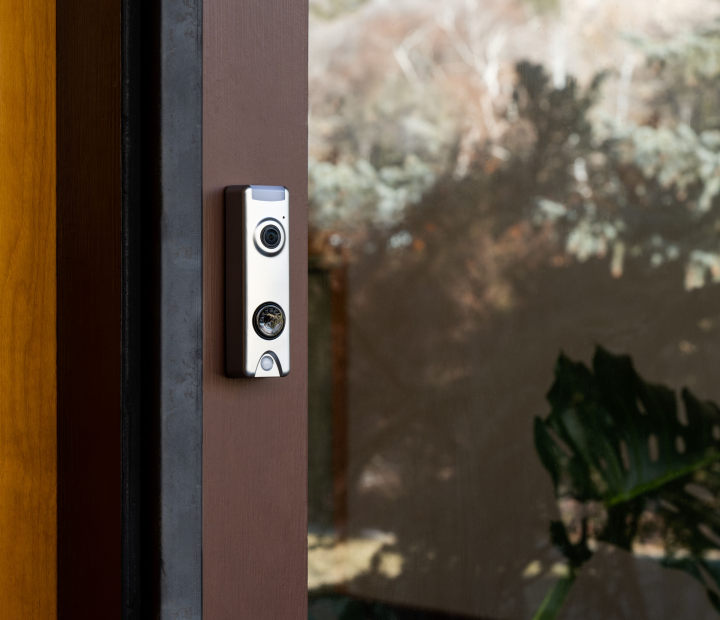 SkyBell Doorbell Camera
Designed to connect with your current doorbell wiring, this sleek, compact camera has both mechanical and digital doorbell compatibility. And with HD color night vision, it helps give you a more detailed view when you need it most.
See why our customers love their cameras.
From catching porch pirates to greeting visitors.

Love this system and the cameras. It really was so easy to install. Great outfit.

I love my system, and I love the fact that I can talk to my kid through the camera and catch them getting into stuff.

Extremely easy to install. Speaker volume is loud for my home, and the free camera doorbell works well with our system. I came from ADT and I'm loving the price point! Happy customer so far! 👌 Thx!

Love this system and the cameras. It really was so easy to install. Great outfit.

I love my system, and I love the fact that I can talk to my kid through the camera and catch them getting into stuff.
Frequently Asked Questions
How do Cove's cameras work?
Cove's cameras are all connected to the security system through the Cove mobile app, not through the Touch Screen Panel. Once you order your security system, you'll set up the bulk of your security equipment using the installation guide on the Touch Screen Panel. However, to set up your cameras, you'll need to download the Cove mobile app from the App Store or Google Play Store. Once it's downloaded, you'll add your cameras by scanning the QR codes on each camera through the app. Once your cameras are installed, you'll be able to monitor them easily. You'll receive notifications when the motion detector is triggered, and you'll be able to check your live feed anytime. For more information, visit our support articles. https://support.covesmart.com/category/security-cameras
What features are included with these security cameras?
Cove's cameras come with a variety of features. These include: Two-Way Communication: All of our cameras include a microphone and speaker, enabling you to speak through your phone to each of your cameras. Dual Storage: You'll receive 7 days of free cloud storage (with SD card backup for indoor and outdoor cameras). This way, you'll receive the benefits of a physical storage system, combined with the benefits of online storage. No False Notifications: Our cameras include smart motion detection, so you won't receive notifications for bugs or shadows. HD Resolution, Day and Night: Our cameras include wide-angle lenses and HD night vision. Our SkyBell Doorbell Camera includes the additional benefit of color night vision. Lightweight and Compact Design: All of our cameras are designed to be lightweight and compact, so they'll fit nicely into your home, without giving off a "maximum security prison" vibe. Data Privacy: You're the only one who will ever be able to view your camera feed unless you decide to download and share the footage with someone else.
How are home security cameras different from surveillance systems?
Surveillance systems can use security cameras, but the cameras themselves do not need to be surveilled. Cove's security systems are monitored by a team of professionals at 6 monitoring stations nationwide, but those agents do not have access to your security footage.
Do you need WiFi to use a Cove security camera?
Yes. All of Cove's cameras connect via Wi-Fi. The rest of Cove's equipment is connected to a 4G cellular network, but because of the large amount of data that is transmitted by these cameras, they run on Wi-Fi.
Do Cove's security cameras save motion footage?
Our security cameras do include a motion detection element, which causes them to automatically record for a set amount of time (usually 30 seconds).
Where do wireless security cameras get their power?
Our wireless cameras are battery-powered. Our Outdoor Camera includes a battery pack with up to two months of battery life. Charging this camera is easy. You can either take the battery out of the camera and charge it separately, or you can run the charging cord to the camera and charge it that way. Our Kami Doorbell Camera can be run off a rechargeable battery, but it can also be connected to your existing doorbell wiring. You choose what you prefer.
How do I know which security camera system is right for me?
The right security camera system is one that fits into your budget and your lifestyle while giving you the level of security that you deserve. Cove's cameras are designed so you can choose one or three—whatever you need for your home.
What products can enhance a Cove security camera?
Solar Panel for Cove Outdoor Camera: If you'd like to recharge your outdoor camera battery without ever taking it out of the camera, you might consider purchasing a solar panel for the camera. This one is compatible with Cove's cameras. https://www.amazon.com/Wireless-Compatible-Rechargeable-Surveillance-Continuous/dp/B09CYWCCCY/
What's the difference between the Skybell and Kami doorbell cameras?
Both of our doorbell cameras are compatible with the Cove app and provide 2-way communication with your front door, HD resolution, and night vision. But our cameras have some important differences. The Kami Doorbell Camera is a larger camera than the SkyBell camera and comes with a battery pack. The battery pack can power the camera on its own or connect to the doorbell wiring to maintain a constant charge. If you decide to recharge the battery, please note that it will need to be charged at least once a month. The upside of the rechargeable battery is that your home does not need to have a doorbell currently to install this camera. It can be mounted anywhere. Unfortunately, the Kami camera is not compatible with digital doorbell chimes. The SkyBell Doorbell Camera is a slimmer doorbell camera than the Kami camera. It does not require a battery to operate, but it must be wired directly into your current doorbell wiring. This camera is compatible with digital doorbell chimes, but it requires an adapter, which can be purchased separately through your customer portal. In terms of features, the SkyBell camera offers a slightly wider field of view and an option for color night vision, which is not provided by the Kami camera.