Your $25 referral discount has been applied!
Your $25 discount has been applied!
Introducing the new
Eufy Outdoor Camera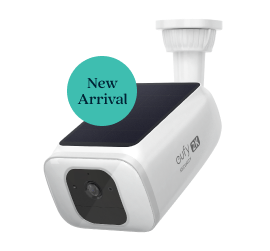 You want an outdoor camera you know you can count on. It needs to be easy to use. Easy to set up. Low maintenance. High performance. The Eufy outdoor camera has it all.
---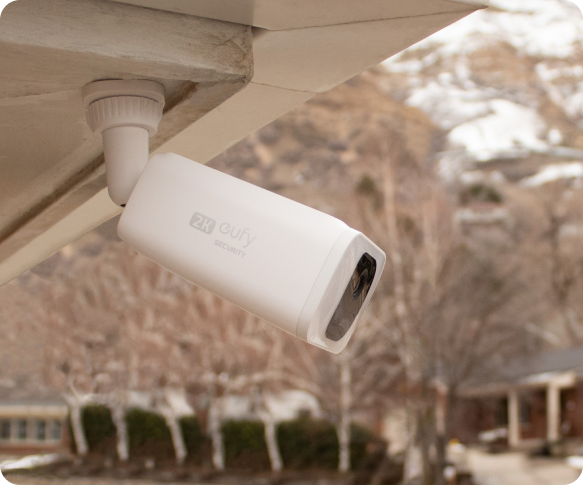 Stay in the know with instant alerts.
With app integration, 2-way communication, and video live streaming, this camera alerts you within seconds if something is going on around your home, so you can quickly check your camera feed and even talk to any visitors through your camera.
Sleek. Sophisticated. Secure.
2K resolution lens with color night vision
Built-in 600 lumen motion-activated spotlight
Solar panel keeps your camera charged at all times
90dB siren
Will not dispatch authorities
Screw-on mount for quick and easy installation
Up to 2 months (8GB) of local storage on the camera
Complete control with the Eufy Security app. Cove app integration coming soon.
---
Proud partners of Eufy Security.
We're partnering with Eufy, an award-winning smart technology company that makes cutting-edge cameras. We know you'll love the Eufy outdoor camera as much as we do.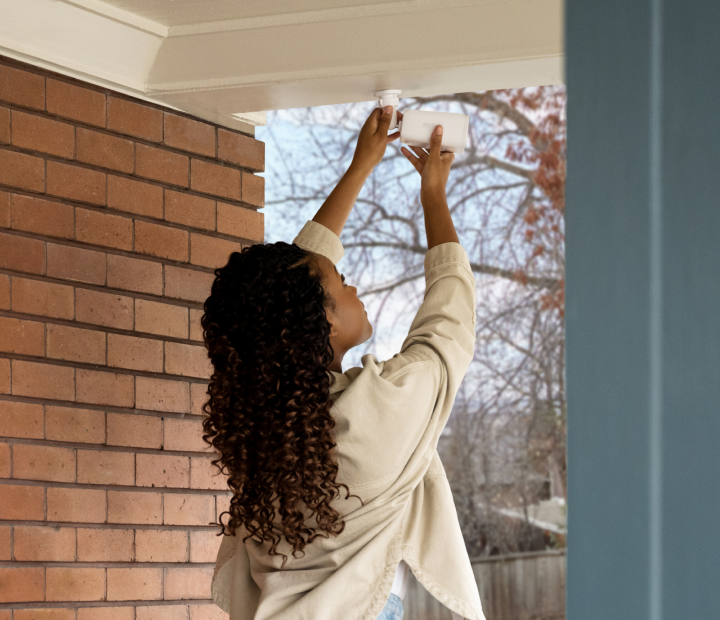 Solar-powered. Designed to thrive.
With an IP67 weatherproof rating, this camera stands up to rain, snow, and heat, so no matter where you live, you know you can count on it. A built-in solar panel ensures that as long as the sun shines for a couple hours, this camera won't need to be recharged. Even when there are a lot of rainy days and long nights, the battery will make sure your camera keeps recording.
Install it in 10 minutes or less. 
Step 1
Screw the camera base where you want it.
Step 2
Twist your camera onto the base.
Step 3
Stay connected through the Eufy app.
Step 1
Screw the camera base where you want it.
Step 2
Twist your camera onto the base.
Step 3
Stay connected through the Eufy app.
Step 1
Screw the camera base where you want it.
Shine a light on unwanted visitors.
Light is an easy way to make sure you know who's around your house at night, and good lighting can even scare off potential intruders. That's why this camera includes an ultra-bright spotlight that turns on as soon as motion is detected, with an option to trigger a siren as an additional deterrent for intruders.
All the right features.
AI Human Detection
No need to worry about false positives from bugs or squirrels. This camera can tell within a  second if someone is approaching your home.
Color Night Vision
"Under cover of darkness" means nothing to this camera. Get clear footage and video recording, even at 3 a.m., with its advanced color night vision.
Activity Zones
If you live on a busy street, prevent your camera from triggering a notification every time a car drives past by selecting which areas the camera should pay attention to, and which ones it should ignore.
We protect your data.
We are committed to protecting your data and privacy with technology that's designed to keep prying eyes away from your home. Military-grade AES-128 data encryption ensures your footage is kept private on transmission and storage.
Need answers to a few questions?
Reach out to our friendly customer support team!
---
Frequently Asked Questions