Cove is actively dedicating resources to make our site, and our community, more accessible. While we make changes, if you need any assistance accessing the information on this site, please contact us at 855.268.3669 or support@covesmart.com. For those who are deaf or hard of hearing or who do not use voice channels to communicate, please contact us via email or via 711 or other relay services. If you have any feedback or suggestions as to how we could improve the accessibility of our website, please contact us at accessibility@covesmart.com. Please be aware that our site may contain links to other websites, the accessibility of which is not under our control. Please contact us if you run into any difficulties with these sites, and we will do our best to help you.
Accessibility
Your $25 referral discount has been applied!
Your $25 discount has been applied!
Window Sensor
Let sunshine in. Keep burglars out.
Windows are the second most common entry point into a home. Let in the light, but not the burglars, with our easy-to-install window sensor.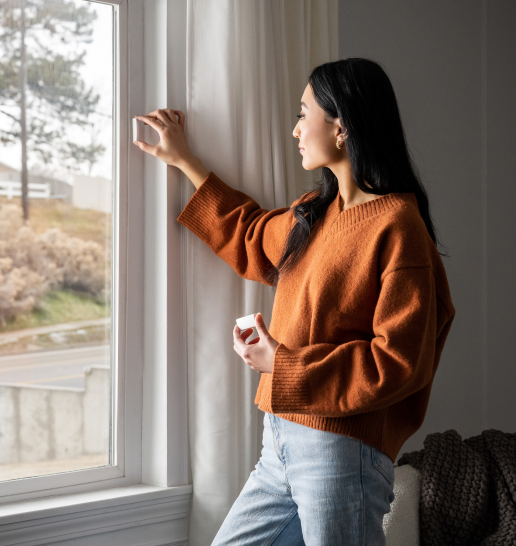 Always Alert So You Don't Have to Be
You decide what you want from your sensor. This sensor will work with any window, whether it slides horizontally or vertically, or opens using hinges. You can also name and set custom rules for each sensor, so you know exactly where things are happening.
$

each
$0 each, regularly $0
So Covert You'll Forget It's There
The window sensor will test itself once every hour to ensure that everything is working correctly. If your battery starts running low, we'll let you know.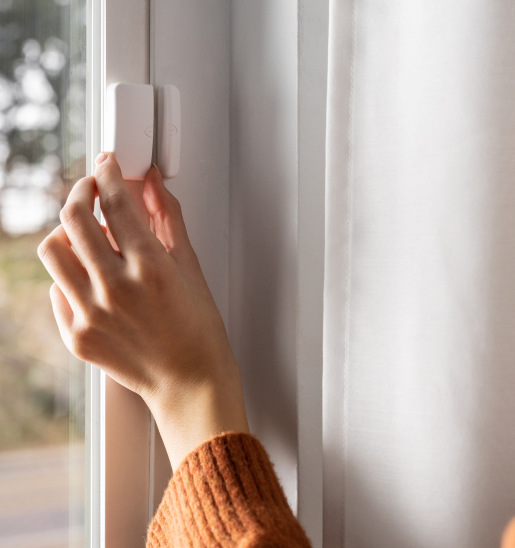 Set Up in Seconds
Each sensor is pre-programmed to connect to your Touch Screen Panel. To install, follow the instructions in your installation guide and place your sensors where you want them.
Sensor Placement
This sample floor plan has seven exterior windows. For maximum effectiveness, place one window sensor on every ground-floor window.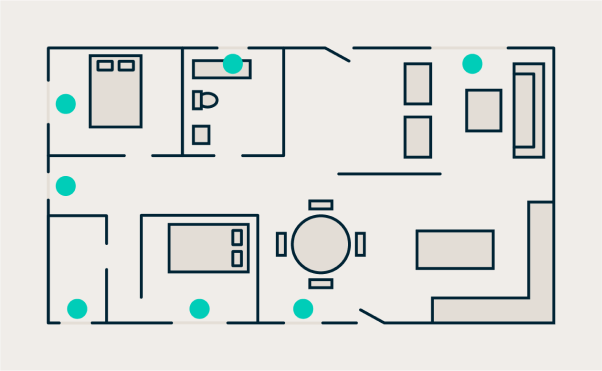 How To Install Your Window Sensor
Tech Specs
SENSOR DIMENSIONS
2.13" x 1.00" x 0.50"
MAGNET DIMENSIONS
2.11" x 0.41" x 0.46"
SIGNAL RANGE
100 M Open Air
SUPERVISORY INTERVAL
60 minutes
OPERATING TEMPERATURE
32° F - 120° F
OPERATING HUMIDITY
5-90% Non-Condensing
BATTERY TYPE
Two (2) CR2032
Frequently Asked Questions
A window sensor is a piece of security equipment that keeps track of whether a door or window is open or closed. It is an essential part of a complete home security package, and will give you peace of mind in knowing who is coming or going from your house and when. Their simple technology is dependable and reliable, which makes them an ideal addition to any property protection package.
How does a window sensor work? A window alarm works similarly to a door alarm, it consists of two pieces. One half contains a magnet while the other piece houses the sensor circuit and security alarm transmitter. The pieces are mounted to different parts of the door or window. One piece remains stationary and is mounted on the frame or molding around the window, and the other piece is mounted to the edge of the moving part of the window. When the window opens, it separates the magnetic contact between the two sections which trips an electrical circuit called a reed switch. When the two halves of the sensor are close enough in contact with each other, the magnetic field is constantly pushing the wires of the reed switch apart. When the window opens, the magnet moves away from the switch, which triggers the device to send an alert to your alarm keypad or home security app.
Some brands of home security systems use wired sensors that connect back to a professionally installed control panel but the window and door sensors included in the Cove Home Security System are completely wireless and can be installed by the user in minutes. Because the magnetic field requires no power to maintain, only a little electricity is used when the sensor is triggered, meaning door and window sensors will last for several years on a single battery. Its connection to your Cove Touch Alarm Panel makes it easy to know when and where a door or window has been opened. Cove can even notify you on your smart device. When it's time to change the batteries for your window alarm sensor, your Cove alarm panel will even be your low battery indicator and alert you.
Benefits and Features of Window Alarms
A window sensor is an essential piece of equipment to have for protecting your home with a security system. You can install several sensors in your home to track multiple doors or windows 24/7. When shopping around for window alarms you have the option of choosing a wired sensor or a wireless one. Although with the simplicity and size of the device, wireless models, like Cove's, are becoming more and more popular, affordable, and easy to install. Their small size, simple design, and discreet appearance make them blend into the aesthetic of your home. Their unobtrusive form is effectively out of view from outside the window.
If your system is armed when a monitored window is opened, a loud alarm will sound, alerting the house to a possible intruder. With the Cove Home Security System, the chances of false alarms are low, because the alarm panel is regularly monitoring the devices for proper function. With a yard sign and window stickers, your chances of a real burglar alarm are even lower. Very rarely do criminals want to mess with a professionally monitored security system.
How to Choose a Window Alarm
In order to choose the best home security products, you'll need to understand both how the products work, and what vulnerabilities exist in your house or apartment. Most burglars come in through the front door, back door, or ground floor windows. You should keep all possible entrances to your home locked, but in the unlikely scenario that you forget to do so before leaving the house, or if an intruder is audacious enough to force their way through anyways, it's best to have sensors on your doors and windows.
Get to know the layout of your house from the outside and how a criminal might be able to access it. Then, when you're choosing an alarm system you'll know how many window alarm devices to get, and which other devices to install and where. Window and door alarm sensors work most effectively as part of a multifaceted security system, so you'll want to bundle your hardware with a single security provider. After that it's just a matter of finding the package that best fits your needs and budget.
A Cove Home Security System can be customized to fit your exact needs. Cove offers not only some of the most affordable and reliable door and window sensors, they also offer motion sensors, carbon monoxide and smoke detectors, glass break sensors, flood or water leak detectors, and more. You can even get the system with a remote control to arm or disarm the system from outside the house, or hit the panic button from your key ring if you can't get to the alarm panel. Cove's Home Security System also comes with no contract and simple DIY installation.
There's really no reason nowadays to have big, clunky, hard-wired door or window sensors. Even if your home is already pre-wired for a specific system's hardware, a wireless window sensor is going to be your best option. Modern wireless sensors are slim, sleek, and inconspicuous, not to mention just as reliable as a wired equivalent. Some older style sensors work by using a button on one piece of the sensor and the other piece working simply as a stop to keep the button pressed until the window opens. Magnetic window sensors are superior to older style sensors, because the old analog sensors can deteriorate after repeated use or be fooled by sliding a credit card or piece of tape through the slit in the window or door frame.
Cove's window alarms are sleek and tasteful in design, and are among the smallest and most unobtrusive on the market today. They're incredibly easy to install and pair with your Cove Alarm Touch Panel. The two halves of the sensor can be placed at up to ninety degrees of each other and within an inch apart, allowing them to fit on most window frames and windows in order to effectively detect opening and closing. Depending on your preference, even when the system is disarmed, the panel can be placed in chime mode and chime or announce the name of the sensor being activated on the control panel.
While it may seem like a security device as simple as a magnet could easily be fooled, it's actually trickier than you think. The magnets inside the two halves of a window sensor are aligned specifically to the switch inside. Yet you may be wondering, could a potential intruder disable a contact switch from the outside with a powerful magnet? Well, the burglar would first have to accurately locate the device from the outside of the window, and with the sensor's small form factor, that's a pretty difficult thing to do. Even in a window, the Cove's system's contact sensors are difficult to find from the outside. And if they are found, a magnet would have to be powerful enough to fool a contact sensor through normal window frames. Furthermore, a stronger magnet has a greater chance of triggering the alarm than silencing it, as a large disruption to the regular magnetic field could potentially activate the alert switch.
Couldn't a burglar just break the window and fool the sensor from the inside? That is an excellent question, and one that is answered by Cove's personal security package. By building a system for your home, apartment, or small business, with multiple pieces of monitoring hardware, you can fortify any potential weaknesses in your system. Installing a glass break sensor and a motion sensor will work as redundancies in your layered home protection system to alert you and your professional monitoring company to any potential threats to you and your property if an intruder does smash through your window.