Your $25 referral discount has been applied!
Your $25 discount has been applied!
Introducing the new
Eufy Doorbell Camera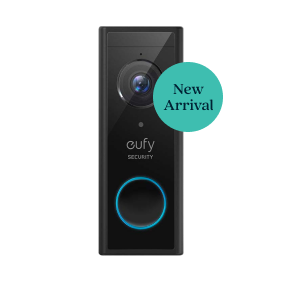 If we had to describe this doorbell in one word, it would be versatile. It's battery-powered, weatherproof, and comes with a Wi-Fi chime to store recorded video securely in one place.
---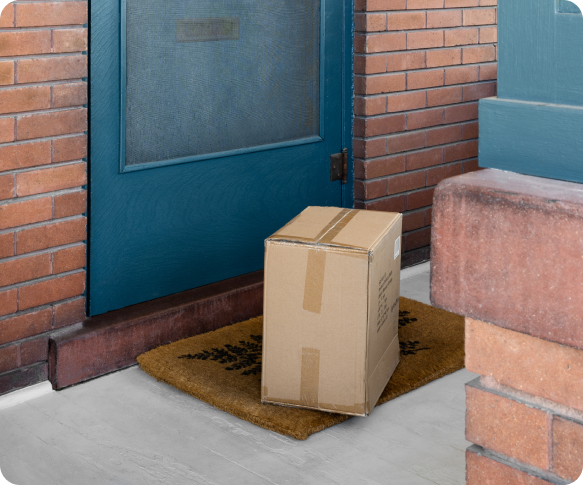 Catch deliveries early.
There's nothing worse than thinking you've got a package waiting for you on your doorstep, only to come home to an empty porch. Our doorbell camera notifies you and records as the delivery person drops off your packages, so if one goes missing, you'll know whether it was delivered in the first place.
Simple design. Powerful technology.

2-way audio communication

Wireless with 4 months of battery life per charge

Wi-Fi chime included (no wiring required)

1080p HD resolution with night vision

Ergonomic doorbell button

Local storage on Wi-Fi chime
Complete control with the Eufy Security app. Cove app integration coming soon.
---
Proud partners of Eufy Security.
We're partnering with Eufy, an award-winning smart technology company that makes cutting-edge cameras. We know you'll love the video doorbell camera as much as we do.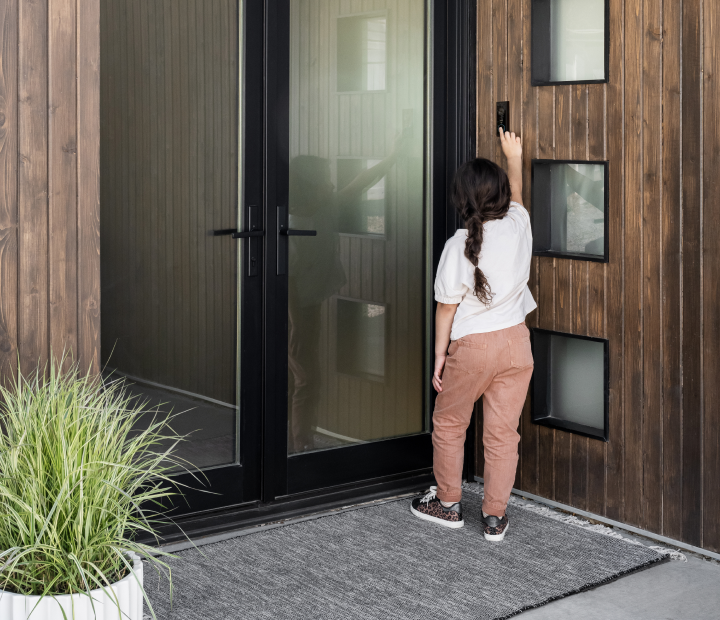 Talk directly to visitors.
When you're busy making dinner or watching the big game, you can answer the door without even getting up, by chatting with visitors through your doorbell's 2-way talk feature. So instead of shouting, "come in," you can tell your visitors nicely.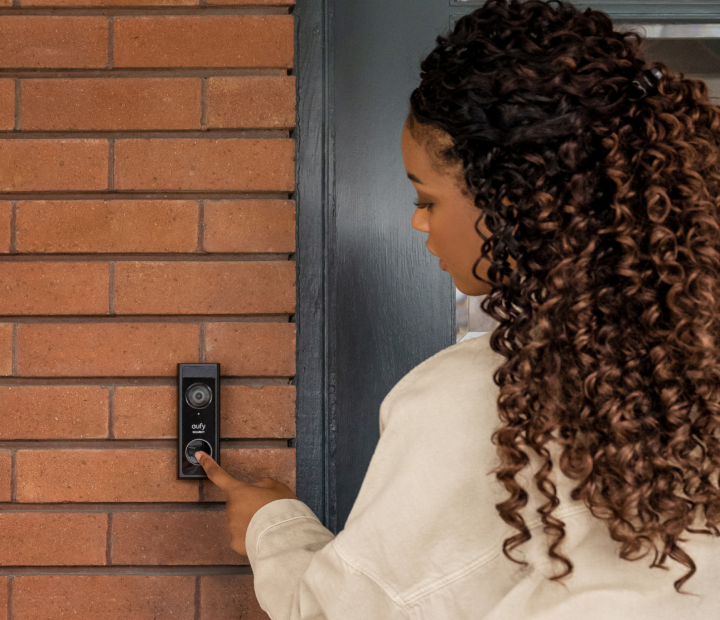 Save time and money with self-installation.
This camera only takes a few minutes to install. Just charge it, mount it, place your chime, and monitor it through the easy-to-use Eufy app. Use it with the rest of Cove's equipment for comprehensive home security.
No wiring required.
It's perfect for houses, apartments, mobile homes, or anywhere else you might call home. This doorbell camera lasts up to 4 months on a single charge and does not require any existing doorbell wiring, making setup a breeze.
All the right features.
HD Night Vision
This doorbell camera has perfect vision day or night. So when you receive a doorbell notification at midnight, you won't mistake your teenage son for an intruder.
AI Human Detection
The Eufy doorbell camera knows the difference between people, animals, and cars, so you won't need to worry about false notifications. And it sends a picture when someone's at the door, so you'll know who's there.
Activity Zones
If you live on a busy street, prevent your camera from triggering a notification every time a car drives past by selecting which areas the camera should pay attention to, and which ones it should ignore.
Monitor inside, outside, and in between.
Pair your Eufy doorbell camera with a Eufy outdoor camera and a Cove indoor camera for more comprehensive security, with monitoring available through our mobile apps.
Customize My System
We protect your data.
We are committed to protecting your data and privacy with technology that's designed to keep prying eyes away from your home. Military-grade AES-128 data encryption ensures your footage is kept private on transmission and storage.
Not sure which camera is right for you?
Reach out to our friendly customer support now!
---
Frequently Asked Questions
Where should I place the Eufy doorbell camera?
The Eufy doorbell should be placed adjacent to your door and angled so it receives a full view of the street. The doorbell camera can be placed where your current doorbell is, or it can be mounted above, below, or to the side of your current doorbell. This camera must be placed within range of your home Wi-Fi router, as it requires Wi-Fi to send video to the SD card on the doorbell chime.
Where can I view live and saved video?
All video can be viewed and downloaded from the Eufy app. To do this, you will need to download the Eufy Security app, sign in, and add your cameras. Once your cameras are all added, you will be able to access and control all of your camera features, view recorded video and livestream footage, and download any relevant clips to your phone. Please note that this feature is not the same as the cloud storage option available with our SkyBell camera. All clips are stored on the Wi-Fi chime, not in the cloud, and they must
How is the Eufy doorbell camera powered?
The Eufy doorbell camera is totally wireless. It is powered by a rechargeable battery with up to 4 months of battery life per charge. Wireless cameras offer some versatility in terms of placement and the type of home they can be used with. They are also very quick and easy to install when compared to wired cameras.
When choosing between a wired and wireless doorbell camera, consider the following:
Do you have an existing, working doorbell? If so, you may like a wired doorbell to replace your current doorbell. If not, a wireless doorbell like the Eufy doorbell camera will be much easier to install and use.
How much time do you have? A wired doorbell may take slightly longer to install than a wireless doorbell like the Eufy.
If you are interested in a wired doorbell, check out our SkyBell doorbell camera.
Does the Eufy doorbell camera have 2-way communication?
Yes! The Eufy doorbell camera utilizes 2-way communication between the Eufy mobile app and the camera. The microphone on the camera will pick up all audio nearby, and you can press a button onscreen within the app to speak through your phone to the camera.
What is the difference between the Eufy and SkyBell doorbell cameras?
See the comparison chart below for the main differences between the Eufy and Skybell cameras:
| Skybell Doorbell Camera | Eufy Doorbell Camera |
| --- | --- |
| Wired doorbell (requires existing doorbell wiring) | Wireless doorbell (rechargeable, no existing doorbell required) |
| Uses existing doorbell chime | Doorbell chime included |
| Video stored in the cloud | Video stored locally on doorbell chime |
| Slightly smaller and thinner | Slightly larger and thicker |
| Controlled through Cove mobile app | Controlled through Eufy mobile app |
You should consider the needs of your home while selecting a doorbell camera. We recommend choosing the Eufy doorbell camera if you live in a mobile home or apartment, or if you do not currently have a doorbell.
How do doorbell notifications work for the Eufy doorbell camera?
The Eufy doorbell camera includes a motion sensor. This means that whenever someone walks past your door and triggers the motion sensor, your phone will receive a doorbell notification, and the camera will begin recording automatically. You will also receive notifications when someone rings your home's doorbell camera.
Does the doorbell replace my existing doorbell, or is it used in addition to my current doorbell?
This doorbell can either replace or be used in addition to your current doorbell. Since it includes its own Wi-Fi chime, you will not need to set this doorbell up with your current doorbell chime, and you will not need any kind of adapter in order to install the camera.