Cove is actively dedicating resources to make our site, and our community, more accessible. While we make changes, if you need any assistance accessing the information on this site, please contact us at 855.268.3669 or support@covesmart.com. For those who are deaf or hard of hearing or who do not use voice channels to communicate, please contact us via email or via 711 or other relay services. If you have any feedback or suggestions as to how we could improve the accessibility of our website, please contact us at accessibility@covesmart.com. Please be aware that our site may contain links to other websites, the accessibility of which is not under our control. Please contact us if you run into any difficulties with these sites, and we will do our best to help you.
Accessibility
Your $25 referral discount has been applied!
Your $25 discount has been applied!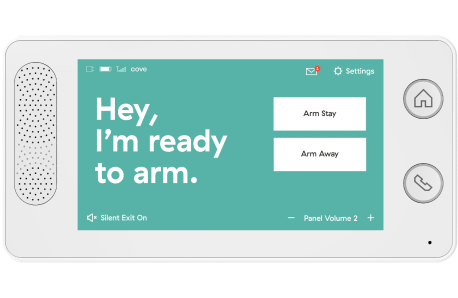 Touch Screen Panel
The heart of your security system.
Our Touch Screen Panel is designed for ease of use. It's tamperproof, self-testing, and even walks you through the self-installation process. And with the press of a button, you'll be able to chat with our 24/7 monitoring team whenever you need to.
No Need for Maintenance
Our panel takes care of itself. If a burglar tries to smash the panel, an alarm will trigger automatically. The panel also performs system checks every hour. And when the power goes out, the 24-hour backup battery kicks in.
$undefined0, regularly $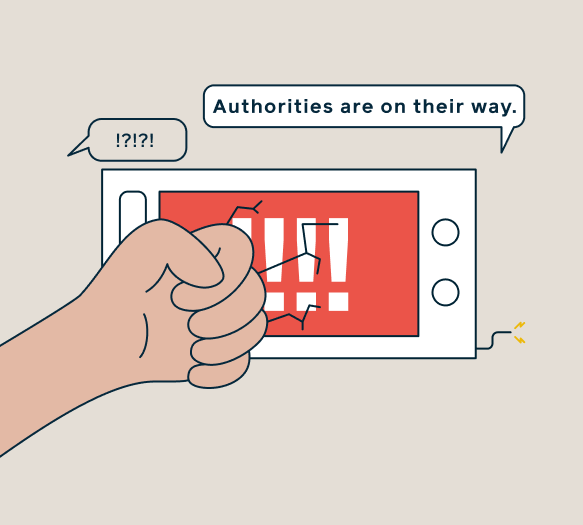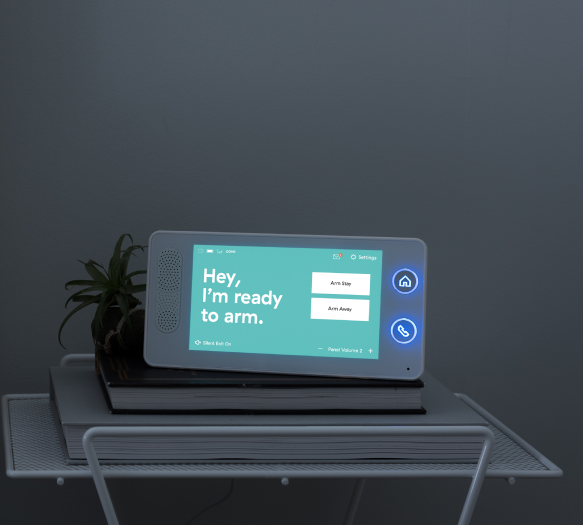 Always Stay Connected
Don't rely on spotty WiFi or landline connections. This panel uses 100% cellular connection to communicate with the monitoring station. Our agents will reach out to you via your panel, a phone call, and a text message to let you know when your alarm is triggered.
Set Up in Minutes
Setting up your system is simple, just plug in your panel and walk through our onscreen setup wizard. No wires, and no hassle. The average installation time for our whole system is less than 30 minutes.
$, regularly $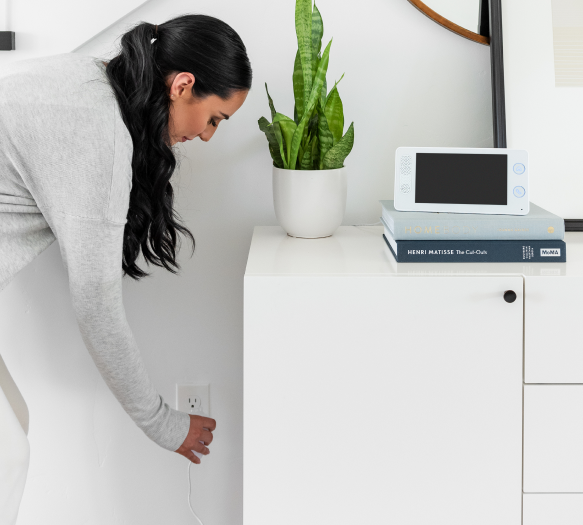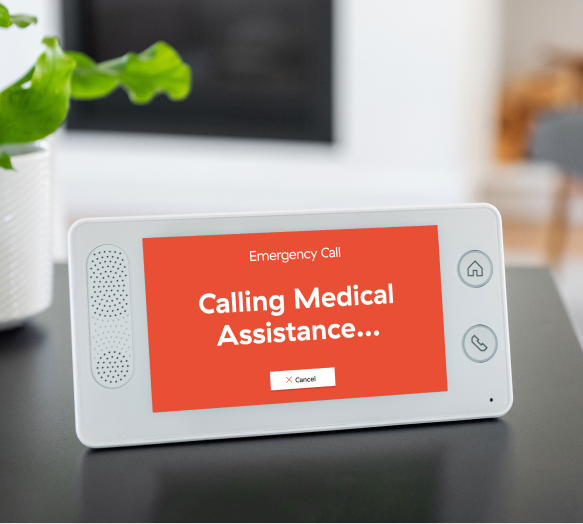 One of a Kind
No other home security system offers the versatility you'll get with our Touch Screen Panel. Most systems just offer a basic keypad, but our panel includes a touch screen that allows you to set daily routines and communicate with monitoring agents directly.
How to Install Cove Security System
Tech Specs
Power usage
12v dc (standard outlet) / 1.5A with 24 hour backup battery
Backup Battery Life
24 hours
Audio
Two-way communication
Radio connectivity
345 MHz
Frequently Asked Questions
An alarm panel, or alarm keypad, is the key to a fully functioning and operable home security system. The alarm panel is the central hub of your complete alarm system. If your home were an intergalactic starship, the alarm panel would be the ship's bridge. It's the headquarters for your home security, the command center of property protection. Alarm panels connect either by wire, through radio frequencies, or through wireless internet to all of your installed security or smart home devices. These devices talk to your alarm keypad, giving updates as to the status of your home's security and the functionality of each device. The alarm panel then displays this information and allows you to interface with the devices or the system as a whole. You can arm or disarm the system, troubleshoot, or even bypass specific devices by using the alarm keypad to give commands to the alarm system. It can connect to door and window contact sensors, motion detectors, smoke alarms, carbon monoxide detectors, flood and freeze sensors, glass break sensors, and even medical devices. By connecting all of these sensors and detectors into one central device, you can easily be in command of your home's safety.
There are a variety of types of alarm panels, with more modern ones offering large touchscreens and greater functionality and connectivity, but most of them work off the same security principles, starting with the most basic keypad. The keypad works to arm or disarm the system through a unique authorization code that is determined by the user upon installation. If your alarm system uses this kind of security feature, be sure to keep the code secret. Memorize it if you can, and avoid writing it down to lessen the possibility of it being seen by potential intruders.
More modern alarm panels, like the Cove Touch Alarm Panel, use individual user accounts with unique PINs for varying levels of security access, with one master code to manage them all. This allows for other members of the family to be able to use the system without granting everyone full-level access to all the administrative functions. It is also more secure than more basic systems where there's only one code for all the system's commands.
A touchscreen panel also gives more detail and visibility in feedback from the alarm security devices and gives you greater control over the whole system. The vivid LED display provides more detailed information from the sensors and perfectly optimizes the touch buttons to the exact function needed for any given situation. It's monumentally easier to use compared to fumbling with awkward keypad buttons to navigate a single line of display text while the alarm beeps confusingly at you.
The alarm panel is the central command station of your home security system. It connects all your security devices into one control panel, making it possible to arm, disarm, or manage the system. Alarm panels come with different features and functions each, and the one you need will ultimately depend on your needs and budget.
Without an alarm panel with your home security system, your devices will have very limited use, if any at all. By connecting to the alarm panel, the whole system will function as it was designed. When an event occurs and your system's devices are tripped, the panel will be able to sound the alarm, notify you by text and a phone call, and contact your alarm monitoring company.
There are two main ways security sensors and detectors connect with your alarm panel: Either through a professionally installed control panel somewhere in your home which relays the sensor data to your alarm keypad, or by a wireless signal directly to your control device. If the keypad is wired in with a control panel, it will come equipped with a backup battery in case of power failure. The Cove Touch Alarm Panel is completely wireless and runs primarily on AC power. In case of power outages or other failure, the device has a 24 hour backup battery so that your system stays connected to the central monitoring station by cellular network.
With a security company monitoring your home through the panel's signals, you can rest assured that your alarm system is securely providing your home with the safety it deserves.
Many companies offer alarm monitoring for their home security systems. Typically when an alarm is triggered, the company will attempt to contact you via an emergency contact number such as your cell phone or a landline in your home. Cove's 24/7 monitoring services primarily use the Cove Touch Alarm Panel as the means to directly communicate with you in case of an incident. The two-way communication and InstaText through cellular service allows Cove to respond to an event faster than any other monitoring company. You can confidently rely on your Cove home security system to keep you safe by communicating directly with a Cove monitoring agent when the unexpected happens. The most important reason to have a panel for your alarm system is to secure control of your sensors and detectors so they can work together to protect your property. The specific benefits of an alarm panel in your home depends on the type and brand of panel you buy. There are many different types of panels with different features and functions each.
The best kind of alarm panel is, first and foremost, the one that provides the most functionality for your needs. A good alarm system will work seamlessly as one unit, so it's important to get a system that can do it all. It is possible to buy distinct pieces of security hardware and try to manage them all individually, but the chances of false alarms, improper device function, or weakened security greatly increase with the inclusion of different unconnected products. The best security system is one that is connected to all your security hardware and can control them all from one simple device.
One indispensable modern feature of a home alarm system panel is a touchscreen. Old calculator-style, analog button keypads are a thing of the past. They can be difficult to use and program, and don't offer nearly as much information to the user as a large LED touchscreen display. With a touchscreen, input commands are clear and simple. The display can tell you exactly what your options are, and you can select them unmistakably every time. No more fumbling around with squishy analog buttons, making a mistake, and accidentally setting off the alarm when all you wanted to do was tell it you're home now.
Another critical component to an effective alarm system is wireless connectivity. With a wireless touch panel, you can monitor and command your systems from anywhere in your home. Fully wireless systems are easy to install and don't require any wiring or complicated professional installations. A good wireless system can be installed by the user in a short amount of time, and can be configured or reconfigured at any time for the specific needs of the house.
The Cove Touch Alarm Panel can be installed in minutes, and even displays setup instructions right on the large LED screen. It automatically syncs with the wireless sensors you chose when you ordered your Cove Life Safety System.
Many companies offer a variety of home security solutions with their own versions of an alarm panel. Each system is usually made to work with a specific set of sensors or detectors. Some require installation of a hard-wired control panel, while others depend on a stationary smart home hub to connect all the wireless hardware. With so many smart panel options to choose from, with features like backup battery power, touch screens, and cellular data; as well as a range of devices to connect to, such as motion sensors, glass break detection devices, smoke, fire, and freeze sensors, flood or water leak detectors, and medical alert buttons, it can be tricky to find the right alarm system and panel solution for your home protection.
You'll need to consider your home's or apartment's unique security needs, and while every situation is different, the best way to achieve peace of mind in your technology solution is to have a modern, fully connected, secure, and monitored system that is easy to use and covers all areas of home protection. That's why the Cove Touch Alarm Panel comes included with every customized Cove Life Safety System built just for you. Its simple interface is effective and efficient. It can sync with an app on your phone to provide a push notification in case of fire, flood, motion, or intrusion detection.
Ask yourself these questions when considering what alarm system and panel to set up in your house or apartment: What kinds of features does my alarm system need? Do I want a wireless or wired keypad? What kinds of sensors do I need? Do I want a smart hub, control panel, or all-in-one touch panel? Answering these questions will lead you to the right setup for you.
The increasing dependence on digital technologies and "the internet of things" inevitably brings up questions of security. Can the device be physically disabled or overridden by an intruder? Will the system still work even in cases of internet outage or power failure? These are all important questions to have, and your security company should be able to answer them for you.
The Cove Touch Alarm Panel is the most secure home device on the market today. Its software is continuously being evaluated and updated for better security. Cove's technicians find and patch holes in the code before they can ever be exploited. It also has a built-in tamper-proof switch that alerts Cove's professional monitoring personnel in case of physical damage or interference with the panel. When your alarm security service provider receives an alert that your panel might have been damaged, they contact you by your listed emergency number to let you know that potential tampering has been detected. They can then contact emergency response personnel on your behalf to assess the situation. Rest assured your home is secure with Cove because the panel is tamper-proof.
In case of power loss the wireless touch panel is rated for 24 hours of backup battery charge to keep protecting your home. In the event that wireless internet in your home experiences intermittent connectivity or even total failure, the device will still be able to function over cellular signal. This means that your system will be professionally monitored 24/7 no matter what your situation is. You'll always be protected with Cove.