Cove is actively dedicating resources to make our site, and our community, more accessible. While we make changes, if you need any assistance accessing the information on this site, please contact us at 855.268.3669 or support@covesmart.com. For those who are deaf or hard of hearing or who do not use voice channels to communicate, please contact us via email or via 711 or other relay services. If you have any feedback or suggestions as to how we could improve the accessibility of our website, please contact us at accessibility@covesmart.com. Please be aware that our site may contain links to other websites, the accessibility of which is not under our control. Please contact us if you run into any difficulties with these sites, and we will do our best to help you.
Accessibility
Your $25 referral discount has been applied!
Your $25 discount has been applied!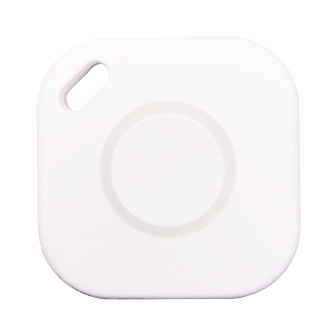 Medical Button
Help is just a moment away.
Get help when you need it the most with our medical button. All you'll need to do is press and hold for 2 seconds, and the authorities will be on their way.
Help Right When You Need It

Fast emergency response times are crucial to medical alert systems. With Cove's medical button, we'll send your location to dispatchers digitally, cutting response times by 3-4 minutes.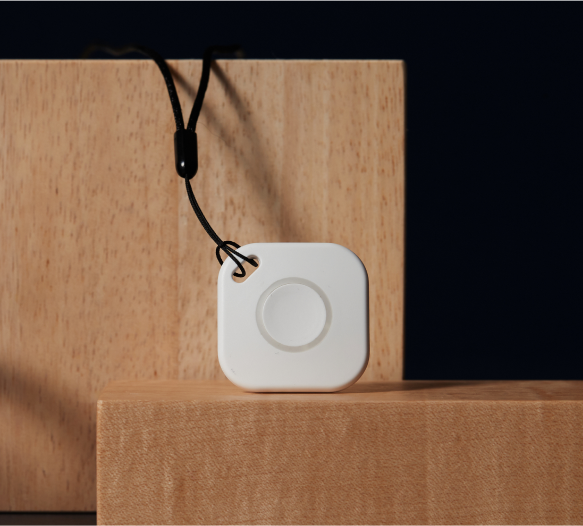 Protection for Your Loved Ones
When you're taking care of a loved one, it's important to know you can get help when you need it. When the medical button is pressed, we'll contact both you and the authorities to send help to your home.
$

each
$0 each, regularly $0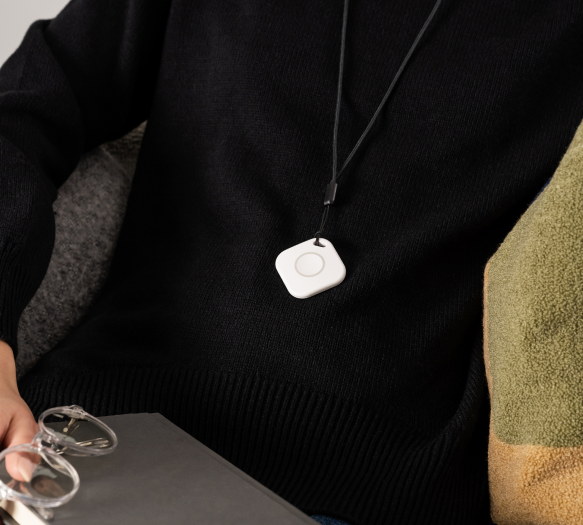 Easy to Carry. Easy to Use.
In an emergency, the last thing you want to have to do is scramble for your phone. Our medical button is designed for simplicity and ease of use. Just wear it like a necklace until you need help, then press the button.
How to Add a Medical Button - Cove
$

each
$0 each, regularly $0
Tech Specs
SENSOR DIMENSIONS
1.58" x 1.58" x 0.27"
WEIGHT
0.52 oz (with lanyard)
SIGNAL RANGE
107 M Open Air
OPERATING TEMPERATURE
32° F - 120° F
OPERATING HUMIDITY
5-90% Non-Condensing
BATTERY TYPE
One (1) LIXING CR2032 Non-Removable Battery
Frequently Asked Questions
A Guide to Medical Alert Necklaces
Medical emergencies happen every hour of every day. And for older adults who live alone, getting in contact with emergency personnel in the event of an accident or fall is not always an easy feat. Those who fall and cannot receive immediate help are at high risk for lifelong injuries and impaired independence.
Your safety at all stages of life is our top priority. It's why we do what we do. A medical alert necklace provides easy, 24-hour access to the authorities when you need emergency response services and cannot make it to the phone to call for help. This device reduces the amount of time it takes to receive help after taking a fall, reducing potential medical complications and injuries. It also brings greater peace of mind for both the wearer and the wearer's family.
What is a Medical Alert Necklace?
Answer: A medical alert necklace is a small electronic button worn around the neck. With a push of that button, the wearer can contact emergency personnel in the event of an emergency, like a fall.
Medical alert necklaces are electronic devices that people wear in the form of a necklace. The devices are usually small, hang like a pendant, and can be held in the palm of the hand. Mostly composed of a big button, medical alert necklaces let you call for help with a single push.
A medical alert necklace is different from a medical ID necklace or medical ID bracelet. Medical ID jewelry is engraved metal that a person with a medical condition wears to alert first responders to their specific medical needs. For example, someone with diabetes might wear a medical ID necklace to let first responders know that their blood sugar may be the reason they lost consciousness. Someone with a heart condition might wear a medical ID bracelet to let first responders know that there is a pacemaker inside their chest. Medical ID jewelry can also list medications that a person is allergic to and medications that they are currently taking, like a blood thinner. It can also provide contact information for family members or other emergency contacts. Medical ID jewelry does not have a button that calls for help; it is a piece of metal that holds important medical information.
Why Would Someone Wear a Medical Alert Necklace?
Answer: A medical alert necklace allows the wearer to maintain some independence while keeping help within arm's reach in case of an emergency.
Despite the amazing service that medical alert necklaces and bracelets offer, there is no doubt a negative stigma surrounding their use. Using a medical alert necklace is often associated with weakness or frailty. While it may be difficult coming to terms with an aging body, getting weaker is nothing to be ashamed of; it is part of the natural aging process. Taking care of yourself is priority number one. A medical alert necklace simply ensures that you can maintain some independence while still being prepared for the worst-case scenario.
The National Council on Aging recently shared the CDC's summary of fall risk in the United States. They stated some shocking figures:
25% of Americans ages 65 and up take a fall each year
An older adult is treated for a fall every 11 seconds in the emergency room
An older adult dies as the result of a fall every 19 minutes
Falls result in almost 3 million injuries treated in emergency rooms annually
Annually, falls result in over 800,000 hospitalizations
Annually, falls result in over 27,000 deaths
Falls are the leading cause of nonfatal trauma hospital admissions in the older adult population
Falls are the leading cause of fatal injury in the older adult population
And, according to Age Safe America, 40% of people admitted to nursing homes come after they took a fall. Additionally, 40% of those admitted into nursing homes are never able to return to independent living after their fall.
If you are over the age of 65, your chances of sustaining a major injury after a fall increase dramatically. Most older adults would prefer to live in their own homes as they age over living in a residential facility. Living alone comes with risks, and safety should not come at the expense of comfort. A medical alert necklace can let seniors live where they want and with more freedom than they otherwise might have while keeping safety the top priority.
The following factors can put older adults at higher risk for falling, and thus may be good indicators of the need for a medical alert system: those with a history of falls, those who take medications that impair their balance, those who have problems walking, and those who have anxiety or are worried about what they would do in the event of a fall. Some medical alert necklaces even have GPS tracking, which makes them good for individuals with Alzheimer's who are prone to wandering.
Nobody wakes up with the knowledge that they will fall later that day. An accident is simply that: accidental. When an adult falls without a medical alert device within reach, it can take hours before they are found and able to receive care in a hospital. The chances of an older adult regaining their ability to live independently shrink with every moment that passes before that person is able to receive help. An at-risk individual who does not have a medical alert necklace is more likely to go without help for hours and have more severe injuries.
Thankfully, if someone wearing a medical alert necklace were to fall they wouldn't need to be within reach of a phone to get help. They wouldn't need to wait for a family member or neighbor to come by and check on them before they could contact emergency services. They could simply use their medical alert necklace.
What Should You Look for In a Medical Alert Necklace?
Answer: When choosing a medical alert necklace, reliability and cost are the two most important factors to consider.
With all the medical alert necklaces out there, how can you know which one is best for you? Two of the most important factors when purchasing a device like a piece of medical alert jewelry are (1) reliability and (2) cost. The good news is that you don't have to sacrifice either to find a great medical alert necklace.
Reliability is a must-have for a device like this. Take the time to investigate what happens when you push the button on the medical alert necklaces you are considering purchasing. Some will immediately contact help and dispatch them to your location. Some will alert your security company, where someone will contact you and see if you need help from emergency services or if you just need a friend or family member to come by. Additionally, learn how long it takes for a response (on average) after you push the button on your alert jewelry. Note how big the device's range is. Will you be able to roam throughout your property and still get the help that you need, or will you need to stay closer to your security panel to make sure you have reception? Learn what you can about battery life, ease of use, and potential automatic fall detection.
When looking at your options, pay special attention to how much the medical alert service will cost. You will always have to pay something to purchase the pendant, but some companies sneak in additional fees like the following:
Activation fees
Package upgrades
Monthly fees (on top of the security fees you may already pay)
Contract cancellation fees
App compatibility fees
Make sure you ask about all additional fees so that you know what to expect when it comes time for you to make a payment.
Some devices come with a free trial period, and you might even be able to get your insurance to cover some of the cost if you have a medical condition that puts you at high risk of falling. Original Medicare Part A and Part B typically do not cover emergency alert devices, but Part A and Part B benefits received through a Medicare Advantage plan may cover at least some of the cost of a medical alert system.
It can be easy to get overwhelmed by all of the choices out there, but different people have different needs. A wide variety of options helps everyone get what they need. We, of course, recommend starting off with our top-rated medical alert necklace, which integrates seamlessly with your home security system.
Cove's medical alert necklace is a low cost, top quality option and does not cost anything extra per month to use with your home security system.
Should You Use a Medical Alert Necklace that Can Connect to Your Home Security System?
Answer: Buying a medical alert necklace that can connect to your home security system keeps everything in one place. It makes the transition to using an alert system a breeze.
While it is up to you whether or not you want a medical alert necklace that can integrate with your home security system, we hope you can see how beneficial it is. Combining medical alert systems with your home security system is easy to do when you buy devices that are compatible, like ours. Our security system lets you log new technology into your personal touchscreen panel, including a medical alert necklace. The panel takes care of all of the work for you, just like it does for your other security devices.
Your security panel is designed to take care of you and your home. Many of the devices that you might have synced up to it perform similar functions to a medical alert bracelet. For example, when a smart smoke detector notices smoke in the air, it sounds your alarm, initiates a phone call from the monitoring center to you and your emergency contacts to ask if you want to contact the fire department. And what happens when you fall and push the button on your necklace? Your security panel will reach out to emergency responders to make sure that you are able to get the help you need.
Syncing a medical alert pendant with our existing home security system is easy--all you have to do is register the new device on your touchscreen panel, hold down the button on your medical alert necklace for 2 seconds, and then wear it around your house. We have clear instructions on our website for step-by-step installation. You can also chat with a trained employee on our website or give us a call. We are happy to answer any questions and to walk you through anything you might need.
Using a medical alert necklace that can connect to your home security system makes the transition to using one a breeze. Cove offers this option because we know that being safe is about more than locked doors and motion detectors but your ability to easily call for help as well.