A Guide to Apartment Security Devices | 2022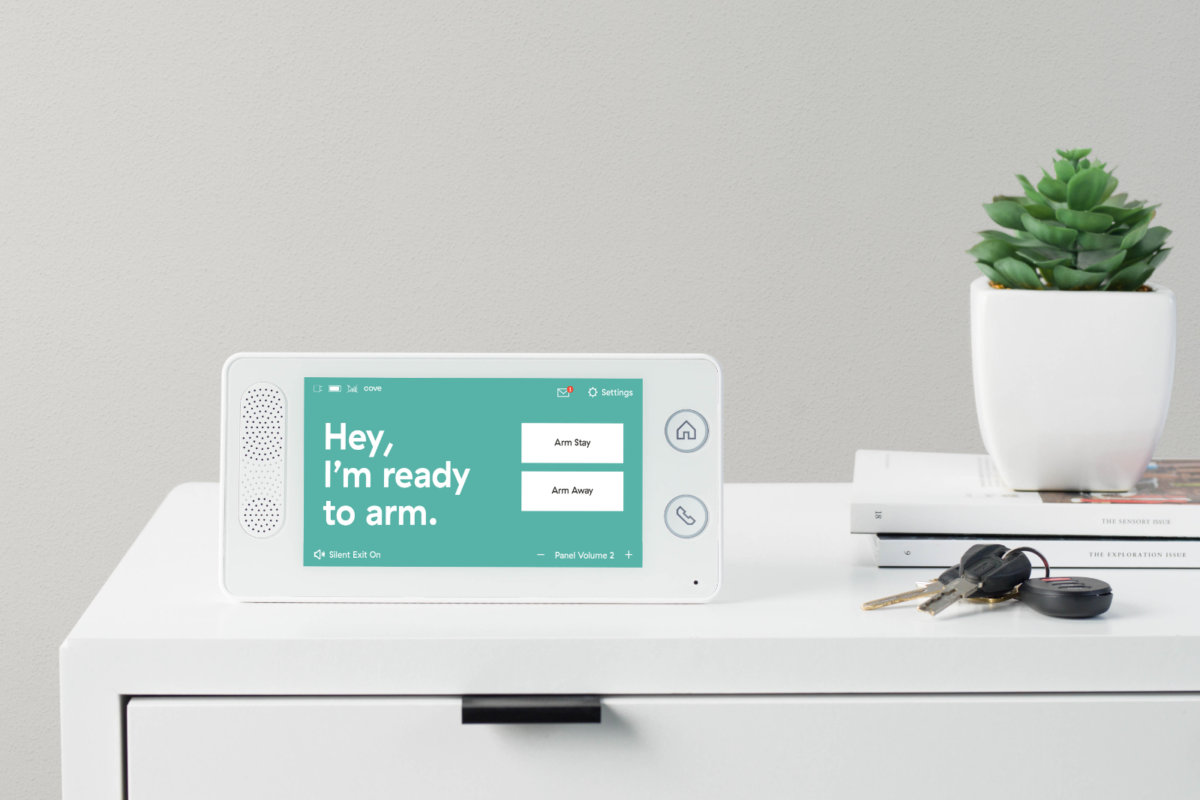 According to data from the 2010 census, approximately 20% of people in the United States live in an apartment complex. 20% may sound like a small percentage, but when you consider that there are over three million people living in the United States, 20% is a substantial amount of people. And, when taking into account that even more people own and rent out apartments for income while living elsewhere, it becomes clear that the amount of people who live in or care about apartment safety is significant.
With such a sizable amount of the United States population living in or owning apartment buildings, information about apartment security devices should be well known and commonplace. Unfortunately, most people are usually well acquainted with information about home security and know significantly less about how to outfit apartments for optimal security safety. The truth is that while apartment security and home security may be a little different, in many ways they are actually exactly the same. Chances are that you already know a lot about how to use security devices in an apartment setting.
We want to make apartment security simple for you. In this article, we'll talk about important types of apartment security devices, what makes each device a good choice for apartment dwellers, and what to look for when selecting a security device for your apartment.
Apartment Security Versus Home Security
You deserve to feel safe and secure when you are home no matter where your apartment is. Apartments come in a lot of shapes and sizes and in different neighborhoods with varying levels of safety, but so do traditional homes. So how exactly do apartment security systems differ from home security systems?
The truth is that apartment security systems have many of the exact same devices as home security systems. In fact, security devices for homes and apartments will often come from the same professional monitoring provider. The differences between home and apartment security can be found in contract length, installment options, and sometimes in the devices used.
One of the biggest differences between home and apartment security is contract length. If you live in a home and are planning on staying there with your family for years to come, it only makes sense to purchase a home security plan that lasts a long time so that you don't have to worry about it on a monthly basis (think one with an annual fee instead of a plan with month-to-month payments). The same may be true for those living in apartments, but many apartment dwellers are short-term renters. For this reason, many apartment security systems come with short contracts so that renters are more free to move from place to place without incurring additional fees on top of the regular monthly fee or being saddled with fees for a security system they are no longer using.
If you rent an apartment and are looking into a professional monitoring service rather than purchasing individual devices, it is wise to look for a provider that will cover your home security needs no matter where you are living. This is another difference between home and apartment security. Service plans that do not charge extra when people move is very important for renters. Many people living in apartments need to be able to move from one place to the next when their contract ends, and a security system that penalizes its users for moving isn't going to be smart for a lot of people who live in apartments.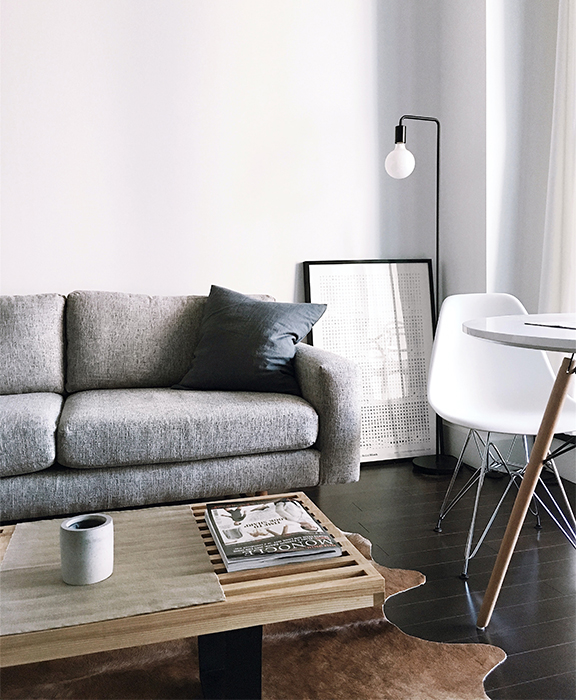 The security devices, that those living in apartments use, need to be easy to install and usually require minimal to no drilling. If you rent your apartment, your landlord will usually take a hefty amount of money from your security deposit once you move out for leaving holes in any of the walls. This is not as much of a concern in a home setting. For this reason, security devices that do not require home modification like drilling holes into the walls are optimal for apartment security.
The security concerns in an apartment building can be different than the security concerns in a home setting as well. Apartment security devices should assist property managers and renters alike in keeping belongings safe.
Types of Apartment Security Devices
Security systems can be as diverse as the people who own them. The amount of security devices available is so vast that it can be hard to know what is worth investing in and what isn't. There are some security devices (like smoke detectors) that are required by law, but most of the devices in your security arsenal are up to you to choose as a renter or apartment owner. Here are some of the different devices that you can choose to have in your apartment:
Motion sensors and motion sensor lights
Door stop alarms
Door locks
Security bars
Burglar alarms
As you can see, there are many apartment security devices available. It is smart to have a general idea of what each type of device offers so that you know what devices will work best for you and your situation. Chances are that you don't need every device listed above, but you won't know which ones you do need if you don't know what they do.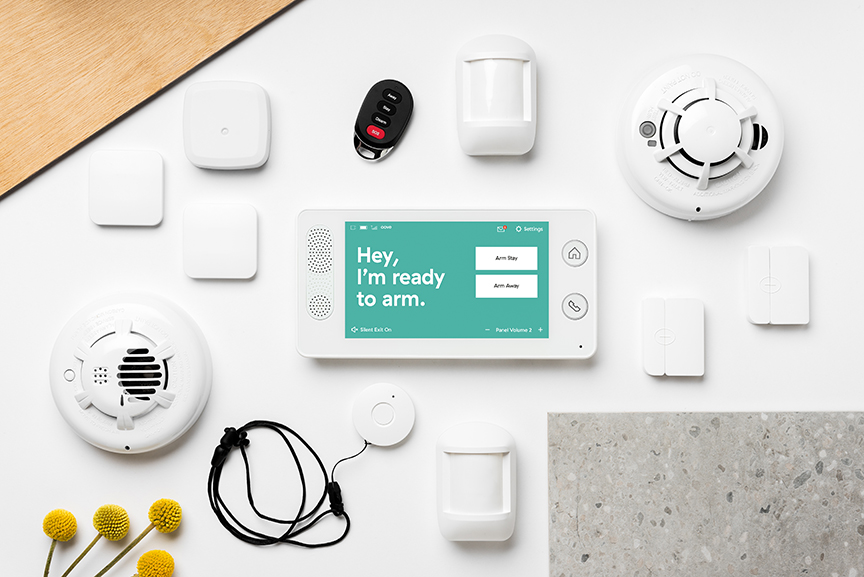 Benefits and Features of Different Apartment Security Devices
Given that there is a long list of potential security devices to use in your apartment, let's take a closer look at the benefits that different devices have to offer so you can decide which ones you might want to use.
Smoke Detectors: Besides the fact that it is required by law to have multiple smoke detectors inside of any residence, smoke detectors are an unbeatable piece of apartment security. They may not be the first thing you think of when it comes to security devices, but they are one of the best pieces of a good security system. Smoke detectors do exactly what their name implies: they watch out for smoke and make it very clear if they detect a problem. Smoke detectors save lives, so you should make sure that the ones you have are reliable.
If you are renting your apartment, smoke detectors will be supplied by your landlord. Just like almost every other piece of apartment security equipment, though, today there are smart smoke detectors that take smoke detection to the next level. If you are interested in installing smart smoke detectors in your apartment, talk with your landlord about the possibility of getting some installed. These smoke detectors are often wireless, making them perfect for renters. Smart smoke detectors can also sync up with your phone to make managing false alarms and battery changes a breeze. If you are interested in smart smoke detectors, check out the informative article we have about them on our website or call and ask us any questions you have.
Carbon Monoxide Detectors: Carbon monoxide detectors are another type of essential device. Almost every state has a law that requires there to be at least one carbon monoxide detector inside of every dwelling. These devices monitor the levels of carbon monoxide in your home. Carbon monoxide is a toxic gas that sometimes leaks into homes via pipes or gas lines. It is mostly undetectable to the human nose, so having a device designed specifically to alert users of carbon monoxide's presence is absolutely vital.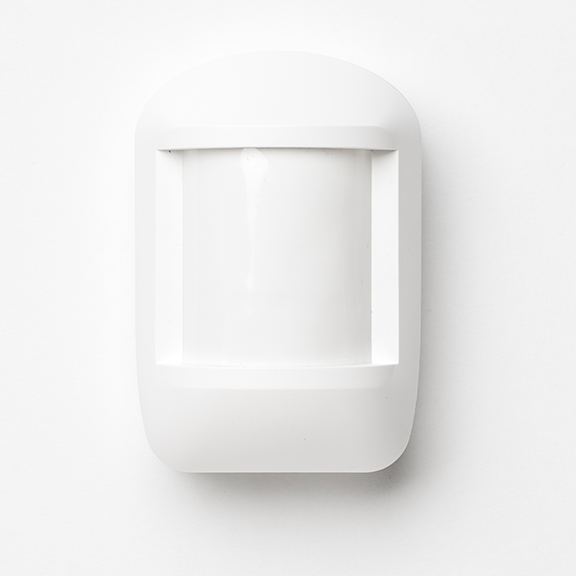 Motion Sensors: Motion sensors are a simple piece of technology that is implemented many different ways. Motion sensors may sound an alarm, trigger a camera to start filming, or turn on the lights when they detect motion. They are an excellent addition to an apartment security system.
Motion sensors coupled with alarms are most often used inside of homes or apartments. You can enable them during the day when you are away from your apartment and deactivate the alarm whenever you will be home. You can even customize the settings on your device so that your pets don't trigger false alarms.
Motion sensors coupled with cameras are useful because they save power and money. If you use security cameras, chances are that you don't need to capture footage of every moment. Motion sensors help cameras work smarter by activating them to start filming only when there is movement that might be important for the camera to capture. This makes them perfect for detecting intruders.
Motion sensors coupled with lights can be found inside of homes or apartments, but they are most commonly found at front doors. Most homes and apartments have lights that automatically turn on when you approach them. These motion sensor lights increase safety and deter crime.
Panic Buttons: If you're worried about being able to contact emergency personnel in a pinch, panic buttons could be the security device that you're looking for. Upon being pressed, a panic button sends a distress signal to your local authorities. They will be dispatched to your location without you even having to make a call.
Panic buttons can be worn on your person or installed in a part of your home. If wearing a panic button, you can keep it around your neck or on your keys. This option is more apartment-friendly as it does not require any home modification.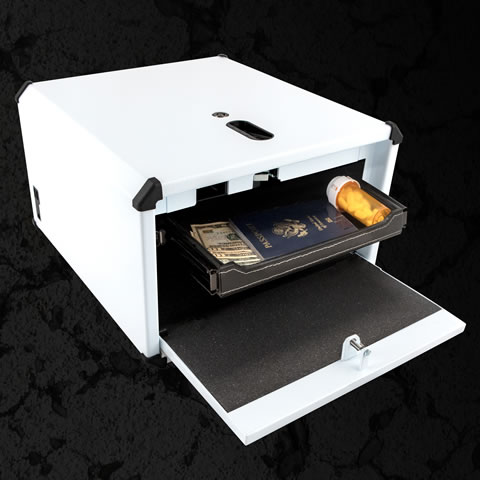 Home Safes: Safes are a security staple. They come in all shapes and sizes and are designed to withstand the elements as well as burglars. Smaller, portable home safes may be more appropriate for your apartment than an in-wall safe. There are hundreds of designs to choose from, so deciding on a safe can be a little overwhelming. Start off by deciding what it is that you would want to keep inside of your safe. This will help you determine the size that you need to purchase. Next think about where you would keep it, and if you want a combination lock, key lock, etc. Answering these questions will significantly narrow down the safes that you have to sort through when deciding which one is best for you.
Safes offer security for your important belongings and documents from natural disasters like floods and fires. They also keep your stuff safe from thieves because they are notoriously difficult to crack without the code.
If you're looking for a quality safe, check out Liberty Safe's selection.
Door Stop Alarms: These security devices are another apartment favorite. Door stop alarms are placed next to a closed door from the inside. If someone from the outside tries to open your door, it will run into the door stop alarm. The impact will release a loud siren, which will catch intruders off guard while simultaneously alerting you to their presence. The device will also block your door from opening.
Why would you want a door stop alarm for your apartment? These devices are small, inexpensive, and perfect for small spaces.
Video Doorbells: Video doorbells have risen in popularity over the last few years, and this has happened for a good reason. Video doorbells record a live stream of activity taking place outside your front door, letting you see who comes and goes. These doorbells come with an app that you can download to your smartphone. The app can send you notifications whenever the doorbell detects movement, meaning that you can see who is at your front door even if you aren't home. The app will also keep recordings so that you can look back in time to see who has been at your door. These features make video doorbells excellent for apartment security because they give you the opportunity to know and have a record of visitors, welcome and unwelcome, at your apartment.
Video doorbells can require some installation, so you might have to check with your landlord before installing a wired doorbell.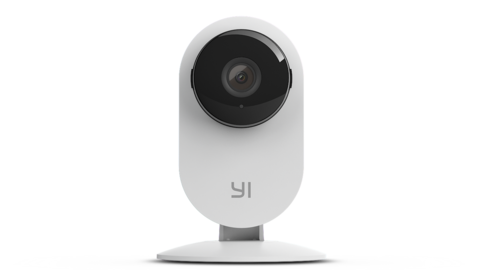 Security Cameras: One of the first things that comes to mind when you think of home or apartment security is probably security cameras. Security cameras can be placed inside your residence or outside your apartment to monitor peoples' comings and goings. Security cameras can be battery powered or wired, so make sure that you get a model that is compatible with your apartment's installation requirements before committing.
Door Locks: Good locks are an underrated form of apartment security. A deadbolt or sturdy steel lock is going to give you more peace of mind and feelings of safety than a flimsy, hollow one. If you're looking for an easy and inexpensive way to amp up your apartment security, look into installing a new lock.
Door and Window Sensors. These sensors are made up of two parts: one part that is placed on door frames or window frames, and another part that is placed on the door or window itself. Whenever the connection between the two halves is severed, the device sounds an alarm to let you know that the door or window has been opened. These security devices are good for an apartment because they allow you to monitor the entrances to your home with only the effort of installation on your part.
Key Fobs: Used for entry into your apartment or to deactivate your alarm system, key fobs unlock your front door and let anyone with a matching fob inside. These can be good for people living in apartments because it removes the hassle of having to put a key into a hole every time you want to go inside. Key fobs are hard for passersby to copy, so they are a good way to protect entry into your space. There is, however, some installation required to get an apartment ready for key fob use. Some alarm companies will offer a key fob that you can use to shut down your security system instead of putting in the code.
Security Bars: Another apartment classic, security bars (also known as door bars) work similarly to door stop alarms, but without the siren. Security bars brace your doors closed from the inside so that nobody can force your door open. They are excellent for people who live alone because you never have to worry about locking someone out once you've put the security bar in place.
Security bars require no installation. Whenever you want to use one, all you have to do is place it on your door.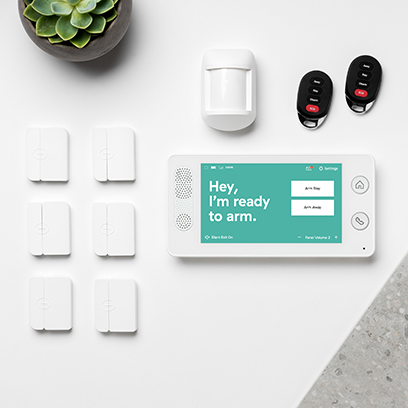 Choosing Apartment Security Devices
What should you consider when choosing an apartment security device? First, make a list of your concerns and your needs. This will help you see what parts of your apartment you need to secure the most, and knowing that information will help you narrow down which devices you want to purchase. If you are concerned about how secure your lock is but your landlord won't let you replace anything, a security door bar might be just the thing you need. If you worry about strangers coming to your front door, a video doorbell will give you footage of your apartment doorstep on your phone from the comfort of your couch.
Once you have decided what devices you want to purchase, take the time to do some research about the companies that provide the devices that you need. You want to purchase from companies that are reliable and well-rated.
DIY Apartment Security
If you're looking for a great Do-it-yourself security system check out Cove's devices. In addition to devices that you can purchase though, there are also some simple do-it-yourself tasks that you can complete to increase your apartment's safety.
Get to know your neighbors. Getting to know your neighbors is a really easy way to make your apartment a little bit safer. It can be hard to get to know people who have different schedules or who come from different walks of life, but taking the time to get to know your neighbors is never a bad idea. Neighbors who know each other and trust each other are more likely to look out for each other. If you go on vacation or are gone for long stretches during the day for work, you can ask the neighbors in your apartment complex to keep an eye on your front door as they come and go to make sure that nothing looks suspicious from day to day.
Don't unwisely display your valuables. Putting your valuables on display can backfire if they are easily visible through your windows. Whether you have something valuable hanging on a wall in your entryway or if you just forgot to put your laptop away, expensive items on display are an unintentional attractor for thieves. Make sure that you put valuables away and that you keep them out of sight from people who may be looking inside your windows in search of something to steal. While there are many places that you can keep your valuables, a home safe is always a good option.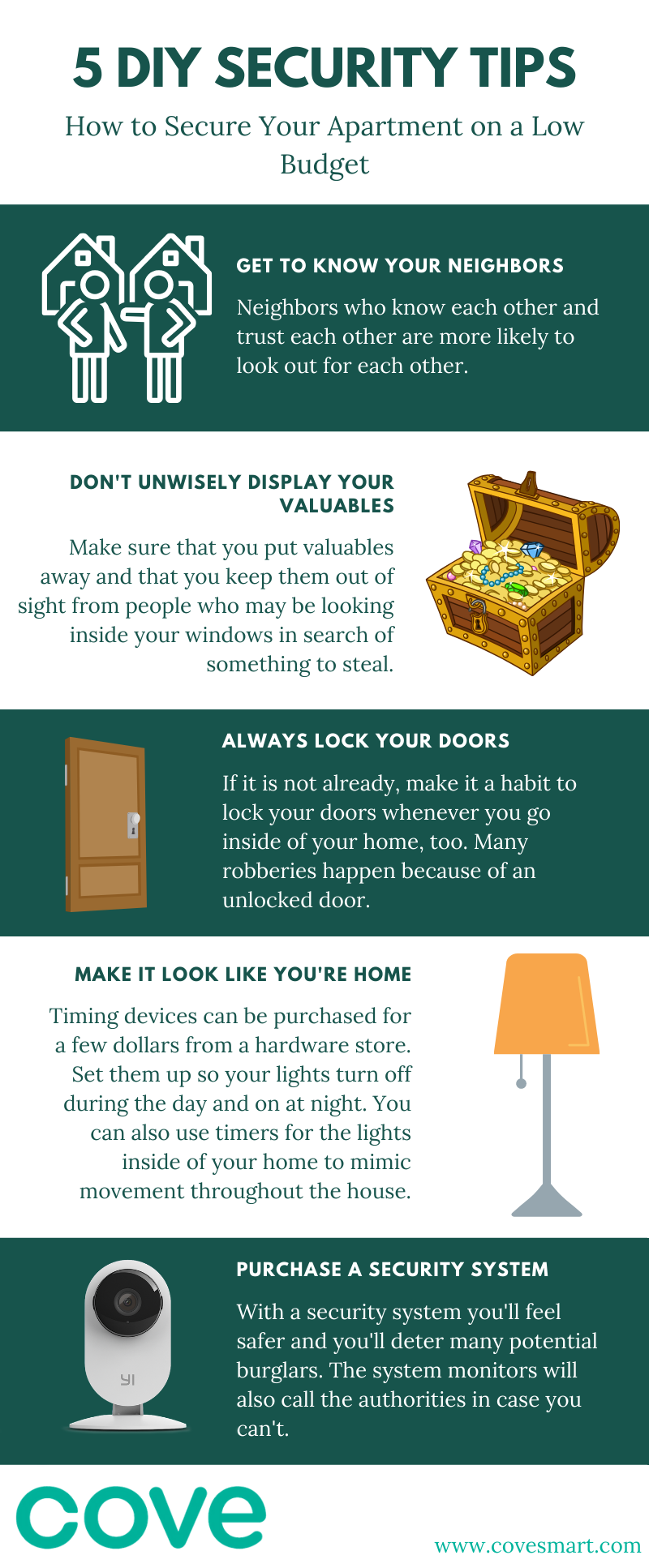 Always lock your doors. You should always lock all of your doors. Doors are the primary access to every home, and that means that guests and intruders alike will enter your home through the door. It is likely common practice for you to lock your doors when you are leaving your home. If it is not already, make it a habit to lock your doors whenever you go inside of your home, too. This is one of the easiest, most simple things that you can do to keep yourself, your apartment, and your belongings safe.
Make it look like you are home. A populated apartment is less likely to be targeted than an empty one. If you are going on vacation or otherwise leaving your apartment for an extended period of time, it can bring some peace of mind to make it look like people are still inside of your apartment. The important thing to remember when using this tactic is that leaving everything on all day doesn't actually make it look like someone is home. For example, if you have a light in front of your apartment door, you likely turn it off during the day and on in the evening once it starts to get dark. It would look suspicious if you leave your front light on when you leave for vacation because it isn't normal for it to be on during all hours of the day.
To combat this, you can utilize timers to your advantage. Timing devices can be purchased for a few dollars from just about any hardware store. Simply time them with your lights so that they turn off during the day and on at night. You can also use timers for the lights inside of your home to mimic movement throughout the house during the day.
There are many other devices that you can use to help make it look like you are home, but one more that we will mention is a Fake TV. Fake TVs mimic the buzzing lights of a TV screen and make it appear that people are inside watching TV.
We've given you a lot to think about in terms of apartment security. We recommend that you choose to do many, if not all of these to make sure that your valuables and more importantly, that you and your family are safe. If you only have the resources to do a few of the things in this article, we recommend looking into a security system. Cove sells affordable security systems with no contract required so it's perfect for you and your apartment.
Ready to get started?
Take this short quiz to build your customized system today!