What Is a Deadbolt Lock and Which Type is Best? | 2022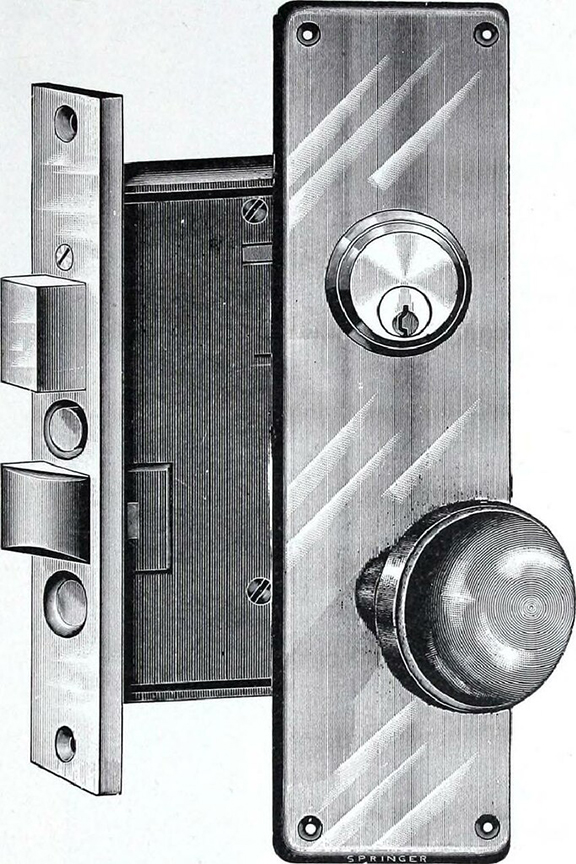 You may think the easiest way for burglars and thieves to enter your home is with a "smash and grab" mentality, breaking through windows or picking the lock of your front door. In truth, most burglars aren't going to risk making noise with shattered windows, and nobody has time for lockpicks.
Burglary accounts for almost seventy percent of home-related crimes, and, believe it or not, thirty percent of those burglaries happened because exterior doors were unlocked. Worse than that, the majority of burglaries happen between the hours of 10 A.M. and 3 P.M.. You might imagine cat burglars slinking in the shadows at midnight, but burglars know it is much less dangerous to invade your home when you are not home.
The very first step to home security is choosing the right deadbolt lock for your front and back doors. Small details like this can make or break your home's security. A twist knob on an exterior door can only do so much by itself. Whether you are building your dream home or own an older home, reliable locks are your first line of defense against break-ins and theft.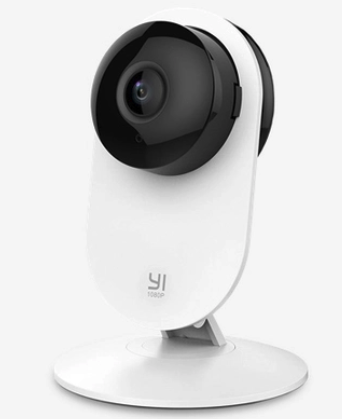 What is a Deadbolt Lock?
There are many different types of locks that can be installed in your home, some of which may be familiar.
Traditional Deadbolt Lock
The most typical is the traditional deadbolt: two "plates", one of which is designed for outside entry with a key, and the other with a latch for locking indoors. These two "plates" connect through the door with screws through interlocking cylinders, which in turn pass through a strong steel pin. The lock spins on this pin, allowing the steel bolt to extend and retract into and out of the jamb (or outer edge) of the door frame. Finally, the bolt itself fits into the frame of the door through a piece of metal with a hole called a strike plate. Almost all locks feature a strike plate for a precise fit and style. This entire device is called a cylinder deadbolt lock. While all the parts may sound complicated, replacing a deadbolt or installing one in a brand new door is a relatively simple procedure so long as you have the right screwdriver.
Most deadbolt locks have these features in common, but some deadbolt locks have more specialized designs and uses for different circumstances. Single cylinder locks can even be made of different materials. More expensive locks are made with solid brass alloy or hardened steel, while cheaper locks can be made of softer metals such as brass-plated zinc. The former is also less vulnerable to rust and deterioration, where the latter may have a shorter lifespan.
Don't be confused by the decorative material of the lock! Locks come in many different colors, from brushed steel, oil-rubbed bronze, antique brass, gunmetal, matte black, and many others. Choosing the right color of lock can add the finishing touch to your home's doors.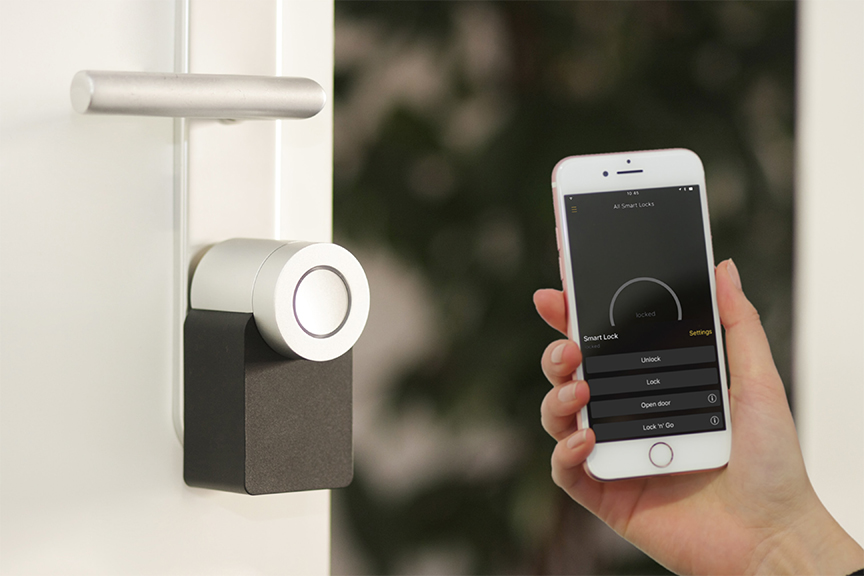 Keyless Entry Deadbolt Lock
One style of lock is a keyless entry deadbolt lock. A keyless lock is one that opens automatically with a key fob you can keep along with your car keys. Depending on the make of the lock, you can even open your door from anywhere in case your family members need to open the door and enter your home. Smartkey technology has come a long way in the last decade, and not only in ease of use. Most systems come with an automatic locking feature, so you will never have to worry about repeatedly locking and unlocking your secure deadbolt. Unlock the door, step inside, and the lock will do the rest for you.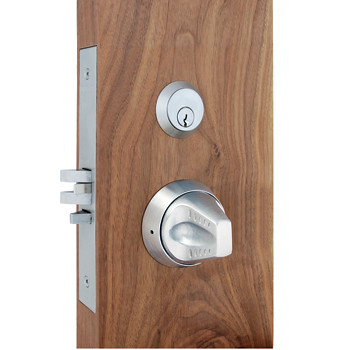 Mortise Lock
Another kind of lock is called a mortise lock. Unlike a traditional bolt and cylinder system, the lock is a giant installation that, for all intents and purposes, becomes part of the door. The word mortise itself is a woodworking term that means to cut a recess into one part to receive another part (called a tenon) to make a seamless connection. Made of hardened steel, you won't find a more sturdy lock on the market.
It is good practice to look up information and reviews about the locks made by reputable companies to get a sense of which might be best for your home. Your local hardware store will also have professionals who are knowledgeable in the best locks on the market. For example, a good high grade lock will be rated by ANSI, the American Nation Standards Institute. A grade-three is the cheapest, while grade-two is a high grade lock for residential homes and security locks for small businesses.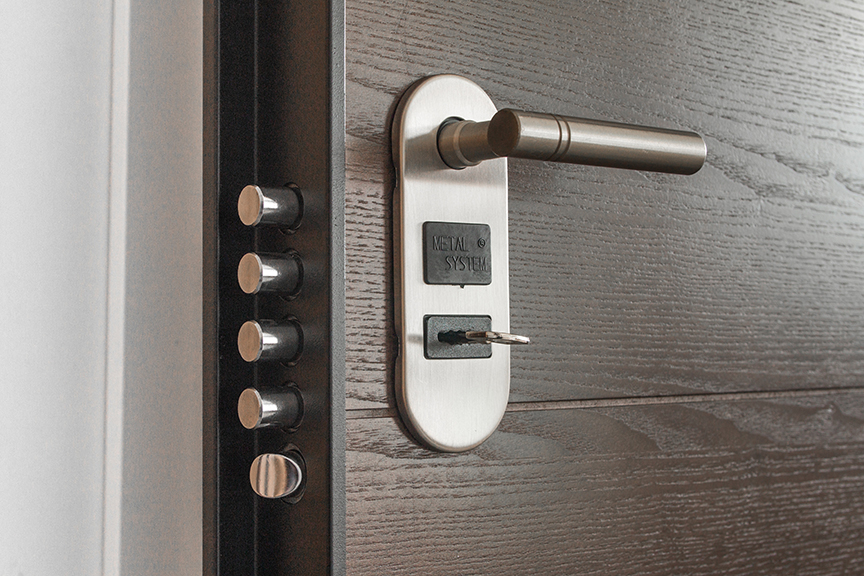 What Type of Deadbolt Lock Should I Get?
So, thinking like a burglar, how would you go about breaking into a home through a locked door? A burglar can certainly try kicking down the door. This may work on doors with flimsy locks, but with a tough door and a tougher lock, almost any deadbolt can hold off a would-be intruder until they become afraid of making too much noise. What if they have a crowbar or a drill? That depends on the strength of your door frame and lock. With a pair of locks and a hardwood frame, they will likely get tired or scared of continuing before it opens. An old wooden frame and a single lock is another story: the frame might give enough room for the lock to slip, or they could even remove the plate of the lock itself if the lock is cheap enough.
Choosing the right type of lock can greatly influence the chances of stopping forced entry. Here are some additional details about types of locks.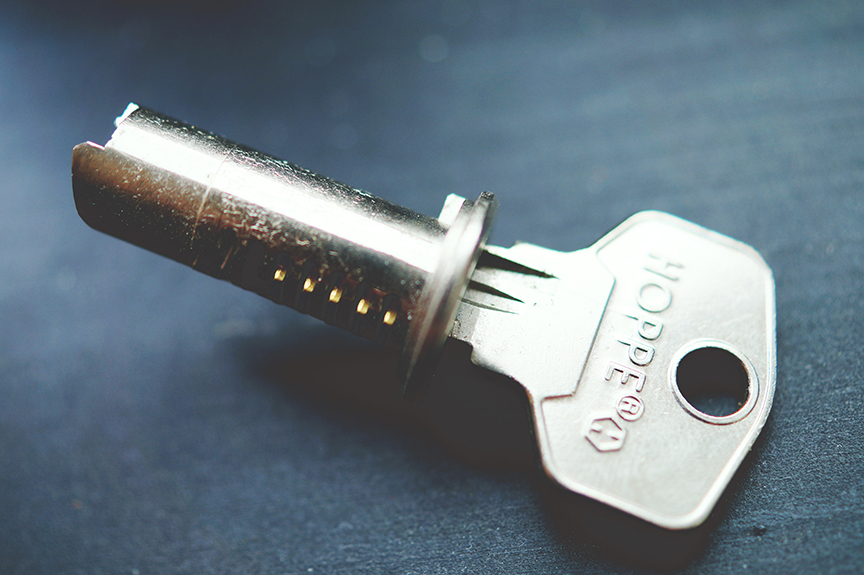 To start, the traditional cylinder deadbolt:
A secure cylinder deadbolt is generally the cheapest option, ranging from $30 to $150 depending on the materials and style.
According to Angie's List, a deadbolt's average lifespan is seven years.
Cylinder deadbolts can usually be installed without the aid of a locksmith; it is a simple DIY project that only takes about thirty minutes to set.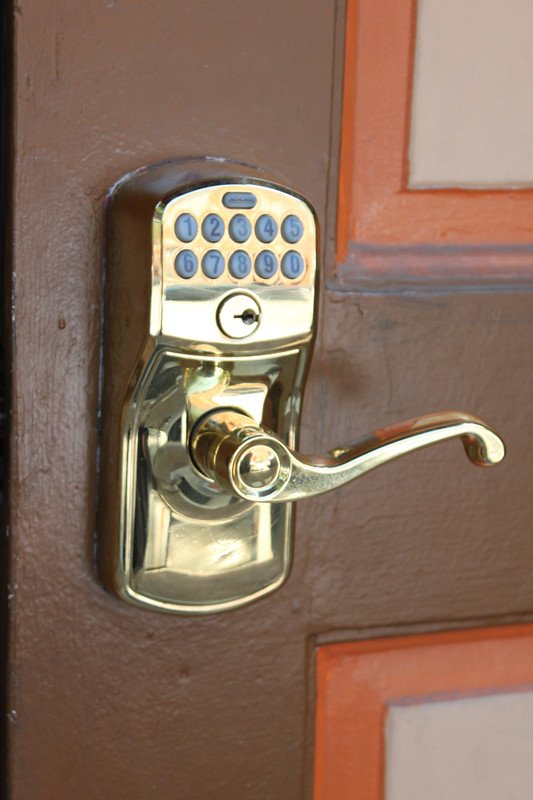 Next, a keyless smart lock entry deadbolt:
Generally more expensive, ranging from $100 to $1000 depending on DIY or professional installation and maintenance.
Must have batteries replaced every six months to a year. Fortunately, your lock will alert you with a small beeping alarm when its batteries run low.
A bit more technical to set in place than a traditional lock, may require a locksmith to install.
Very reliable and usually difficult to break thanks to a wide front plate.
May include a wireless video camera for recording or viewing the live feed of your property.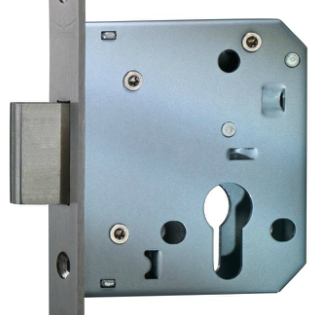 Finally, a mortise lock:
Expensive for a quality lock, ranging from $250 to $800
Very technical installation that requires a unique door construction or adjustment that can make typical doors unstable, not friendly to DIY.
Five to seven year lifespan that can be extended by changing the handles.
Very difficult to break into, will not open even if the handles are broken off.
Can feature dual locks within the same system (a deadbolt and a simple lock, for instance) that will not open even when both locks are broken.
Mortise locks feature multiple deadbolts, making saws or drills unfeasible.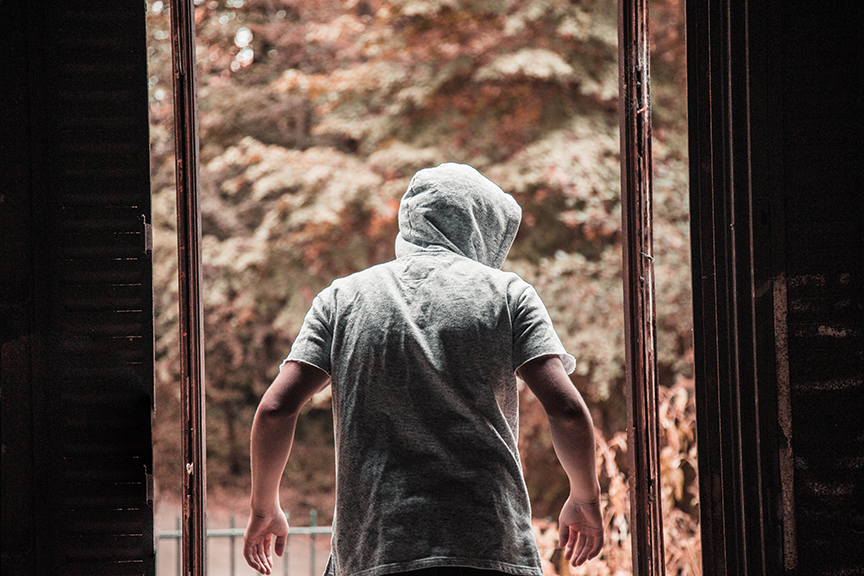 Burglars Are An Interesting Bunch
The traditional burglar wants to get into your home as quietly and as quickly as possible, steal small and valuable objects like electronics, jewelry, and cash, and then escape so no one has any hint of their crime. After all, doors with deadbolt locks can only do so much if they are not locked.
And then there are those burglars that, for some bizarre reason, take their sweet time searching through homes, taking — and eating — the strangest things.
You may have heard the story of a Florida man breaking into a home through an unlocked back door. His aim was not to steal, but to cook himself breakfast. Whether he was heavily intoxicated is unknown, but when the owner of the home came down to confront the man, he simply told him, "go back to bed". Another story (strangely enough, also in Florida) involved a man breaking into a home by picking the lock. But, again, instead of stealing anything, he took ingredients from the kitchen and, according to the home owners, made some really good fried chicken. The very drunk man was quickly apprehended on charges of burglary and larceny.
As Vice reports about entering and eating: "It happens so frequently, the New York Times says, that it's included in textbooks for police officers."
The scarier version of burglars are the ones that get caught in the act and react violently. It accounts for a very small percentage of burglaries, but it is the most often reported by news sources.
One such story, reported by The Independent, involved a fifteen-year old boy trying to protect his five-year old sister from a burglar that forced their way into the family's home. A violent event ensued and the burglar escaped, covered in multiple stab wounds. The fifteen-year old did not survive the encounter, though he did succeed in protecting his sister. The burglar violated his parole and had broken into homes before, but it took this sad event to send him to jail, hopefully permanently.
It might break your heart, but it isn't just humans that burglaries can affect. In July 2019, a pair of men broke into a Manchester home in Great Britain, armed with machetes and entered with the intent to steal whatever they could. They injured the homeowner and subdued him before stealing six newborn puppies from the home. The puppies' mother, Zena, attempted to defend her children, but the intruders wounded her with their machetes and escaped with the young pups. Fortunately, they were all recovered by police, and Zena recovered from her wound.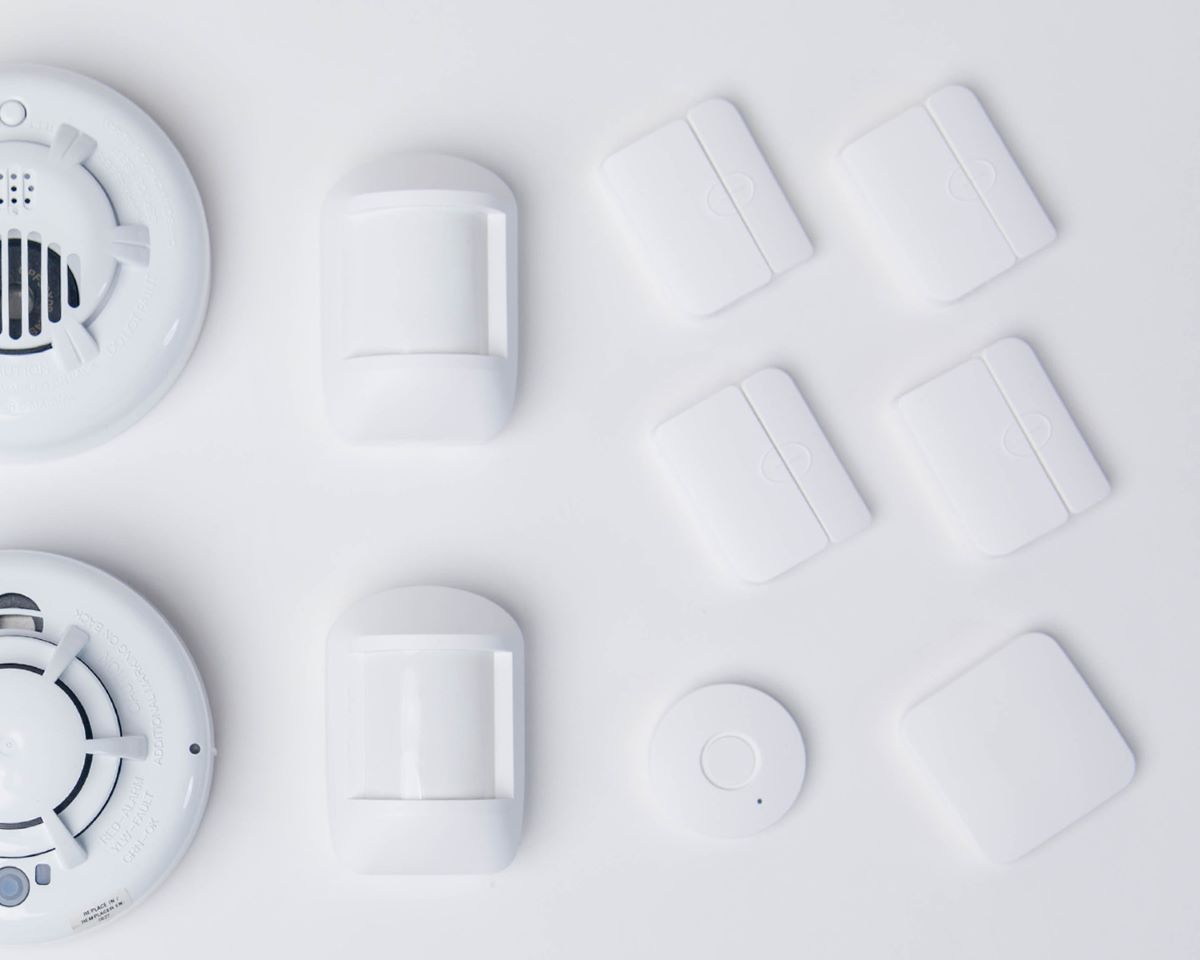 Is Having High Quality Locks Enough?
One more frightening fact about burglary is that the most successful burglars scope out their targets for weaknesses before they perform the act. Don't make your home an obvious target for theft and break-in! Start by installing the right deadbolt locks on the main doors of your home, making sure you have motion-sensor outdoor lighting, and that you don't have your spare key under the front mat.
Even with these precautions, burglars might still find a weakness to exploit to get into your home. That's why we recommend purchasing a home security system. Not only does a home security system provide a powerful deterrent, but if a burglar does break into your home you'll have video footage from your security camera(s) that can be used to identify the burglar and bring he/she to justice. In addition to this the door, window, and motion sensors will sound an audible alarm and signal the monitoring center, which will scare off almost all burglars. Always remember to activate your security system and lock your doors or even the toughest lock and best home security system can't do the jobs they were built for.
Ready to get started?
Take this short quiz to build your customized system today!