Cove Home Security Steals Hearts with "This Dog Was Stolen and You'll Be Safer Because of It"
World's First Professional-Grade Home Security Solution with Ease & Affordability of Do-it-Yourself Technology Launches Harmon Brothers-Inspired Campaign Designed for Social Media Success
(Draper, UT—October 18, 2019) Cove, the world's first professional-grade home security solution with the ease and affordability of do-it-yourself (DIY) technology, entered the advertising world by force with the launch of its first blockbuster social video campaign. The spot—This Dog Was Stolen and You'll Be Safer Because of It—offers home security success tips from a professional "burglar," mimics the funny-but-informative style first made famous by the Harmon Brothers.
"As a member of the Harmon family, I've been a long-time fan of the Harmon Brothers' distinct, digital-first approach to advertising," said Jordan Harmon, Co-Founder and Vice President of Marketing at Cove, as well as brother to Harmon Brothers' Chief Creative Officer Daniel Harmon. "When Cove began talks internally about our own advertising, I naturally looked to their past work as a guide. Anyone who is familiar with the Harmon Brothers should be able to recognize the influence they've had on the spot we launched."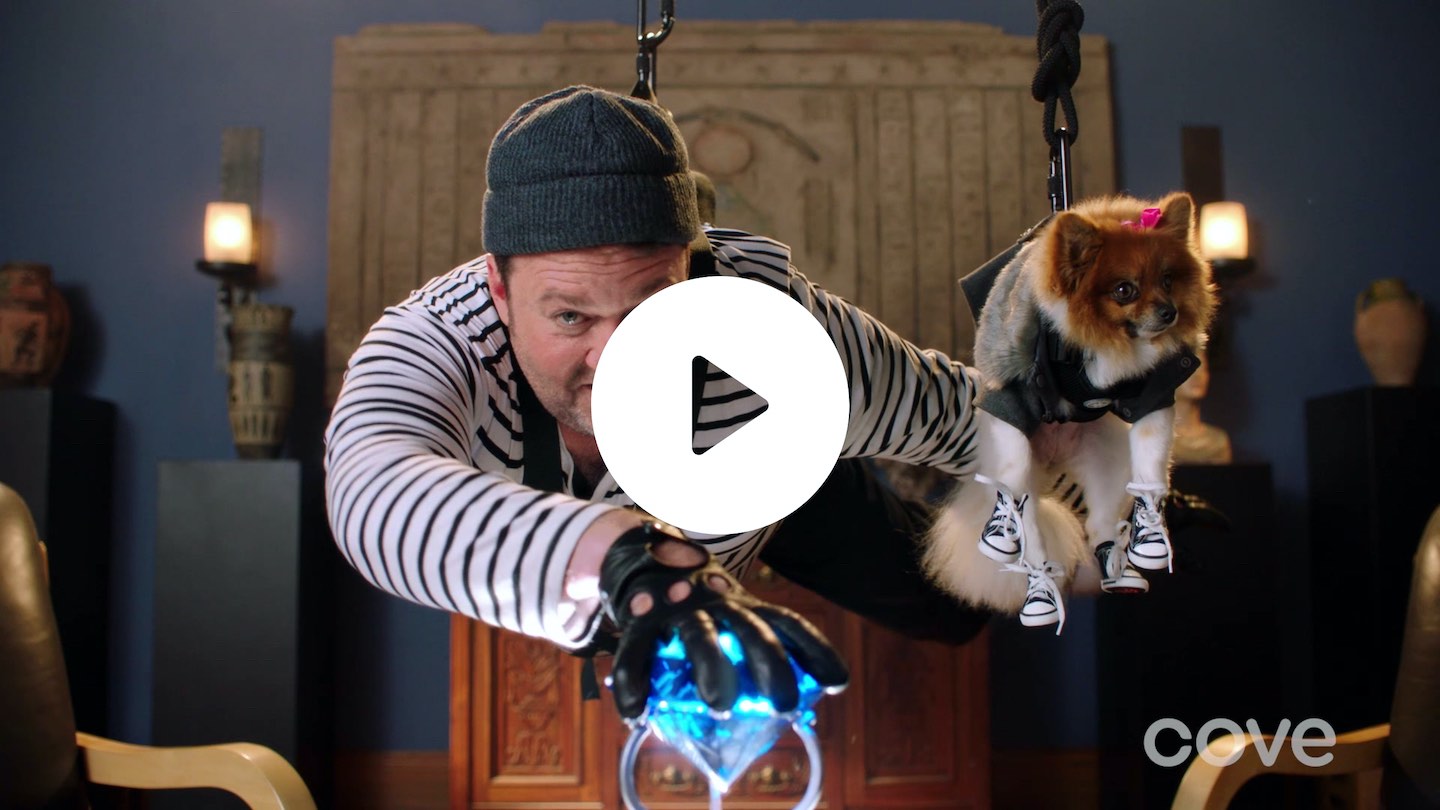 The ad follows a burglar as he reveals his secrets to breaking into a home—an all-too-easy feat given 75% of Americans do not own a home security system. To keep his newfound possessions safe, he relies on Cove's DIY, cutting-edge technology and professional home monitoring services, which cost him as little as $15 per month.
How Cove Works
Order online at covesmart.com and the system is customized to each customer's specific needs and shipped within 24 hours.
Cove's innovative technology makes it the easiest-to-install, professionally-monitored home security solution with monitoring as low as $15 per month.
Cove does not require contracts. This approach just makes sense. We only get paid if our customers continue to be happy with our service.
With a 60-day money-back guarantee and the option of a lifetime warranty, customers never have to worry about being stuck with something they do not love or incurring unexpected costs down the road. Anyone can cancel their service at anytime without hassle.
Cove's technology also allows customers to easily test and maintain their system rather than being required to pay for costly professional maintenance and repair.
CREDITS
Directors – Mandy Harmon and Mace Sorensen
Writers – Mace Sorensen, Alex Velluto and Steve Soelberg
Producer/Creative Director – Bryan Fugal
Executive Producer – Jordan Harmon
1st Assistant Director – Redge Flake
Cinematographer – Lars Lindstrom
1st Assistant Camera Kenneth Christian Merrill
Production Coordinator – Dallin Harmon
Production Assistant – Ryan Lyman
Production Assistant – Josh Smith and Kevin Cox
Production Designer – Roger Crandall
Set Decorator – Les Boothe
Construction Coordinator – Dillon Ellefson
Carpenter – Jean Roush
Carpenter – Dwain Walters
Scenic Painter – Chad Davis
Props Master – Bruce Wing
Costume Designer – Sonja Harris
Key Hair/Makeup – Vanae Morris
Set Dec. Buyer – Monet deVilliers
Storyboard Artist – Jonathan Hallett
Behind the Scenes – Andy Matthews and Aaron Tharp
Gaffer – Phil Shepherd
Best Boy Electric – Brian Shepherd
Key Grip – Kevin Woodward
G/E – Alan Williams
G/E – Grant Williams
Casting Director – Jeff Johnson
Production Sound – Josh Hone
Craft/Catering Coordinator – Jordan Kofford
DIT – Jeremy Neish
Set Medic – Austin Huber
Stunt Coordinator – Fenton Quinn
Editor – Aaron Tharp
Assistant Editor – Katrina Holbrook
Colorist – Andy Matthews
Composer – Erik DeLong
Sound Design/Mix – Josh Hone
Motion Graphics – Spencer Allred
Additional Motion Graphics – Scott Jones

ABOUT COVE Cove is a Utah-based startup company providing consumer-centric service with the very first professional-grade home security solution that has the ease, affordability and flexibility of DIY technology. 97% of all Cove customer reviews are five stars.