Home Safety
, Your Home Environment
Live Alone? Here Are 5 Essential Ways to Feel Safe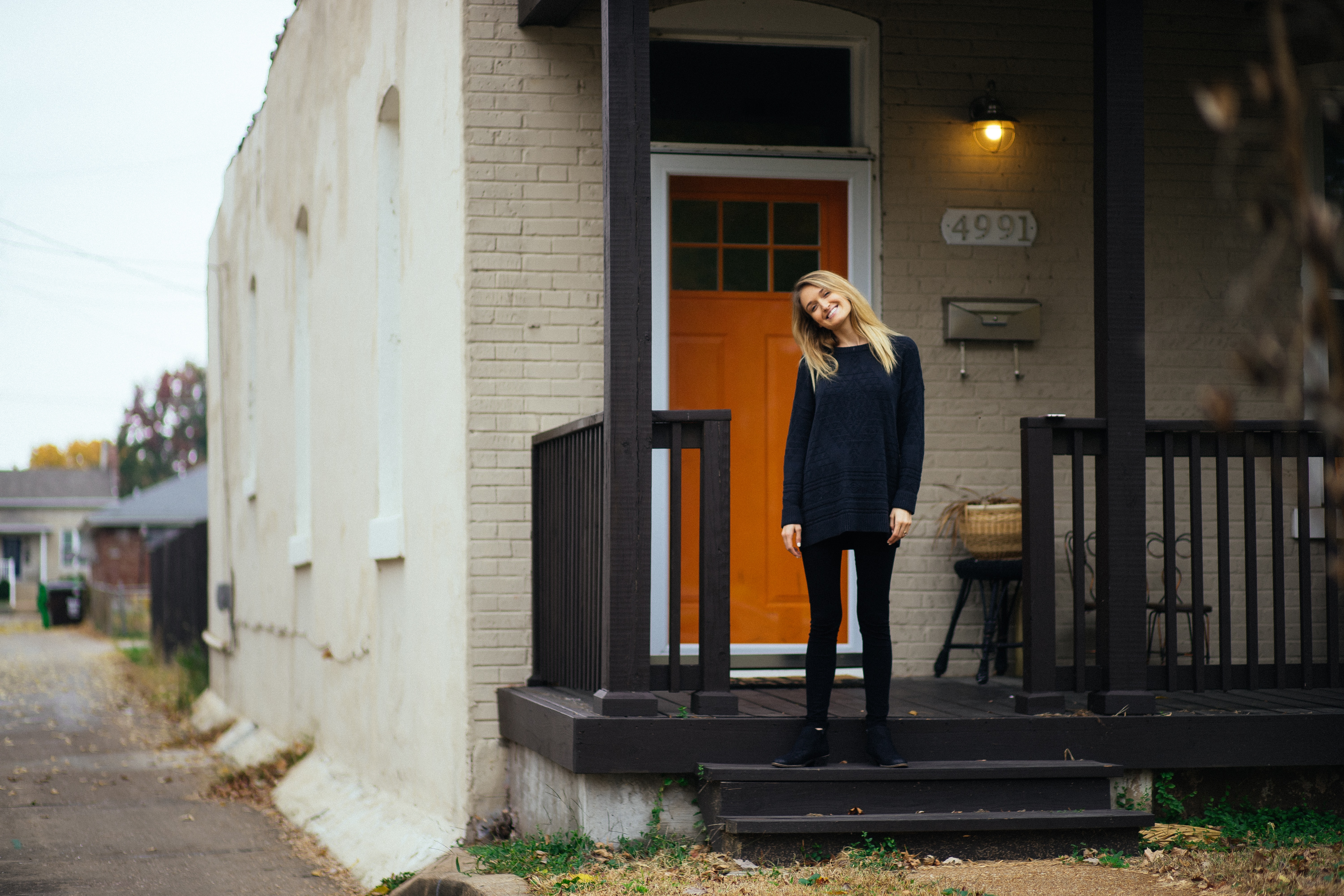 There's no place like home, even when you're the sole occupant. Whether you chose to live alone or you're forced to live solo as the result of divorce or death of a spouse, there are plenty of pros to being the only one at your address.
For one thing, many singletons love the independence of living alone. You can do what you want, when you want. There's nobody around to make messes or complain about yours. You can decorate to your heart's content, and there's no worrying that your leftovers will get eaten by someone else.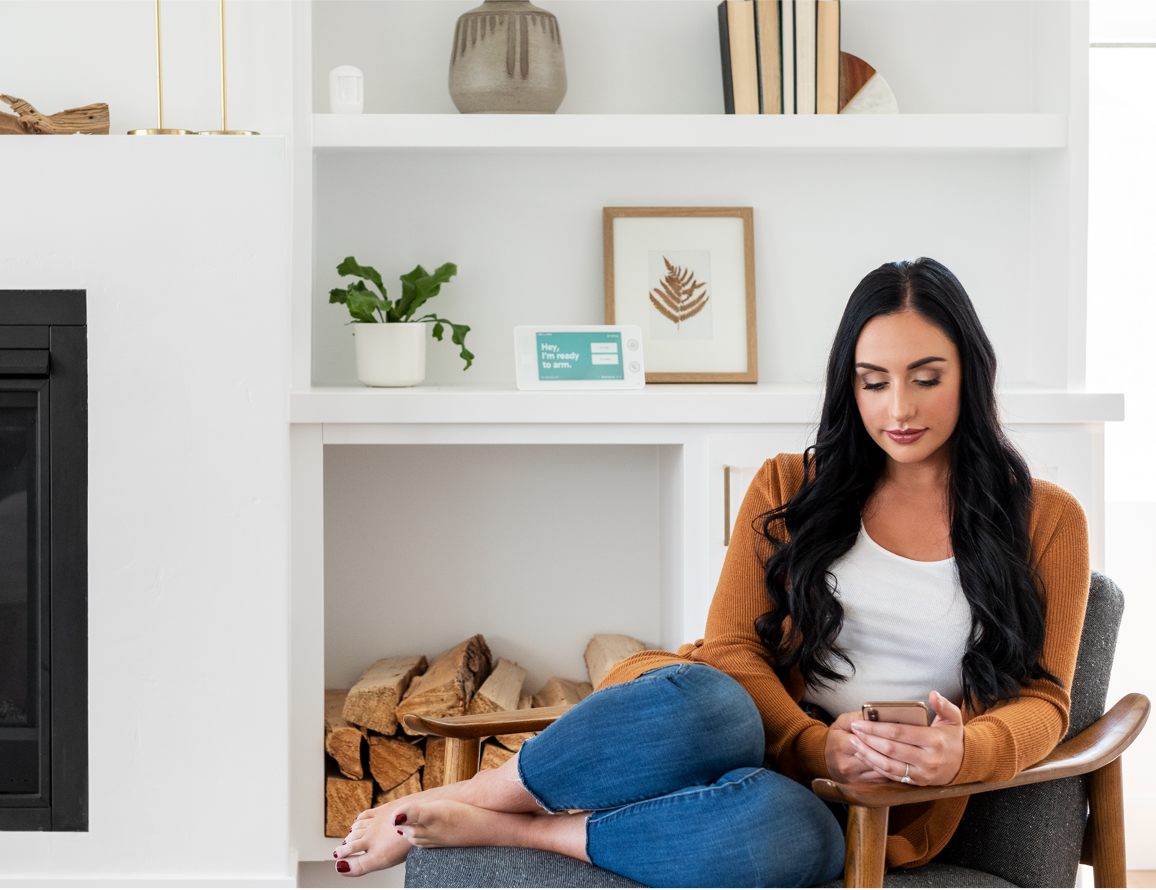 Clearly, more and more people enjoy living by themselves. According to the U.S. Census Bureau, 33 million (14%) of adult Americans lived alone in 2011, a number which grew to 37 million (15%) in 2021. That includes all ages, from the young professionals who are waiting longer to get married (if at all) to the older population, which experts predict will increasingly live alone well into their older years.
Despite all the pros of being the only one on the lease, there are downsides. No constant companionship, and that can get lonely. No one to share the financial burdens of daily living. Perhaps one of the biggest negatives to not having another person in your home is not feeling safe. Thankfully, there are things you can do to improve your peace of mind. In this article, we'll cover five essential things you can do to feel safe.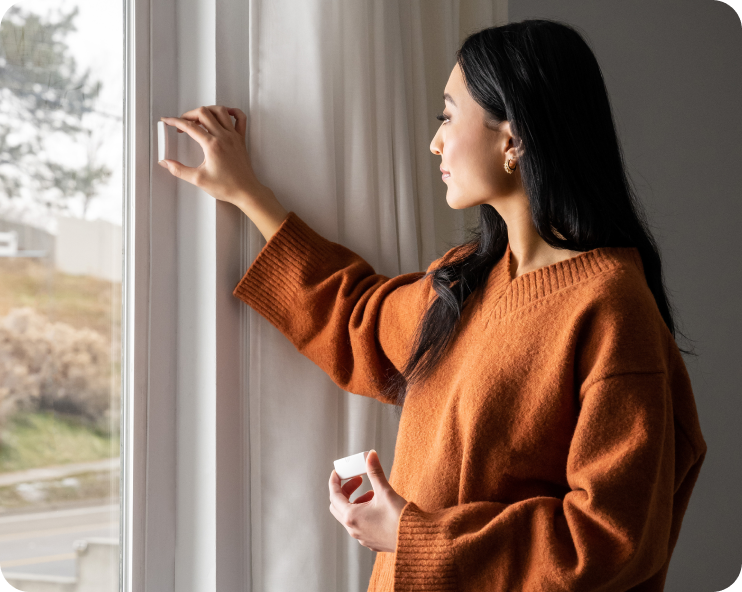 1. Install a Home Security System
If you do any of the things on this list, do this one. Whether you live in a home, condo, studio, or townhouse, a security system will absolutely change the way you feel about living alone. A home security system typically includes indoor and outdoor cameras, a doorbell camera, door sensors, window sensors, and professional monitoring.
Some wonder, Wouldn't self monitoring be enough? Why do I need to pay a monthly fee for professional monitoring? It's possible that you won't encounter issues. But you can't predict that. And do you want to risk it?
With professional monitoring, authorities are dispatched within seconds. So if you're on vacation and someone tries to break in, you will be notified, and so will the police. If you're home any time of day or night, and someone tries to sneak through a window, you will be notified and so will the police.
Lexie, a young woman in Utah, purchased a Cove home security system with monitoring, and it has allowed her to live the way she wants.
"I love Cove because I'm a really independent woman, and it gave me the independence to just feel like I don't need someone to live with to protect me," she said. "I can feel safe on my own."
In the time she's had her Cove system, she's had the peace of mind she was looking for.
"Honestly, I've been super happy and able to sleep through the night on my own. When I first got it, I tripped the alarm on accident and cops were there within three minutes. Ever since then, I have slept soundly and felt really safe."
Lexie was so happy with Cove, in fact, that she gifted a system to her sister, who felt scared because her husband worked out of town a lot. So even though her sister doesn't live alone, those times she is alone she, too, can feel safe.
2. Get to Know Your Neighbors
As someone living alone, one of your greatest assets for staying safe can be your neighbors. It's likely that many of them are living alone, too, and know how you feel. Get to know your neighbors. For those you feel safe with, talk to them about personal safety and watching out for each other. Exchange cell numbers and let each other know if you see anything suspicious.
When you are familiar with the people who live closeby, you will feel safe knowing that they are helpful and watchful and are willing to help. And you can be a safe person for them as well. The more people in your neighborhood focused on safety, the better the area around your home will be.
If your neighborhood already has one, get in touch with your local Neighborhood Watch Program (local police can tell you if there is one where you live), or you can even start your own since you're already getting to know your neighbors anyway.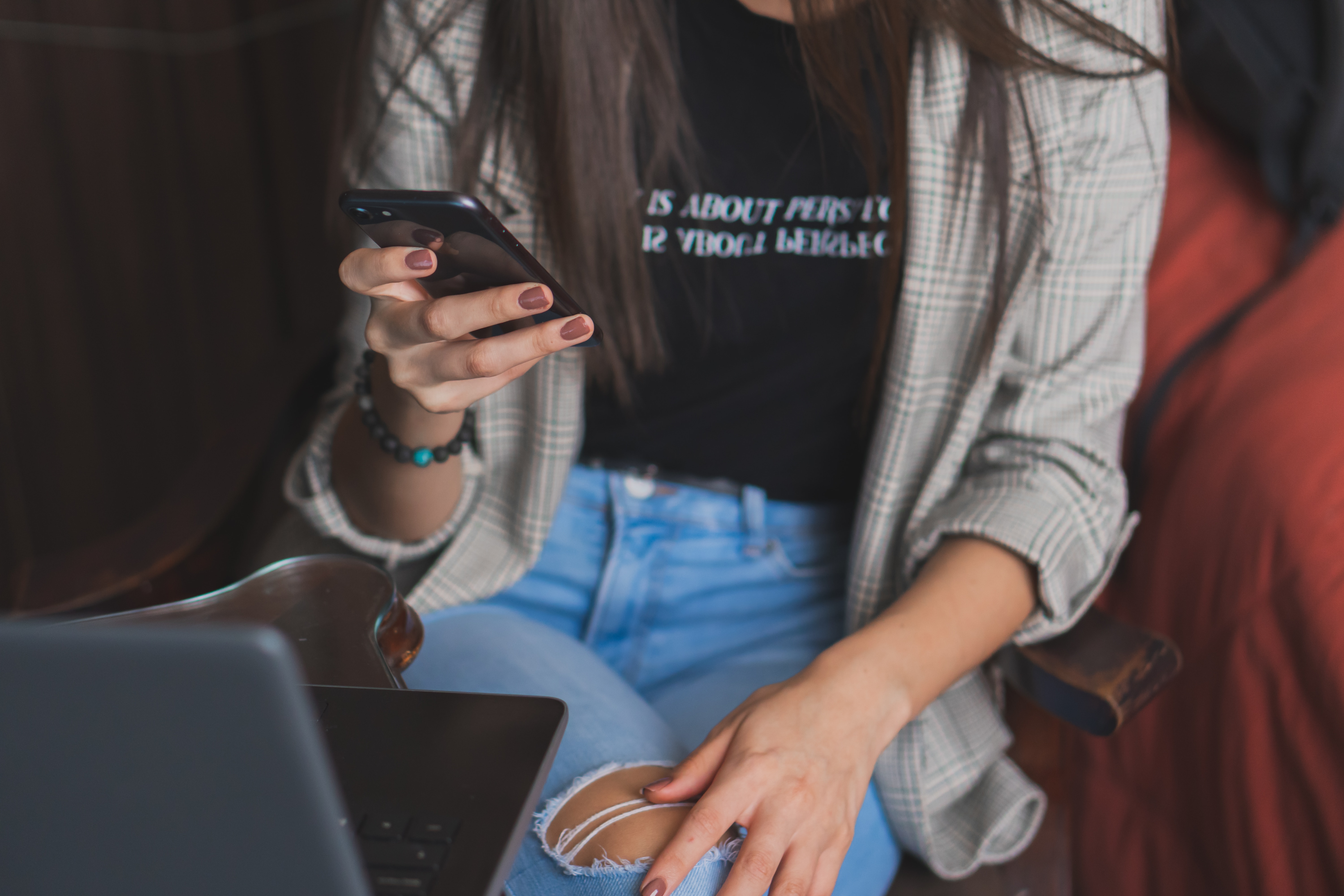 3. Designate a Check-In Buddy
This is a good idea, especially if you are pretty mobile: going out of town on business, heading somewhere on vacation, or even just into the city for a big date. Designate a "check-in buddy" to keep track of when you come and go.
A sister, cousin, or best friend—anyone you talk to regularly and trust could be a good candidate. If you have plans outside of your regular routine, send that person a text so they know where you are. You could also designate a "safe word" to text so they'll know you're in trouble and need help ASAP.
You could also go a step further and share your location, aka GPS sharing, on your phone with trusted family and friends. That way, they can see where you are or were last, depending on your settings.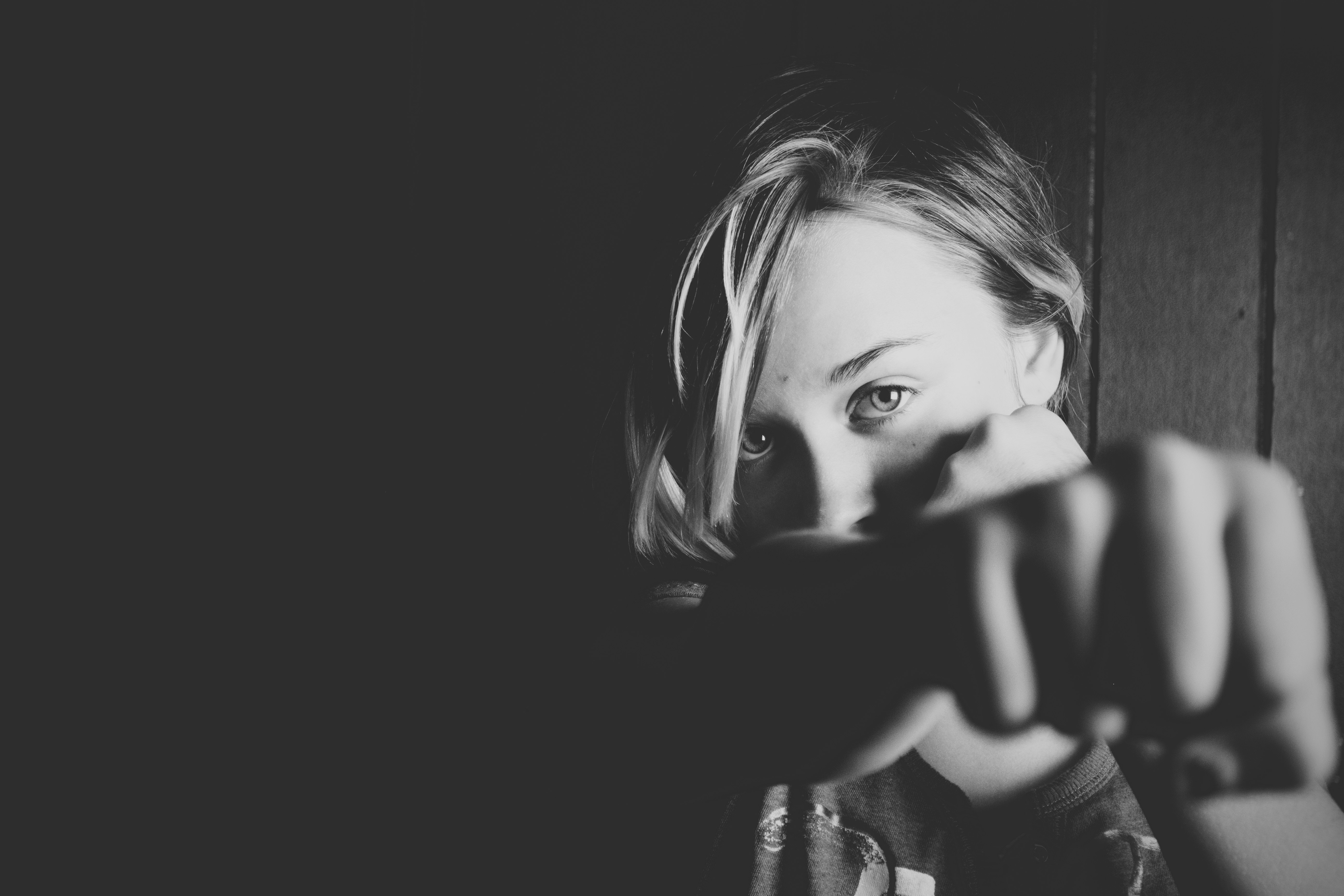 4. Take Self-Defense Classes
Every woman should take a self-defense class to improve her safety. There are many different types of classes out there, so search your area for what is being offered. If none are designated as "self-defense," you might consider signing up for a martial arts class. Not only will it teach you valuable skills for self safety, it's also great exercise.
Self-defense classes will teach you how to assess your surroundings, what to look out for, what situations to avoid, how to physically defend yourself in a variety of situations, and ultimately, self-confidence. All of those skills could come in handy whether you're out and about or alone in your home.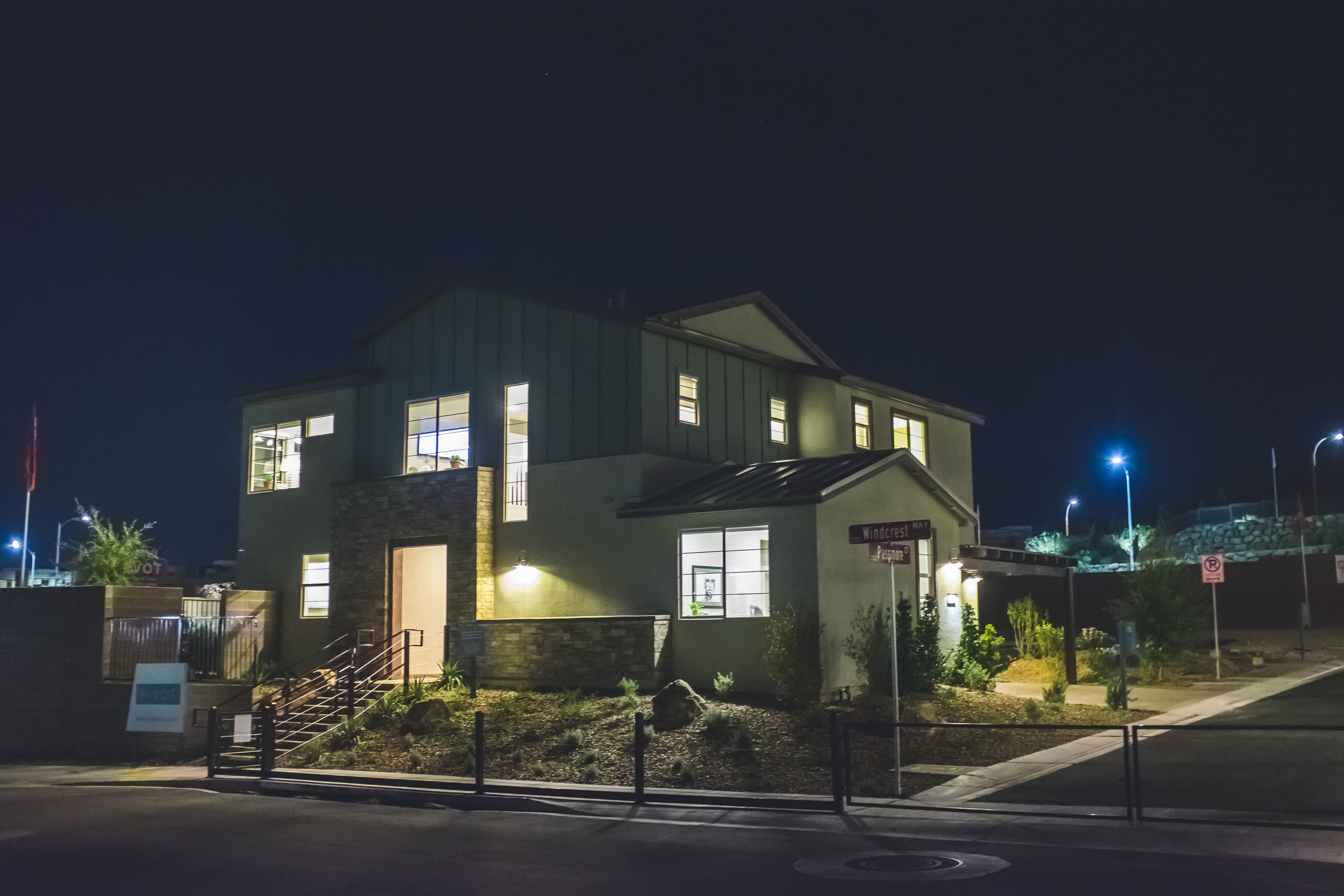 5. Put Up Motion-Sensor Lights
One simple thing you can do to improve the safety of your home is to put up motion-sensor lights. If you own your home, you'll have the freedom to put in as many as you want, wherever you want. However, if you rent your place, you'll need to talk to your landlord about your concerns. Send an email or letter outlining your concerns about safety and how lighting will help deter criminals. Also include a few options for motion-sensor lights, as many are affordable and easy to install. If your landlord won't foot the bill, ask if it's OK for you to install some yourself.
What type should you get and where should you install them? Read our article Everything You Need to Know About Motion Detector Lights for all the info. At the very least, you could add a few solar-powered lights to improve the safety of the dark areas outside your home.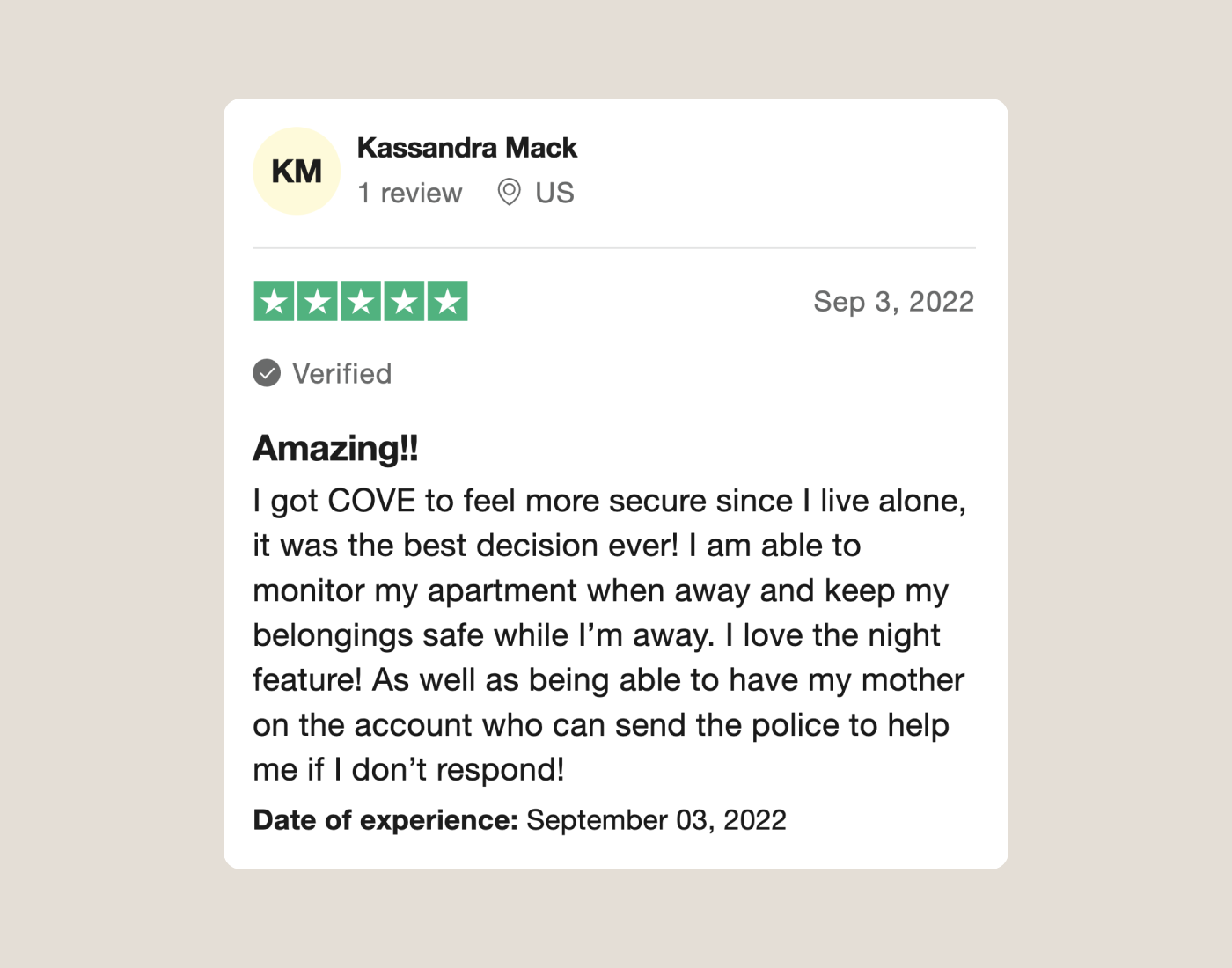 Everyone Deserves to Feel Safe
Whether you live alone or with someone, everyone deserves to feel safe. At Cove, we strive to make our equipment and monitoring as affordable as possible, so they are accessible to as many people as possible. Take our quiz today. It'll ask you some basic questions about your home or apartment, and the results will show you what equipment we recommend (cameras, sensors, etc.). Professional monitoring comes in two options, both of which are less than $1/day.
When your system arrives, it takes just minutes to set up and pair with the touch screen alarm panel, and you're in business. If you need any assistance, our top-rated customer service team is available 24/7 to help. You can also check out Cove's YouTube Channel for more information about our equipment as well as where and how to install.
---
Ready to get started?
Take this short quiz to build your customized system today!
Takes less than a minute
---