Alarm Systems
, Security Basics
The Duress Alarm: Simplicity is Key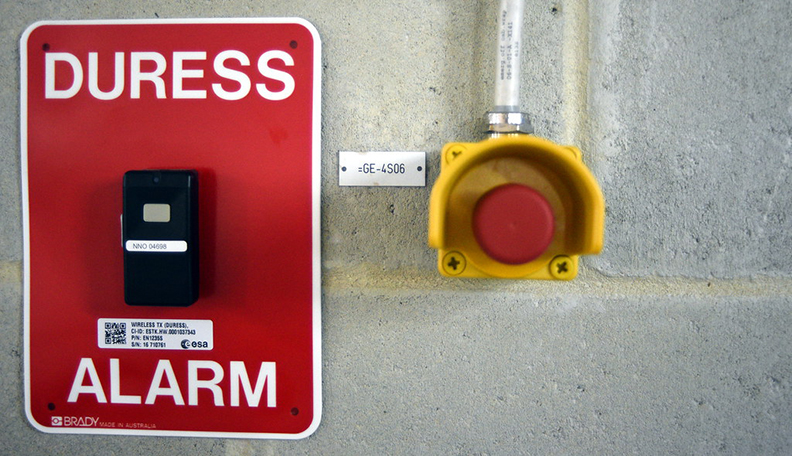 The Duress Alarm: Simplicity is Key
In today's post, we'll be discussing the duress alarm (also referred to as a panic button or medical emergency button). These devices or notification systems have several uses. Many hospitals use them for patients or nurses to notify doctors and administrative personnel of people who are experiencing drastic health declines. They can also be used as part of a home security system, notifying family members if someone is in danger and can also be used by businesses to notify monitoring personnel of any problems. You've probably heard or seen commercials for the Life Alert system. This is one example of a duress alarm.
Duress alarms are often part of some kind of larger system, but the system doesn't have to be complicated. In fact, simple systems are actually the most ideal systems. It's actually quite common for women and authorities to have what is referred to as a duress code, a covert way of letting others know they are in trouble and letting them know of the location.
The key element of a duress alarm is simplicity. When you are under extreme stress, your brain generally will not be functioning at a high enough level to complete a difficult process, nor will you have time to do so. You'll want a simple button or an easy number to remember.
Components of a Duress Alarm
A duress alarm will incorporate a couple of different components:
A simple duress button or code that will be easy to reach and press. For example, Cove's medical button hangs around the neck.
An alert system on the other end so that authorities or trusted friends and family are notified when the button is pressed or the code is sent.
Depending on the situation, a duress signal directly to 911
Beyond these few basic elements, a panic alarm can be used for just about any kind of system, whether it be medical, emergency response, home security, or in high-stakes police work. All of these situations call for a simple and quick response.
Duress Alarm Scenarios
Next we'll look at a couple of scenarios in which duress and panic alarms can be useful. As you read, imagine yourself being in these situations. If you find that one or more of these situations seems familiar, you might consider a duress alarm.
Imagine you are on a date or some other one-on-one situation and you don't feel safe with the person you're with. You may also feel that this person might block your attempts to leave or contact the authorities If you find yourself in this situation, you'd want to have a quick safe word that you could send to a trusted friend who could come to your aid or contact the police for you. If you are able to contact someone without the other person seeing, you could also text "Help" to 911 if you don't have time to type anything else. On a similar note, it's also a good idea to have a can of pepper spray with you if you are going to be walking alone at night.

If you are a nurse or a nurse's assistant tending to a patient in the hospital who was previously in critical condition but has since improved, and you notice a sharp downswing in the patient's health, headed toward flatlining, you could press a panic button to notify doctors and other personnel to come into the room. In a nursing home, it could be helpful to have a panic button that notifies the authorities of the need for an ambulance.

Some universities have a silent alarm for students on campus to notify university police of situations that require their help. These alarms are silent to allow students anonymity if they happen to be in a compromising situation.

A lone worker duress alarm system can be helpful if you are working alone at night or in a dangerous area. This will allow you to contact another worker or superior if you run into a situation that seems dangerous.

If you live with a parent or grandparent who is aging and is at risk for falls or other medical emergencies, a medical alert button is useful. Your parent or grandparent can simply push the button, and you will be notified, as will the authorities. These systems are especially helpful if you know that your loved one has a history of accidents.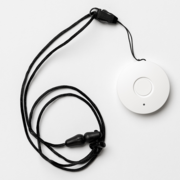 Cove's Medical Button
In the current climate of uncertainty related to COVID-19, Cove's medical button can grant you some peace of mind. Our button is on a simple necklace and is connected to the rest of your home security system, so that if anything happens to your loved one, not only will you be contacted, but Cove's security monitoring system personnel can dispatch an emergency responder team to their home.
The medical button device incorporates a few different elements that make it a great choice for a duress alarm:
5+ year battery life: A long-lasting battery is a key part of a duress alarm. It's important, though, to change the batteries when approaching the 5-year mark.
LED light for alert notification and assured response: This can give you and your loved one the peace of mind of knowing that help is on the way.
Customizable options & alerts that fit your lifestyle
Portability: This is key for when you or your loved one is working around the home or in the yard.
Waterproof Design: This is helpful in the case of a fall in the shower or bathtub. You can rest assured that your alerts will still reach emergency personnel.
Lifetime warranty available: If the button breaks for any reason, we can get it replaced for no charge to you.
Cost-effective: Our medical button only costs 20 dollars when added to your Cove security system.
At Cove, our goal is to help you and your family to achieve the security and peace of mind that you need, especially during these trying times. Please take a moment to look at our other products, all of which are integrated into our alarm system, and all of which can improve your home and physical safety.
We offer several other alarm products, including a fire alarm, carbon monoxide detector, motion detection, window and door sensors, and security cameras. When we say that we want to help you achieve full-life safety, that's what we mean: protection from the environment, protection from burglars and trespassers, and protection for your health and the health of your loved ones. This kind of security has never been more accessible. For more information on Cove security, check out our product pages and our customer reviews. Become one of the many people just Cove protects every single day.
---
Ready to get started?
Take this short quiz to build your customized system today!
Takes less than a minute
---