DIY Home Security
, Security Cameras
, Home Safety
Types of Doorbell Cameras: A Buyer's Guide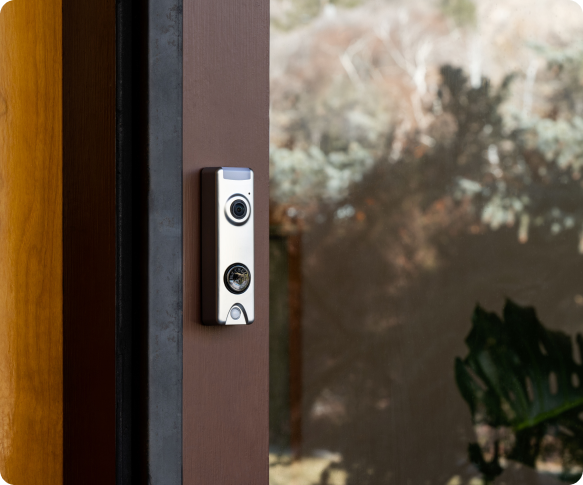 It wasn't that long ago–2013 to be exact–that the first-ever doorbell camera was invented. Immediately people saw the benefit of the device and started buying. Since then, many other doorbell cameras have entered the marketplace. Which begs the question: which one is right for you?
In this article, we'll discuss doorbell cameras and what to consider when buying one, so you can make a smart choice.

Doorbell Camera Basics
First things first. A doorbell camera is exactly what it sounds like: a doorbell with a camera on it. But it's important to know how they work.
Doorbell cameras are installed on the outside of the front door (wired in or wireless/battery operated). They connect to WiFi, so the homeowner is able to set them up to connect on their smartphone via an app. That way, you can receive an alert when the doorbell camera senses that a person is at your door. It has 2-way communication, allowing you to talk to someone at your door without being there.
How Doorbell Cameras Work
Doorbell cameras are basically security cameras that capture video at your front door. The video footage can be stored in multiple ways.
Since you don't need to capture every minute of an empty front porch, doorbell cameras use motion sensors. This means that they use technology to see movement and immediately begin capturing when movement occurs.
Different cameras do this in different ways. Doorbell cameras need a way to connect to you, so most utilize a mobile app on your phone. But the doorbell camera still needs a way to get the information to the app. Many doorbell cameras use either a Wi-Fi connection and/or cellular connection.
Why You Need a Doorbell Camera
Have you ever had a package disappear from your porch? Or had an unannounced visitor at your door? A doorbell camera shows the world that you are watching, even if you're not home. Ideally, using a doorbell camera will help to stop theft and burglary in its tracks, keep unwanted visitors away, and ultimately give you an extra layer of security.
The great thing about doorbell cameras is that they are affordable, there are a lot to choose from, and they are easy to install and set up. Cove is a home security company with multiple sensors and cameras, and we offer two different doorbell cameras because it's an important part of your home's security.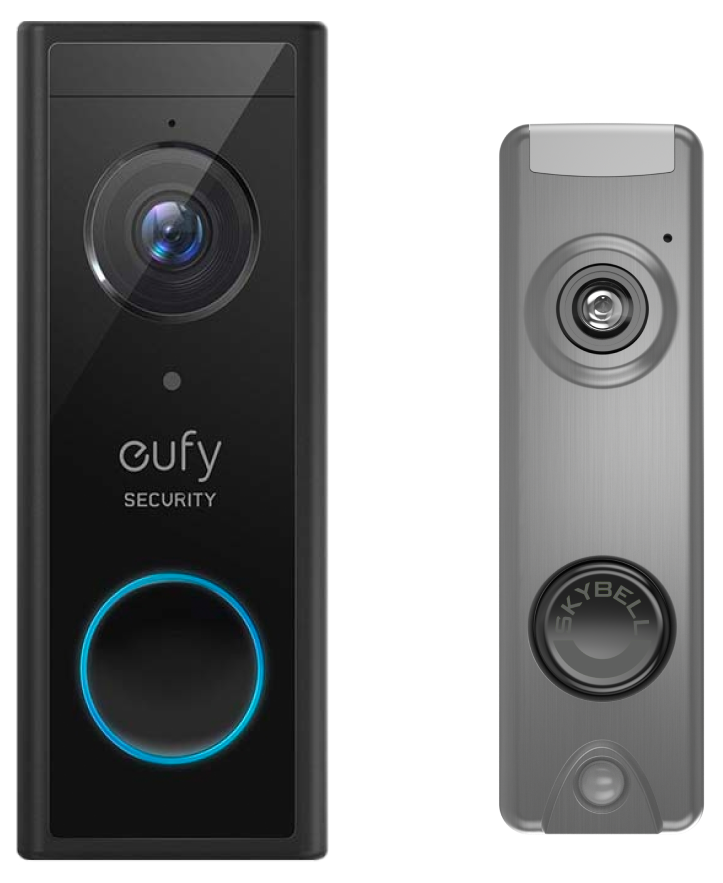 Types of Doorbell Cameras
Do a quick online search of doorbell cameras and you'll find pages and pages of options. It's nice to have so many choices when it comes to home security. But it also can be overwhelming. How do you choose one?
Here is a rundown of the different types of cameras and what sets each of them apart. As you read through the descriptions, you can start to formulate which options you prefer.
Wireless Doorbell Cameras
Consumers love when a product is easy to use, ready right out of the box. That's probably why wireless doorbell cameras have exploded in popularity.
With minimal effort, you can install a wireless doorbell by your front door and be up and running in no time. Wireless doorbell cameras run on batteries, which is why you don't have to hardwire them. This is a great option for renters who don't want to make permanent changes to the house or apartment.
One downside to wireless doorbell cameras is that you do have to charge them, but thankfully a charge lasts a good amount of time. When shopping around for a doorbell camera, if you want to go wireless see if you can see how long the battery lasts on one charge. The doorbell camera is also "wireless" in that it connects to send footage via Wi-Fi and/or cellular connection.
At Cove, our Eufy doorbell camera can either be wireless or wired to existing doorbell wiring. If you decide to utilize the wireless version, it only takes a few minutes to install and lasts 120 days on a charge. Just charge it, mount it, place your chime, and monitor it through the easy-to-use Eufy app. Use it with the rest of Cove's equipment for comprehensive home security.
So we have started selling a different model of the Eufy doorbell camera. It can be wireless, but it can also be wired to existing doorbell wiring just like the Skybell. We are in the middle of updating that page.
Wired Doorbell Camera
In the early days of doorbell cameras, wired was the only option. And even all these years later, it's still a great option.
While it's harder to install–you may need a professional to wire it for you–there are many upsides. You don't have to charge it because it is getting power through wires. It's also going to be more reliable at giving you the footage you need because it doesn't rely on Wi-Fi or cellular connection.
If the power goes out for any length of time, the doorbell camera could potentially lose power. However, many wired doorbell cameras also have a battery backup for just that situation. That way, you're always covered.
Wired doorbell cameras can be a good option if you own your home, since it is a more permanent solution. Since a wired doorbell camera requires more expertise to install, it can potentially be more expensive.
But for many the extra cost is worth it. At Cove, our SkyBell doorbell camera is hardwired and a durable, long-lasting option.

Features of Doorbell Cameras
As you shop for a doorbell camera, there are several features to keep in mind. Did you know that they can differ in their field of view, durability, and resolution? Here are the main features of doorbell cameras to pay attention to when looking for what will work best for you.
Resolution
On true crime shows when they show clips of old security footage, it's pretty hard to decipher more than just the basic outline of a person moving across the screen. Sometimes they can pick out enough details to connect a suspect to a crime. Thankfully, the resolution of security video has increased dramatically, and that includes residential doorbell cameras.
Doorbell cameras are equipped with high-definition cameras that capture clear and detailed video footage. They usually offer resolutions of 720p or higher (1080p, 2650p), allowing you to see people and objects with remarkable clarity. So rather than only seeing that there is a person at your door, if they face the camera then you'll be able to see who it is.
As you shop around for doorbell cameras, pay attention to resolution and go for whatever makes sense for you. At Cove, we have two options for doorbell cameras. Our SkyBell camera is 1080p and our Eufy camera is 2k.
Field of View
Cameras just keep getting better, and that includes their field of view. That means when the camera is pointed in a particular direction, how much area/degrees does it cover? In the case of home security, the bigger the field of view, the better, because it allows you to capture more activity.
Make sure you pay attention to the field of view when looking for a doorbell camera–aim for 120 degrees or higher, if possible. Cove's Eufy doorbell camera offers a 160° horizontal, 4:3 aspect ratio, and Cove's SkyBell doorbell camera offers a 180° horizontal, 120° vertical field of view.
Motion Detection
Security cameras, including many doorbell cameras, have two main types of motion detection technology. One is Passive Infrared (PIR) and the other is Microwave (MW). Cameras can also use both and are thus called dual or hybrid sensors.
PIR motion sensors look for infrared radiation, which is naturally emitted body radiation that all living creatures give off. The motion sensor is able to detect infrared radiation in the form of body heat, specifically the rapid uprise in heat within the field of view. This feature allows motion ac cameras to tell the difference between a tree branch swaying in the wind and a child running across the lawn.
MW motion sensors rely on high frequency radio waves to detect movement. This works similarly to radar as the waves bounce off an object.
Microwave motion sensors are ideal for very large spaces like industrial spaces. The microwave motion sensor can have a big view and detect motion pretty quickly. One downside, however, is that it detects any sort of motion, so it has the potential to have a higher rate of false alarms.
At Cove, our doorbell cameras utilize AI Human Detection. In other words, they know the difference between people, animals, and cars, so you won't need to worry about false notifications.
Interactive App
One important feature of doorbell cameras isn't even part of the device itself–it's the app that connects what it sees to your phone. The app that either comes with your doorbell camera or as part of a home security system will be instrumental in how you use it.
A good, interactive app allows you to receive notifications if motion is detected at your door, will show clear video footage of what has occurred or is now occurring, and helps you clearly communicate with whoever is at the door. Be sure to check out the specs and reviews of the app associated with whatever doorbell camera you are looking at buying.
Night Vision
Lighting is everything when it comes to all types of cameras. That said, because your home security depends on seeing what's going on whether it's light or dark, many doorbell cameras have great night vision.
Double check that the doorbell camera you are considering has night vision capabilities. Both of our Cove doorbell cameras have night vision, and our Skybell doorbell camera has HD Color Night Vision. That way, you'll be able to clearly see visitors or potential threats, even when it's dark.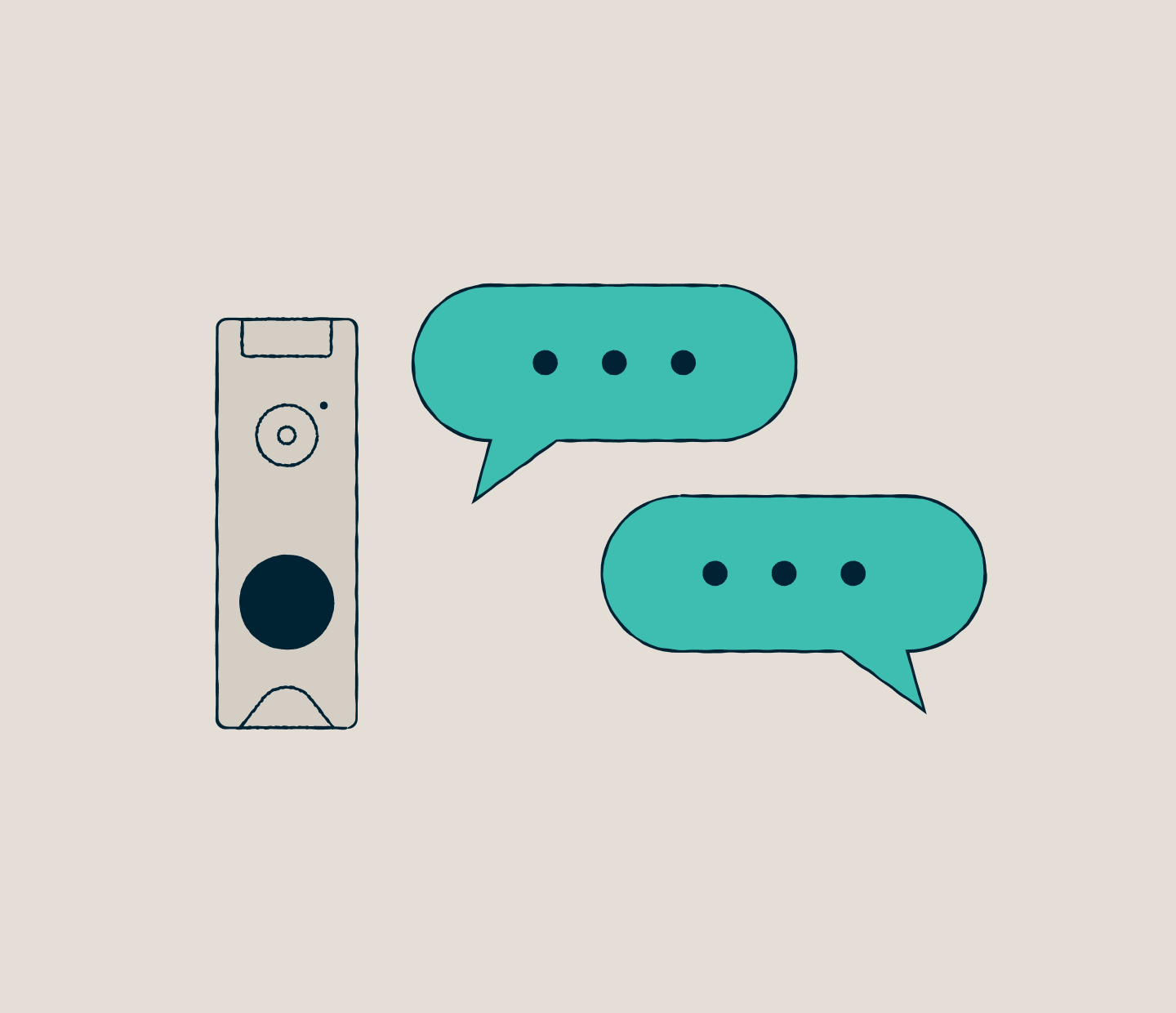 2-Way Communication
Besides being able to see who is at your front door, a doorbell camera almost always will have 2-way communication capabilities. Double check to make sure the one you're looking at has that included.
Durability
Obviously, you want a doorbell camera that will last. That's why it's important to look at the weatherproof rating. The Cove Eufy doorbell camera has a Weatherproof Rating of IP-65 (Operating temperature -20°C to 50°C), and our SkyBell doorbell camera has a Weatherproof Rating of IP-34 (Operating temperature -40°C to 60°C). Our Skybell doorbell camera also has a tamper sensor for an extra layer of protection.
Warranties
Since doorbell cameras are electronic devices, it's wise to shop around for one that has a warranty attached. If you're only buying the doorbell camera itself, check out if the company you're buying from offers a warranty. That way, if something happens to it or it is somehow defective, you're covered. Cove offers a lifetime equipment warranty so you never have to worry about your security devices.
Video Footage Recording & Storage
For doorbell cameras, the video footage is stored either locally in a built-in micro-SD card, or remotely through a cloud server. There are pros and cons to each.
Cloud storage is great because it saves footage to a remote server and all the info is encrypted so only those who are allowed access can view it. It's flexible and generally has a good amount of space for what homeowners need. As for the downside of Cloud storage, it always needs a connection in order to record footage, so if a connection is ever lost, it can't record.
An SD card never needs a connection, so it's very reliable. However, if someone tampers with or steals the device, then you won't have access to the footage because the SD card will be done. At Cove, we want you to have options, which is why we have two doorbell cameras. Cove's Eufy doorbell camera offers local storage only, and Cove's Skybell doorbell camera offers cloud storage.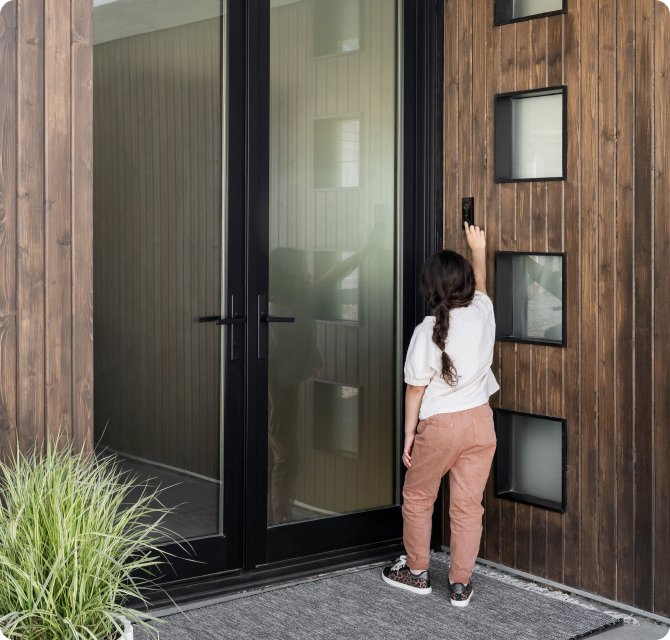 Costs of Doorbell Cameras
What you pay to order a doorbell camera can vary widely depending on the brand, model, and overall features. That's why it's important to determine which features are important to you, then compare prices to see what will work best for you.
You can purchase very cheap doorbell cameras for $10–$30, but for one that is good quality and meant to last, expect to pay closer to $100–$200 or more. Purchasing the actual device is only a one-time cost, so it's well worth the investment to get a good one. If you choose to hire a professional to install your doorbell camera (especially true if you buy one that is wired), expect to pay around $100 or so.
Professional Monitoring
At Cove, we believe everyone deserves to feel safe. We have everything you need to keep your home and everyone in it protected for an affordable price. Our DIY system is easy to install and it works.
Take our quiz today and let us help you build the perfect security system for your home.
---
Ready to get started?
Take this short quiz to build your customized system today!
Takes less than a minute
---