DIY Home Security
, Security Cameras
What to Look for When Buying a Home Security Camera System
One of the smartest purchases you can make is a home security system. It's cost effective, proven to be effective in deterring burglars, and with so many companies out there, you have lots of options to sift through.
The question is, which home security camera system should you use? You want to make the right choice for you, so it's important to consider all of the different choices in front of you. In this article, we'll dive into what you should look for when purchasing a home security camera system.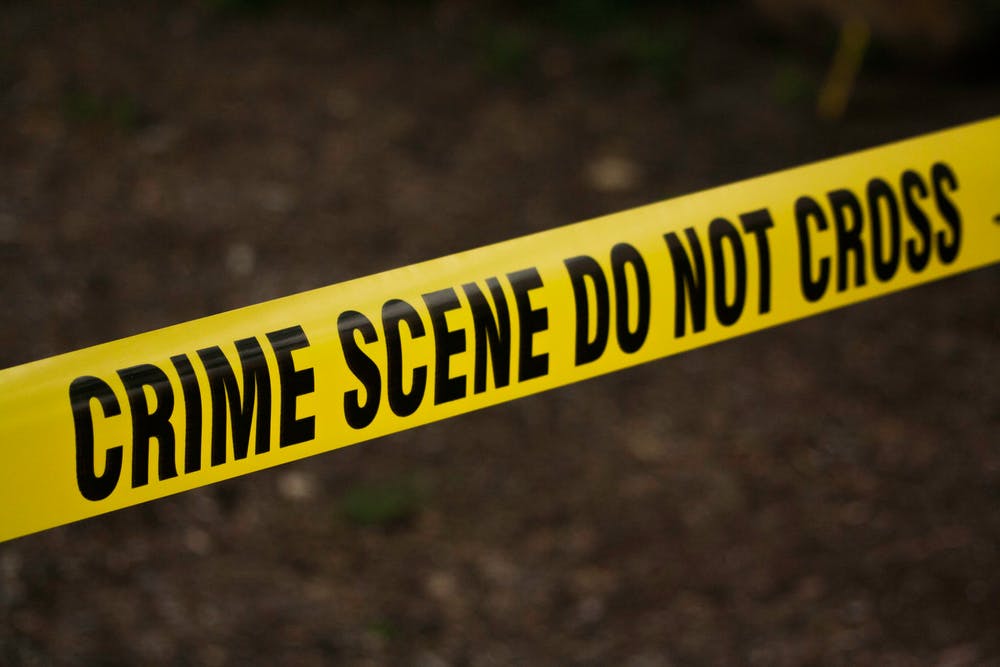 Prevent Break-Ins
Criminals are usually desperate for money, so they look for opportunities to steal. Many times, they break into a home not far from where they are staying. What are they looking for? Cash, electronics, jewelry, tools, firearms–anything of value.
Lost items along with broken doors and windows can add up. Each break-in costs the homeowner an average of $2,661. Most families can't afford to suffer that much loss. Not to mention the potential harm to a person if the burglar comes in while a homeowner is at home.
Many people become fearful at night, worrying that a breakin will occur at night. While it's possible, over half of burglaries take place during the daytime. The most common are between 10 a.m. and 3 p.m., when the homeowner and family are likely away at work and school.
Protect Yourself and Your Family
What can homeowners do to help prevent this from happening to them? The FBI reported that a burglar is 300 times more likely to skip a home that has a home security system. That's no small number. Think about it. If you had the chance to be 300 times less likely the victim of a home invasion, would you do it?
Here's another statistic. Research by the University of North Carolina at Charlotte has shown that 60% of would-be burglars decide not to target a home when they notice the presence of a security system while casing the property. Once they see an alarm or a security camera, they will move on and find another house to target.
While a home security system will require some investment on your part, in the end, the amount you spend will usually be less than the amount you'd lose to a home break-in — and it will give you peace of mind that you simply cannot put a price on.
Footage Can Be Useful in Criminal Investigations
While a home security system can deter criminals, sometimes even that doesn't keep someone from breaking in. If you have cameras and a burglar comes into your home, the footage can be useful evidence in identifying and convicting the criminal. That will help you and your family sleep better at night, knowing that person is off the streets. And that will make your neighborhood and whole community safer.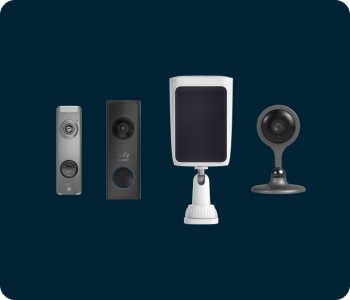 Types of Security Cameras
You need security cameras for your home. But with so many on the market, how do you choose? That answer will depend on the specifics of your home. Here's an article that goes more in-depth on the types of cameras you will find.
Generally we recommend homeowners use a variety of cameras as part of their whole security system. At least one indoor camera in the main living area. A doorbell video camera for your front door. And one or more outdoor security cameras to watch for suspicious activity before it gets close to your house or apartment.
Outdoor Security Cameras
These types of security cameras are a must. Outdoor security cameras are your first line of defense when it comes to deterring burglars. The mere presence of an outdoor security camera will likely show the criminal that you mean business, and they'll hopefully get the hint and move along.
We recommend a motion-activated camera. The primary purpose of installing a motion-activated outdoor camera is to detect unwanted movement outside your home while you are away. While traditional CCTV recording cameras can capture footage of a robbery, motion-activated cameras can capture footage and simultaneously send you an alert that there is suspicious activity while the incident is taking place.
This eliminates unwanted surprises, decreases crime, and increases your peace of mind. Some motion-activated cameras use a light image sensor technology to detect movement within their field of view. Another type of motion-activated camera technology determines if movement has taken place by comparing pixels in images it captures of its environment. Whenever the camera detects a drastic enough change in lighting (like, say, a person's shadow), its sensor activates, and it begins recording footage. Whenever your camera's sensor is activated, it will start recording video and send an alert to an app on your mobile device. This means you can get notifications in real-time from anywhere in the world as your indoor or outdoor security camera detects activity.
The Eufy Outdoor Camera uses AI motion detection to trigger notifications. How it works is simple—A PIR motion sensor on the camera will trigger when a heat signature matching a human heat signature crosses the field of view. At that point, the camera can analyze if the shape appears to be human and will begin recording, and then send a snapshot of the person's face to the Eufy app.
Video Doorbells
Video doorbell security cameras are one of the most common types of home security cameras. They're an excellent surveillance option for homeowners who want to keep an eye on their property exterior while at home and away. Most video doorbell cameras are equipped to detect motion near the door and notify you in real-time so you can view a live stream of the motion — whether it be a prowler or just the USPS delivering your mail.
These security cameras allow you to adjust your settings to avoid false alarms, so you don't get notified by the neighbor's cat or a passing car. When someone rings the doorbell, most video doorbell cameras allow you to communicate with front door visitors via two-way communication and even save video footage remotely.
At Cove, we offer two different video doorbells so you can find the one that's perfect for you. Our Eufy Doorbell Camera is slightly bigger, uses a rechargeable battery, and stores footage locally. Our Skybell Doorbell Camera is slightly smaller, is wired in, and stores footage on the cloud.
Indoor Security Cameras
You may be wondering why you need indoor security cameras if you already have outdoor cameras and a doorbell camera. What if the burglar comes into your home through a window or door not covered by an outdoor camera?
Plus, home security cameras aren't only used to see if strangers are lurking. An indoor camera is ideal to keep an eye on family members, pets, and visitors. Cove's indoor security camera plugs in and can be set on a shelf, then connected to the control panel, and is ready for you to monitor and even communicate with those staying at home.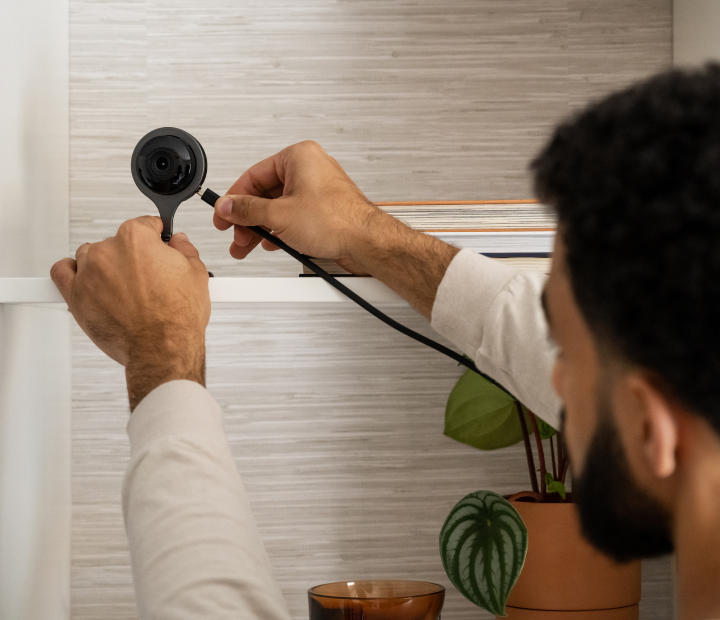 Security Camera Power
One big consideration when choosing a home security system is what power source each piece of equipment is going to need. Will it need to be wired or does it use battery or solar power?
Not only that, but how does the camera connect to the control panel, the monitoring team, and ultimately, to you? When referring to a camera as "wireless" sometimes that can also mean it connects to the WiFi while a wired camera could also need a landline.
Not all systems are the same, so be sure you read the fine print and understand what you are getting into and if it's a good fit for you.
Wired Cameras / Plug in Cameras
Wired cameras rely on wires to get power. Wired security cameras are the oldest, longest standing form of security camera. These cameras do not need batteries but do require professional installation.
Battery-Operated Cameras / Solar-Powered Cameras
Wireless cameras (when referring to power source) come in indoor and outdoor varieties. Wireless outdoor cameras are weather-resistant and tend to have a long battery life, so you can set them and forget them for quite some time. On the other hand, indoor cameras are great because they are minimally invasive, meaning you don't have to drill holes in your walls or ceiling to install them, and they won't create wire clutter that spoils your interior decor. You can easily install them within minutes and place them practically anywhere. Our Eufy Outdoor Camera is solar-powered along with a battery.
Security Camera Features
On the outside, many security cameras look alike. They have a lens, a power source, and a mount–what more does it need? There are actually many features of security cameras you should know about before deciding which ones are right for you.
Video Resolution
With technology advancing in all aspects, you can bet that video resolution on security cameras is better than it's ever been. That said, pay attention to resolution when shopping for cameras for your home. You want to be able to detect people and distinguish faces whether they are snooping around outside in the dark or inside your home in the light of day. At Cove, our cameras have 1080 HD to 2K video resolution.
Field of View
How much of the scene can your security camera see? This is typically measured in degrees. Obviously, the larger the degrees the larger the field of view. Our Eufy Outdoor Camera, for example, has a field of view of 135 degrees.
Placement of a camera is very important in this regard. For example, if you place an outdoor camera on the side of your house, what is its field of view? Will you need a second camera to detect danger?
Fast Motion Activation
While traditional recording cameras can capture footage of a robbery, motion-activated cameras can capture footage and simultaneously send you an alert that there is suspicious activity while the robbery is taking place. This eliminates unwanted surprises, decreases crime, and increases your peace of mind.
Some motion-activated cameras use a light image sensor technology to detect movement within their field of view. Another type of motion-activated camera technology determines if movement has taken place by comparing pixels in images it captures of its environment. This type of camera utilizes motion-sensor lighting. Whenever the camera detects a drastic enough change in lighting (like, say, a person's shadow), its sensor activates and it begins recording footage. Whenever your camera's sensor is activated, it will begin recording video and send an alert to an app on your mobile device. This means that you can get notifications in real time from anywhere in the world as your camera detects activity.
The great thing about using a motion-activated camera is that if something happens and you need to review footage, you won't have hours and hours of nothing to sift through. You'll have targeted motion-only footage.
Night Vision
If you're looking at outdoor cameras and doorbell cameras, you're going to want to pay attention to night vision. Does it have night vision? Is it black and white or color? That coupled with the resolution will help you determine the quality of the imaging that will show up once you install it on your home. Our Eufy Outdoor Camera has color night vision up to 25 feet. Our Skybell Doorbell Camera has color night vision 0.5 LUX.
Connectivity (Landline, Wi-Fi or Cellular)
Not only do cameras need power, but they need a way to connect to the control panel, the monitoring system, and ultimately, to you. Early security cameras required landlines to connect. These days, many cameras connect to the home Wi-Fi. While this is more convenient and easy to set up, there are some drawbacks. It can fail if the power goes out or if the Wi-Fi connection is broken.
Cellular security cameras are a wireless form of surveillance that uses a cellular network to transfer data instead of the internet. Cellular cameras have pros and cons, but they run on the same network as your mobile phone and minimize the risk of your system being hacked through your internet connection. This makes them a safe option for at-risk homes and businesses, and because they are powered by batteries rather than a wire, you can count on them to remain active even during power outages.
In the event of connectivity issues, however, wireless cameras can also store footage on a local memory card. Since this type of camera does not have to connect to any landlines, you do not need professional installation help to start monitoring your property.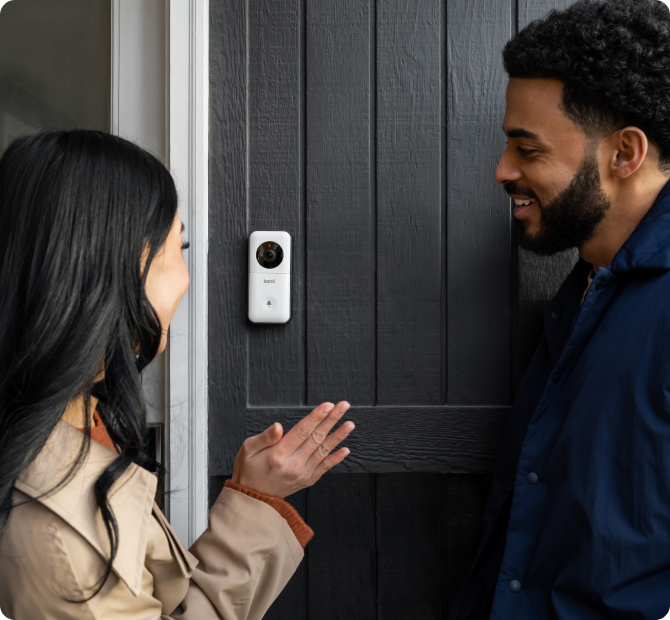 Two-Way Audio
When shopping for security cameras, one option to look into is two-way audio communication. Why? You want to see what's going on at your house, but you also want to hear what's going on. Plus, you can talk to the person on the other side.
This is especially true for doorbell cameras. When someone comes to your porch, it's helpful to see who they are so you know if it's the delivery person, a friend, or a stranger. But the ability to communicate with them is extremely valuable. If you're not home, you can tell your friend hello and figure out where to meet up. If it's a stranger, you can find out if they are a salesperson or someone who is suspicious. The two-way audio gives you control as you can direct them and show them that you're aware of them.
Besides doorbell cameras, did you know that other types of security cameras have two-way audio as well? Using Cove's Indoor Camera with two-way communication, you can use it more than keeping an eye out for intruders. It's perfect for talking to pets, kids, elderly parents staying with you, and even guests. Our Eufy Outdoor Camera also has two-way communication capabilities, allowing you to let lurkers know you're onto them. When they hear your voice, they'll likely look up to the camera, allowing you to get a good look at their face.
Video Storage
Have you considered video storage options with regards to your home security cameras? This important feature may not seem like a big deal, but there are two main things to pay attention to here: how much footage can be stored and where it is actually stored.
How much can they store? When purchasing a security camera, pay attention to storage. Of course, the amount of storage that is needed will depend on several factors, including the type of camera, the type of footage, etc.
Cove's Indoor Camera stores between 8-32GB. For this type of camera, that's plenty of storage because it's motion-activated, meaning that it only records footage when there is movement in its field of vision. Plus, after a certain amount of time without any incidents, you're not going to need to keep the footage.
As far as outdoor security cameras, we recommend more storage options, since that's the first line of defense for home security and there is more likelihood of useful footage. Our Eufy Outdoor Camera has 8GB / 2 months of storage for video footage, which allows you plenty of space and time to track any motion going on outside your home. Where Do They Store (Cloud, DVR, NVR)?
If you're wondering where your video footage is going to be stored–that's a great question. Before considering any security camera options, but sure to know where the footage is stored. Why is this important? Because you want to make sure it's secure while also being accessible when you need it.
There are typically three ways that footage can be stored: Coud, DVR, and NVR. Cloud storage means it is stored on a secure spot on the internet, much like your online photo storage or DropBox. DVR stands for "digital video recorder," which usually means it's an analog camera saving its footage digitally on a storage disk. When it gets full, then the next footage records over it. So it's important to know how much is being stored, how many days/weeks/months are typically held on the storage device, so if there is an incident you can view it and save it if needed. NVR stands for "network video recorder, " meaning it archives the footage. The pros of this is always having footage available, but the downside is that you need to pay for extra storage.
For home security use, it's really up to you. Do you feel safer with footage saved to a storage disk or to the cloud? How far back do you want to access footage? Most homeowners really only need recent footage.
Cove's Indoor Camera and Skybell Video Doorbell stores footage on the cloud, so you can access it when you need it. Our Eufy Outdoor Camera stores locally on a card. Our Eufy Doorbell Camera stores on a card via Wi-Fi on the chime inside the home.
Smartphone App
Most newer security cameras and home security systems include a smartphone app to go along with it. This allows you to keep tabs on what your camera sees whether you're home or away. And if someone is at the door, for example, you can use the app to talk to them. With a whole home security system, like Cove, you can be alerted if there is motion on one of your cameras. A Smartphone App makes it extremely convenient, so check out the specs of any security camera or home security system you're considering.
Pan-Tilt-Zoom (PTZ)
PTZ stands for "pan, tilt, zoom," describing the different actions the camera can perform. These three unique functions give the PTZ camera the ability to monitor a large area that might otherwise require multiple fixed cameras. A PTZ camera has a variety of uses, including business surveillance, video conferencing, and professional television recording. Though PTZ cameras require fairly minimal installation, you will likely not find one in someone's home.
At a glance, it may be hard to distinguish a PTZ camera from a dome camera. Both cameras are encased in a tinted, hard plastic or glass dome that obscures the direction of the camera. Where PTZ cameras and dome cameras differ is in their potential. PTZ cameras can perform a wider range of functions, including zooming and remote direction changing.
Another major difference between the two is that while dome cameras are used almost exclusively for security purposes, PTZ cameras have more diverse uses. They are especially helpful for business surveillance, but they are also used for video conferencing, distance learning, and live production. In the TV production world, these types of surveillance cameras have been given the nickname "robo," which is short for robotic camera. They are used in conjunction with professional cameras in television production.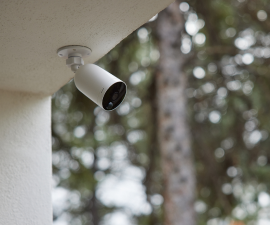 Shape of Camera
What shape is your security camera? The shape actually does make a difference. Check out the different shapes and what they do.
Box
A box camera is a type of professional-quality CCTV camera that gets its name from its boxy appearance. All the components of a box camera are highly customizable, making them a popular camera type. Those who use a box camera can design a camera to fit their specific needs. Features that can be customized include the box camera's level of weather resistance, lens type, resolution, signal type, and whether your camera is wired or wireless. And, since they are so customizable, box cameras can be altered bit by bit as your needs change, even after you have already purchased a camera. This is true even after you have been using your camera for some time. A box camera will typically outlast a bullet camera or a dome camera (both of which you can read more about below).
Bullet
A bullet camera is a type of CCTV camera that is typically placed outside of businesses to deter thieves. Bullet cameras were not designed to be concealed; they are highly visible and iconically shaped. People who use them in their video surveillance systems want to send the message that they are watching over their property. Their distinct design decreases criminal activity. You will probably recognize bullet cameras from going to grocery stores or other places of business — and especially from seeing them in movies or TV shows. Each bullet camera is usually installed high up on a wall so it has a good field of view and can see long distances.
Bullet cameras are designed to be weather-resistant and are considered best for outdoor use because of their durability and ability to effectively tell passersby that the area is under surveillance. They can hold up against water, and dirt, and their gears and joints are strong, making them resistant to changing angles in strong wind. And, since they have a protective casing, the camera also has a hood over the lens. This reduces the effect of rain droplets and sun glare in obscuring the camera's footage.
These cameras are the ones burglars usually cover with spray paint when they sneak into a business. And, as you've probably seen in the movies, bullet cameras send their footage to a local monitor being surveilled by a security guard.
Dome
A dome camera is a type of CCTV camera. These cameras can be recognized by their distinctive dome shape and are typically used to monitor businesses. You have probably seen them inside grocery stores or gas stations. The part of the camera that captures footage sits inside of the dome.
If a business uses a dome camera, it is usually mounted on the ceiling or high up on the wall. The dome is sometimes tinted so that the direction the camera is facing can be obscured. This, and the fact that this type of camera is generally a bit more durable, make the dome camera a popular security camera. Since the camera's lens is concealed within the dome, these cameras are less likely to be ruined by vandalism. Replacing a plastic dome is much less expensive than replacing an entire camera.
A dome camera can generally capture a wider angle than other types of surveillance cameras, as it can swivel within the dome and capture a wider range of coverage from each camera position.
Turret or Eyeball
A turret camera looks and functions like a miniature dome camera with a ball-and-socket design that allows it to swivel and monitor more space than a traditional fixed camera. Turret cameras are long-lasting, popular security cameras used in both business and home settings, but you may be more likely to find them in a commercial setting.
Though turret cameras look like miniature dome cameras, they do have some differences. In fact, the turret camera is becoming more popular than its counterparts. In contrast, dome cameras have the actual camera stored safely behind a plastic or glass frame, turret cameras have the camera lens and infrared lights on the device's face to reduce glare. Turret cameras are also smaller and cheaper than bullet or dome cameras, and their unique design makes them less likely to attract spider webs. Finally, it is easier to adjust the angle on a turret camera than on a bullet camera or a dome camera, and turret cameras have a less intrusive design.
Turret cameras are typically PoE cameras because it is difficult to make the camera's unique structure adaptable to wireless infrastructure. Though it is less common, they can also be IP cameras.
Battery-Operated Cameras
Battery-operated cameras are wire-free and powered only by batteries. These types of home security cameras are truly wireless, and their footage can be uploaded to an online storage system or saved locally on a memory card. Battery-operated security cameras are the easiest type of camera to install; all you have to do is put batteries in, turn the power on, and position each camera where you want it. The placement possibilities are endless. Untethered by wires for connectivity or power, battery-operated cameras can be set up as far from your home's outlets as you like.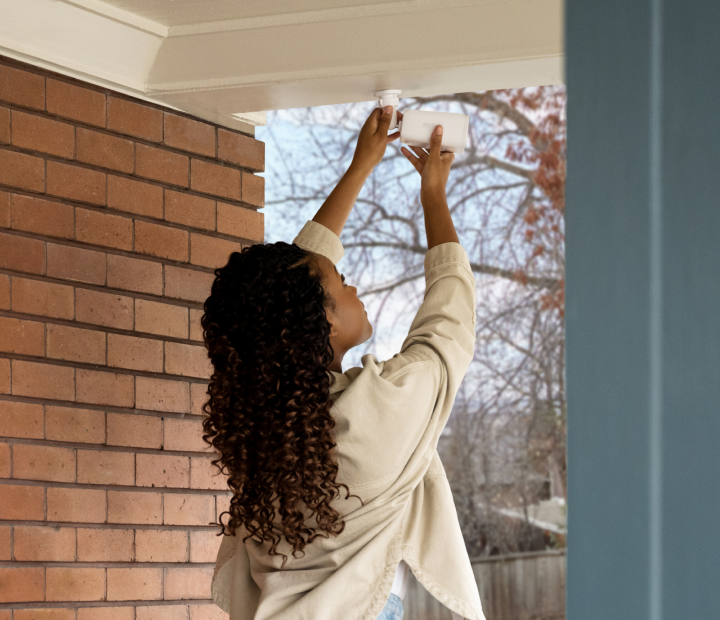 Security Camera Costs
While all of the features mentioned above have their pros and cons, but probably no other aspect of a security camera will influence a buyer's decision than the price of the security camera. And we mean all of it: cost of the camera itself, as well as installation and monthly monitoring. As a savvy homeowner, you want to make sure you are getting a good product while also staying in budget.
Upfront Costs for Security Cameras
You have options when it comes to purchasing the actual camera itself. Some home security companies charge you upfront for its equipment, but many will have sales throughout the year allowing you to save money on that initial investment. At Cove, we also allow you to purchase your equipment over time, which spreads out the cost of it while allowing you to own the equipment outright.
What does a home security system cost? Well, it depends. If you live in a small house or apartment, you'll likely need less equipment to cover everything. But no matter the size of your dwelling, you may choose to have extra cameras and that's going to add to the total cost. Take our quiz to see what equipment we recommend, then when they're in the cart you'll see a total equipment cost.
Installation
This is where you can really save money. At Cove, we want to keep costs low, so we strive to keep installation costs at $0. Yep, you read that right! Our DIY system is meant to be easy to install, so the homeowner can do it themselves. When your equipment arrives, the control panel walks you through set up, so it only takes minutes and is super simple. If you run into any issues, our customer service team is available 24/7. If you'd rather have a professional install it, contact us for a quote.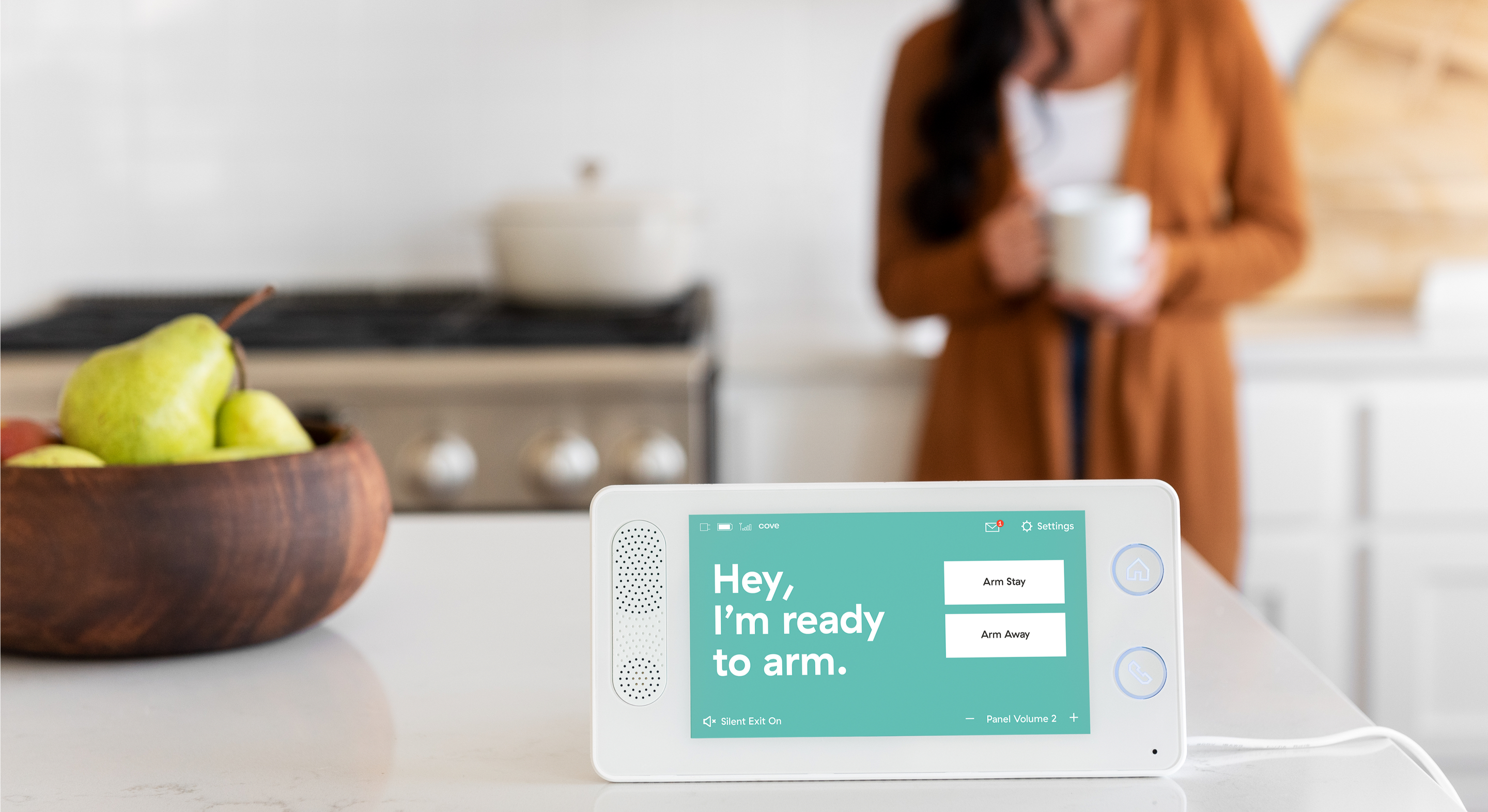 Security Camera and Security Systems
You can certainly buy a security camera on its own and use it as intended: to keep an eye on your home. But that's all that's going to happen–YOU are the one monitoring it. Which might work well for you. However, what if you aren't home? Or what if you're away from home and not available when an incident occurs?
That's why we recommend a Cove whole home security system. Because it's a complete system of cameras and sensors AND professional monitoring. Most of our customers have outdoor cameras, a doorbell camera, window and door sensors, an indoor camera, plus environmental sensors (smoke, CO, flood). Having all of that integrated and working together allows for better security for you and your family.
Important Component of an Integrated Security System
Probably the most important component of an integrated security system is the control panel. Cove has a touchscreen control panel that is the hub of your entire system. It controls all of the security equipment. So if there is motion detected from the outdoor camera or at your living room window, it'll alert the control panel which will then alert you. If you don't respond right away, we'll contact emergency services on your behalf.
Other Components of a Security System
Motion sensors
Contact sensors
Touch screen control panels
Range extenders
Key fobs and tags
Environmental sensors and alarms
Sirens
Panic buttons
Ongoing Monitoring
Some homeowners may be wondering why they can't just self monitor. That is indeed an option for you. But you might want to ask yourself this: "Why do I want a security camera?"
The answer is most likely: "To stay safe," or "To protect my home." A security camera that you monitor yourself can do that–to a point. Many times, if there is motion detected through your camera, you'll be alerted on your phone and you can open the app to see who it is.
But what if you're driving? Or napping? Or in a work meeting? You don't have the precious seconds needed to self monitor as an intrusion happens. Most burglaries happen during the day, and most are over within minutes. Which is why those first moments count the most. The other thing to consider is that maybe the criminal isn't trying to get in through your front door. Which is why window sensors and even glass break detectors are vital to an all-inclusive system.
To truly protect your home, you need professional monitoring. But if you think that has to come with a big price tag, consider this. We started Cove because we believe everyone deserves to feel safe. Which is why our equipment is affordable, and which is why installation is a breeze (so you aren't required to pay a pro for installation). Savings extend into monitoring as well. For less than a dollar a day, your home will be monitored 24/7. Plus, we never have contracts, so you never feel stuck or have to worry about rate hikes.
So what are you waiting for? You want a safe home. Cove is ready to help. Click here to take our quiz and get started.
---
Ready to get started?
Take this short quiz to build your customized system today!
Takes less than a minute
---