Security Cameras
, Security Basics
Catch Them In the Act: Perfect Your Home Security With a 1080p Security Camera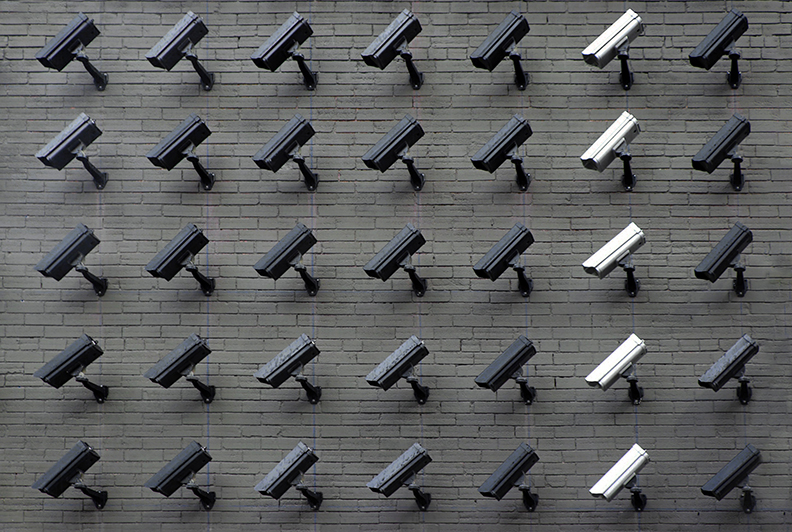 Imagine enjoying an early morning with your kids and your husband, life appearing completely normal. Then, without any warning besides a knock on the door not a few moments before, four men in masks break down your front door and enter your home, threatening you and taking whatever they can. This is exactly what happened to the Brose family in Pleasant Hill, California on February 4th, 2020. It was fortunate enough that Mr. Brose bravely chased the men out of their home before any bodily harm could be done. And while the family had a security camera trained on the front porch, the details of the burglars were not enough to arrest them at that moment (although, as is natural for repeat offenders, two of the burglars were later captured for other crimes).
Before this incident, it appeared that the Brose family had exactly what they needed to keep their family safe : a solid wooden door, a tough lock, and a security camera to identify anyone who threatened their home. But to Mrs. Brose's disbelief, the door broke with a single kick, and the security camera was not placed at the right viewing angle to help identify the intruders or their getaway vehicle.
According to FBI statistics, almost 7.2 million property crimes were reported nationwide in 2018. While this number has dropped in recent years, burglary and home invasions continue to afflict low-income areas the hardest. That doesn't mean that middle or high-income housing isn't vulnerable, however; a high amount of burglaries and break-ins are performed by individuals who live two miles away from the scene of the crime, and a high amount of those are performed by those that personally know the people or family that lives there.
There are many different ways to help protect your home and your property from burglars and intruders. Chain-link fences, strong locks on doors and windows, and always remembering to lock those doors and windows are all great solutions. But perhaps one of the most high-tech and effective ways of making sure your home and your property stays safe is with a 1080p video camera, or even several.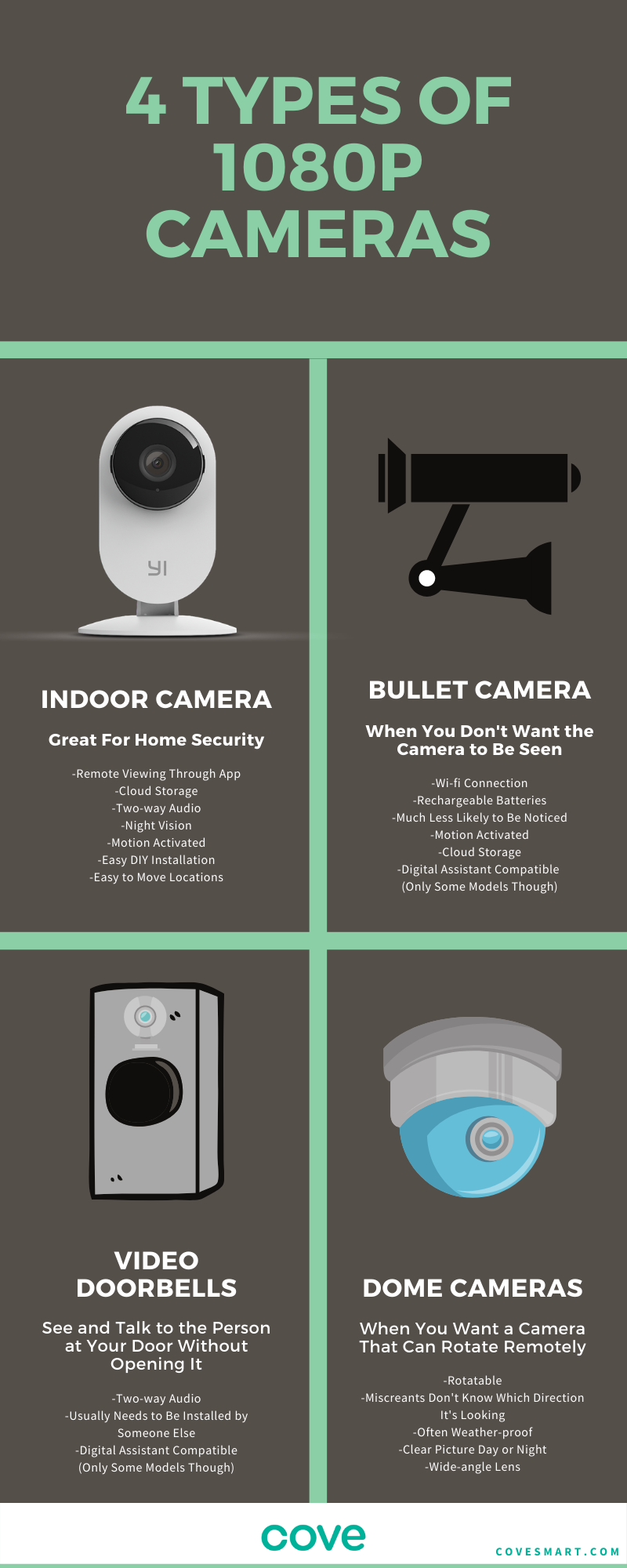 Effective Uses for Video Security Cameras
The most obvious use for a security camera is to record thieves and burglars in the act. Clear images with full audio can help police identify the intruders after they break in. Sometimes it can suffice to have fuzzy footage to prove an offender is guilty but in most cases you'll need clear footage. According to one civil defence firm from Pennsylvania, clear images of criminals' faces or clear license plate numbers can help indict offenders. Some video cameras, however, especially those installed at businesses susceptible to crime such as gas stations and banks can sometimes have low-quality cameras that can't be admissible in court. Worse, if such images are attempted to prove guilt, attorneys can attack the usefulness of the images depending on the angle of the video captured and the quality of the camera.
To ensure the best defence for your home, you'll want an HD security camera. Of course, it is important to know where to install your cameras, and you have a few options depending on the type of camera you purchase and install. Some types of HD video cameras include the following.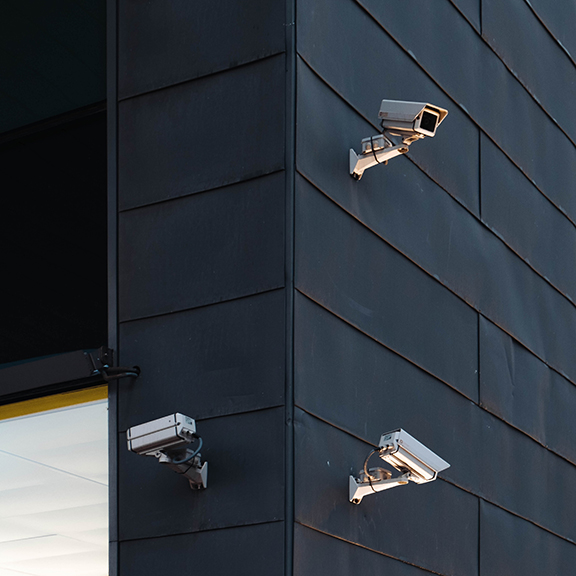 "Regular" Surveillance Cameras
You've seen them on traffic lights. You've seen them on the walls of secure locations like public buildings and military bases. You may have even seen them in movies portraying prisons. These surveillance cameras are perhaps the most common type of camera on the market, and the first type of security camera that most people imagine. Shaped like a long box with a metal bracket that attaches to walls or ceilings, these metal cameras often include features such as wired connections to a central hub and high definition video that can oversee a wide area with perfect clarity.
One aspect unique to large and conspicuous surveillance cameras is exactly that: their obvious presence. While their ability to record is their primary function, they warn anyone who might intrude upon your property that you mean business when it comes to your personal security. Some unintelligent and imperceptive burglars ignore these at their own peril.
One thing to remember is to place your camera in a spot that will be most effective for law enforcement to use to convict anyone dumb enough to intrude on your property. Capturing faces is all well and good, but often burglars wear masks and other face-concealing clothing to prevent themselves from being identified. But a camera in the right spot will be able to read license plates and measure criminals heights, builds, and clothing colors. In the very least, a good camera will be able to spot what the burglar decided to steal, if the property he smuggled out of your home or business is large enough. While most burglars go after easy items such as jewelry, phones, and wallets, some walk out with laptops and gaming consoles. This can help you tally up the compensation you should receive from homeowners insurance.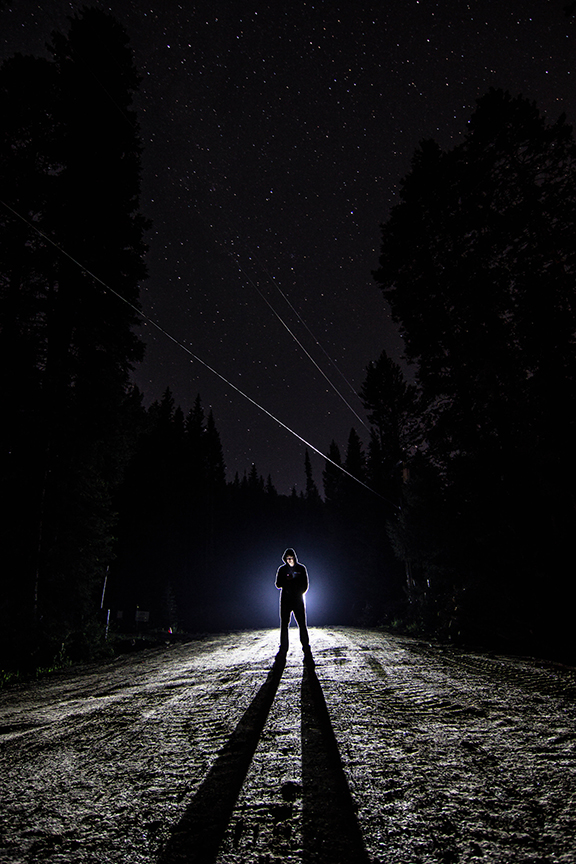 Bullet Cameras
Also known as lipstick cameras, a bullet camera is a digital video recorder, a few inches long and featuring a wi-fi connection that can connect to a monitor inside your home. These cameras are meant to be hard to spot and record a single viewpoint. With rechargeable batteries and several days worth of recording memory (with an inserted SD card), these cameras are great for narrow spaces between the side of houses. Bullet cameras have one drawback (depending on how you intend to use them): their small size makes them relatively undetectable, especially during the night. This doesn't help in deterring would-be criminals from invading your property.
These cameras can be installed almost everywhere and connect wirelessly to a central device. This device connects to the cloud, keeping your captured recordings safe from being erased or damaged should burglars recognize the hub and break it. One fun feature that some versions of these cameras have are their ability to connect to android smartphones and digital assistants. With a single spoken phrase, you can bring your recorded footage up on your television or computer monitor to view at any time. These cameras feature motion detection, enabling them to reserve power and activate when necessary.
Hilariously, some robbers see these cameras regardless of their size and recognize they are being recorded. Most do not realize that the cameras themselves do not contain their own recordings, but send it to a central hub to be stored on memory or on cloud storage. This video by the West Midlands Police Department in the UK shows clueless burglars seeing cameras and stealing them so their identities are not discovered. But, of course, they are identified regardless, and the pictures would provide a rock-hard case against them in court.
Video Doorbells
Second, a video doorbell is a unique camera that is built into your home and usually features a motion detector. The moment it senses someone at the door, it begins recording and saves the images wirelessly onto a computer. These security cameras often include two-way audio to allow for conversation without unlocking and opening the door. If you work with a company to install the doorbell, some offer a connection to your smartphone through an app that can alert you of someone at your door no matter where you go.
Some video doorbells can also connect to digital assistants like Alexa. Most video doorbells record in high-definition and even feature night vision and infrared vision to help you identify anyone who visits you during the evening hours. Better yet, it doesn't matter if you already have a doorbell installed next to your door: some models of doorbell cameras can be powered with your home's already installed doorbell wires or they can be attached wirelessly with rechargeable batteries. Pointed directly out your front door, these cameras can help identify anyone from your own kids to anyone caught stealing packages from your porch.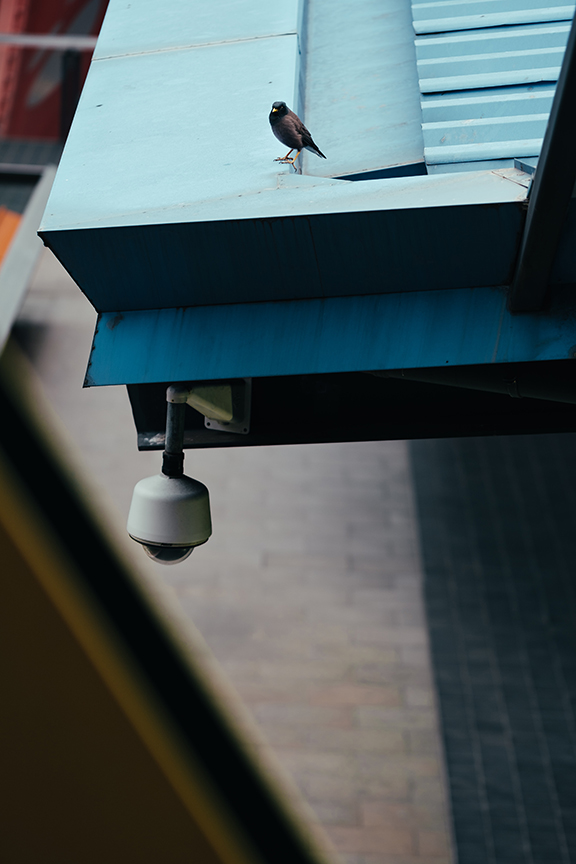 Dome Cameras
Next, if you have gone to the grocery store or a public building, you may have noticed a dome camera or two installed on the ceilings. These cameras offer high-definition video wherever they are pointed. Dome cameras offer an additional type of security that can make would-be criminals a bit nervous: dome cameras feature darkened domes, meaning the camera angle will be obscured. Sometimes these cameras even have an adjustable base, allowing it to rotate. It could be pointed in any direction, and no one but you will know the precise direction. Domes can be installed both indoors or out and often include a wide-angle lens, enabling you to see a much wider area than a regular camera.
Dome cameras can record a live view in either 1080p or 720p depending on your preference of quality and the size of your recording memory space. Domes often feature weather-proof casings and programmed lighting adjustment, meaning this camera will present you with a clear image in both dark or bright environments. These cameras use coaxial cables that lead through your home and can be attached to a television for clear viewing, and connects to your home's electricity for dependable recording whenever you need it.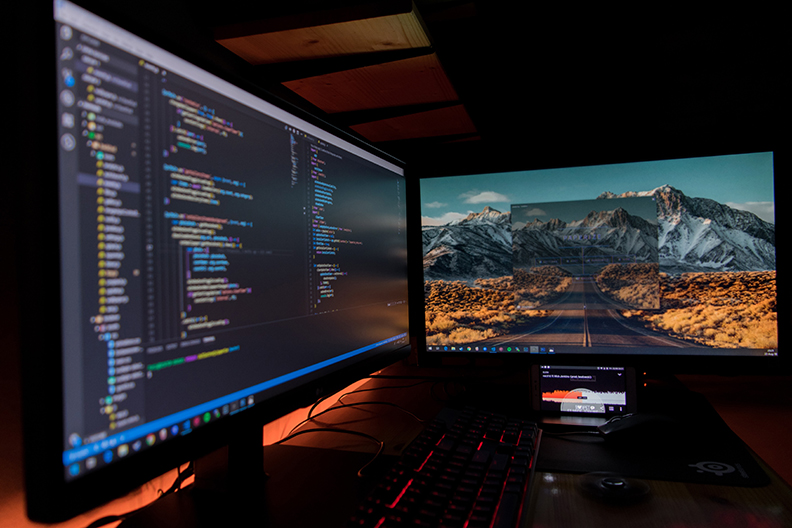 ONVIF Compliant
Like most electronics, there exists hundreds of different brands and designs. If you're looking to mix and match your security cameras, you'll probably be stringing together as many wi-fi signals as you have cameras, and it will become a complicated mess to protect your home.
A solution to this is having products that are ONVIF compliant. As quoted by their homepage at onvif.org, "ONVIF is an open industry forum that provides and promotes standardized interfaces for effective interoperability of IP-based physical security products". Essentially, this means that security camera systems that are compliant with Onvif connect through IP (or internet protocol) networks to connect an entire security system into a single hub. Formed by Axis Communications, Bosch, and Sony in 2008, this unique compliance is separated into several different profiles based on the capabilities of each system, such as door control or advanced video streaming.
Explored through SCW Surveillance Systems, several brands are joining the Onvif standard because of its effectiveness. One point of importance the website mentions is how purchasing a line of security cameras from a single well-known brand such as mentioned above will give you the best chance of organizing your system into a Onvif one. Another vital point about Onvif is that while conformance is becoming the norm for established brands, the standard does no policing on its own, meaning it is up to the end user to determine if the system they are looking for follows this centralized system. Some cameras start out as compliant but may break from the protocol due to an update in the software. Some may not be compliant at all, and it becomes a gamble on whether or not they work as advertised.
Because the safety of your home and property is so important, we'd recommend buying products from the same company so that you need not worry about being ONVIF compliant. Connecting systems might be difficult to do even if all the products you've purchased are ONVIF compatible.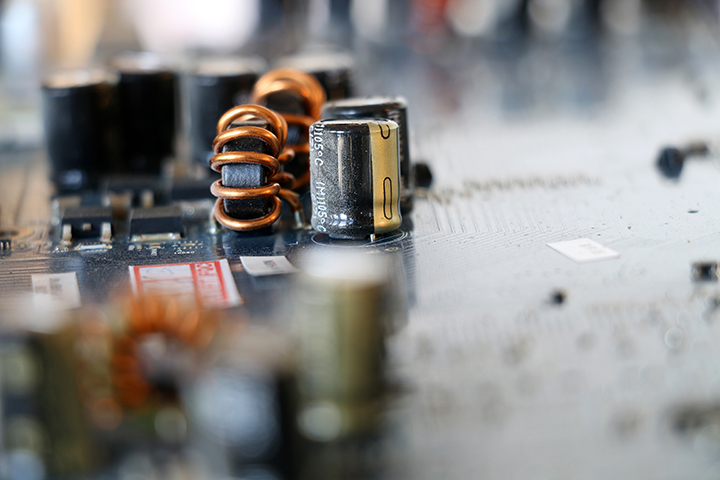 Emerging Technology in Surveillance
The idea of asking Alexa to pull up your home's security images may sound advanced enough. But cameras are becoming even more complex and sophisticated as time goes on.
Facial Recognition
First is the concept of facial recognition. Cameras record images of people, from as few as one to a large crowd, and through software installed on the central surveillance system can single out and identify anyone facing the camera. Facial recognition has the potential to alert authorities should the software detect the precise structure of a person's facial features as recorded in the past. Installed in such areas as the Tokyo International Airport, this technology can aid law enforcement in capturing criminals trying to escape custody by attempting to blend in with the general public. In the United States, however, many have argued against this type of surveillance, citing a right to privacy and an infraction of the Fourth Amendment of the Constitution. While this continues to be debated in major courts, facial recognition continues to be perfected and used to spot individuals deemed dangerous.
Security Camera Batteries
Concerned that your wireless camera will run out of batteries just as they are about to be useful? Two new ways of powering your cameras have appeared in recent years, both of which are genius. The first is your camera's smartphone app: the moment your camera's battery is starting to run low, you will receive an alert telling you to charge the unit or replace the batteries. The second and perhaps more ingenious design is a solar panel attached to the camera and drilled into the roof through a wire, or one attached to the camera itself. The batteries of the camera charge during the day and remain powered through the night.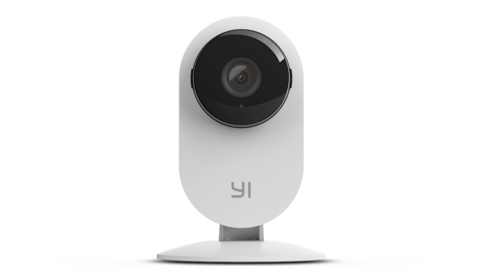 If you're looking for a high definition 1080p security camera for an affordable price Cove has the camera you need. Our indoor cameras allow you to view the cameras feed remotely and even has two way audio. Protect your home with the best technology available on the market today, and you won't be disappointed with the results.
---
Ready to get started?
Take this short quiz to build your customized system today!
Takes less than a minute
---