Alarm Systems
, Cost and Savings
How to Change a Key Fob Battery: A Necessity For Keyless Entry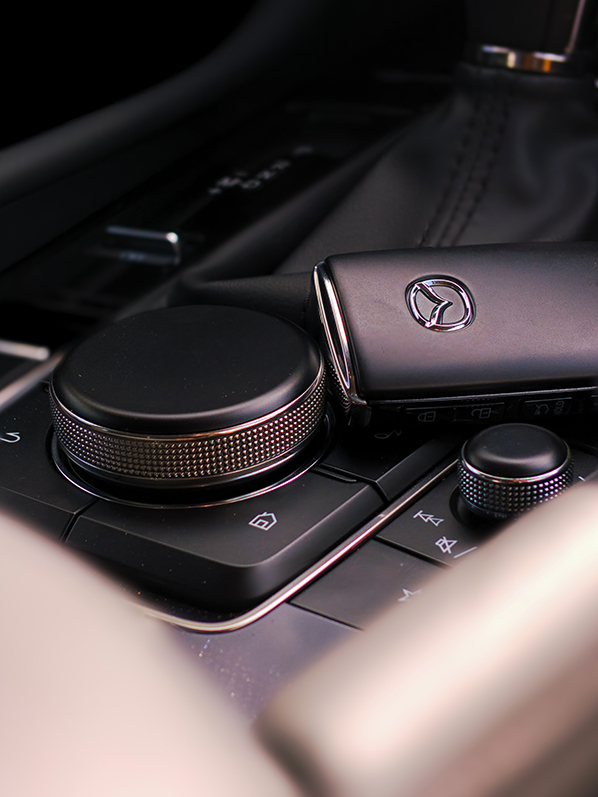 Here's a simple question: how did you get into your car this morning? It's something so basic, if you drive a car you probably rarely think about it. If you purchase an automobile from 2005 and later, the salesperson doesn't just give you a solid key alone. Without a doubt, a key fob (also called a remote) will be attached, a wireless device that can lock and unlock your automobile with the push of a button. In fact, with today's modern vehicles, you can only purchase a car or truck that lacks a remote through special order.
Key fobs come with the ability to turn off your alarm should it go active. But something you may not know is that some cars include an unfortunate feature: its alarm goes off automatically when your key fob is low on power. Not only is this reminder quite loud, it can be quite embarrassing if you have not had the pleasure of experiencing this and do not know how to turn it off! Believe me, my Mazda3 and I speak from experience.
Keyless entry is a wonderful feature for any automobile to have. But what if the battery in your key dies? Key fob batteries have a great lifespan, but it will happen eventually. So how do you replace the battery?
General Steps to Follow
Key fobs come in many shapes and sizes, but there are some basic steps you can follow to get a new battery inside with ease. Before following these instructions, consult your owner's manual for specifics about the type of battery you will need for your particular remote.
Some key fobs come with a latch for easy assembly and disassembly. If this is the case, it is as simple as opening, switching the battery, closing, and you are good to go! Key fobs from brands like Toyota include this feature.
If this is not the case, many key fobs come with physical keys attached to the fob in case of emergencies. Pull out the key and search for a switch (this is the case with mid-2000s Nissan vehicles). Then follow step one and the rest is a breeze.
Older model vehicles that use key fobs may include small screws to divide the top of the key fob to the bottom. For this, you will need a flat-head screwdriver to unscrew the screws, and then use the screwdriver to open the top and bottom portions of the key fob to access the battery in the middle. Be careful if the key fob does not open easily.
Replacing the battery inside your key fob is relatively simple at this point, as very few fobs keep their batteries held tightly. You can remove the dead battery (carefully) with the flat-head screwdriver or with your thumb. Insert the replacement and reassemble the fob with either the latch or screws.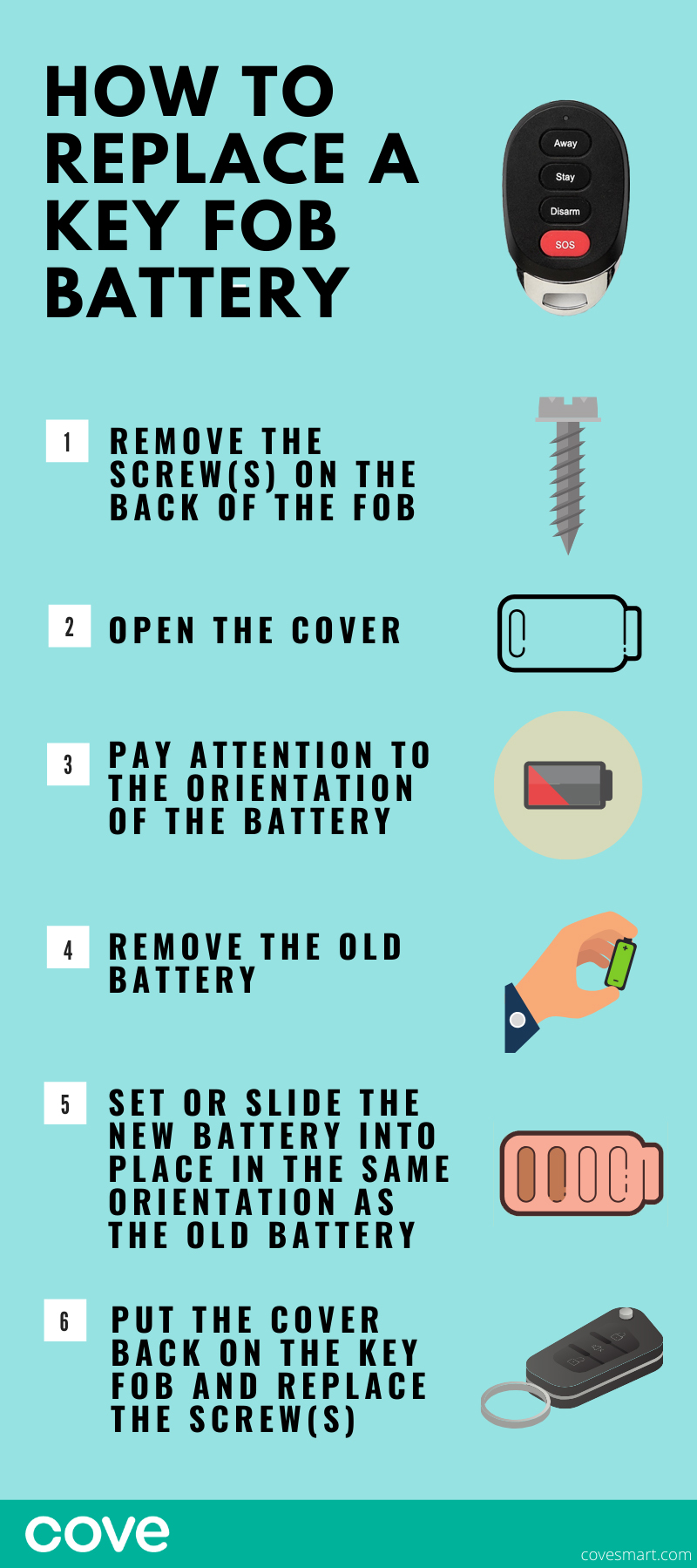 What To Do With A Dead Keyless Entry Fob
If you have ever bought an automobile before, you know it is rare for your vendor to not include a spare key fob. But if for whatever reason this isn't the case, there is something you can do if your fob dies. Manufacturers know that their remotes will run out of power eventually, and have planned for such an event.
First, check your owner's manual to see if your key fob includes a spare battery that only becomes active when the main battery runs out. In this case, no problem. If not, many brands offer services you can access through a quick phone call or app on your smartphone in order to open the car automatically when you require assistance (this is also helpful if you accidentally lock your key inside):
Honda does not have GPS-enabled entry, but they do offer roadside assistance. Consult your dealership to see if roadside assistance is included with your warranty.
Lexus automobiles do have GPS-enabled service that will open your doors. They also offer roadside assistance to those with a warranty. Again, consult your dealership for the specifics of the system.
Volkswagon's Car-Net service can open your automobile door from anywhere so long as you are part of the program and have a clear cellular signal. Essentially, your phone becomes your key!
Speaking Of Which…
The technology behind GPS and NFC (or near-field communication) wireless devices is coming together so closely, we may not even need key fobs in the near future! As reported by MacRumors.com, Apple is working on a project called "CarKey", which will enable the very presence of your phone to lock, unlock, and start your automobile just like a keyless entry fob. Not only that, but you will be able to message another person your "keys" so that they can have access to start your engine.
As always, security is a concern taken very seriously; thus far, only iOS iPhones with biometrics (fingerprint or face recognition) can be used for keyless entry. As stated in the article, there is no release date as yet, although the release of iOS 13.4 could give us details. The debate whether smartphones should be used in this manner continues, but it sure gives you an idea of what automobiles will look like in the years to come.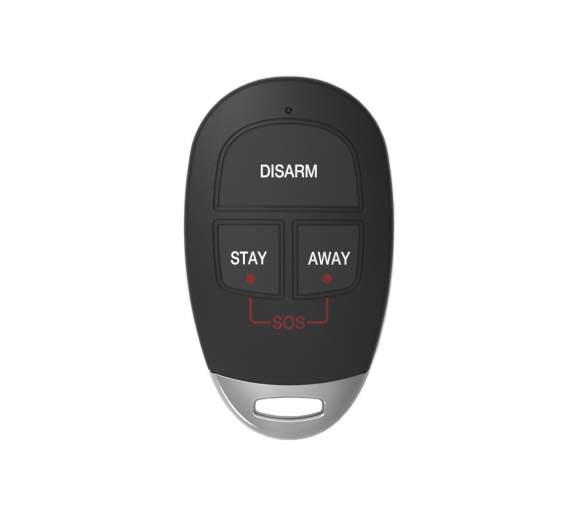 How to Replace a Home Alarm system Key Fob Battery
If you have a top of the line security system like Cove's, then you'll likely receive a notification when the batteries are low for the key fob that you use to turn on or off your security system. If not, you should consider switching to Cove and their home security key fobs. While the steps below are specifically for replacing a Cove key fob they should still help you to replace a battery for other key fobs that you have.
Disarm your Cove system before you begin this process
Remove the screw on the back of the remote
Open the cover
Pay close attention to the orientation of the (+) of the battery in the remote
Remove the old battery by sliding it out of the battery clip
Slide new battery into place
Put your remote back together
For a complete list of steps for changing your key fob battery, click here.
---
Ready to get started?
Take this short quiz to build your customized system today!
Takes less than a minute
---