DIY Home Security
, Alarm Systems
, Home Safety
Types of Window Alarm Sensors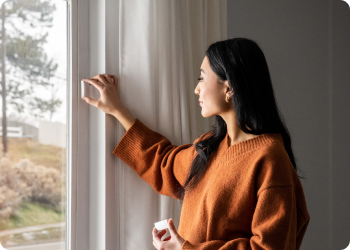 Besides front doors, did you know that first-floor windows are some of the biggest targets for intruders trying to gain access to a residence? That's why we highly recommend using window alarm sensors to help keep your family safe. They're inexpensive, easy to install, and an important part of your home security system.
The type of window sensor you choose depends on window design, your specific security needs, and budget. In this article, we'll go over types of window alarm sensors so you can find the ones that work best for your home or apartment.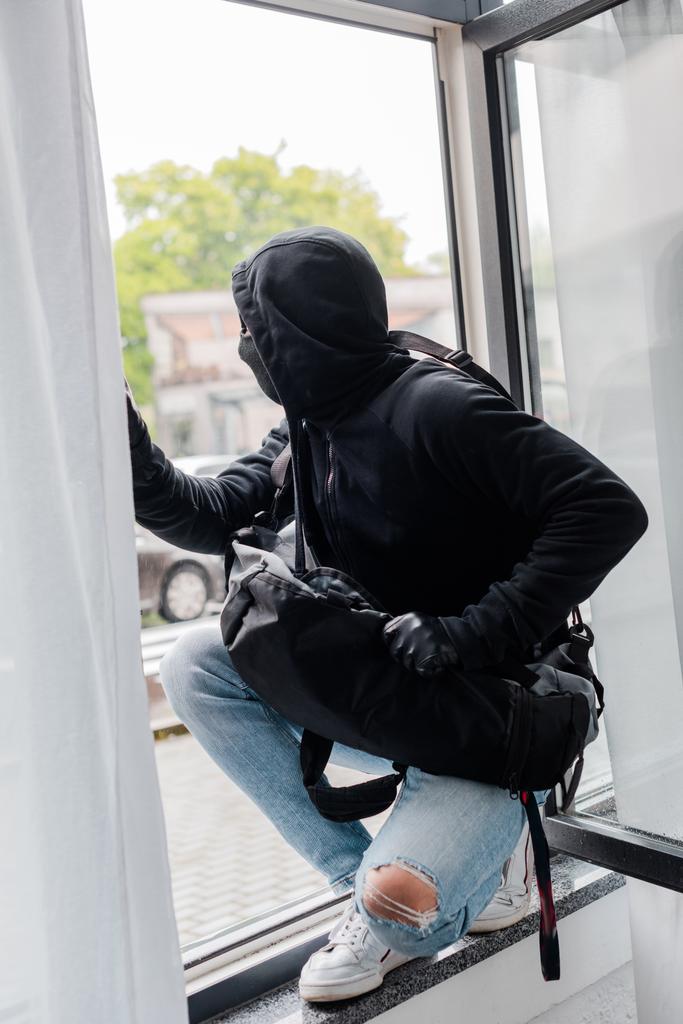 How Often Do Criminals Use Windows?
How burglars get into homes is, well, alarming. While most gain access through the front door, another main target is first-floor windows. Check out these statistics:
In a survey by the Alarm Industry Research & Education Foundation, victims reported that the method of entry for criminals was as follows:[ 24.1% went through a broken window, 4.4% used an opened window, and 14.6% forced a window open].(https://siacinc.org/wp-content/uploads/2022/04/Burglary-Victims-AIREF-Study-Presentation.pdf)

A few years ago, Cove conducted a survey of 993 people who've experienced a break-in. According to respondents, intruders broke into windows 39% of the time in order to gain access to the person's residence.

In 40% of unlawful entries to unoccupied residences, offenders gained access through an unlocked door or window (see Table 7). A smaller percentage (5%) of unlawful entries while no one was home was through a locked door or window by unknown means; 8% of offenders used a key to the residence to gain access. For households occupied at the time of the burglary, offenders were equally likely to gain unlawful entry through an open (27%) or unlocked (28%) door or window. Respondents in 18% of burglaries of occupied residences stated that someone inside the home let the offender in; 12% stated that someone inside opened the door and the offender pushed their way in. Nearly 4% stated that the offender had a key to the residence and used the key to gain access. (Source: U.S. Department of Justice)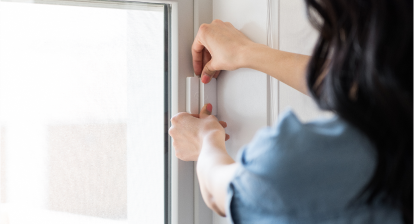 Window Contact Sensors
You've probably seen these before but didn't fully notice them. That's because window contact sensors are small and meant to fade into the background. A window contact sensor is a very simple, basic device that is made up of a sensor and a magnet.
One piece, typically the sensor portion, is attached to the window jamb and stays put. The magnet portion typically goes on the window itself. That way, when the window is opened, the magnet moves away from the sensor, breaking the magnetic field and tripping the sensor.
The great thing about these types of sensors is that they are inexpensive and easy to install, so you can get multiple and place them on all necessary windows. That way, your home is protected.
Click here to learn more about Cove's window sensor, which is designed to be used indoors.
One thing to consider when looking at window contact sensors is whether they are "surface mounted" or "recessed."
Surface mounted window sensors are installed onto the window usually using a strong adhesive. Because they are so easy to install, homeowners can do it themselves; plus they are easy to take off if the resident moves.
When installed, the sensor sticks out from the window, though they are usually white or beige so they're not super noticeable. For some, they don't like that they aren't streamlined and perhaps could be seen by burglars from outside the home.
If tampered with, for example if the burglar tries to remove them, the sensor will be tripped and alert the homeowner.
Recessed sensors are window sensors that are installed so they are more hidden. Typically this requires more skill when installing, including drilling holes into the window and the window frame. A homeowner may need help in order to do this, plus if they move they will be harder to remove. But some prefer these since they are more hidden.
How Many Window Sensors Do I Need?
The answer to this question varies, depending on your specific home/apartment and security needs. At Cove, we recommend at least one sensor per window on the main floor, as well as any basement windows that a criminal could access. If you have any second story windows that are fairly easy to access, we recommend sensors for those as well.
How to Install Window Alarm Sensors
Check out the video above for instructions on how to install your Cove window sensor(s).
Your touch screen alarm panel will walk you through connecting and naming your sensor(s). To physically install the sensor to your window, first clean the area on the window itself and the window jamb. Next, remove the adhesive cover from the window sensor.
Mount the large part on the door jamb and the small part on the window itself (you may need to switch them depending on your window size/design). When the window is closed, the two pieces should be only about one inch apart.
If you have questions or need assistance with installing your window sensors or any portion of your Cove home security system, don't hesitate to call our customer service team 24/7.
Glass Break Sensors
Just like a window sensor, a glass break sensor's job is to alert residents if someone is trying to get through a window. But what if rather than opening it and breaking the magnetic field of a window sensor, the criminal breaks the glass to gain access? If that's the case, a window sensor that uses a magnetic field won't be effective. You need a glass break sensor.
When a criminal tries to get in by breaking a window, a glass break sensor has you covered. It's a small device placed close to vulnerable windows. It has a sensor that can "hear" the frequency of a window breaking. Pretty cool, right? So whether you're away from home, or upstairs sleeping, you'll know if someone is trying to get in.
Click here to read more about Cove's glass break sensor, which is designed to be used indoors.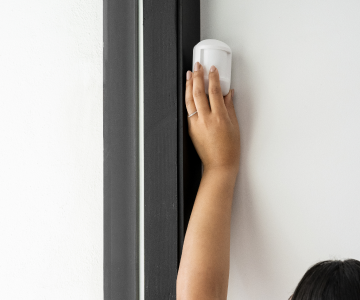 Motion Detectors
It never hurts to have multiple layers of protection. In fact, we highly recommend using more than one type of sensor so all your bases are covered.
Motion detectors are devices that you can place on an interior wall that sense movement. Old motion sensors used to detect everything, causing a lot of false alarms. But with newer technology came sensors better tailored to homeowners' needs.
Cove's motion detectors use an infrared sensor in order to detect the body heat of the intruder. If the sensor detects a sudden rise or fall in temperature, like an intruder crossing through your kitchen, it will send an alert to your security system's control panel to notify you of the possible danger.
That way, you won't get false alarms if your pet crosses in front of the motion sensor, for example. Click here to read more about Cove's motion detector, which is designed to to used indoors.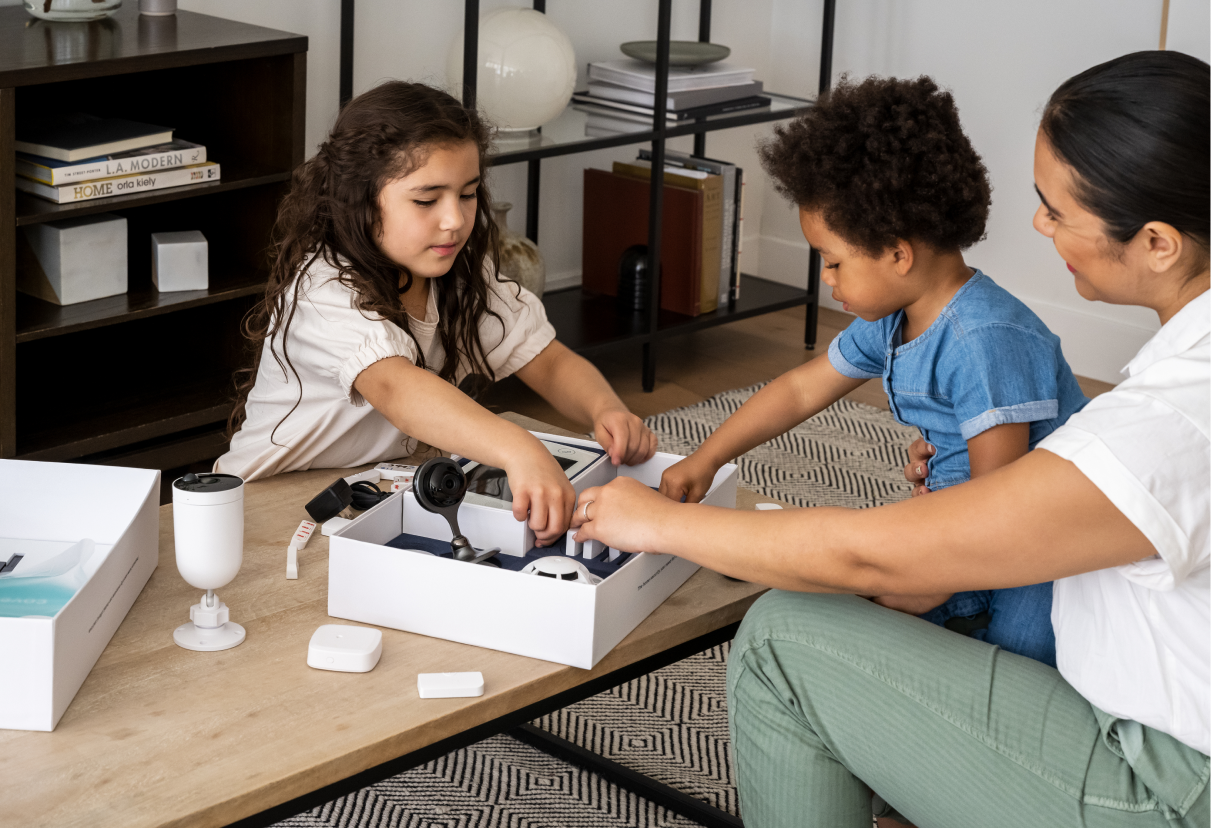 Cove Home Security
You want a safe home, and Cove is here to help. With all the equipment you need, including window sensors, glass break sensors, and motion detectors, you can rest assured that you're safe.
A typical home security system also includes cameras as well as our touch screen alarm panel, which connects all of the equipment. Your home then becomes a hub of safety and security. Our professional monitoring service, which costs less than $1 per day, alerts you whether you're home or away, and calls the police on your behalf.
Click here to take our quiz and customize your system today.
---
Ready to get started?
Take this short quiz to build your customized system today!
Takes less than a minute
---