Security Cameras
, Burglary and Intrusion
, Security Basics
Choosing the Right Indoor Security Camera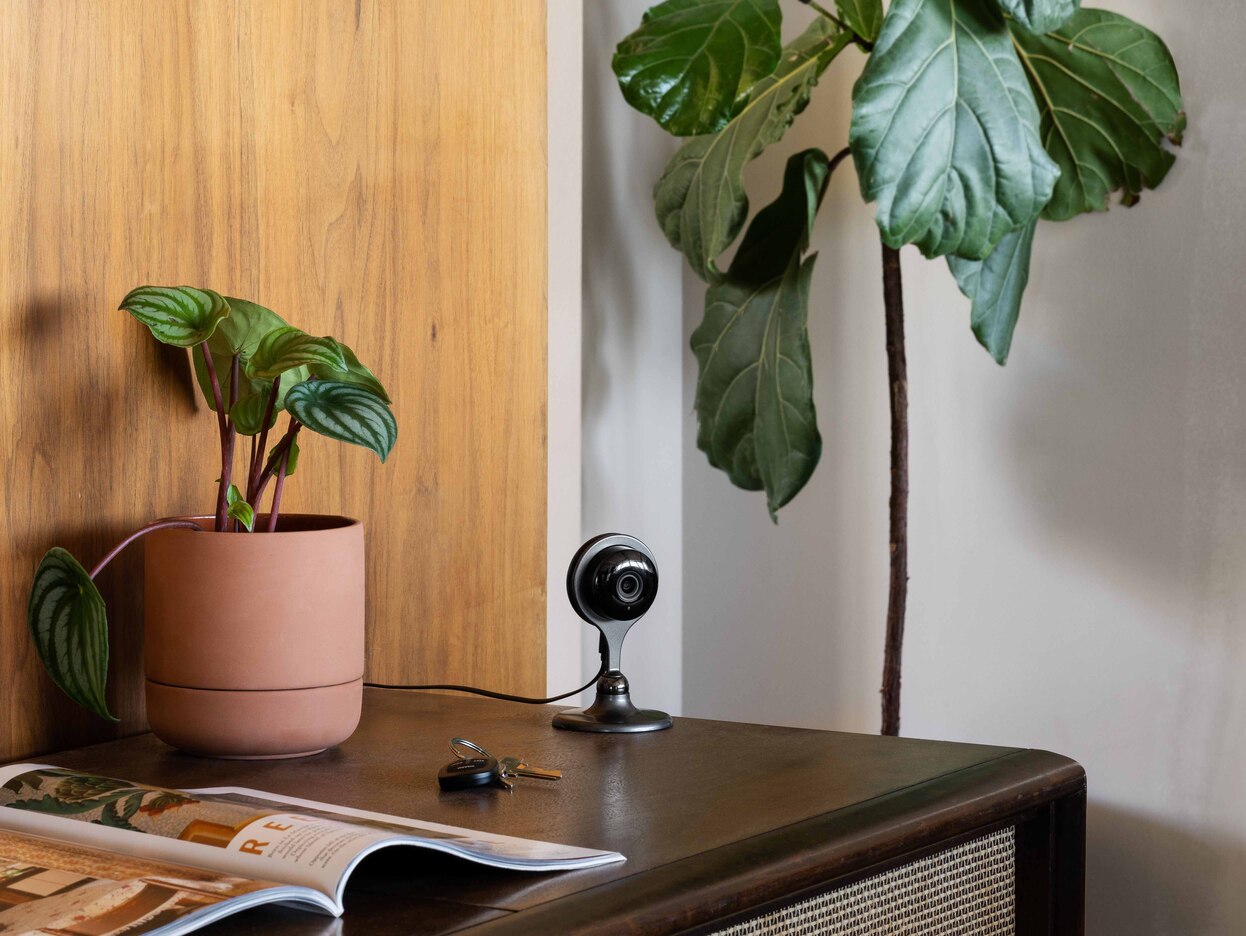 Ever wondered which indoor security camera is the best? Picking your security cameras can get stressful. There are many things to consider before you commit to a camera. For instance, do you want outdoor cameras? Is a video doorbell sufficient? What about an indoor camera? Wireless or wired?
This article will primarily discuss how to choose the right indoor camera for your home, but we'll also provide you with a few tips on choosing your other cameras as well.
If you're interested in checking out Cove's indoor camera (which you can get for free with your security system) click here.
What's the Purpose of an Indoor Camera?
Outdoor cameras and doorbell cameras have pretty specific functions: keeping an eye out for visitors and intruders, protecting packages on your porch, and watching for suspicious activity in your neighborhood. Indoor cameras, though, are focused more on your home's interior. So what is the purpose of an indoor camera? Well, there are a few:
Exterior security camera: You can point an indoor camera out a window if you'd like it to serve a similar purpose to an outdoor camera. Many people choose to do this when they're on a budget, because indoor cameras are generally less expensive than outdoor cameras, due to the lack of weatherproofing required.
Interior security camera: Placing indoor cameras in high-traffic areas of your home can help you to identify an intruder, should they make it inside your home. It can also help you to identify what an intruder takes if they steal anything. Camera footage is always helpful to police officers at a crime scene.
Pet camera: If you have pets and leave them at home during the day, an indoor camera can serve as a helpful way to check in with them and make sure they're doing okay.
Nanny cam: If you have kids, and you leave them with a babysitter, an indoor camera can put your mind at ease.
Baby monitor camera: An indoor camera can double as a baby monitor camera easily, allowing you to keep an eye on your little ones during naptime and nighttime.
Features to Look For
Every indoor camera should have a few basic features, and it's important to know which features are important, and which ones aren't.
If you're considering an indoor camera, here are a few tips:
Get something with night vision. Whether you're using your camera as a baby monitor or a security camera, you want to be able to see what's going on 24/7. Color night vision can be a nice feature as well, but keep in mind that color night vision does not mean clearer night vision. Pay attention to whether the night vision is high definition.
Choose a camera with the kind of storage options that you need. For instance, Cove's Indoor Camera provides 7-day free cloud storage and a microSD card slot (with a memory card included) for backup. That way, if a burglar tries to steal your camera, you'll still have footage backed up to the cloud.
2-way communication is an important feature to have. You want to be able to hear what's going on around your camera, and also be able to speak through your camera.
If you're considering a totally wire-free battery-powered camera, you might also look into a WiFi camera that plugs into your outlet. Batteries can be great for convenience during setup, but you do have to remember to charge them. If you opt for a wire-free camera, make sure it has enough battery life for your needs.
Go for a motion-detecting camera with automatic recording. This feature is pretty standard for security cameras now, but it's good to get a few seconds of recorded footage after your camera detects motion.
The Best Indoor Security Camera From Cove
Cove's indoor camera provides 2-way communication, motion detection, and 7 days of free cloud storage with SD card backup. Our indoor cameras offer video recorder capabilities, so you can save clips and watch them later. If you're looking for a great home security camera, Cove's is a wonderful option It usually costs $99, but you can often get one for free with your security system.
Our home security systems are contract-free and have a low monthly fee. Our systems also provide smart home integration and remote arming and window sensors.
Other Security Camera Options
While an indoor camera is a fantastic tool for watching your home's interior, it's a good idea to back it up with an outdoor security camera or two and a video doorbell. If you're looking for a specific type of video doorbell, check out our "Choose Your Doorbell" information page.
Good luck as you embark on finding the best security cameras for your home!
---
Ready to get started?
Take this short quiz to build your customized system today!
Takes less than a minute
---