Home Safety
, Security Basics
NVR Vs. DVR Security System: What to Look for in your Camera Security System
Two things are most important in life: personal safety and the ability to make a living. Nothing will make you feel less secure than someone breaking into your home. And property damage and theft of your business or property can make your financial future uncertain. While property crime is at a low from 2014 to now, the numbers remain staggering and account for $16-$17 billion dollars annually.
Unfortunately, you cannot be in a million places at once to prevent damage and intrusion. Burglars often target homes during the middle of the day when homeowners are elsewhere, and the cover of night enables such criminals to break into businesses with impunity. Worse, if you have no security measures in place, you will have no idea who committed the crime or how you might be able to get your property back. Home and renters insurance can only cover so much, especially if the crime includes arson or other such serious destruction. And almost no kind of security can bring back a feeling of ease and comfort if you experience physical abuse or violent crime during an intrusion.
So what are your security options? Alarms are a good option, but unless they automatically contact emergency services, it may not prevent the incident in time, especially if the crime can be performed in less than ninety seconds. Another is to install dummy cameras in visible locations to deter theft. While these are inexpensive, these pieces of plastic do not have the same negative psychological effect they used to. They may not even be visible during the night when would-be criminals feel the most emboldened. If "aimed" incorrectly, these can even have the unexpected effect of making honest people nervous about your place of business. No one wants to walk in front of the house or business with a conspicuous camera pointed right at them.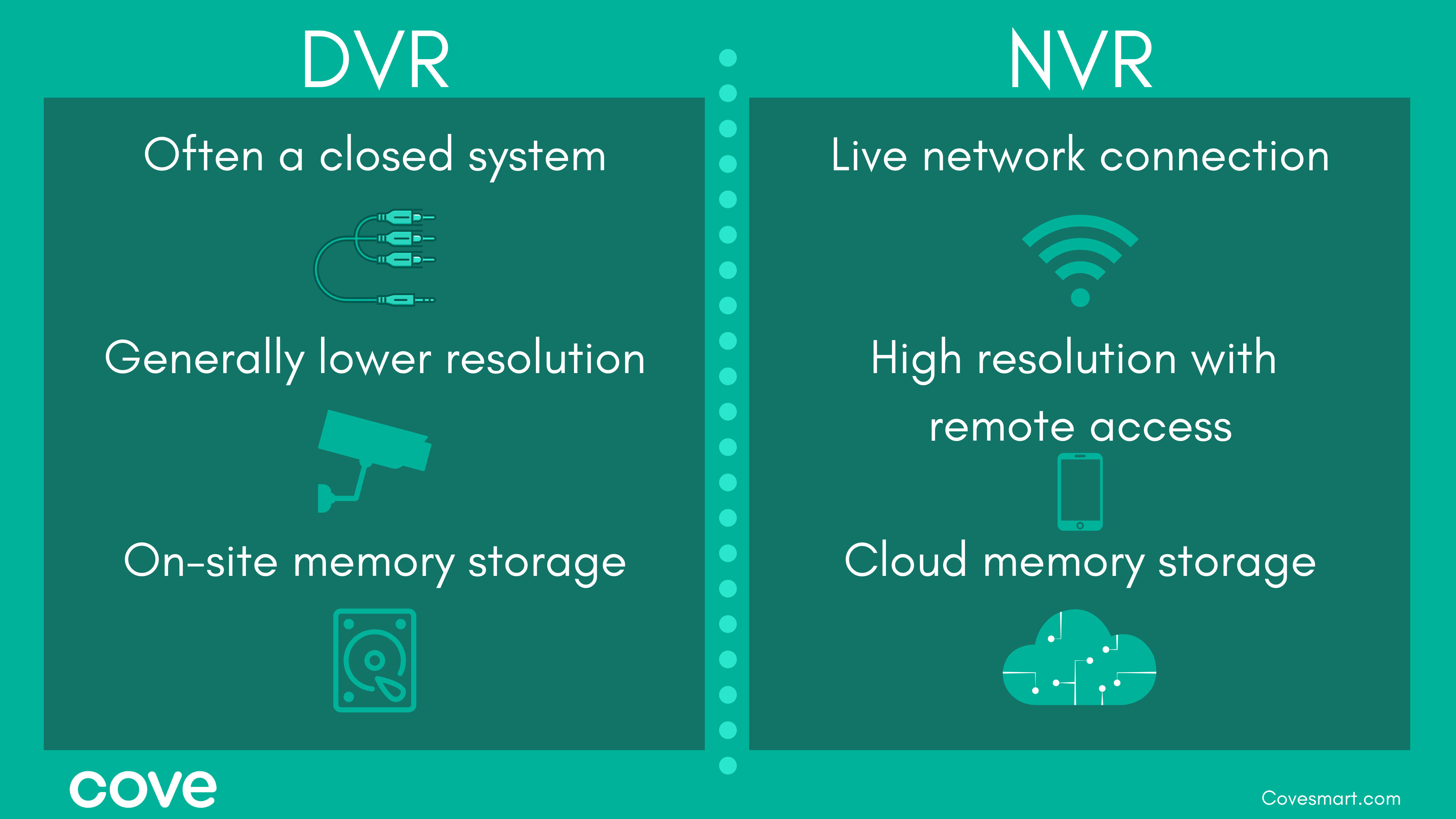 Security Camera Systems with DVR and NVR
In order to understand how to best utilize a DVR camera system, it is a good idea to familiarize yourself with their basic characteristics, as well as the difference between an NVR (network video recorder) system and a DVR (digital video recorder) system. Typical DVR systems include and require the following:
The cameras themselves. Mountable on walls or ceilings, each camera may come with a few basic functions such as infrared video surveillance for night vision or low-light settings, a microphone for recording sound, and weatherproof casings. DVR cameras also come in many sizes for conspicuous or concealed recording. Recordings taken through reliable cameras will include full and clear timestamps for accuracy, and may include motion detection to save on total memory space.

Physical connections for power and data, usually through coaxial cables. This is the most intensive installation, as each individual camera must be connected through a cable to a central hub. DIY installation is certainly doable, but hiring a contractor or electrician to feed each coax cable through your walls may be a good idea if you wish to be sure everything will function without problems.

A central hub. This central system is where the recording and sound data will be stored. From here, your system can be customized to your liking, changing your camera's frame rate and resolution and managing your total memory. DVR hubs usually operate with a dedicated and security-rated HDD (or Hard Disk Drive) which can be expanded with additional external hard drives, thumb drives, or SD cards.
The true difference between modern DVR and NVR security systems is the ability to connect your central recording to the internet in order to update software through an ethernet cable or wirelessly and store recordings on the cloud. Depending on the amount of space you require, cloud storage space can be rented for free or for a monthly fee depending on the service. When you no longer need video surveillance footage to be stored in your memory, you can overwrite it to continue recording without issue. This also solves one important problem: should your cameras or central hub be disabled or damaged, external cloud storage will ensure you don't lose access to your recordings. This may be vital to identifying who turned off your hardware.
With this internet connection, you can watch your cameras in real-time through an app on your iOS or Android smartphone, tablet, or laptop from anywhere in the world through remote viewing. When the memory space limit has been reached, or if any general problems are detected, your hub can sound an alarm or send you a message through text or email on your mobile device. Some systems will even alert you the moment your cameras sense motion.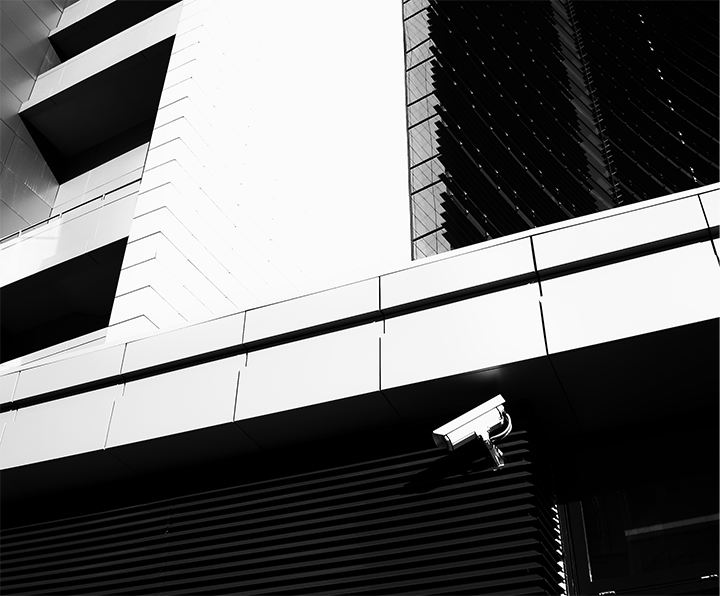 Low Resolution Versus High Resolution
Let's say you install an actual camera system on your property that appears to do the job properly. According to this article written by Russell Kua for RojakDaily, Kua describes a particular aspect of CCTV (or closed-circuit) security cameras that many businesses employ: why are almost all of their video quality so terrible and grainy?
Cameras set in certain places require different resolutions. When setting up your outdoor cameras put them high up, they need a decent range to identify minute details such as license plate numbers. Indoors, you can probably get away with a smaller resolution if aimed from a tighter position. High-resolution images take up enormous amounts of memory storage, so most security systems tend to "do more with less", keeping resolution as low as possible while still being useful. Some even run at lower framerates (or images taken each second) to save on memory. Regardless, a single camera with decent resolution can build up gigabytes and even terabytes of hard drive space in a matter of days. With a regular CCTV system with multiple cameras, you can just imagine the kinds of memory space the video footage can take up.
Which introduces our main topic: NVR security camera systems. While these security cameras may also be CCTV, they have several advantages to older systems thanks to specific technological advances you may find intriguing.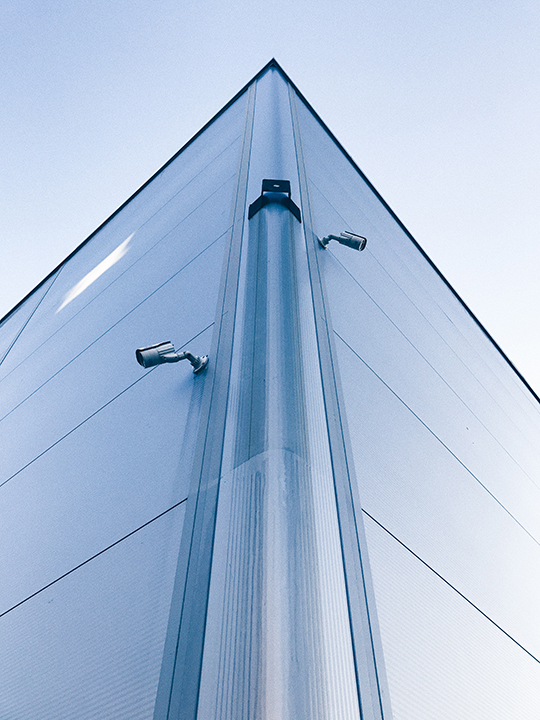 Best NVR and DVR Cameras
Here are a few camera designs you can choose from to operate under different circumstances:
Outdoor Security Cameras
Although you may have an image of these security cameras in mind, they do come in many different designs. A quality cctv camera or network outdoor camera are manufactured to withstand any weather, warm or cold, rain or snow. They also share features previously mentioned, such as infrared recording for low-light or complete dark conditions. Often connected to the interior of your home by coaxial cables as a complete video surveillance system, the main disadvantage of an outdoor camera is the installation method. Also a worry is the fact that a burglar familiar with cameras could take a pair of wire cutters and sever your connection to your camera. Don't let this deter you from picking up a reliable set of cameras, however, as there are many designs that can give you the advantage instead. Small and hidden outdoor cameras facing narrow corridors such as entrances to back yards or cameras attached to roof ceilings or patio awnings can allow you to survey your property without making any but the most perceptive thief aware that you have any cameras at all.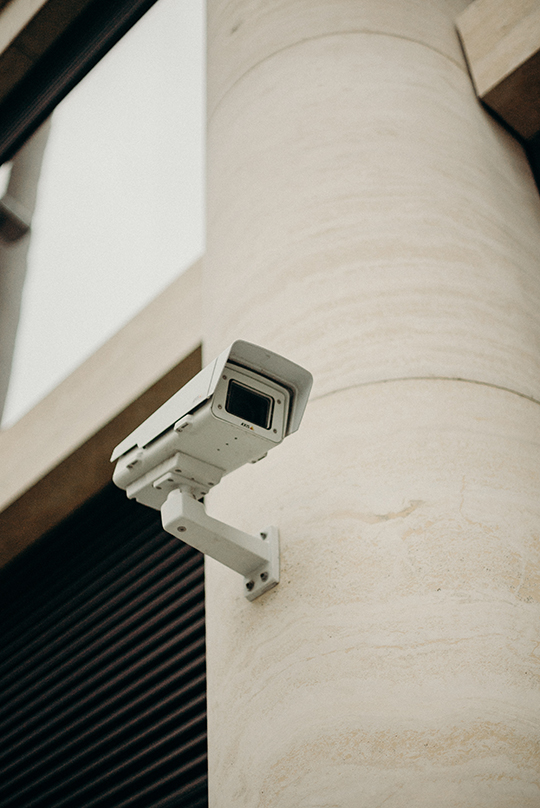 Bullet Cameras
Also known as lipstick cameras, a bullet camera can be placed in almost any location without being seen. Usually wireless and battery-powered, bullet cameras are perfect for indoors, especially when aiming at tight or specific angles such as hallways or back offices. And despite their size, these cameras can record at great resolutions and sometimes share infrared recording and even two-way audio capabilities. Often these cameras have been used as baby monitors but have since found other uses.
Available from CoveSmart.com is the Yi Indoor Camera, a type of motion-activated bullet camera that works perfectly as a way to keep an eye on your home any time of day. With the Yi Indoor Camera, you do not have to compromise on high resolution video quality or memory storage. Recording over your wi-fi internet, the camera comes with cloud storage or a slot for a micro SD card to store even more. Place this camera within a high-traffic area of your home and record during the day to ensure your kids get back from school safely and ensure that the interior of your home is safe. These cameras make for a great indoor surveillance solution!
Dome cameras
You may have seen these cameras on the ceilings at school, at the grocery store, or in your office building. In fact, dome cameras are used in so many places, we often don't even recognize them anymore. That is not to say their presence isn't felt; dome cameras are covered by a dark tinted dome (hence the name) that make it difficult or impossible to tell where the camera is aimed. This is a great way to not only keep your business or home safe, it also offers a great deal of deterrence to any would-be criminal; the advantage of a dome camera is that you never quite know where it is pointing. Dome cameras can usually be aimed and adjusted on the fly by security officers or even through a personal digital device for a complete 360° view. While dome cameras are a bit less common for home use, their advantages are certainly something to think about, especially if you have a horizontal roof or ceiling upon which you can install one. Most are connected through either an ethernet or a coaxial cable, so keep this in mind as you install these cameras.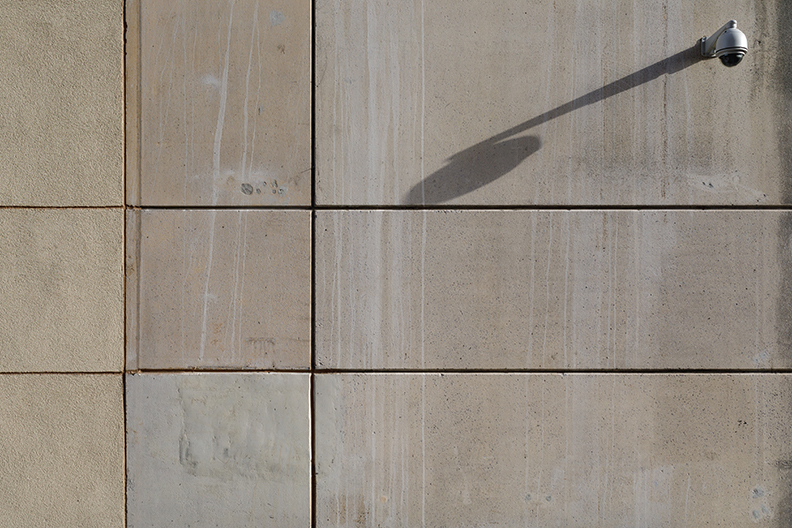 Doorbell Cameras
Not everyone can quickly get to the front door if someone knocks. And not everyone can be home to accept a package when UPS or FedEx comes by in the early afternoon. Although doorbell cameras are great for this purpose (especially since nearly all of these cameras include the ability to speak to the person at your door), they serve as a fantastic security tool. Most burglars do not want to sneak behind to the back yard or break a window if the front door appears unlocked. If you search online, there are hundreds of examples of thieves walking right up to the door and swiping packages sitting on the porch. Unfortunately for them, once it senses movement, the doorbell camera catches every detail and can help police identify the culprit.
Doorbell cameras have a very practical use as well. When neighbors, family, or your kids get home from school, your camera will often have the ability to unlock your front door. Through your cell phone, you can lock and unlock your door as well as keep an eye on your front porch. In combination with a camera from up above, for example, you will have all the camera angles you need to identify anyone who comes by the house.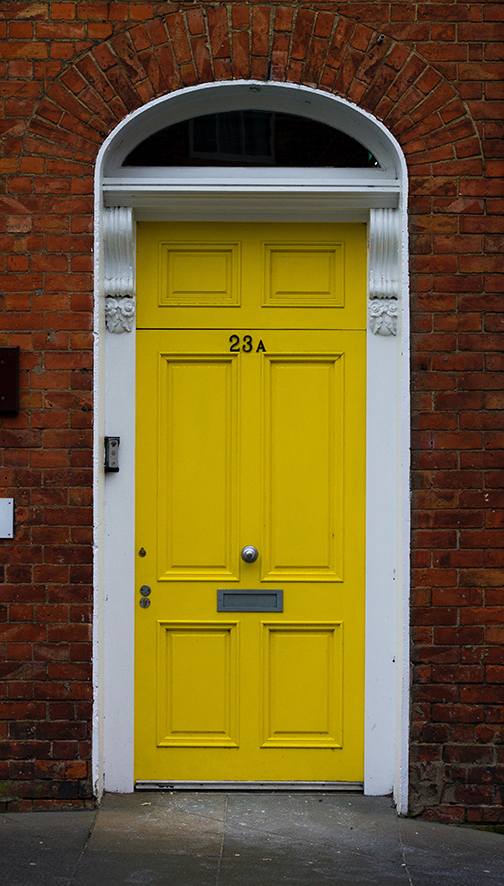 The Wisdom of Home Security
An article written for KTBV7 News in Idaho shared many interesting details about what goes through the mind of a burglar before and during a home invasion. They interviewed 86 burglars currently in prison. When speaking about specific targets and deterrents, the article notes a few things you can consider when setting up your security cameras inside your home.
Some of the inmates said that the very presence of cameras indicated to them that the house contained valuables inside. While this may be true, the obvious truth is that functioning cameras do their job in catching criminals. Burglars like to target master bedrooms first; setting up a camera in a hallway nearby may be a good idea. Burglars liked homes with large bushes and good cover when going to a back door, so set up an "eye-in -the-sky" over such lanes.
Home and business invasion is a very personal crime to experience, as it robs you not only of material possessions but the feeling of safety. But to burglars in general, invading targets of opportunity is very impersonal. Burglars want to score on the richest targets, but oddly, as the article notes, some inmates admitted that they kept in mind the effects their crime would have on the residents. The richer the homeowner, they figure, the less damaging their crime would be.
Whether you own a million-dollar home or not, do not let yourself be a victim when you can be proactive about your own security.
---
Ready to get started?
Take this short quiz to build your customized system today!
Takes less than a minute
---