DIY Home Security
, Home Safety
, Why Cove
Introducing the New Cove Security System
From the beginning, Cove set out to be different. When it launched in 2018, the founders wanted to create a company that was customer-centric: all the benefits of a traditional professional home security system, but without the hassle of contracts, high priced equipment, or hidden fees.
We still have all that. But it was time for an upgrade. At Cove, we're launching our new security system and will no longer sell our original system (though we will continue to support it).
As always, our new security system will continue to provide RapidSOS emergency response and effective and affordable protection against intruders, fires, indoor leaks, and more.
So what's new? Plenty! Meet the new Cove system.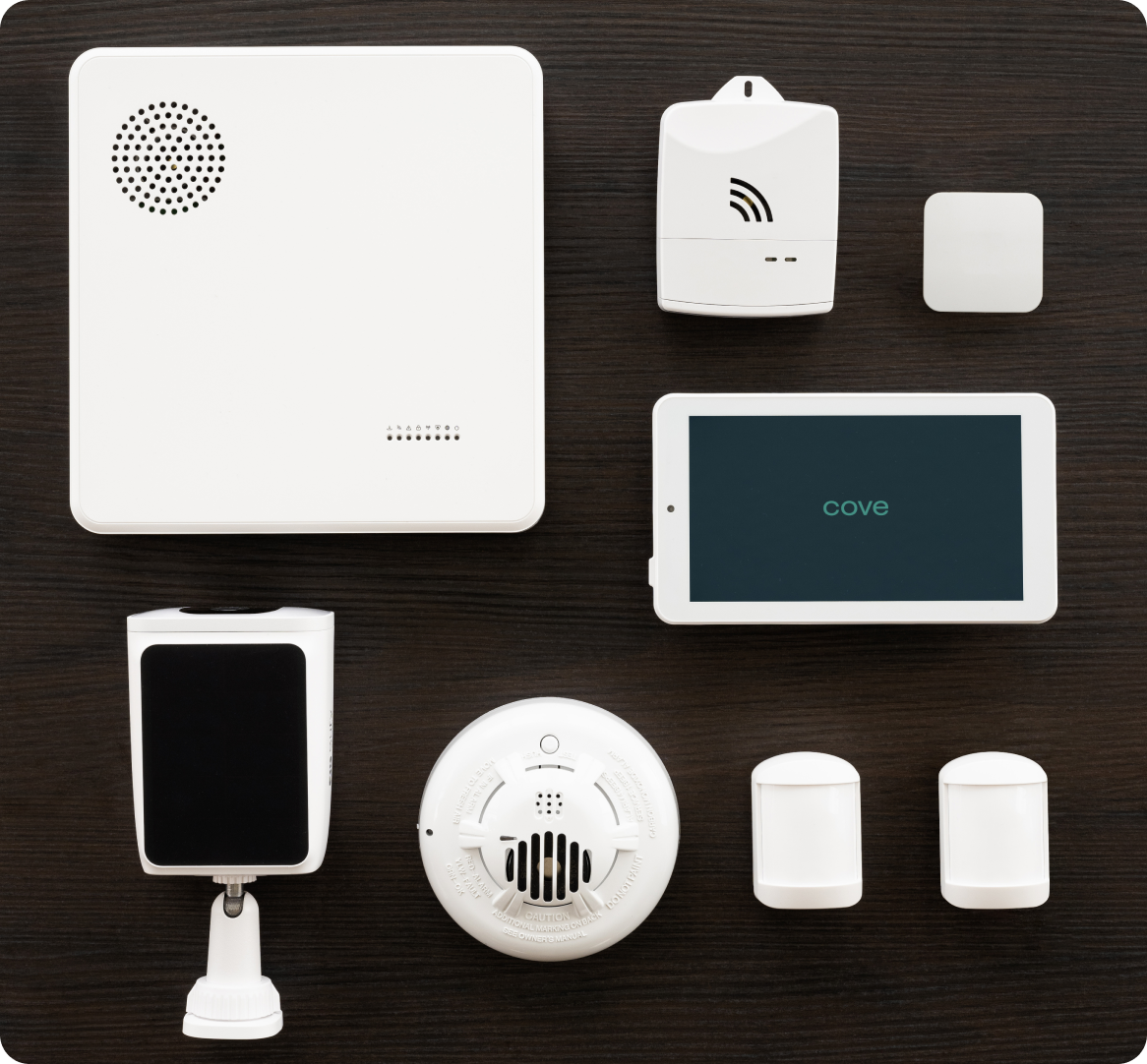 Dual Connection
Unlike our original system that operated solely via cellular connection, the new system has an internet primary for more reliable communication between the system and the monitoring center. It also has a cellular communication backup in the event that the customer's home internet fails or they don't have internet.
A Powerful 2-Piece Combo
In addition to dual connection, one of the most notable differences with our new security system is that it consists of two primary pieces of equipment—the Hub and the Alarm Panel—instead of the Touch Screen Panel in our original system.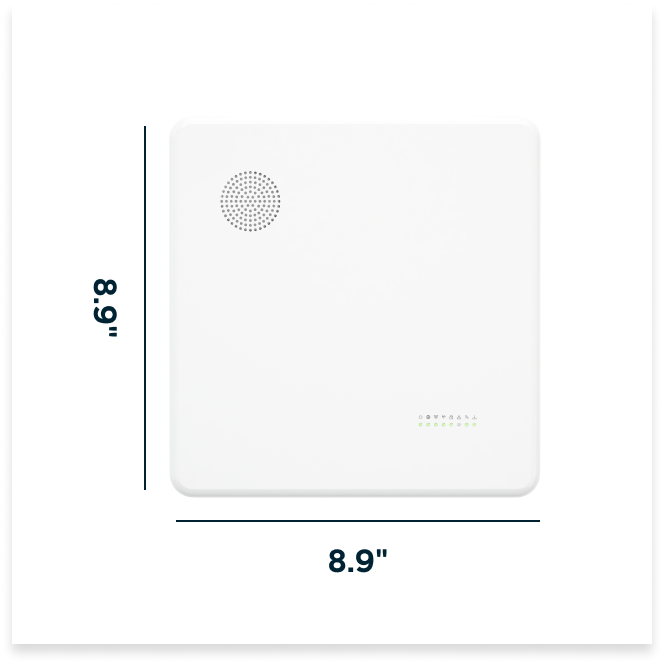 Meet Our New System Hub
Cove's new system hub operates as the brain of the security system, allowing users to place up to four Alarm Panels in the most convenient places throughout their home.
Every piece of equipment is connected to this hub via a wireless radio connection. Without this hub, your system can't communicate with the monitoring team.
Key Features:
Ethernet connection with 4G cellular backup: Cove's 1st generation system used 4G cellular connection in order to communicate with the monitoring team. Our new hub offers additional flexibility. It still has a cell chip inside of it, but we recommend plugging the hub directly into your home router. That way, if either the cellular network or your home internet connection are having issues, there's always a backup option.
Loud siren: The hub includes an 85 dBA siren, making it louder than your blender, and much higher-pitched.
Ability to incorporate multiple alarm panels: This was one of the most requested features by current Cove customers. Having a system hub enables us to incorporate more than one control panel into the system, and we now support up to 4 alarm panels per hub.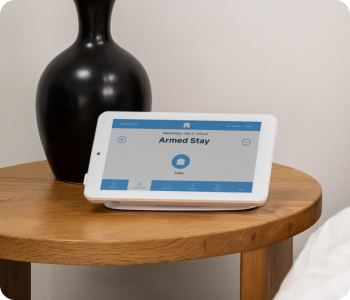 Meet Our New Alarm Panel
Speaking of alarm panels, our new panel incorporates some additional features that weren't available with our generation 1 panel. Don't worry, we still have the easy on-screen installation guide and arming/disarming functionality. But we're also introducing some new features.
It has easy, over-the-air updates for new features, a four-hour backup battery, the ability to view the Arming Page on all screens, plus a table mount and wall mounting plate with screws. That's not all. There's more:
Key Features:
Scenes: This function allows you to create customized arming and disarming schedules, like "Arm my system each weekday from 8am until 5pm."
Favorites: This category allows you to group which sensors you want to be able to view from your main menu.
Panics: This function allows you to quickly call for fire, police, or medical emergencies with a tap of your screen.
"Away," "Stay," and "Night" mode: These modes will arm your system differently depending on whether you're going out or staying in.
Integrated Siren: The alarm panel also includes a siren, so anywhere an alarm panel is placed, you'll be able to hear if your system is triggered.
Up to 50 user passcodes: You can easily add new user passcodes to your system, so if you have multiple people coming and going, they won't need you to disarm the system for them.
As we mentioned earlier, you'll be able to add up to four alarm panels per system. We recommend placing them in bedrooms, hallways, and near doors.
Meet Our New Secondary Siren
Another request we received from several customers was for an additional siren, so we're proud to introduce our new secondary siren. This siren communicates directly with the system hub, and it even goes off in the same cadence as the main hub siren!
Key Features:
Siren: 85 dBA at 1 meter away.
Battery backup: This siren is primarily powered by plugging it into a standard AC outlet, but it does include a battery backup.
System alert LED indicators: These lights on the siren can tell you about the status and health of your whole system.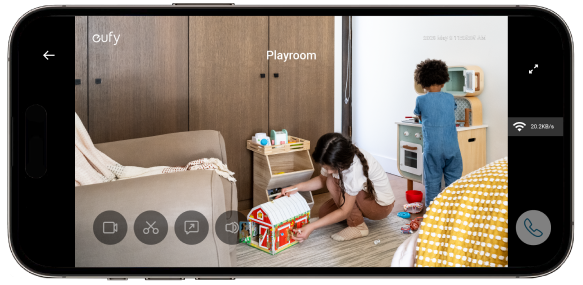 The New Cove Connect App
There are significantly more features and options available on the new Cove Connect app when compared with the original Cove app. The user maintains a seamless experience when transitioning from using the Alarm Panel to using the app. This means that customers are able to add, edit, rename, and delete equipment from the app, manage users, receive notifications from system events, confirm or cancel alarms, and set routines and scenes.
Another exciting change is that with a purchase of the new system, customers on any of Cove's monitoring plans will have free access to the Cove Connect app. (With our original security system, the Basic monitoring plan does not include app use.)
And Coming Soon…
These products are just the first few to be launched in our new system lineup. We also plan on introducing several new cameras and an outdoor sensor over the coming months. So stay tuned!
---
Ready to get started?
Take this short quiz to build your customized system today!
Takes less than a minute
---